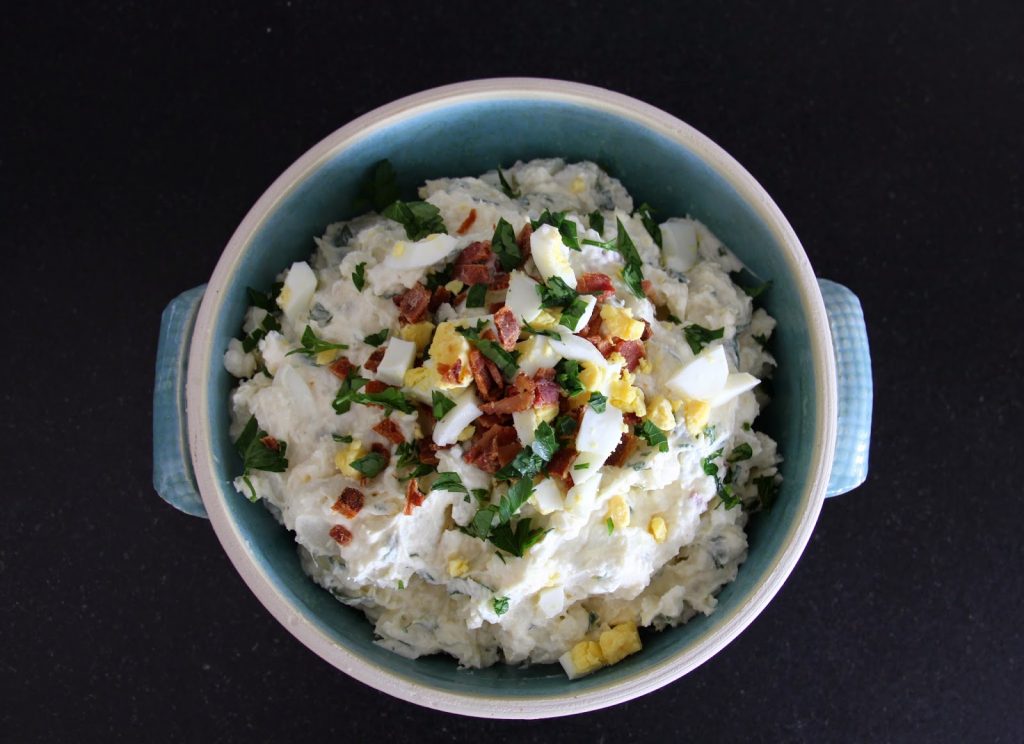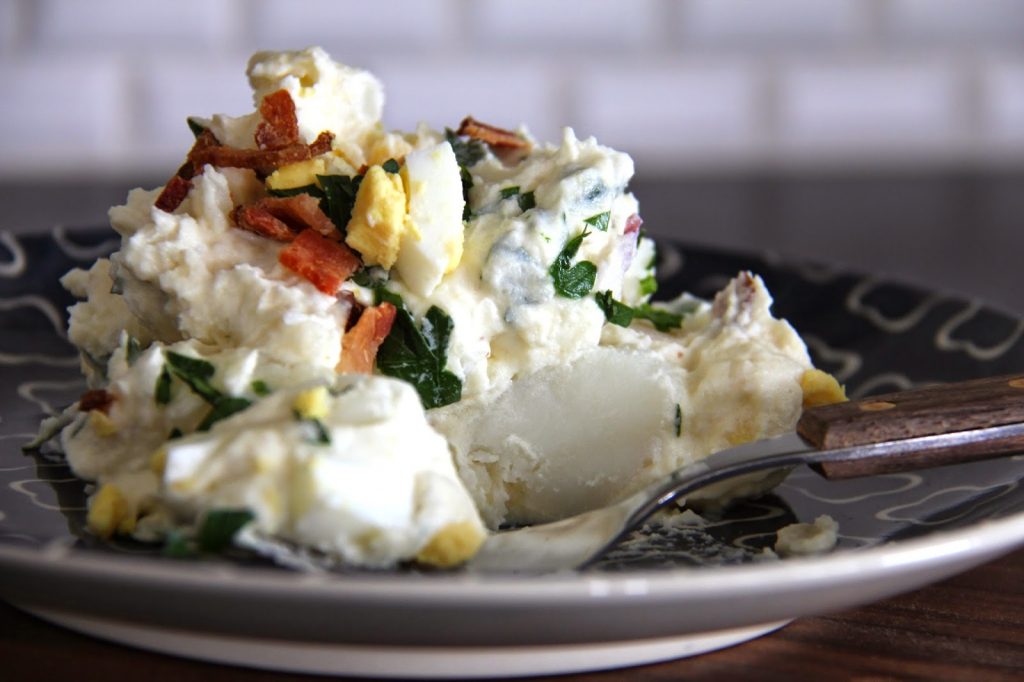 Are you looking for a new potato salad to serve at your Memorial Day barbecue? I have a favorite tried-and-true potato salad that I love, but thought it would be fun to put a new twist on our family favorite. Most Memorial celebrations include a barbecue. What barbecue is complete without a good potato salad? It's kind of like serving apple pie without ice cream. Not happening here.
Sour Cream and Bacon Potato Salad tastes like a loaded baked potato, served cold. It's creamy and filled with things you love in a good old fashioned potato salad, with a few extras like sour cream, bacon and fresh parsley.
My first bite to taste-test ended up morphing into an entire plate of potato salad for dinner. I couldn't put the fork down.
I'm guessing you'll love it too.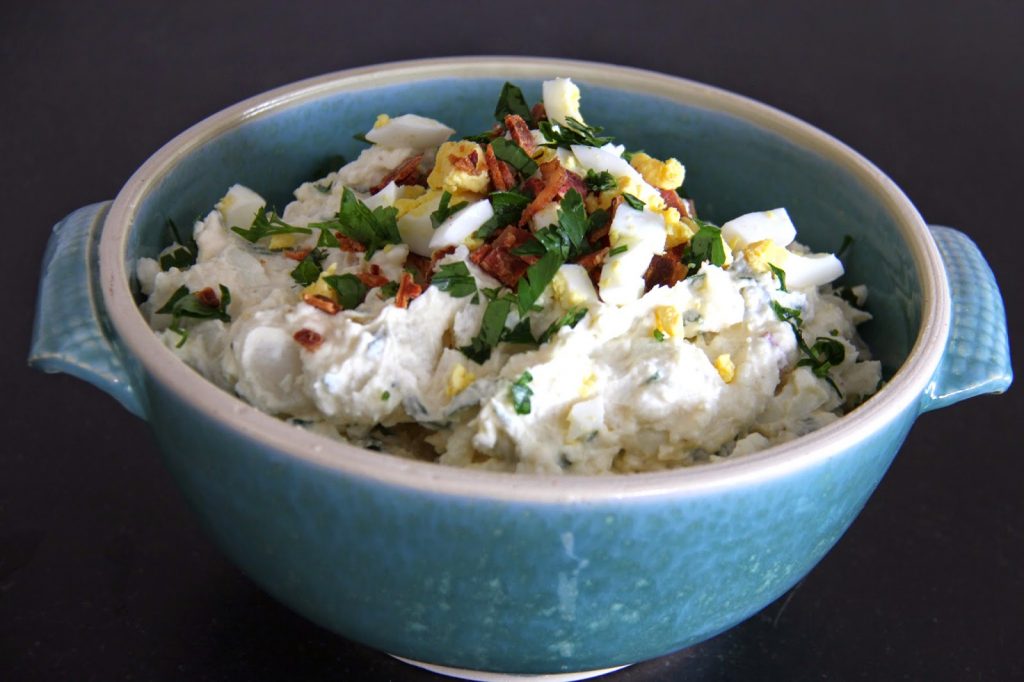 Sour Cream and Bacon Potato Salad
Ingredients
5

lb

bag of red potatoes

6

hard boiled eggs

peeled

1/2

lb

bacon

cooked crisp and diced, divided

1/2

cup

flat leaf parsley

chopped

1 1/2

cups

sour cream

light is fine

1 1/2

cups

mayo

3

tablespoons

Spicy Brown Mustard

3-4

drops hot pepper sauce

salt and pepper
Instructions
Wash potatoes and place in a large pan. Fill pan with enough water to cover potatoes by about one inch. Boil on high for about 30-40 minutes, or until potato is soft and knife is easily inserted into potato. Drain water from pan and let potatoes sit for a minute to cool.

While potatoes are still hot, quarter or cube potatoes and place in large bowl.

Salt the potatoes generously.

Chop one egg and set aside for garnish. Reserve a few tablespoons of chopped bacon and a bit of parsley, also for garnish.

Quarter the remaining 5 boiled eggs, and add to the potatoes in the bowl. Add the parsley and remaining chopped bacon and toss all ingredients lightly.

Whisk the sour cream, mayo, spicy brown mustard and hot pepper sauce in a bowl and add to the potato mixture. Taste the salad and add more mayo or sour cream, depending on how creamy you like your salad.

Heap into a serving bowl and garnish with the reserved chopped egg, bacon and parsley. Refrigerate until ready to serve, or serve immediately at room temperature.
Recipe Notes
-I don't peel the potatoes before boiling. Peel after the potatoes are cooked. I always leave some of the peel attached.-I used regular sour cream. Low fat sour cream will also work in this dish.-After the initial mixing of the sour cream and mayo with the potatoes, the potatoes will absorb some of the moisture. I always add a bit more either sour cream or mayo before serving. Wait to place the final garnish on the salad until just before serving.-I use French's brand Spicy Brown Mustard.-If you really want to truly mimic the flavor of a loaded baked potato, add some grated cheese as well. I would only do this as a garnish to the top of the salad so the cheese doesn't get soggy.