Southwest Salad with Cilantro Honey Lime Dressing has been a favorite in our home for years! Loaded with crispy Romaine, beans, corn, creamy avocado, and a bit of Pepper Jack cheese.
Southwest Salad comes with a warning, it's highly addictive. The first time I ate this salad, I took leftovers home from a family party and ate it several days in a row. My sister in law, Sheri, gave me the recipe years ago, and it's been a favorite in our home since.
You won't find any meat or chips in this salad, just veggies and cheese. And dressing. Which is quite possibly the best dressing ever. Fresh, tart, sweet, a little spice. It's life changing. Ok, so it may not really be life changing, but it's a change from the usual cilantro-lime dressing. The honey gives it a sweet twist that hooked me from the first bite. It will hook you too, I promise!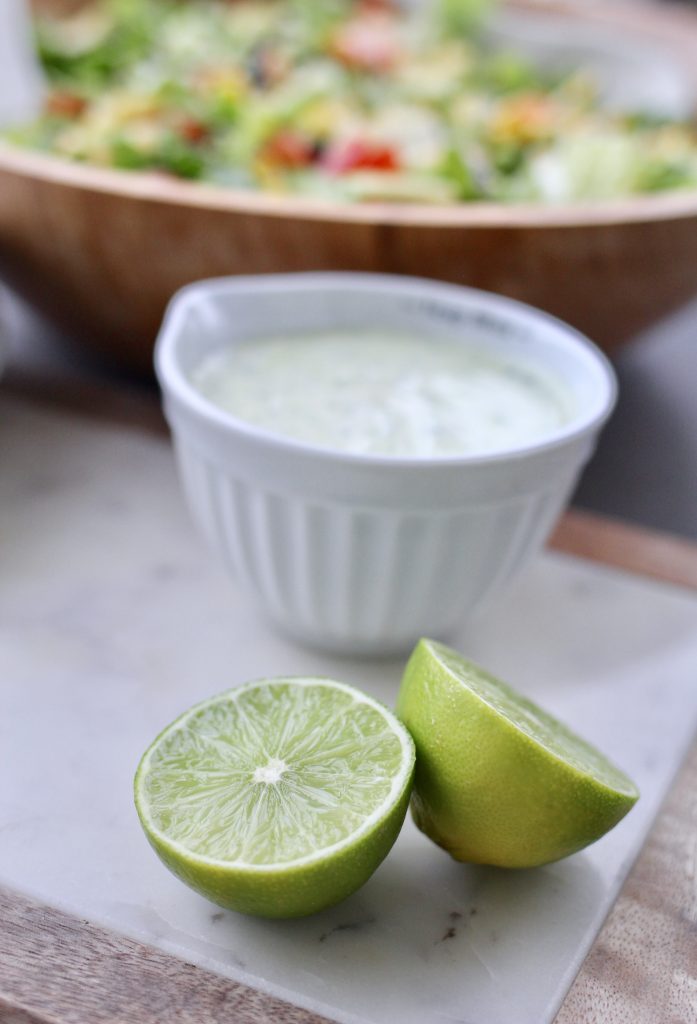 This salad is great for a healthy and light dinner idea. It's full of tasty veggies and and sprinklings of Pepper Jack and Colby cheese. You can even serve it on the side of a main dish if you're wanting a bigger meal. I love it as a side with our
Family Favorite Enchiladas
. If you're serving dinner and want to please everyone, make this salad, our
favorite enchiladas
, and a platter of fresh fruit. If you want chips and salsa, whip up some of
Sheri's Simple Salsa
and blue corn tortilla chips for a colorful and deilciously memorable meal.
I first posted this in 2011, and recently gave it an update with a few new photos and changed out the canned corn for frozen, because I always use frozen! Here's a little tip if you're using frozen corn in a salad, don't ever thaw it first, just throw it in. The little bits of frozen corn will help keep the salad cool!
I love this salad for lunch. It hits the spot any time of the day. Plus it's incredibly easy to throw together. You can have lunch or dinner in about 20 minutes. Quick, easy, healthy, wonderfully tasty salad! For a girl's luncheon, make a batch of
Lion House Rolls
and this salad, or chips and salsa with
guac
for a meal all of the ladies will love.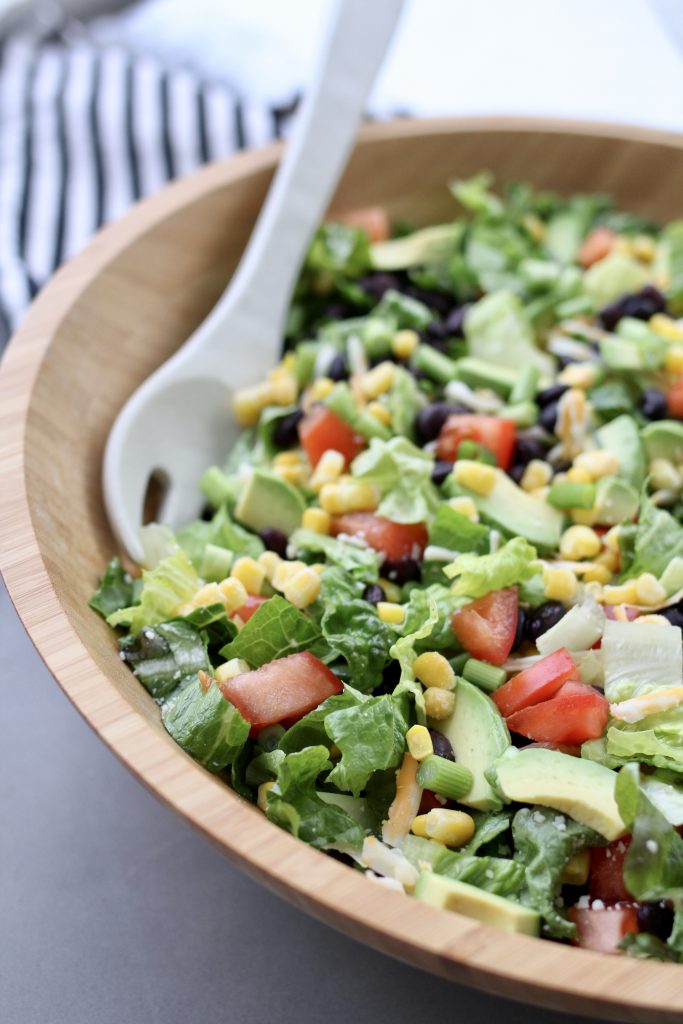 I recommend using Romaine full heads of lettuce – not Romaine hearts. You will need the nice dark leafy greens for this recipe. Wash and dry ( I always spin) the lettuce, then chop it into bit sized pieces and place into a large serving bowl. Layer all of the rest ingredients on top of the chopped lettuce. You can even prep this salad ahead of time without the dressing. Just layer the following ingredients in this order (start with lettuce in bottom of bowl):
lettuce
black beans
corn
peppers
green onion
avocado
tomatoes
grated cheese
Then mix up the dressing by whisking all of the ingredients (except cilantro) together in a bowl. Then add the chopped cilantro. Taste to see if you need to add any more honey, lime, or cayenne. Keep in a container until you're ready to serve! Toss all ingredients together just before eating/serving. If Im making this early in the day, I layer using the instructions above. If I need to make it the day beforehand, Place the lettuce in a bowl, but place all of the rest of ingredients in separate containers or Ziplocks. Wait to peel and cut the avocado until right before serving.
This southwest salad is one of my very favorite recipes. I love it's gorgeous color and delicious flavors. I hope you enjoy it too!
Southwest Salad with Cilantro Honey Lime Dressing
Southwest Salad is the perfect salad for any occasion. Filled with lettuce, black beans, cheese, veggies and topped with a fresh cilantro honey lime dressing.
Servings
12
as a main dish
Ingredients
Salad:
1 1/2

large heads Romain lettuce (about 15-18 cups)

washed and dried

1

small bag frozen corn

white or yellow, or fresh, 3-4 large cooked and cut off cob

1

can black beans

washed and drained

2

avocados

chopped (not too soft) choose avocados that are fairly firm

1

bunch green onions

sliced

4-5

Roma tomatoes

chopped, or about 3 cups of cherry or grape tomatoes, cut in half

1

red pepper

chopped

1 1/2

cup

Pepper Jack Cheese

grated

1 1/2

cups

Colby cheese

grated
Dressing:
1

cup

cilantro

rinsed, remove stems

1

cup

mayonnaise

4-6

tablespoons

fresh lime juice

lime zest from one lime

2

tablespoons

honey

sea salt

pepper

1/8 to 1/4

teaspoon

cayenne
For Salad:
Chop lettuce into bite size pieces. Place lettuce in large serving bowl.
If not using immediately, layer in the following order:
Lettuce

black beans

corn

peppers

green onion

avocado

tomatoes

grated cheeses
Instructions
For Dressing: Chop cilantro. Whisk together in bowl rest of ingredients, add fresh cilantro. Add more lime, honey or cayenne to taste.

Toss salad with dressing just before serving, or serve dressing on the side of salad. If serving on side, double dressing.
Recipe Notes
Use Romaine full heads, not Romaine hearts (Costco) You will be happier with the dark green color.
Important to drain veggies well and spin salad until dry. If you take the time to do this, the salad will last for up to three days if not tossed with dressing.
Layering in the order given will insure that the cheese won't get soggy, and the avocados will stay fresh(er) with the tomatoes layered on top. Romas, or grape tomatoes are best for this salad.
I like the look when hand chopping part of the Cilantro for the salad. You can throw all of the ingredients into a blender or use an immersion blender to make the dressing, then chop a few tablespoons by hand to get the larger leaf look in the dressing.
If you want more of a Taco-style salad, add some chopped cooked chicken and tortilla or corn chips.
If you want to make this a main dish salad, cook chicken breast halves, cool and chop when completely cooled. Add to salad with  veggies.