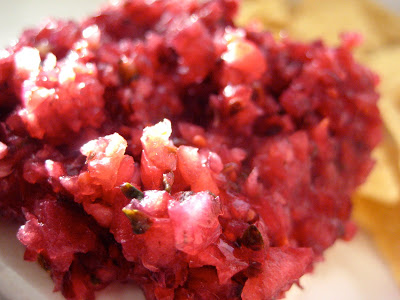 I love sweet-spicy salsa. Sara brought Sweet Fresh Cranberry Salsa over the other night, and it was love at first bite. This recipe came from Sara's friend, Joy, who just released a cookbook called "Bliss" (order it here). This Salsa can be served with tortilla chips over a block of cream cheese, or on it's own. The salsa takes 5 minutes to make, and about 2-4 hours in the fridge to let the flavors mix together. Perfect for a holiday partay. Yummy.
Sweet Fresh Cranberry Salsa
Ingredients
1

bag fresh cranberries

washed

1

handful cilantro

1-3

serrano or *jalapeno pepper

1/2

chopped red onion

1

clove

garlic

1

tablespoon

grated lime peel

1/2

teaspoon

salt

1/2

cup

sugar

1

tablespoons

lime juice
Instructions
Wash and remove seeds from jalapeno, using food handlers gloves, or plastic sack. In a food processor, place cranberries. cilantro, pepper, garlic and red onion.

Stir in sugar, salt and lime juice. Cover and refrigerate for 2-4 hour to allow flavors to mix. If serving over cream cheese, drain excess juice before using. Serve with tortilla chips.
Recipe Notes
-*I used one jalapeno, but more could be used if you like your salsa hot.