This rich, creamy dip is irresistible! Each cheesy bite of our Amazing Cafe Rio Queso Copycat recipe is seasoned with just the right amount of spice to keep you coming back for more. If you have 10 minutes, and a heat source, you can make this queso!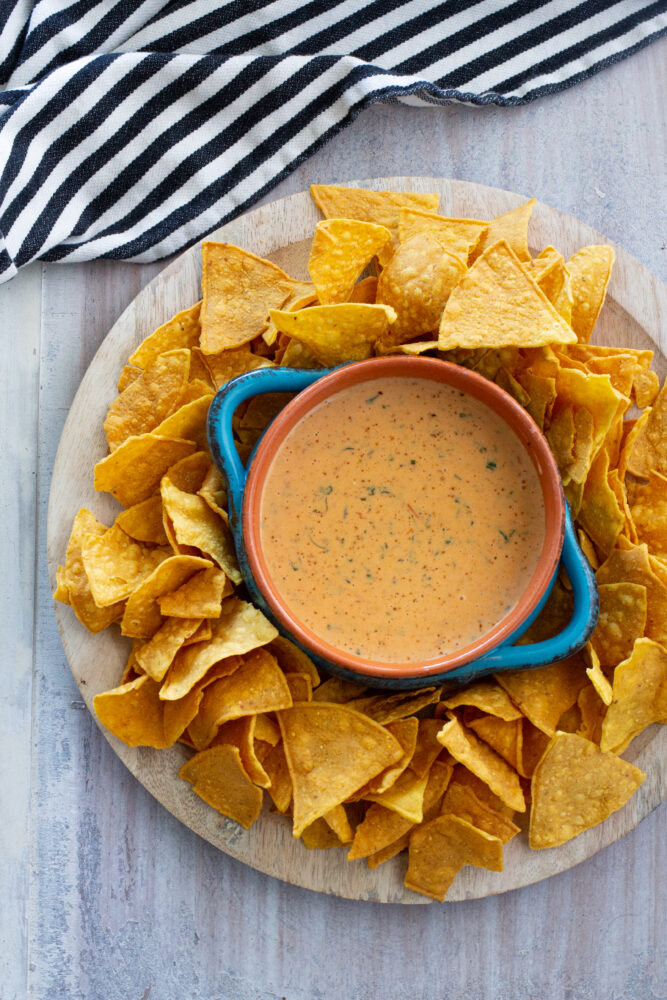 I was standing in line one day at Cafe Rio and noticed they had QUESO on the menu. What??! I thought I knew the entire Cafe Rio menu?! One taste of their queso, and I knew a Cafe Rio copycat queso recipe was destined to be on ABK!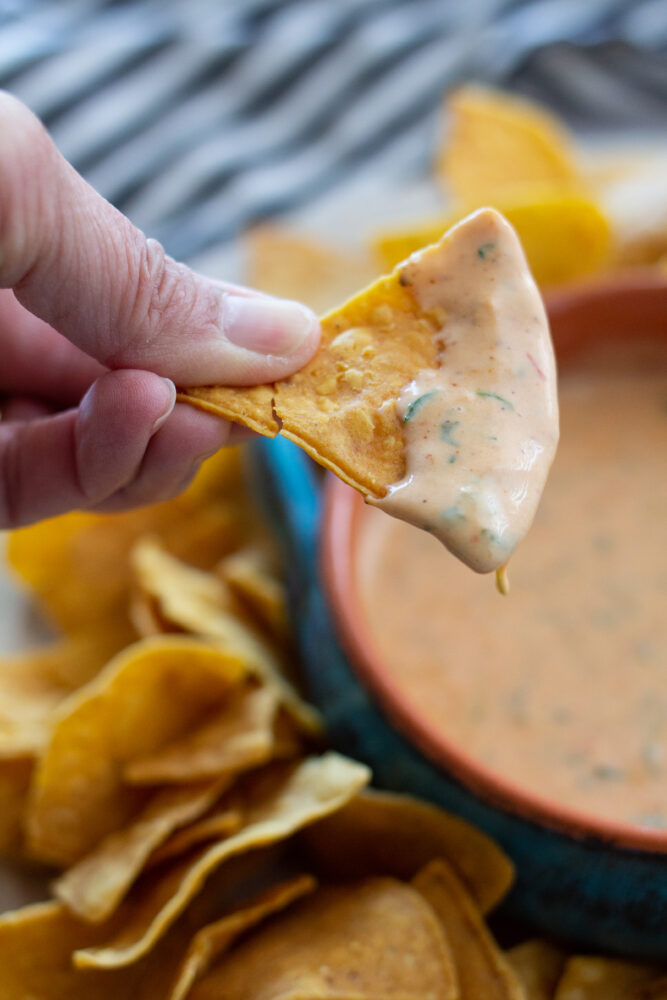 What is Queso?
Queso is a cheesy dip, usually served with tortilla chips. A little spicy, and a lot of cheesy goodness in every bite. Queso is not a typical or traditional Mexican dish, but it is a Southwest specialty! The original name comes from 'Chili con Queso" or, translated, chiles and cheese.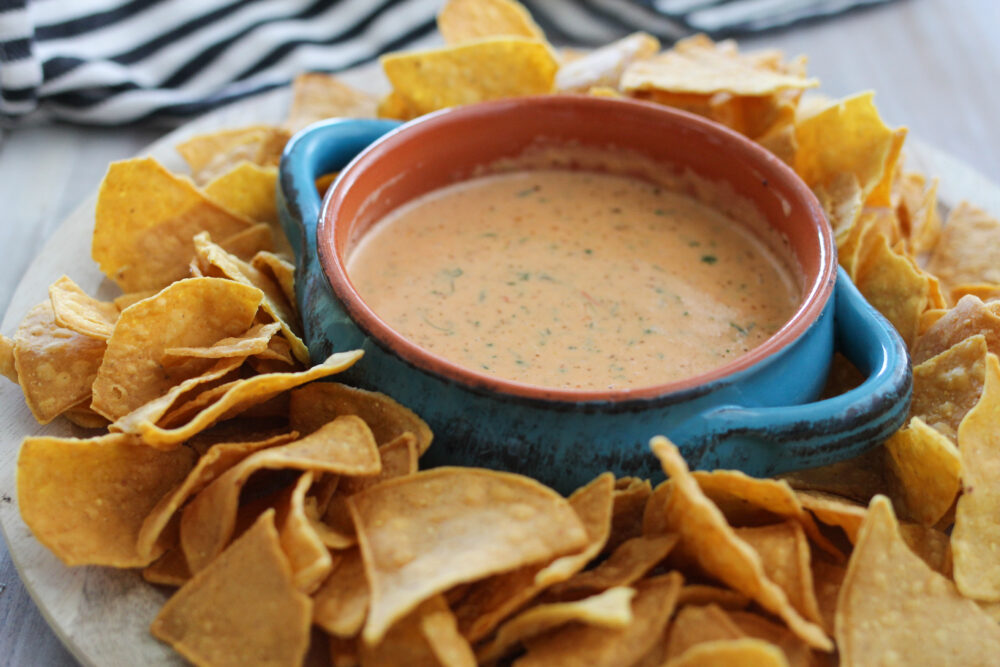 What is Cafe Rio Queso Made of?
Good question. When I set out to make this dip, I had a plan. Buy lots of Cafe Rio queso and consume lots of Cafe Rio queso! Kathleen (my assistant) and I made more batches of this recipe than I can remember. In many testing sessions, our tasters declared that this copycat recipe tastes as good (if not better) than the Cafe Rio version!
To determine where to start, we asked employees what's in the queso? We received answers that included: Coke, beef broth; pico, salsa fresca, sauce, grated cheese, cream cheese, sour cream and more. Okay. Well. That was not really helpful, (and I'm sure they are not supposed to share) but it's always worth a try! When making a copycat of any recipe, I always ask the business owner before heading to the grocery store. If they don't share I understand, but it makes sense to start at the source!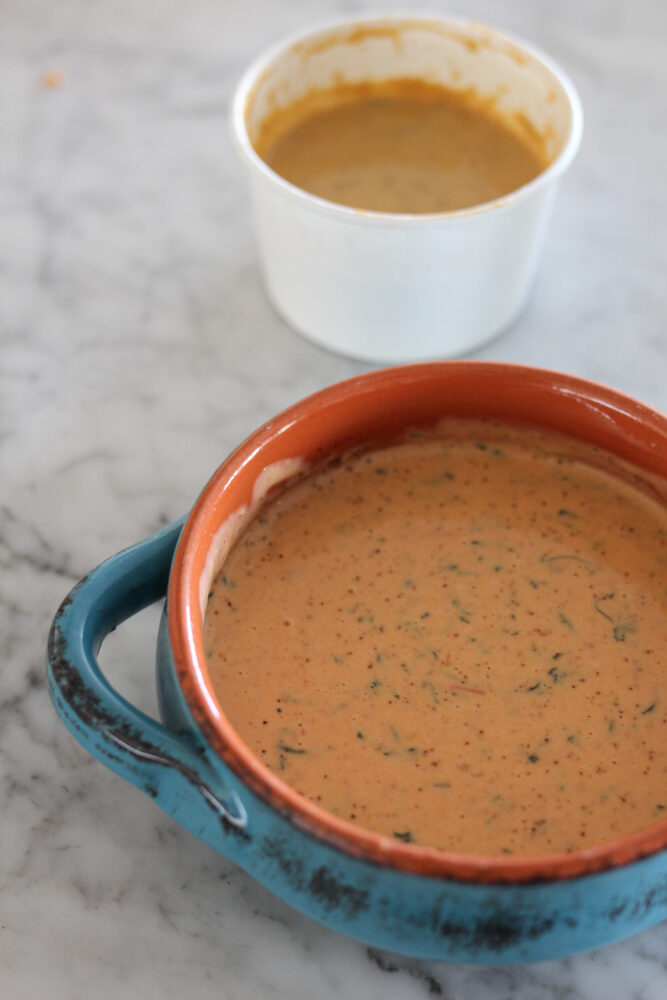 The ingredients in this copycat version are simple and straightforward. As with all other Cafe Rio combinations, I was almost certain the queso was made mostly from the 20-30 ingredients available to make tacos, enchiladas, salads, soup and burritos. And don't forget the pico, salsas, sauces, cilantro and dressings! We took all of the ingredients at Cafe Rio into consideration.
After a few months of testing, I'm confident the ABK version of Cafe Rio's queso is a crowd pleaser and keeper! Here are a few questions you may have about our copycat version…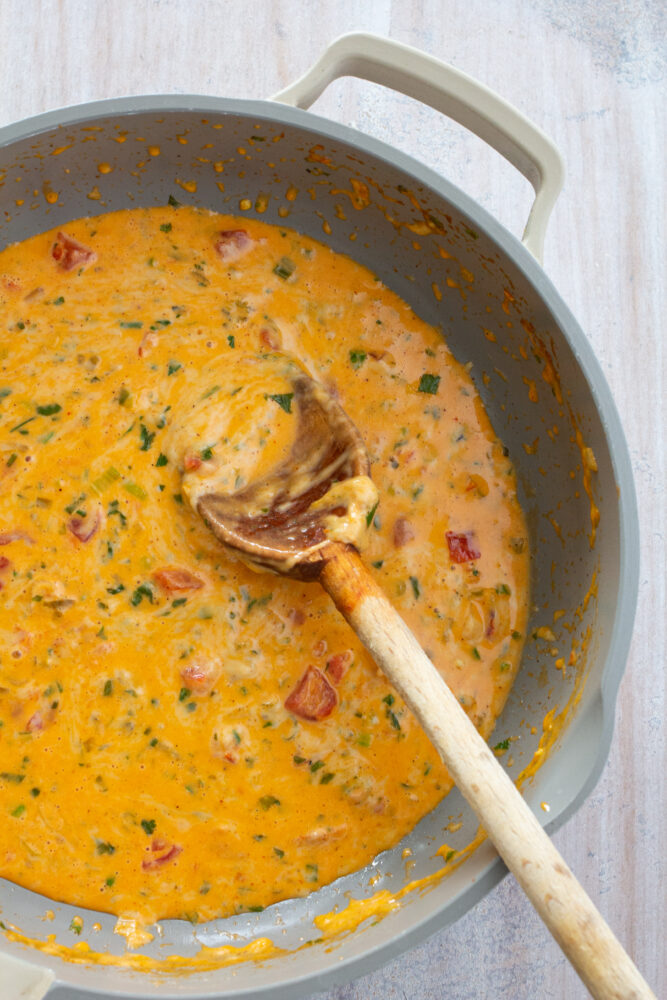 Why Enchilada Sauce? To achieve just the right color and flavor, we used red enchilada sauce. The Cafe Rio queso is almost orangeish/brownish in color, which we think comes from the enchilada sauce. Fresh chopped cilantro and green onions, blended also adds to the unique color of the queso. We also tried Chipotle Chile Pepper (dried spice) and while we loved the flavor, it didn't taste quite like Cafe Rio!
Why did you use Velveeta "Queso Blanco", instead of fresh grated cheese? I'm guessing this will be the question most of you will have! I'll start with – I am not a fan of shelf-stable cheese. Where is my wide-eye emoji?? But after testing grated cheese several times while making queso, I found that it just doesn't melt up as well as "pasteurized" cheese for a dip. Also, grated cheese is easily overheated, which results in separation and a layer of oil and then little lumps of cottage-cheesy like dip, instead of smooth and creamy dip. I chose this cheese for consistency and ease of preparation, AND the flavor is most like Cafe Rio's version. The blanco or white Velveeta is more mild in flavor than the traditional orange variety.
Why does the recipe call for canned (Rotel) or bottled salsa, instead of fresh pico? I love fresh pico, but again, this choice was made after sampling several batches made with "fresh" style salsa sold in the refrigerated section of grocery stores. I believe Cafe Rio uses a combination of pico and their "Salsa Fresca" in their queso, but it was difficult to duplicate and then expect consistency when readers try to find just the right salsa while making this recipe. I decided Rotel was the best solution!
I don't like my queso to be too spicy, how can I adjust? The Cafe Rio version has a bit of fire to it, so I used Rotel HOT in testing, but felt like it was a little too spicy for some. I recommend regular Rotel for a bit of heat, but not too much. The mild Rotel was a little too bland after being mixed with the cheese. Also, the enchilada sauce and the green chili sauce can be found in mild, medium or hot. Adjust according to your preference!
My queso is too thick, how can I thin it out a bit? Cafe Rio's queso is pourable (even at room temperature), so we knew it had some type of liquid in the mixture, which was most likely coke, water or broth. Coke? Yes, take a look this recipe for our copycat Cafe Rio sweet pork recipe, we add Coke or Dr Pepper to the sauce. Caffeine free and diet work as well as regular Coke, Pepsi or even Diet Dr. Pepper.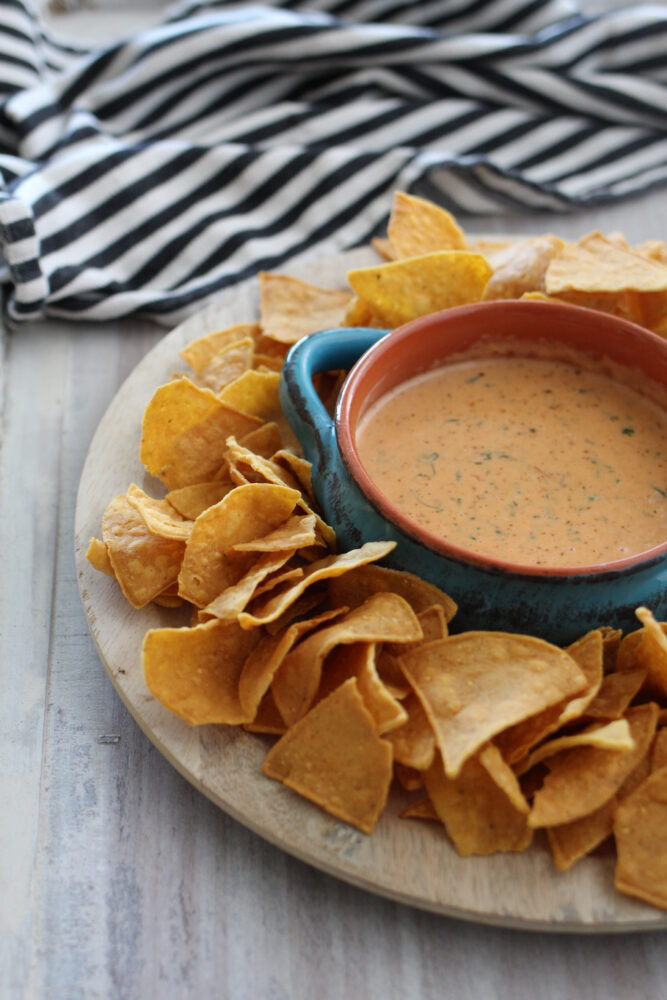 Can this queso recipe be made in the microwave, oven or in a slow cooker? Yes! I have made this in the microwave by placing all ingredients in a microwave safe dish (such as a silicone or glass dish) microwave for 1 minute, stir, repeat in 30 second increments until hot and the mixture is smooth when stirred. With all three versions, do not add the cilantro and green onions while cooking if making ahead. In the slow cooker, place ingredients in the slow cooker and heat over low until melty and smooth when stirred. In the oven, place ingredients in an oven proof dish, heat at 325 until melted, stir until smooth. Add the cilantro and green onions before serving.
Can queso be made ahead? Yes! This is the perfect make ahead recipe! Wait to add the fresh ingredients (chopped cilantro and green onion) until the day of serving. This dip will keep in the refrigerator for up to 5 days before serving if waiting to add the fresh ingredients. It may also be frozen in an air tight container, then thawed overnight in the fridge and heated on the stovetop or microwave.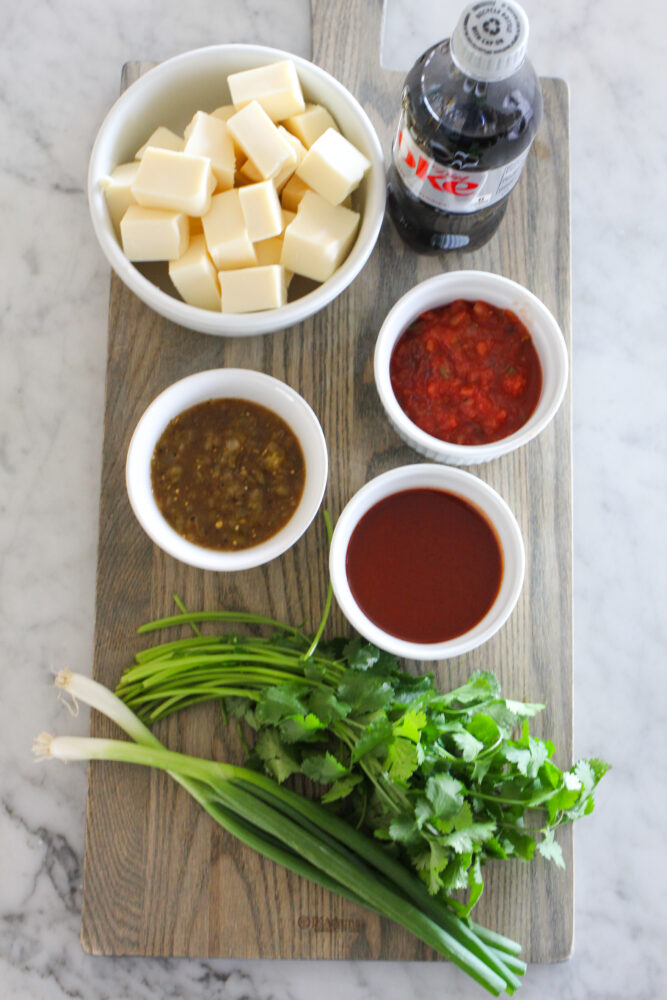 What you need to make Amazing Cafe Rio Queso Copycat Recipe:
16 oz Queso Blanco Velveeta, cut into cubes
1/2 cup Rotel original or hot (with habanero) OR 1/2 cup pico
1/4 cup green chili sauce- mild, medium or hot
1/3 cup red enchilada sauce- regular or hot
2 tablespoons Coke, Diet Coke, or Dr Pepper to thin if needed
1/4 cup fresh cilantro, chopped fine
3 stems green onion, chopped both green and white portions
I hope you love this homemade version of Cafe Rio's queso! Leave a comment below and share your thoughts and any alterations or additions you made to the recipe!
Amazing Cafe Rio Queso Copycat
This 10 minute queso is a Cafe Rio Copycat recipe and will be your new favorite! It can be made on the stovetop, oven, microwave or slow cooker!
Ingredients
Please read all recipe notes before making queso!
16

oz

Queso Blanco Velveeta, cut into cubes

see recipe notes for substitutions

1/2

cup

Rotel original or hot (with habanero) OR 1/2 cup pico

1/4

cup

green chili sauce- mild, medium or hot

1/3

cup

red enchilada sauce- regular or hot

2

tablespoons

Coke, Diet Coke, or Dr Pepper to thin if needed

1/4

cup

fresh cilantro, chopped fine*

3

stems

green onion, chopped green and white portions*
Instructions
Place cubed cheese in a 2 quart pan on stove top.

Add the Rotel or pico, green chile sauce, and red enchilada sauce. Stir ingredients together over medium heat until the cheese is melted.

Add the chopped green onion and cilantro to the mixture in the pan. Mix with a large spatula or spoon.

Add the soda to the queso and stir to thin. Serve while warm with tortilla chips.
Recipe Notes
The heat level in queso can be adjusted easily according to your preference. If you love a lot of heat, I recommend using Rotel HOT. I like Rotel MEDIUM  best for this recipe. Just a bit of heat, but not too hot for young kids! 
For testing purposes I used Rosarita red enchilada sauce and  for the green sauce: Herdez "Salsa Verde mild" or San Antonio Farms "Tomatillo & Hatch Chile" salsa verde. Most of the heat in this recipe comes from the Rotel, not the sauces. 
If the dip tastes too salty (sometimes this happens with certain brands of enchilada sauce and green chili sauce) I add 2 tablespoons of sour cream to the queso and heat until bubbly!
This recipe may be made up to 5 days before serving. When making ahead, do not add cilantro and green onion until the day of serving. 
I use a teflon pan for melting the cheese for easy cleanup.
If you like your dip super smooth, use an immersion blender and pulse in the pan after the queso is prepared. 
See recipe post for oven, slow cooker and microwave instructions.