We have been making the best Baked Ziti recipe for years! It is the ultimate family meal. It is one big pan of cheesy, saucy goodness everyone will love.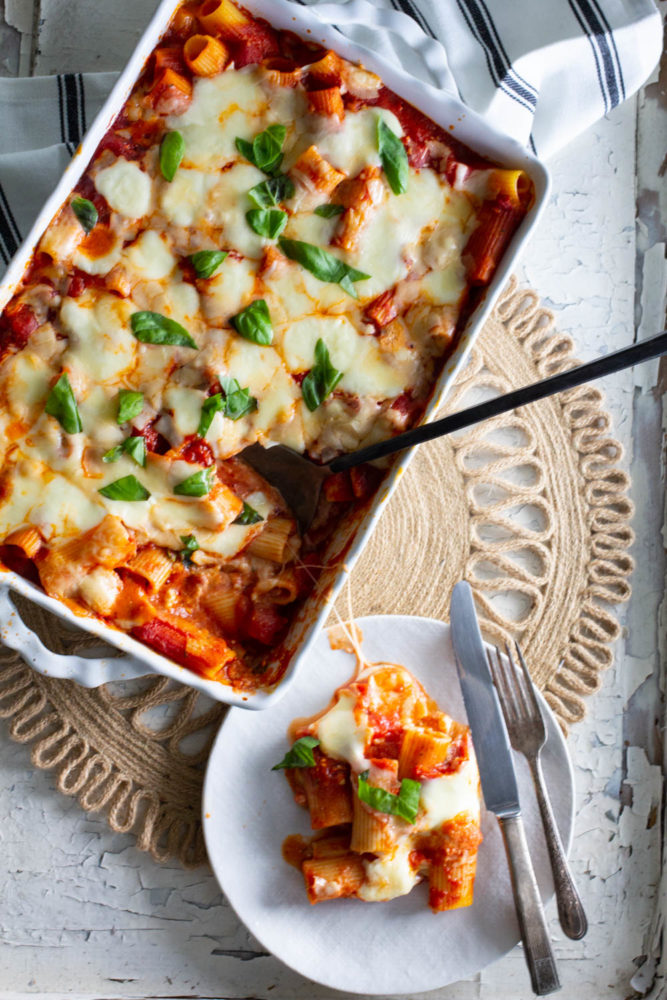 What makes this the best baked ziti recipe?
One of the challenges when making baked ziti is the dish often turns out dry after being baked. Is there anything worse than a pasta dish that is DRY? After years of making 'meh' baked ziti, I found a recipe for Cook's Illustrated Baked Ziti.
The Cook's method of making extra sauce and not cooking the pasta all the way before adding to the sauce makes a huge difference in the finished product! I've modified their method and recipe over the years to make (in my humble opinion) the best baked ziti recipe ever!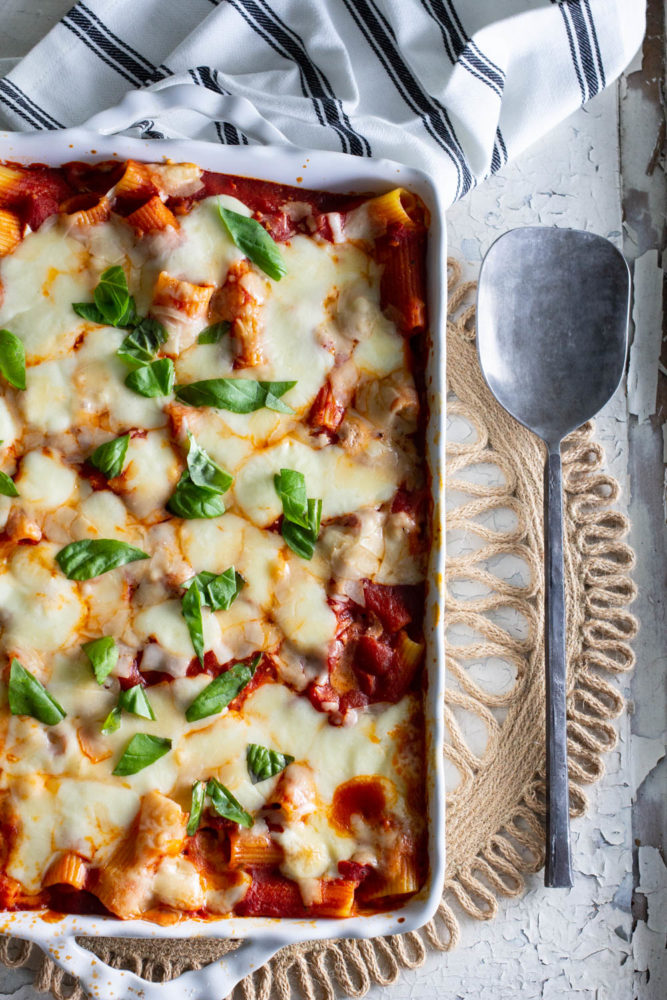 Perfection after all these years!
After several years of making, updating, and reworking this recipe little by little, I feel like it's finally perfection. The steps are minimized and condensed to make this homemade dish the best it can be, with the least amount of work.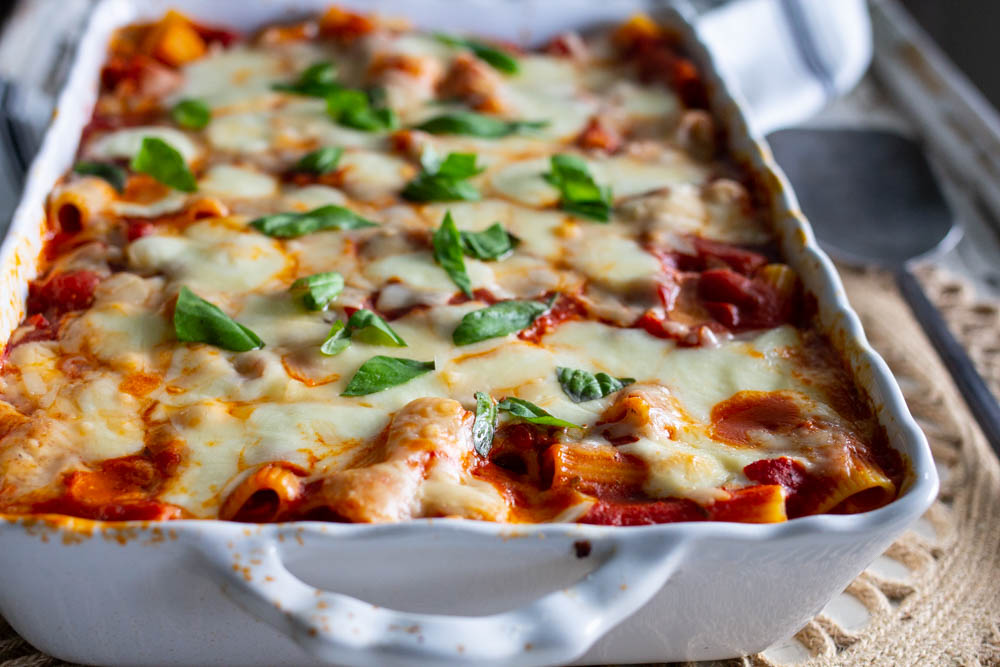 The bottom line is, to make the best baked ziti – that tastes as good, if not better than it looks, you need quality ingredients. Use fresh basil and heavy cream. You won't regret it! This recipe is easy to make and is hands-down the best baked ziti you will ever eat. Serve it up with a Caesar salad, some No-Fail French Bread and you've got a meal your family will love!
Does Baked Ziti Freeze Well?
A while back, I made this for a group of young adults for dinner. I made an extra pan of the ziti, so I'd have one on hand for the next time I had company over for dinner. That was in early March 2020. On March 13, 2020, we went in to quarantine in Spain. Complete lockdown. So my little freezer filled up and when we finally were allowed to go out again, it was months later.
That pan of ziti sat in my freezer for FOUR MONTHS. I wondered if it would still taste like the best baked ziti?? Or if it would be completely freezer burned? Grant talked me into baking it and said the missionaries will love it no matter. It was frozen solid, as in like a BRICK. I turned the oven to 325 and placed it on a baking sheet and covered with a sheet of foil that had been sprayed with cooking spray- on the side facing the ziti.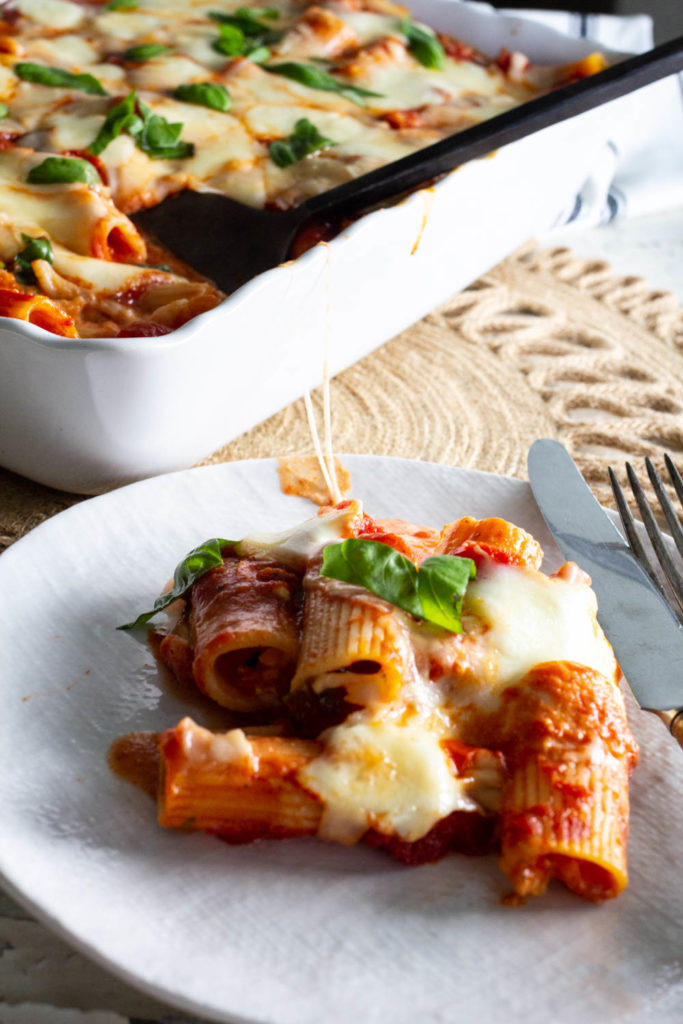 It baked for 2 hours and was still cold in the middle. I removed the foil top, and because it was extra saucy, let it bake for another hour, uncovered. Three hours total bake time. When I removed it from the oven it was PERFECT. Piping hot. Melted cheese. Saucy. SO GOOD.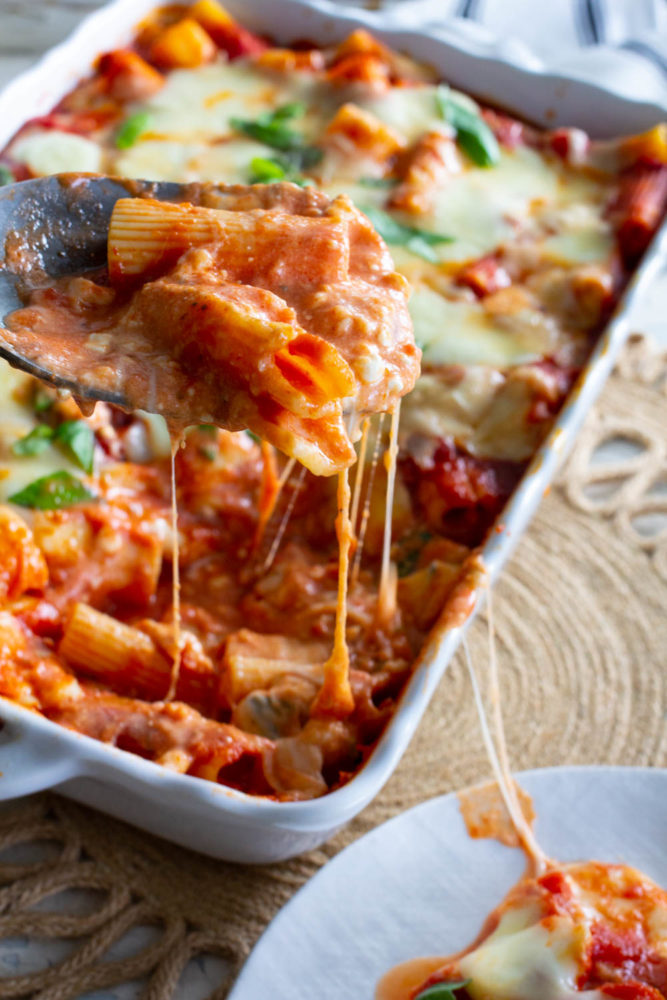 We delivered the baked ziti, and just as we arrived back in our home, the missionaries called and said, "Hermana Foster, you are the only person who could make something 4 months ago, freeze it and have it taste like something from a 5* restaurant!" That, my friends is why it's called The Best Baked Ziti Recipe. Perfect for making and eating the same day, or for baking and serving four months later!
Making Baked Ziti for a Crowd and Freezing for make ahead
The instructions on this recipe also include making Baked Ziti for large crowds. I've made this as a single recipe, and for up to 300 people at Girl's Camp! It freezes well and also stores well in the fridge for a few days before baking. I have had many successes with this recipe for make-ahead, freezing and using for large gatherings. The key is to make sure to take it out of the freezer ahead of time. Read the recipe notes for full details and instructions!
The Best Baked Ziti Recipe
Ingredients
1

pound

Ziti or other short tubular pasta

it is usually easier to find Rigatoni

2-3

tablespoons

extra virgin olive oil

2

medium garlic cloves minced

about 2-3 teaspoons

2- 15

oz

cans tomato sauce

8

oz

can tomato sauce

14.5

oz

can diced tomatoes

1

teaspoon

dried oregano

salt and pepper, about 1 teaspoon each

1/2

cup

plus 2 tablespoons chopped fresh basil leaves divided

1

teaspoon

sugar

ground black pepper

1

teaspoon

cornstarch

1

cup

heavy cream

1

pound

whole milk cottage cheese or low fat cottage cheese

2

large eggs lightly beaten

3

ounces

grated Parmesan cheese about 1 1/2 cups

8

ounces

low-moisture whole-milk mozzarella cheese (NOT fresh) cut into 1/4-inch pieces*

about 1 1/2 cups
Instructions
Cook pasta for about 9 minutes. Drain and set aside.

Place oil and garlic in large pan and sauté over medium heat just until fragrant. Add all of the tomato sauce, chopped tomatoes, sugar, oregano, salt and pepper and cook for about 10 minutes until thickened a bit. Turn off heat and add 1/2 cup of chopped basil. Save the remaining basil for after cooking.

Pour heavy cream into a second large saucepan. While cream is cold, whisk in 1 teaspoon of cornstarch. Simmer over medium heat for about 3-5 minutes. Remove from heat and add 1lb of cottage cheese, 2 beaten eggs, 1 cup of the tomato sauce mixture, and half of the Parmesan and cubed mozzarella (reserving the remaining Parmesan and mozzarella for top of dish). Stir until combined (this mixture will now be a light red/pinkish color).

Add the cooked pasta to the cream mixture. Stir until all of the pasta is coated.

Pour into a greased 9×13 pan. Pour remaining tomato mixture over the top and sprinkle the remaining cubed mozzarella and Parmesan cheese on top of the pasta in dish. Top dish with remaining chopped fresh basil ( I like to save a few leaves for after baking as well for color).

Cover dish tightly with foil. Bake at 350 degrees on middle rack of oven for 30 minutes with foil, then remove foil for last 30 minutes. Let sit for about 10 minutes before serving.
Recipe Notes
Tips (longer than the recipe)
This dish may also be frozen after ingredients are poured into the pan. About two hours before baking, remove from freezer and set on counter. When ready to bake, place in oven at 325 for 1 1/2 hours on middle rack. After 1 1/2 hours, turn oven to 375, remove foil, and bake an additional 15 minutes. Allow more time if multiple pans are being baked in the same oven (about 15 minutes per pan, while covered).
If you don't have a basil plant, or enough basil to make this dish, I suggest a trip to Trader Joes, where you can buy (the biggest basil plant you have ever seen in your life) for under $5. We used three plants to make 17 times this recipe, it was more than enough fresh basil. 
When I first started making this dish years ago, I thought fresh mozzarella was always the best choice when following a recipe that called for mozzarella. Not so. It has way too much moisture for this dish. A firm mozzarella, that can easily be cut into cubes works best. It melts into the pasta without leaving water in the bottom of the dish.
We made 17x this recipe for Girls Camp and divided it into 8 large (20 3/4 x 12 3/4x 3 inches deep-disposable foil steam table pans) The pans served about 35-40 each.
We prepared the Ziti and covered each pan with foil until baking. The dish was prepared Saturday morning, and was baked Monday late afternoon. It was as good as if it were prepared on the same day.
If you are making this recipe in large quantity, I found that the #10 cans found at Costco and other restaurant suppliers will cover 3x this recipe for the tomato sauce. So instead of: 2-15 oz cans and 1-8 oz can of tomato sauce for every three times this recipe, I used 1 #10 can of tomato sauce (approx 96 oz), and one additional 15 oz can of tomato sauce. If you 6x the recipe, use 2 #10 cans of tomato sauce and one #10 can of diced tomatoes.