Have you tried Trader Joe's Green Goddess Dressing? It is one of my favorite items at TJ's. It's easy to make, versatile and filled with healthy ingredients. We love it on salads or paired with vegetables as a light and creamy dip!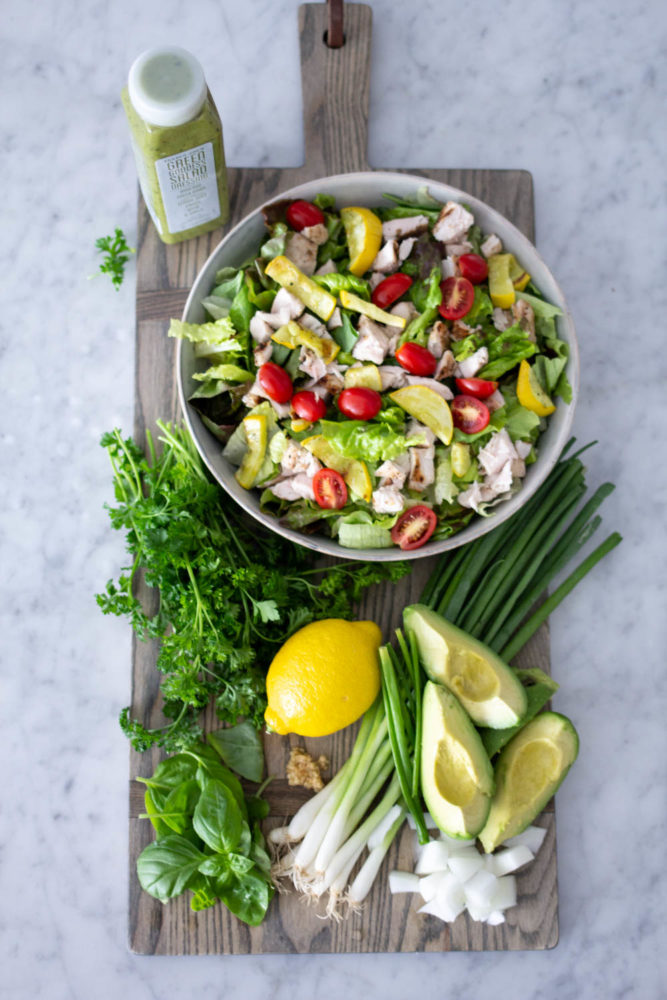 What is Green Goddess Dressing?
Green Goddess Dressing, named for it's green color, became popular in California in the early 1920s in San Fransisco. Green Goddess dressing is traditionally made with anchovies, but anchovies aren't listed as an ingredient on the Trader Joe's label. This dressing is sure to steal the show at your family meal and is delicious as both a topping or a dip!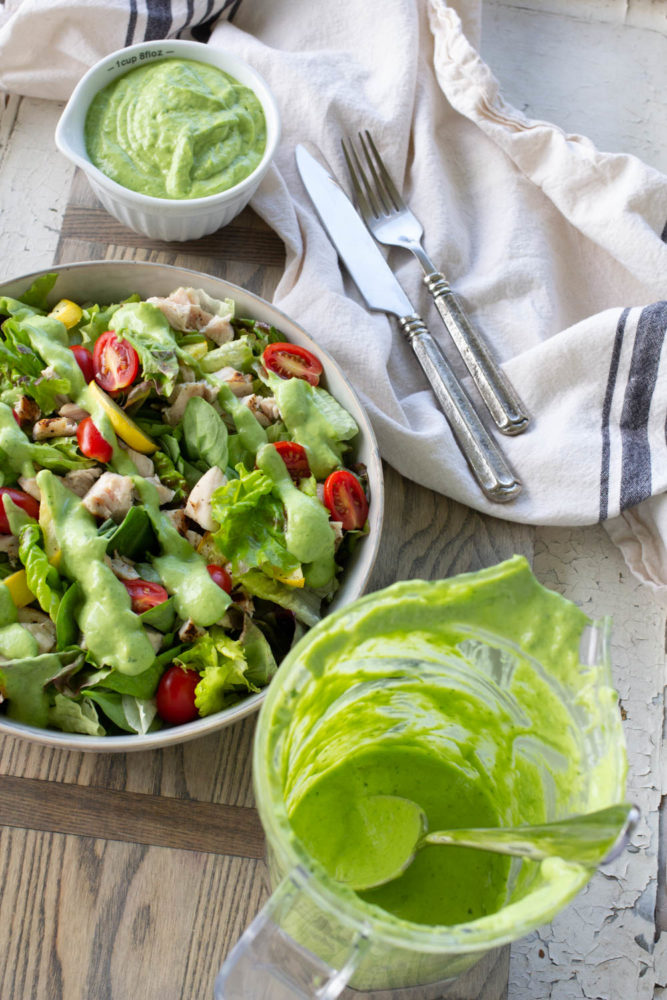 Don't live by Trader Joe's? Make it at home!
Trader Joe's Green Goddess Salad Dressing celebrates all things GREEN! When shopping at Trader Joe's it is found in the refrigerator section in a tall thin bottle near the fresh refrigerated vegetables. If you don't live near TJ's, or just prefer homemade, this recipe for Trader Joe's Green Goddess copycat dressing is a great alternative.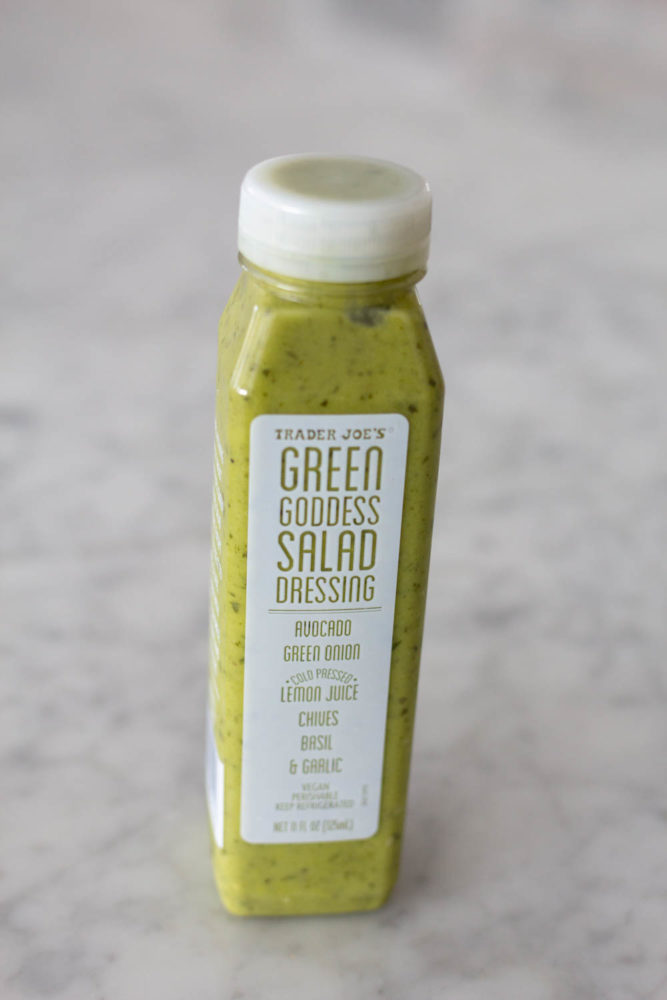 I like this copycat dressing on salads, tacos and even on a baked potato mixed with sour cream or cottage cheese. There are so many uses for this versatile, fresh salad dressing! It's super flavorful and so good with almost any type of veggies.
The best dressing for summer salads
I'm a big fan of summer salads. This Green Goddess Dressing is a must-have for all types of summer salads. It tends to turn out a little thick, so if you're using it on a salad instead of as a dip, you can thin it out with a little water.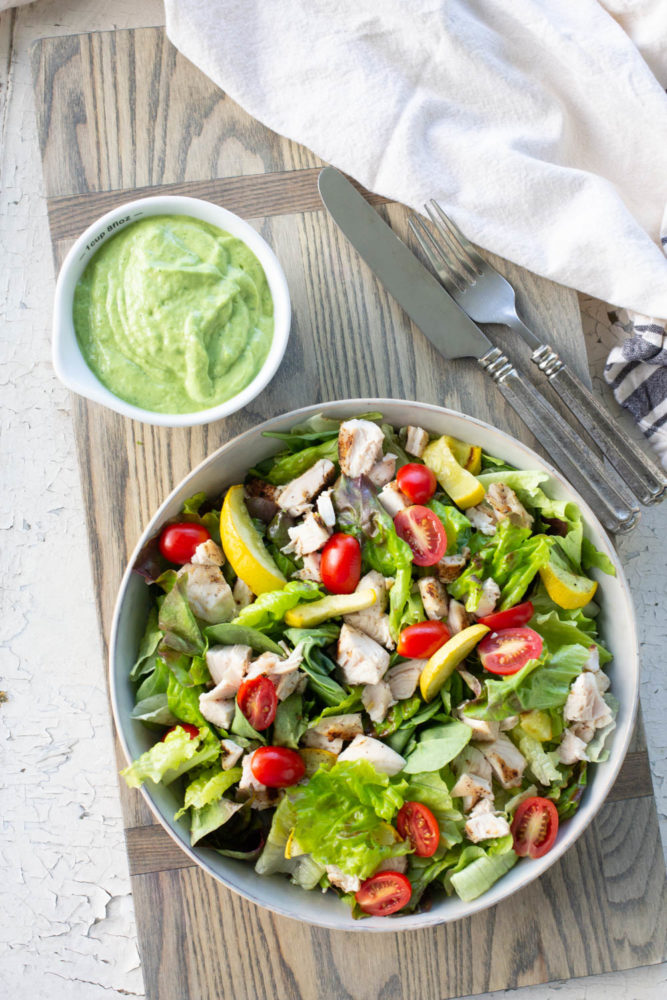 Perfect for friends
If you are making dinner for a friend who is eating healthy, mix the dressing in a jar, and cut up veggies to go with the dressing/dip. This recipe is also the perfect choice for a wedding or baby shower. Fresh, fast and so good. I also love this 5 minutes cottage cheese and dill dip served with veggies!
Hope you love this copycat dressing and try it on your next summer salad!
Trader Joe's Green Goddess Dressing Recipe
Ingredients
1/2

cup

water

plus more to thin if needed

1

large ripe avocado peeled

no brown spots

3

tablespoons

cider vinegar

1/2

cup

green onion

or about 3-4 stalks

2

tablespoons

white onion

1

tablespoon

fresh lemon juice

1/4

cup

chopped chives

1/2

cup

fresh parsley

1/3

cup

fresh basil leaves

1

clove

or 1 teaspoon minced garlic

1/4

cup

olive oil

sea salt to taste

I used about 1/2 teaspoon

pepper to taste
Instructions
Place water, avocado, vinegar, green and white onions, lemon juice, chives, parsley, basil leaves and garlic in a blender or a wide mouth jar if using an immersion blender.

Add olive oil and blend again just until incorporated. Salt and pepper to taste.

Refrigerate for 1-2 hours before using.

Keeps in refrigerator for 3 days.
Recipe Notes
If the dressing is too thick, add a little cold water and mix.
Do not blend for a long period of time, whipping air into the dressing will make it thicker!