Mexican Rice with Cilantro dressing is inspired by everyone's favorite Cilantro Lime Rice at Cafe Rio, a popular fast-casual restaurant with roots in Utah! I crave Cafe Rio on a daily basis. Luckily I don't have to go to the restaurant every day because I can make our favorite dishes at home! You'll love this easy homemade version of this side dish. It will quickly become a go-to recipe for your Mexican themed meals.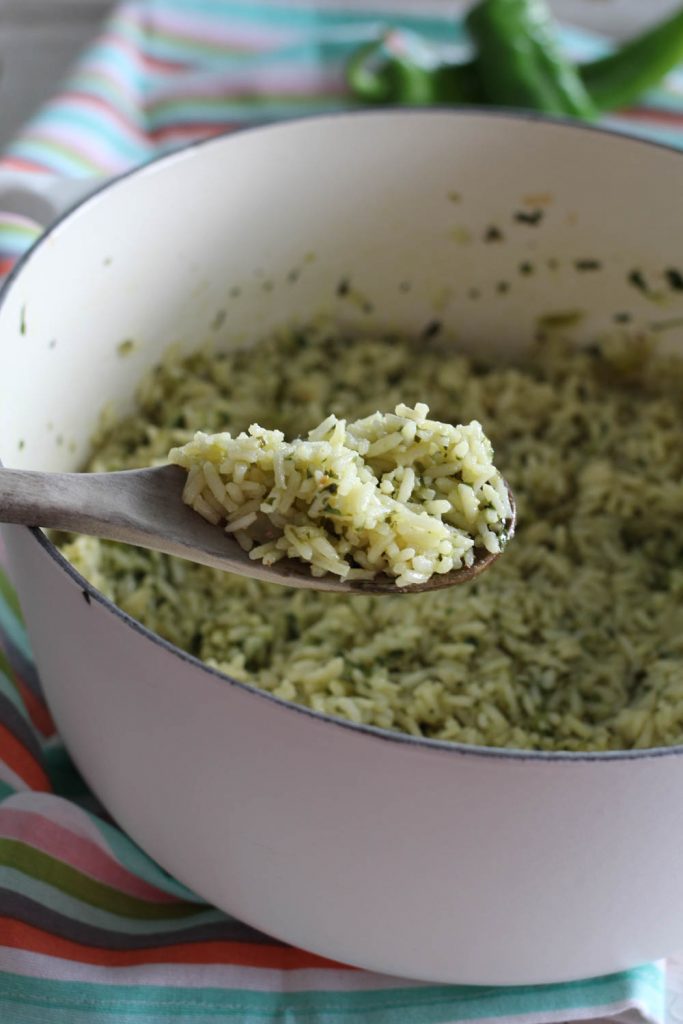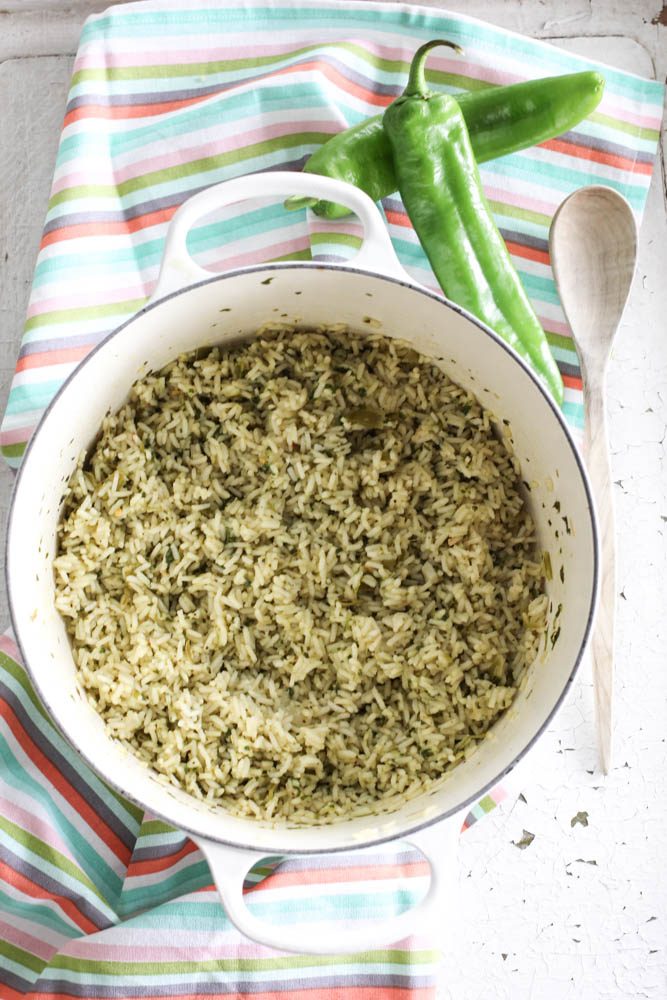 I still remember my high school Spanish teacher, Señor Turner. I don't recall learning a lot of Spanish, but I do remember some of his mannerisms. He spent a lot of time talking about his travels abroad, and told us to spend our money on travel, instead of cars and clothing while we were young. Good advice. Where was I going with this? Maybe I was wishing I was in Mexico! This cilantro lime rice is transporting me to a resort vacation in Mexico 🙂
This side dish is easy to cook on the stove top or make in your rice cooker. Whisk together the fresh cilantro dressing in a few minutes, pour over and toss the rice. How easy is that? I use about 1/2 of the dressing over the suggested amount of rice and then keep the rest for dressing chicken before or after grilling, or for making another pot of rice! This delicious dressing is yummy on so many things. When you take the first bite of this rice you'll have to make sure you aren't sitting in a Cafe Rio restaurant- it tastes just like the real thing.
Interested in making more copycat Cafe Rio recipes? Don't worry- I've got you covered! Any true Cafe Rio fan needs the sweet pork recipe…
These are all great recipes to make for a crowd. I don't know a soul that doesn't go crazy over that sweet pork recipe. Make it when you have company in town or when your kid's friends show up unexpectedly for dinner! That sweet pork recipe is delicious on tacos, burritos, and even the classic Cafe Rio salad. Any way you do it, you've got one amazing dinner ready to serve.
Mexican Rice with Cilantro Dressing
Ingredients
Rice:
1

tablespoon

olive oil

1

large white or yellow onion

chopped

2

cloves

garlic

minced

1/2

small can chopped green chilies

mild, or one cup chipped fresh Anaheim chiles, chopped and seeded

2

cups

long grain white rice

3 1/2

cups

chicken broth without MSG

salt to taste

I used about 3/4 teaspoon
1/2 to 3/4 cup Cilantro Dressing* (see recipe notes)
1 1/4

cups

packed chopped cilantro

about 1 small bunch

3/4

cup

olive oil

3

tablespoons

cider vinegar or fresh lime juice

2

tablespoons

red wine vinegar

2

cloves

garlic

chopped

1

teaspoon

cumin

1

teaspoon

minced seeded Serrano chile
Instructions
for rice:
Heat oil in large saucepan over medium heat.

Add onion, garlic, and green chilies. Cook until onion is soft, about 5-10 minutes over medium heat.

Mix in rice, stir about 2 minutes.

Mix in broth. Bring to boil.

Reduce heat to low; cover and cook until rice is tender and broth absorbed, about 15 minutes.

Turn off heat and let rice sit, covered for 5 minutes.

Transfer rice to serving platter or bowl. Let rice sit for about 5 more minutes to cool slightly.

Pour dressing over rice, tossing gently together.

Season with salt and pepper.

Can be prepared ahead.

Let stand at room temperature. 
for dressing:
Combine all dressing ingredients in blender or food processor, blend until smooth.

Season with salt and pepper.

Can be made one day ahead. Chill.

Use about 1/2 of this amount for the rice suggested above.  
Recipe Notes
The dressing for the rice will be enough for double the amount of rice in this recipe. You may either half the dressing amount or the dressing is  good for dressing salads, or as a marinade for fish or chicken. You may add about 1/3 cup of mayo and a little milk if you like a creamy salad dressing.
SaveSave