Have you heard of Basque Cheesecake?? It is the most wonderful, creamy, light cheesecake I've ever eaten. Our recipe for burnt Basque Cheesecake (aka Tarta de Queso) is made with 5 ingredients and the perfect dessert for any occasion- from a humble weeknight dinner, to a dinner party!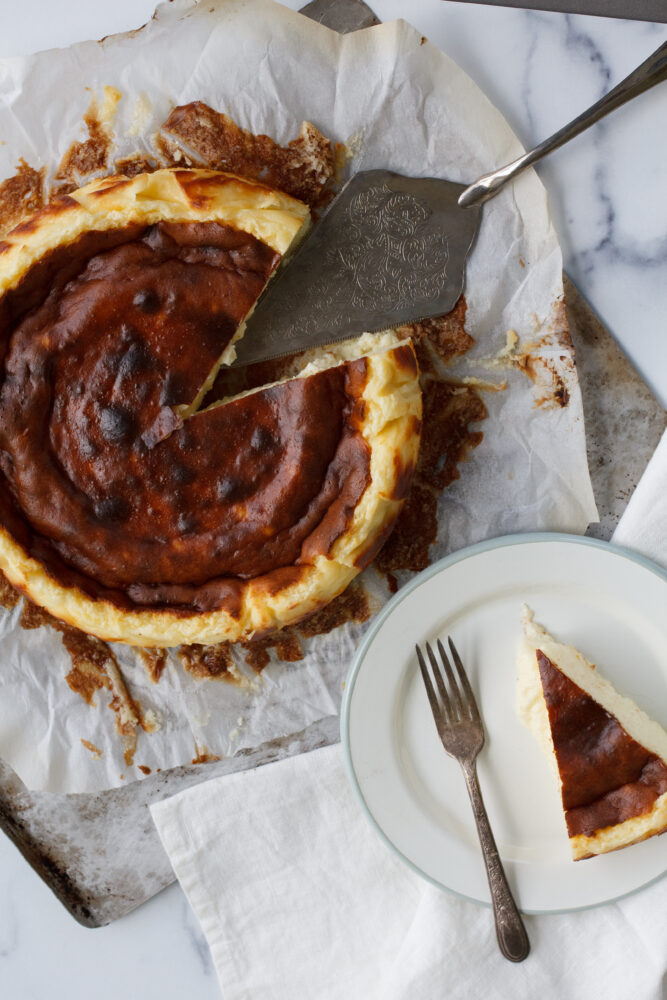 We traveled to the Basque Country (aka Donostia to locals) earlier this year to celebrate our 41st anniversary and stayed in San Sebastian, Spain for 10 days. San Sebastian is located in the Basque Country and is famous world-wide for its cuisine and numerous Michelin Star restaurants.
The restaurant scene in San Sebastian was lively and the perfect place to plan an entire foodie vacation! Cheesecake has never been my favorite dessert, but one bite of this cheesecake was all it took to win me over. Cheesecake lover? If it's burnt Basque Cheesecake the answer is YES.
San Sebastian is home to La Viña restaurant, which made this particular cheesecake famous in the 1990's. We visited La Viña, along with several other recommended restaurants to taste as many slices of this popular desert as possible! Once home, I set out to make the best Basque cheesecake recipe.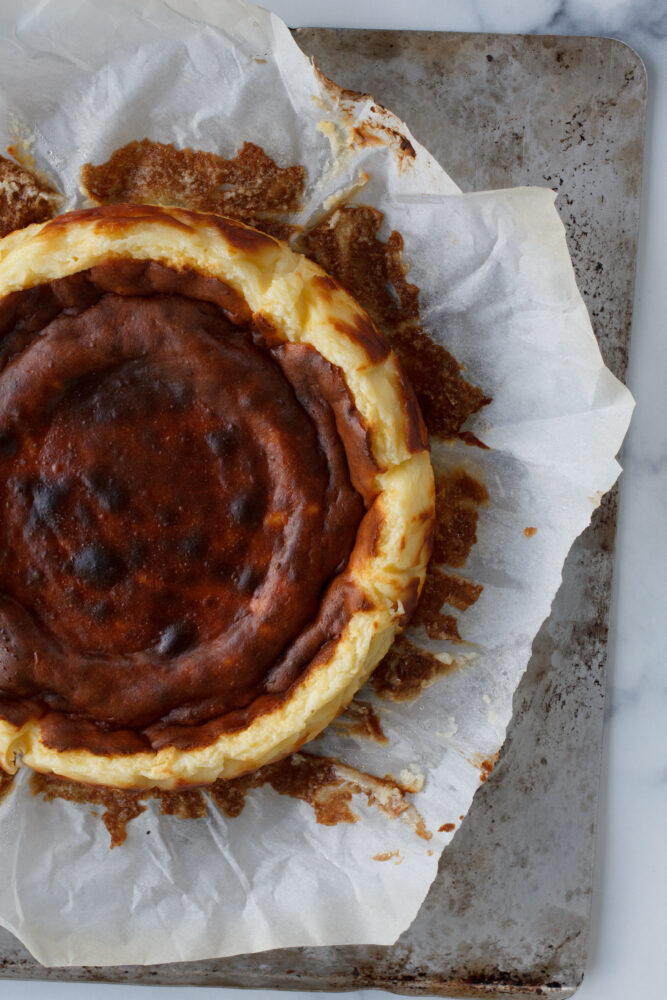 I'm here to answer all the questions you have about Basque Cheesecake! Here are a few we have anticipated…
Is Basque Cheesecake served with toppings?
We tested this dessert from several restaurants and bars in the Basque country. The cheesecakes varied depending on the location, all except for one was served plain. Just a slice of cheesecake on a plate. No fruit topping, whipped cream, chocolate or caramel sauce.
Unlike the American standard of "dressing up" a slice of cheesecake, Basque cheesecake is best served without a garnish. It is, in my opinion, best served plain. We observed that most Spaniards eat their cheesecake with a glass of sweet wine, which also lends even more sweetness to this traditional Spanish dessert.
What makes Basque Cheesecake different from regular cheesecake?
For starters, Basque cheesecake is more creamy thank traditional cheesecake. It's smooth and custard-like in the center. Five eggs and heavy cream also contribute to its light texture! Basque cheesecake is also crustless. The cheesecake is cooked at a high temperature which caramelizes the outer layer and forms its own "crust".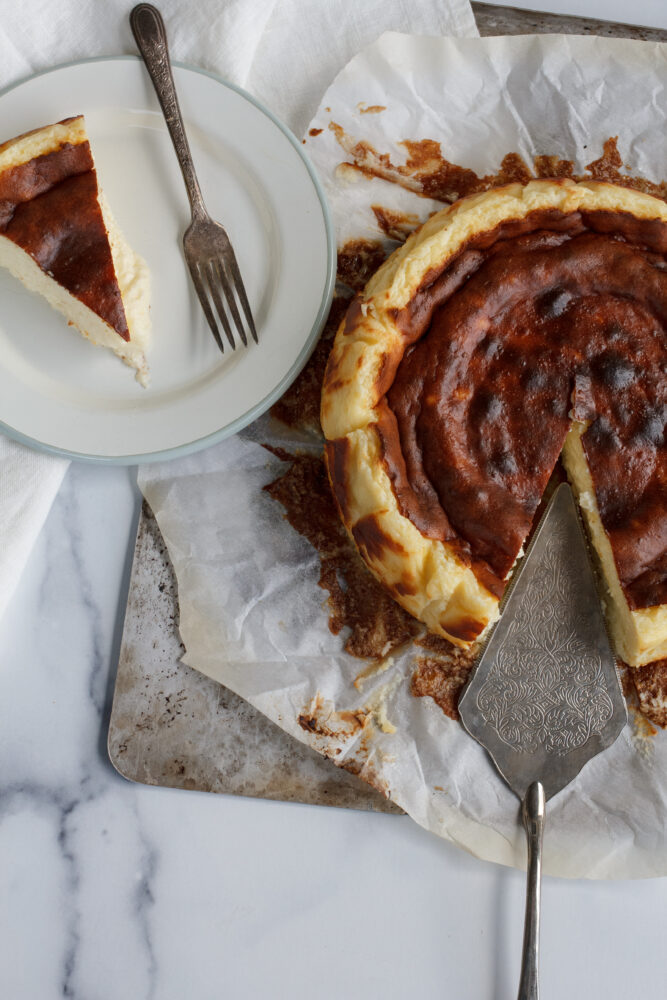 Why is it called burnt Basque Cheesecake?
This cheesecake is cooked at 400 for 40 minutes instead of at 325-350 like most traditional cheesecakes. The top turns a beautiful golden brown and caramelizes, looking burnt in some instances. In the Basque country, this cheesecake ranges from a solid dark brown/black top, to lightly golden with spots of dark brown. Any of these variations of color work in the finished product!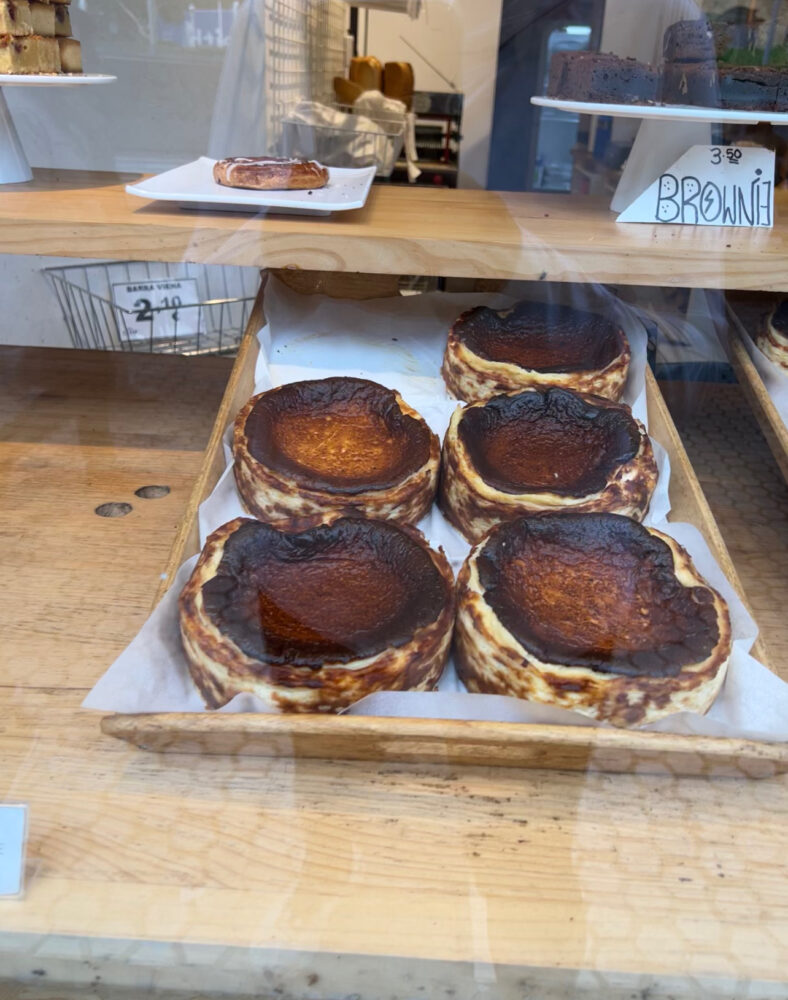 Is Basque cheesecake gluten free?
Yes, unlike most other cheesecakes (and other Basque cheesecake recipes), our recipe for Basque cheesecake does not contain gluten! Basque cheesecake is made without a crust and without flour in the filling. Most cream cheese and heavy cream are also gluten free. After extensive research, La Viña has stated they do include flour in their recipe, but I thought initially they did not include flour, so I tested this recipe without flour, and I don't believe it is needed. The cheesecake is firm enough without added flour which makes this dessert friendly for our gluten free guests!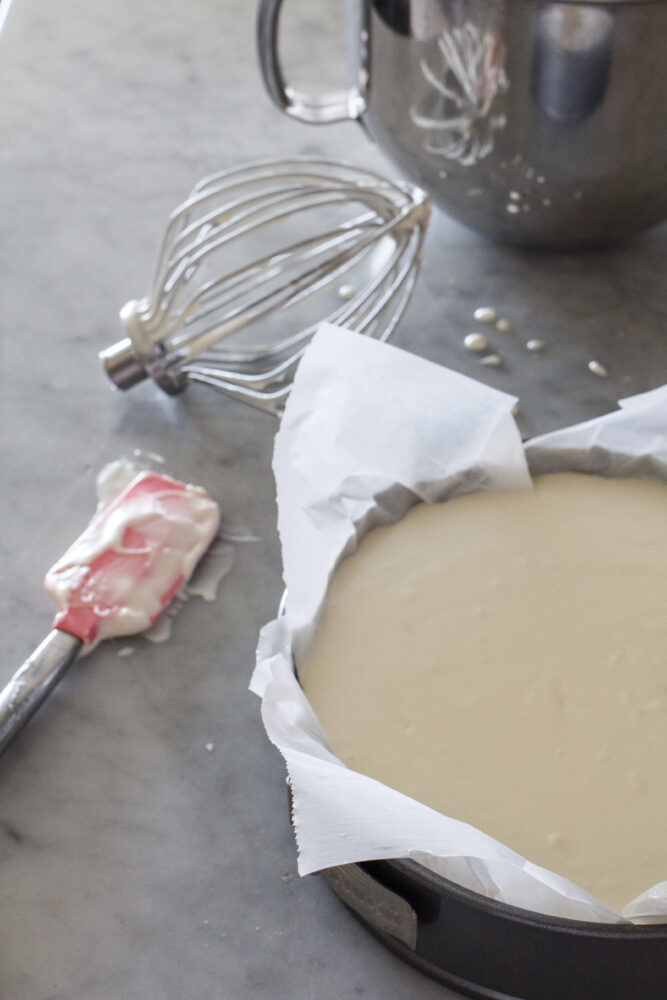 How to make 5 Ingredient Basque Cheesecake:
Line springform pan.
Place room temperature cream cheese in bowl and beat until smooth.
Add sugar gradually, beating and scraping down sides of bowl while adding sugar.
Add eggs, one at a time.
Add whipped cream, mix, and add salt.
Bake for 20 minutes, cover if needed to avoid overbrowning, continue baking for 20 additional minutes.
Remove and let cool for 2-3 hours.
What ingredients do I need to make Basque cheesecake?
Cream cheese (not low fat or spreadable)
Heavy cream
Granulated sugar
Eggs
Salt
How to tell if Basque cheesecake is done?
The top of the cheesecake will have a crust or layer of golden brown or dark brown on top, and the cheesecake will still jiggle when shaken. As the dessert cools, it will solidify and set up. It is best to wait 2-3 hours for the cheesecake to cool and set before slicing. The cheesecake may also be placed in the refrigerator to force cooling a bit quicker!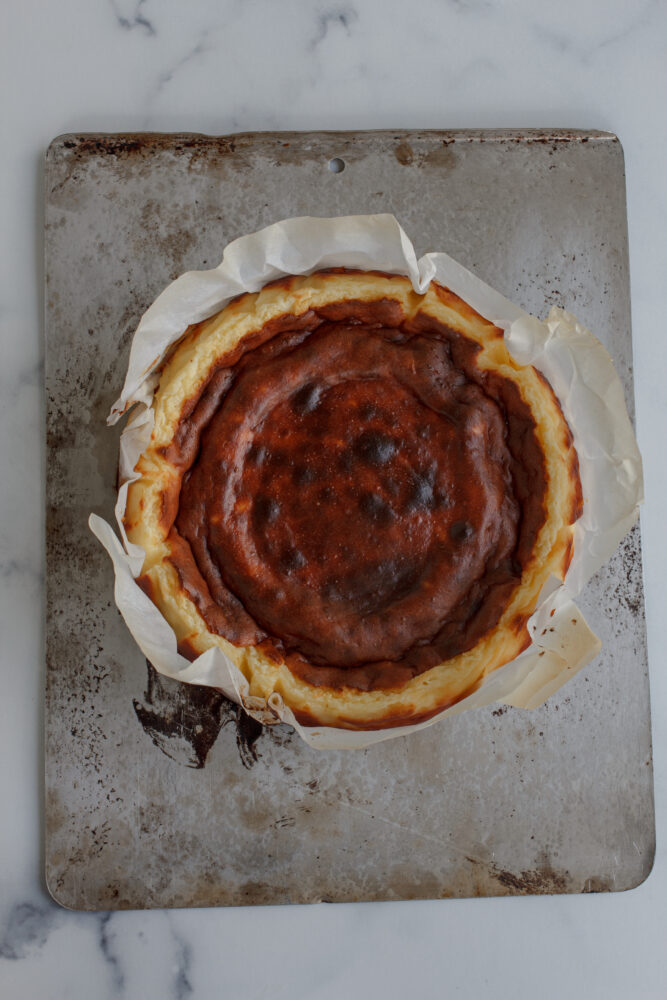 How to prevent leaks in springform pan while baking cheesecake
The best way to prevent any leakage in a springform pan is to line the pan with parchment paper. For Basque cheesecake, I use a sheet of parchment paper, pressed into the bottom and up the sides of the springform pan. I also like to bake my cheesecake on top of a thin metal cookie sheet or piece of foil. Some prefer to place the springform pan on top of a piece of foil and mold the foil around the bottom and sides of the pan. Never line the bottom of oven with foil, or it may stick and may not be removable!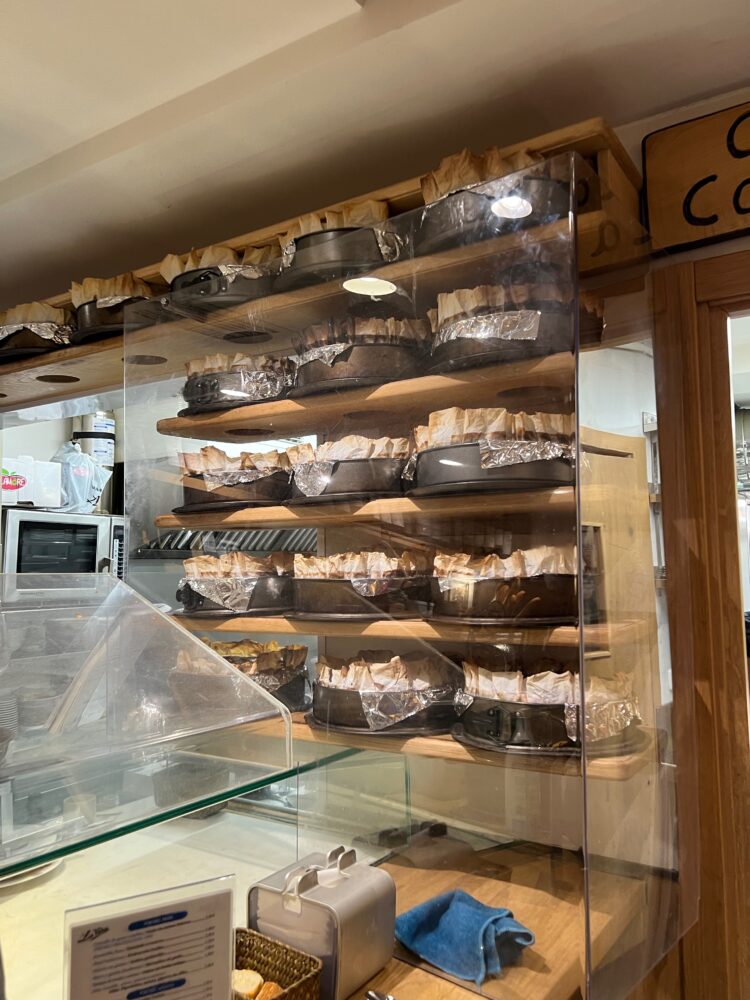 What type of cream is best to use in Basque Cheesecake?
Make sure to use heavy cream, also labeled heavy whipping cream. Heavy cream and heavy whipping cream are the same product. I highly recommend Darigold brand heavy cream for best results. If Darigold is not available, check the fat content of heavy cream before buying. Darigold is 40% fat, the requirement from USDA for fat in heavy cream is between 35-37% . There is a significant difference between heavy cream and cream.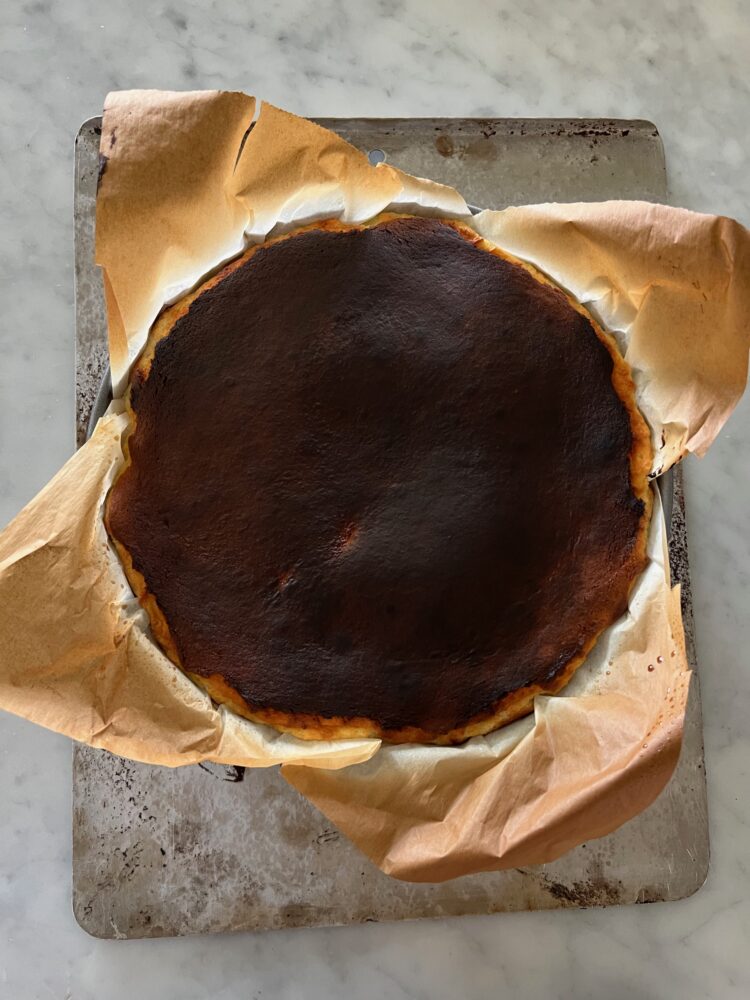 What brand of cream cheese is best for Basque cheesecake?
I tested several brands of cream cheese including store brands, Costco brand as well as Philadelphia brand cream cheese. I found the cheesecakes made with Philadelphia brand had the creamiest texture. Philadelphia brand is not commonly found in Europe, but Président brand cream cheese is a good quality product which I used for 18 months while living in Spain.
Does Basque cheesecake need to be refrigerated?
If after cooling, the cheesecake is not eaten within 3-4 hours, cover and refrigerate. Chill for up to 3 days. When ready to serve, remove from refrigerator and allow to come to room temperature for 2 hours.
If you have other questions, please leave in the comment section below, and if you try this cheesecake recipe, please leave a review and star rate the recipe! We would love to hear from you!
5 Ingredient Authentic Basque Cheesecake
Our recipe for 5 Ingredient Authentic Basque Cheesecake comes straight from the Basque Country. After testing several different burnt Basque cheesecakes, and multiple combinations of ingredients and cooking methods, we have a winner! Easy to make and so irresistible, this will be your new favorite cheesecake!
Total Time
2
hours
50
minutes
Ingredients
4

(8-oz)

cream cheese, room temperature

1 ¾

cups

+ 2 tablespoons sugar

5

large eggs

1 1/2

cups

heavy cream

2

pinches

of salt or ⅛ teaspoon
Instructions
Please read entire recipe AND recipe notes before beginning
2-3 hours before baking, let cream cheese sit on counter to come to room temperature

Line a 9-inch springform pan with a piece of parchment large enough to cover the bottom and extend up the sides of the pan. I generally cut a square of parchment and press into the pan. It is not necessary to grease the parchment. If you want extra protection from leakage, first line the pan with a 9-inch round of parchment or foil, as shown in the photo at La Viña, then line with parchment and fill as directed.

Preheat the oven to 400°F at least 15 minutes before baking. Place the rack in the center of the oven.

In the bowl of a stand mixer fitted with the paddle attachment, cream the sugar and cream cheese until smooth and there are no lumps remaining. Scrape down sides and bottom of bowl 2-3 times while mixing.

Add the eggs, one at a time, and beat until mixed well, scraping down sides and bottom of the bowl 2-3 times again.

Switch to the whisk attachment and whisk in heavy cream gently, on low speed. The bowl will be very full. Add two pinches of salt. Scrape down sides and bottom of bowl and mix again. The batter should be completely smooth with no lumps remaining. If lumps remain, use an immersion blender to ensure the batter is smooth.

Pour the batter into the lined pan and bake for 40 minutes in preheated oven, or until browned and/or slightly burnt on top. If the cheesecake is browning too much for your liking, cover loosely with foil the last 10 minutes of baking.

When the cheesecake is done, the center will still be soft and jiggle a bit. Remove from the oven and cool on a wire rack for 2-3 hours.

Before serving, remove the outer part of the springform and gently pull away the parchment paper. Serve at room temperature, or slightly warm.
Recipe Notes
It is extremely important that the cream cheese is at room temperature before beginning this recipe. Lumps are difficult (almost impossible)  to remove once ingredients are mixed. 
I have used several different brands of cream cheese when making this recipe and have found Philadelphia brand cream cheese produces the best finished product.
A food processor will also work well with this recipe. First mix the eggs and sugar together, then add cream cheese, scraping down sides and bottom of the work bowl, and last add the cream and salt. Pulsing works best when adding the heavy cream. 
During testing, I used room temperature eggs and room temperature heavy cream and did not see a difference in the finished product. It is only necessary to make sure the cream cheese is at room temperature 
Make sure to use heavy cream in this recipe with at least 36% milk fat. If heavy cream is not available, use the highest fat content cream available and add 1/4 cup of flour to the filling. 
The amount of browning on top is personal preference. I have made this recipe and blackened the top (which Grant prefers) and also just barely cooked to golden brown. 
Basque cheesecake is served at room temperature or even warm! If making ahead, cover and chill for up to 3 days before serving. Let come to room temperature before serving.