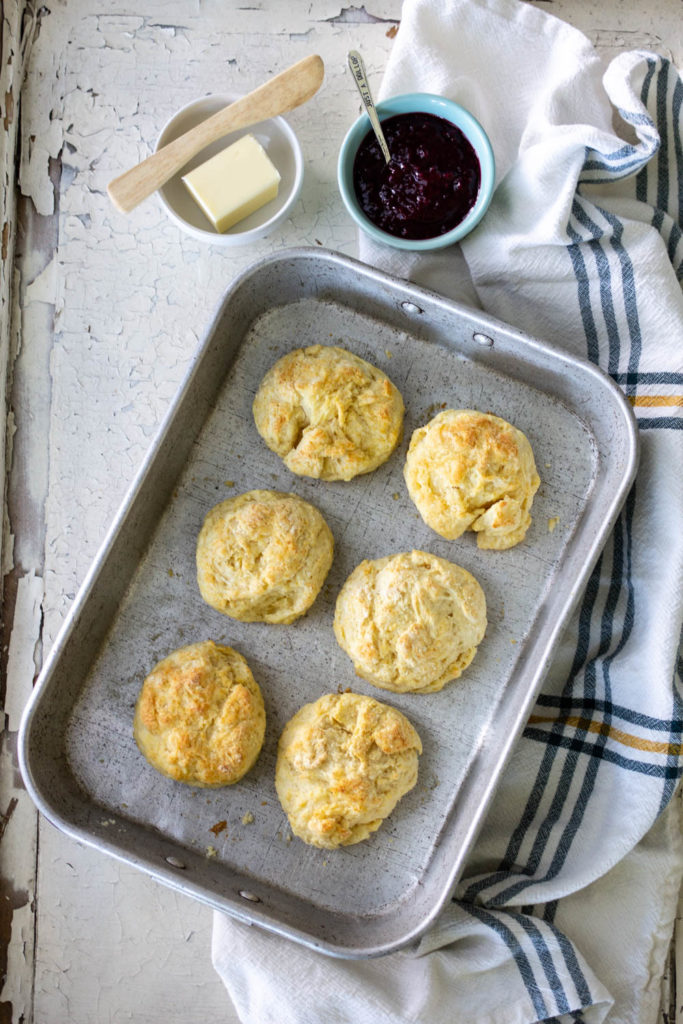 Get ready to fall in love with every flaky layer of these Buttermilk Biscuits. Perfect melt in your mouth biscuits you can make in 20 minutes!
This recipe for Buttermilk Biscuits is one of the first recipes I posted on A Bountiful Kitchen back in 2008.  I love big, flaky, homemade biscuits. If you haven't ever tried to make homemade biscuits, this is the recipe for you. It's quick and easy and pantry friendly too. So easy your kids can make them alone or with your help. Nothing says comfort quite like a homemade biscuit!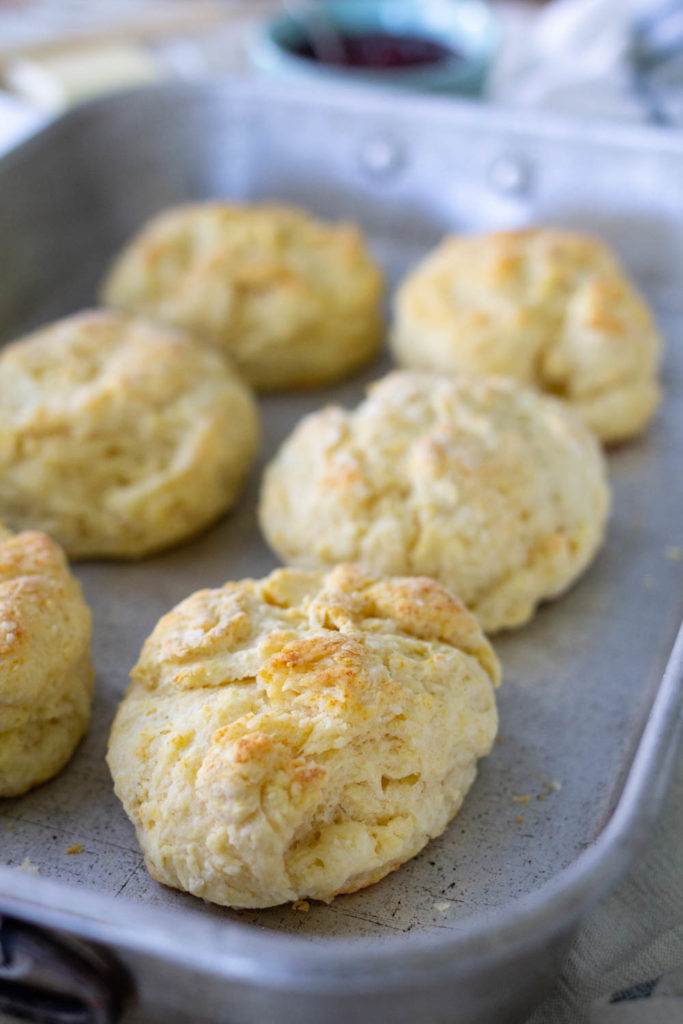 I grew up eating my mom's biscuits. I loved it when she made biscuits, which was every time we had stew for dinner. One of my favorite food memories is sitting at the dinner table eating my mom's baking powder biscuits, which were made with shortening. This recipe is similar, but has a secret ingredient…Buttermilk!
When we were first married back in 1982, I found a recipe in the newspaper for Buttermilk Biscuits. I knew buttermilk made baked goods tender and I decided to give biscuits made with buttermilk a try. That was 38 years ago in June, and I've been making biscuits for Grant, and then my kids and grandkids since!
I love all the flaky layers of this biscuit. Perfect for spreading a little (or a lot!) butter or jam on top. Buttermilk Biscuits are also great with Biscuits and Sausage Gravy– a prefect quick and easy dinner everyone will love.  Nothing quite compares to the goodness of a homemade biscuit, hot out of the oven. I promise once you eat a homemade biscuit, you will never go back!
This recipe post has been updated with new photos and content in March 2020.
Buttermilk Biscuits
Buttermilk Biscuits are made with buttermilk and shortening for the most tender and flaky biscuits!
Ingredients
2

cups

all purpose flour

1

tablespoon

baking powder

1/2

teaspoon

salt

1/4

teaspoon

baking soda

5

tablespoons

Crisco or other solid shortening

I like "butter flavor" best

1

cup

buttermilk

see notes for substitutions
Instructions
Preheat oven to 425 degrees. Make sure oven preheats for at least 15 minutes before baking.

Sift all dry ingredients into bowl. Actually, I never sift, but that's what the original recipe says.

Cut in shortening until mixture resembles coarse crumbs. Add buttermilk all at once. Stir until dough follows fork around bowl. Do not overmix!

Turn out onto lightly floured surface. Pat out to about 3/4 to 1″ thick. Cut out into circles with either a glass or biscuit cutter.

Bake on ungreased cookie sheet or baking pan for 12-15 minutes until golden brown.
Recipe Notes
If you don't have buttermilk, you can easily make some at home.  The key is to let this mixture sit on counter top for 10 minutes before using to allow it to thicken to the consistency of buttermilk! Pour 1 tablespoon of lemon juice or white vinegar into a one cup measure. I prefer lemon juice. Bottled is fine! Fill the cup with milk. I have found that the more fat in milk, the better it works. If you have half and half, use 1/2 cup of half and half and the rest milk along with the lemon juice. Greek yogurt is also a great substitute for buttermilk. Replace the amount of buttermilk with plain, unsweetened Greek yogurt, cup for cup. OR, 1/2 cup of milk and 1/2 cup of Greek yogurt also works. No need to add the lemon juice if using Greek yogurt. 
Depending on the size of the cutter, this recipe yields 8-12 biscuits.