Cinnamon Swirl Bread with Sweet Cinnamon Butter was originally published in 2011. Updated in 2023 with new content and photos.
Homemade bread. There are few things better than homemade bread. The smell of bread- and especially cinnamon bread baking is truly the most wonderful gift to everyone in your home. And if you are thinking, they sell this at the grocery store – bite your tongue! Nothing nothing nothing compares to homemade.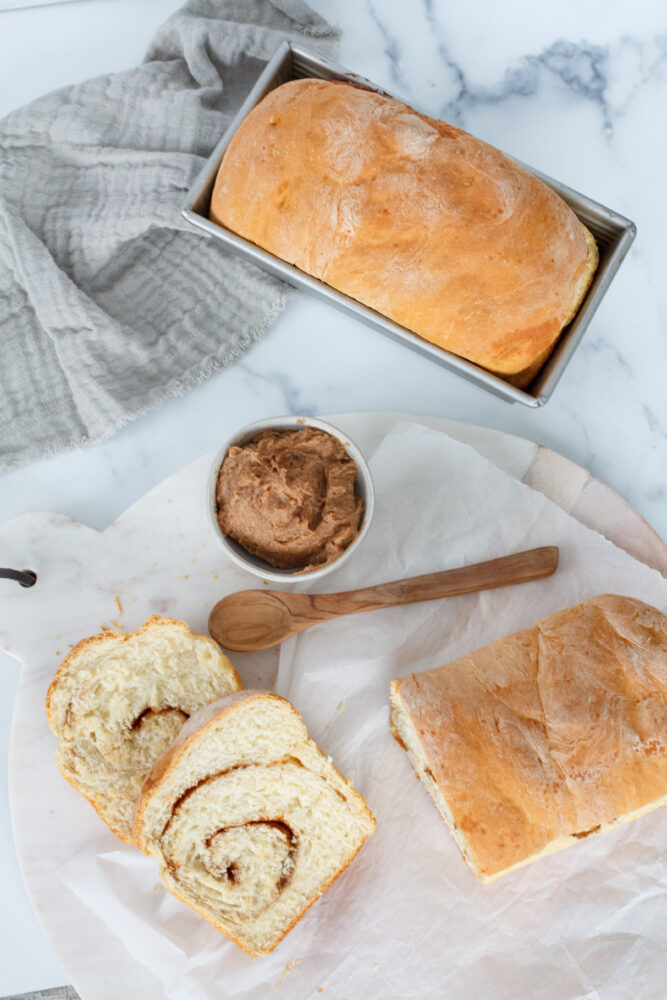 Remember the time I tried to make bread when I was a teenager? My Aunt Gloria and family had come to visit our family in Washington when I was a young girl. She taught my mom how to make bread from scratch, and I was sure I had died and gone to heaven. I love bread almost as much as I love dessert, and I was over the top delighted when my Aunt Gloria hand wrote her recipe on a piece of notebook paper and shared it with my mom.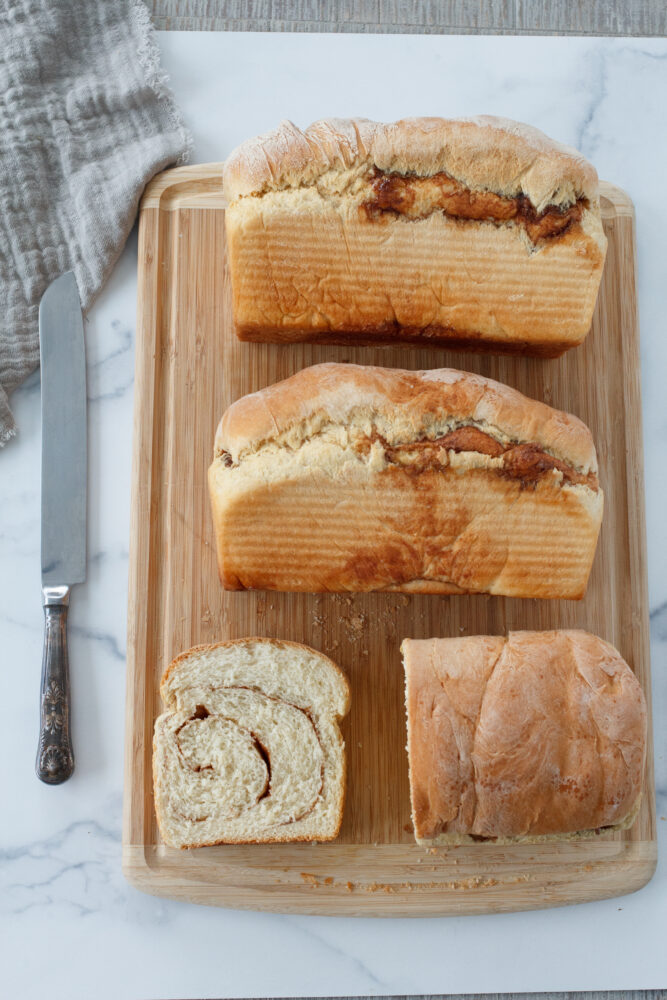 Later, I decided to make a loaf or two of bread myself. I was a teenager, did I mention that already? And an impatient teen at that. The concept of allowing the yeast to bubble, and the dough to rise, more than once was more than my teenage brain could comprehend. I followed directions to mixing, kneading and then when it was time to let the dough rise, I decided to take shortcuts.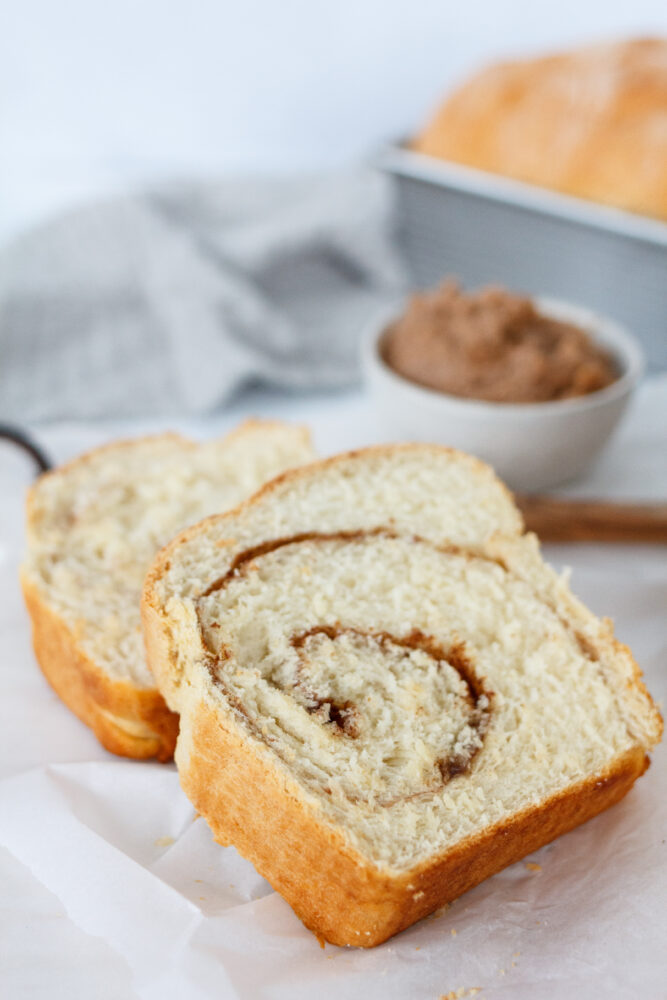 Who knows at exactly what point my bread failed, but I do remember thinking it was okay to skip over some of the instructions to "let rise until double" or "let rise for 1 hour". Sadly, my bread exited the oven a bit larger than the size of a brick with texture very similar to a brick. That was a the last time I attempted to make bread at home…
Years later, I learned about the role of yeast in bread, that temperature matters, and the essential step of allowing the dough to rise. Once I understood these principles it unlocked a whole new world for me in the kitchen! I took a bread making class and learned how to make rolls from my mother in law. I was on my way to a long term love affair with BREAD.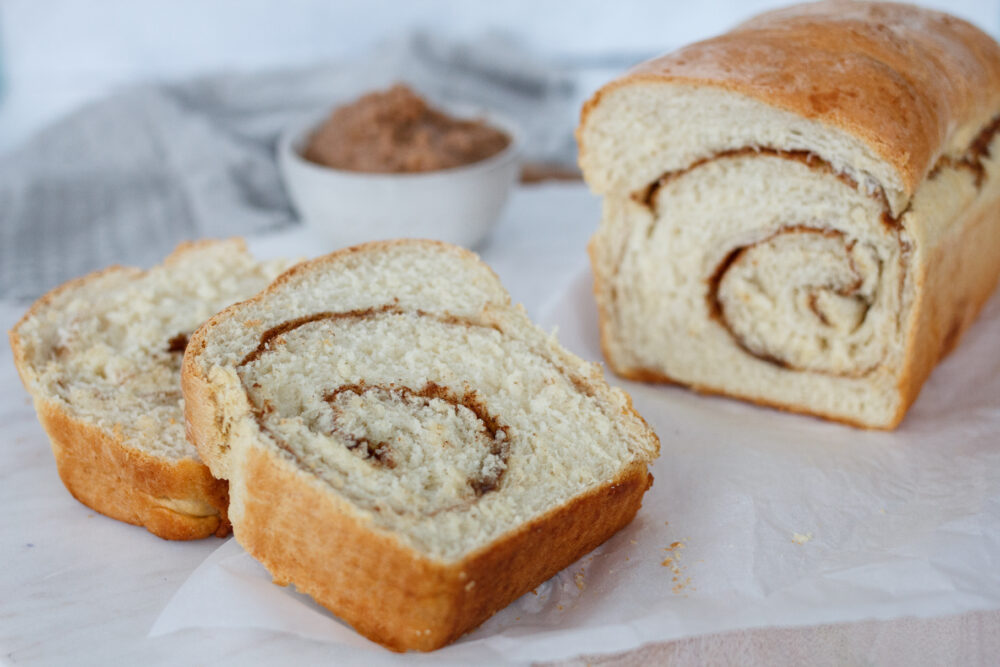 Don't let the length or time needed to make this recipe scare you! Yes 4 hours start to finish is what it takes to make this treat, but most of the time is either rising or baking. Hands on time is about 15 minutes (at most), total. You do need to be close to the kitchen, so laundry day or a snowy day are both perfect pairings for making homemade cinnamon bread. Ok, now that I've talked you into making bread, here are a few tips and tricks to get the perfect loaf in just a few hours!
Tips for making homemade bread and a few other FAQ about making cinnamon bread…
If you are new to making bread, here are a few of my tips for success:
Always proof the yeast before using. Sprinkle yeast over warm water (or other liquid), the yeast will bubble or foam if the water temperature is right and the yeast is active.
Turn up the heat. If your room is cool or drafty, warm it up. Bread dough is much happier in a warm environment! 72 degrees is a minimum temperature.
Warm the bowl. Before starting, run the bowl under warm or hot water. This will help the dough to rise.
Use the microwave as a mini warming drawer. Heat a cup of water for 1 minute in the microwave. Remove the cup of water then place bowl of covered dough inside of the microwave. This creates a warm, moist place for dough to rise.
Let bread dough rise twice, once after initially mixing together ingredients, and usually once after shaping. This particular recipe calls for 3 rises total. Once after mixing, once again in the bowl, and then one final time after being shaped.
Do not add too much flour to the dough. When making bread, less is more. It is easy to add more flour if needed, but if too much flour is added in the beginning, it is difficult to "fix" the dough. If too much flour is added early, it will inhibit the rise of the dough and also make it more difficult to shape bread.
Spray the bowl with cooking oil or coat the inside of the bowl with butter or oil to prevent sticking. I often spray a light shot of oil on top of the dough before covering the bowl as well.
Preheat the oven for 15-30 minutes before baking for best results.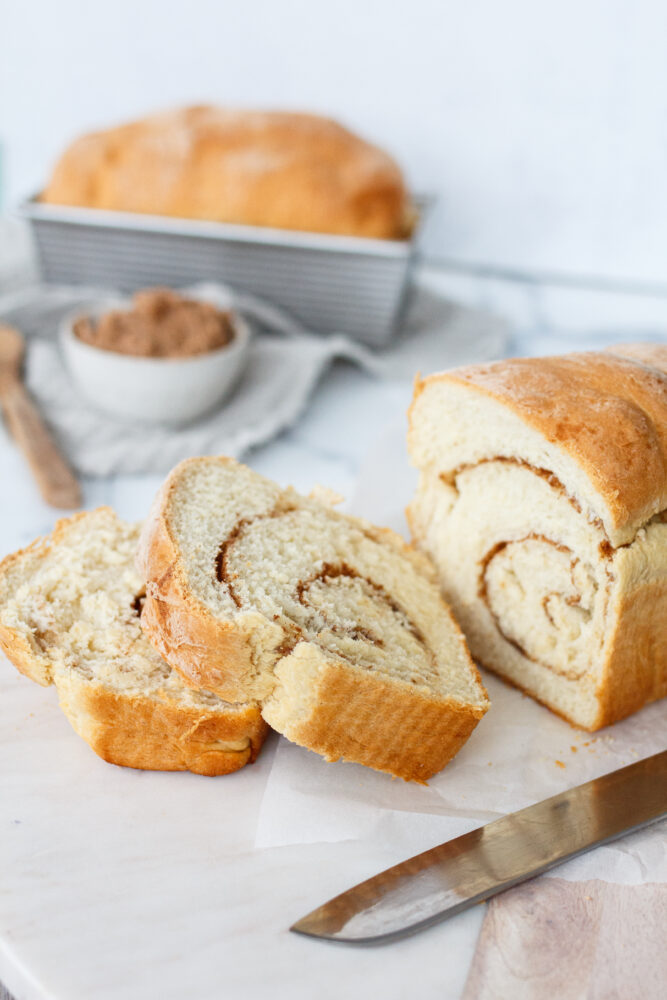 Questions about making cinnamon bread:
What yeast is best for making bread? I prefer SAF yeast. I buy it at Costco in a vacuum packed container. It's easy to use and store. I've had students at class tell me they have stored it for 7 YEARS in the freezer. Wow. I go through yeast so frequently that it would not last 7 years without being used up, but good to know! Once the package is opened, it should be used within 6 months unless frozen. I like Instant Yeast, because the rise lasts longer than traditional or even rapid rise yeast and seems to produce a more even, consistent rise in bread or roll dough. Instant yeast technically does not need to be "proofed" in warm water or liquid. But I always proof it to make sure the yeast is active!
What does "proofing" mean?
Proofing yeast means to test the yeast to make sure it is still alive. If the yeast does not rise or bubble after being added to warm liquid, the dough will not rise. I like to proof yeast before using to ensure my dough will rise (even when using instant yeast). This prevents the waste of other ingredients!
What pans should I use to make cinnamon bread?
I use USA bakewear pans to bake bread. They are 1 lb loaf pans, are heavy, sturdy and easy to clean. This pan measures 8.5 x 4.5 x 2.75 inches. I replaced my old standby pans a couple of years ago and have never looked back! These pans bake more evenly and also stack together nicely in the pantry. If you want to purchase two at a time, this is the best deal for purchasing pans.
How to make Cinnamon Swirl Bread:
Remove all ingredients from pantry and fridge set on counter top.
Sprinkle yeast over warm water in a bowl with 1 tablespoon of sugar.
Heat milk until warm, add butter and salt. Stir to melt and dissolve.
Add part of flour to the warm water and yeast mixture and mix.
Add cooled milk mixture to yeast mixture.
Add remaining flour 1 cup at a time, mix until dough is smooth.
Let the dough rise twice in the bowl.
Roll out dough, spread with filling and place in pans.
Let rise for third and final time.
Bake in preheat oven.
I know you are going to love this recipe as much as we do. It makes three large loaves, perfect for enjoying and sharing a loaf, or two! When you make this recipe, leave a comment below and let us know. I love to read your comments and suggestions as well!
Cinnamon Swirl Bread with Sweet Cinnamon Butter
The best cinnamon bread ever! White pillowy bread, filled with cinnamon sugar, and topped with sweet cinnamon butter.
Prep Time
2
hours
45
minutes
Ingredients
1

tablespoon

plus 1 teaspoon yeast

I use SAF or "Instant" yeast

2

cups

warm water

at least 100, not more than about 120 degrees

4

tablespoons

sugar

divided

2

cups

milk (whole is best)

5

tablespoons

unsalted butter, soft

1

tablespoon

plus 1 teaspoon salt

8-10

cups

flour

approximately*
Filling for cinnamon swirl bread and cinnamon butter:
1

cup

granulated sugar

1/2

cup

brown sugar (light or dark)

3

tablespoons

cinnamon
Sweet Cinnamon Butter:
1

cup

unsalted butter, room temperature

1/2

cup

leftover sugar and cinnamon filling from bread
Instructions
Sprinkle yeast over 2 cups warm water in a large bowl or the bowl of a stand mixer. Add 1 tablespoon sugar. Set aside.

Warm 2 cups of milk in a small saucepan over low heat. Stir in 5 tablespoons butter, remaining 3 tablespoons sugar and salt. Stir until the butter melts. Remove from the heat and cool to lukewarm.

Add 6 cups of flour to the bowl containing yeast and water. Mix on low. Add warm milk and butter mixture. Add flour, one cup at a time, until dough is no longer sticky. Switch to dough hook, or if making by hand in bowl, knead, until smooth and satiny.

Place dough in an oiled bowl and cover with small towel. Place bowl in warm spot. Let rise until doubled in bulk or about 1 hour.

After one hour, punch down dough and fold a few times onto itself. Turn the dough upside down so the bottom of dough is now on the top of the bowl and let rise again until dough is raised almost double, about 30-60 minutes,

Grease three 4 1/2 by 8 1/2 inch pans generously with butter or cooking spray.

Divide dough into three pieces. Roll out into 3 rectangles, approximately 8×10 inches each. Spread each rectangle with cinnamon sugar mixture (about 1/3 cup of sugar mixture per loaf). You should have about 1/3 to 1/2 cup of the sugar mixture left over to make the cinnamon butter. Roll each piece of dough starting at short end, tucking ends under when placing in pan.

Brush the loaves with a beaten egg (optional) and sprinkle with sugar if desired.

Let rise again, about 30-45 minutes . Preheat oven while dough is rising in pans.

Bake at 350 degrees for 45 minutes. Remove from oven and pans and let cool on a wire rack.

Sweet Cinnamon Butter: Mix softened butter and 1/2 cup cinnamon sugar mixture together in medium size bowl. Spoon into crock and serve at room temperature with bread.
Recipe Notes
This recipe may be made with all-purpose and/or bread flour. Either type or a combination work! If using all bread flour, usually only  8-9 cups of flour total are needed.
When adding the warmed milk mixture to the water/yeast mixture, make sure the milk is warm and not hot. If the milk is hot, it will kill the yeast and the bread will not rise. This is an extremely important step. 
For the top of bread, if sprinkling with sugar, use granulated sugar not coarse sugar for best results while baking. The coarse sugar tens to burn more easily. 
This bread is wonderful sliced thick, toasted,  or used for French toast the next day. The dough also works well for cinnamon rolls!