Raspberry Cream Cheese Cinnamon Rolls are heaven sent! This recipe takes cinnamon rolls to a whole new level of delicious.
What comes to mind when you hear raspberry and cinnamon roll together? In the past, every time I purchased a raspberry cinnamon roll at a bakery I was disappointed. The thin layer of jam, or jam in the icing, or red food coloring combined with a lot of sugar and raspberry flavoring left me craving something better…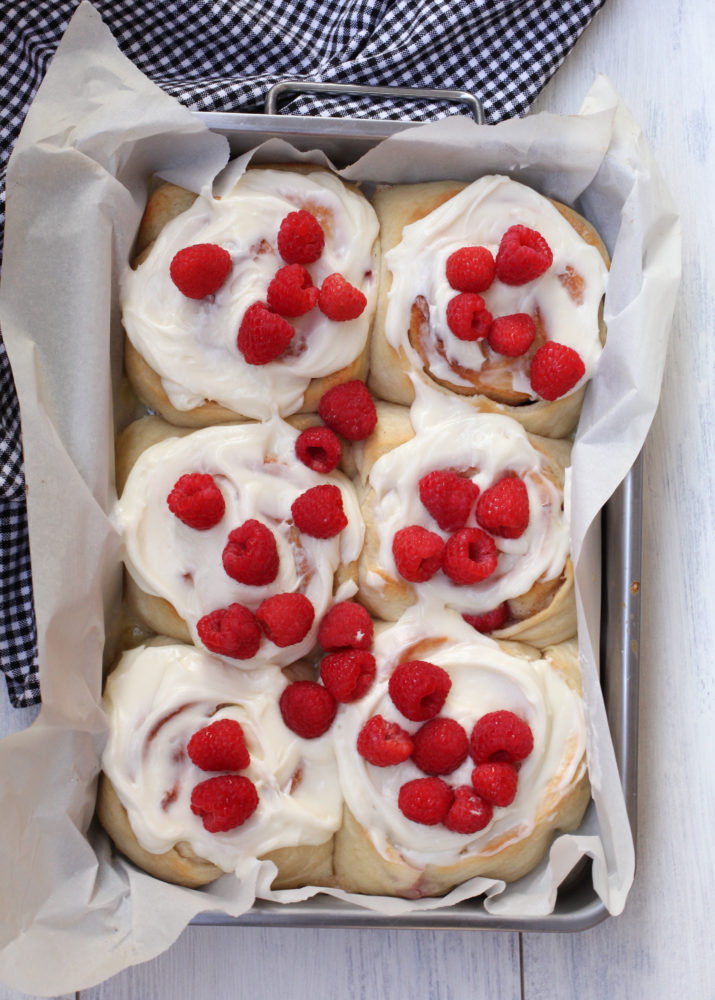 If I'm going to eat a raspberry cinnamon roll, I want RASPBERRIES in my rolls! Once I get an idea into my head, there's no stopping me. My new mission in life was making the best Raspberry Cream Cheese Cinnamon Roll ever.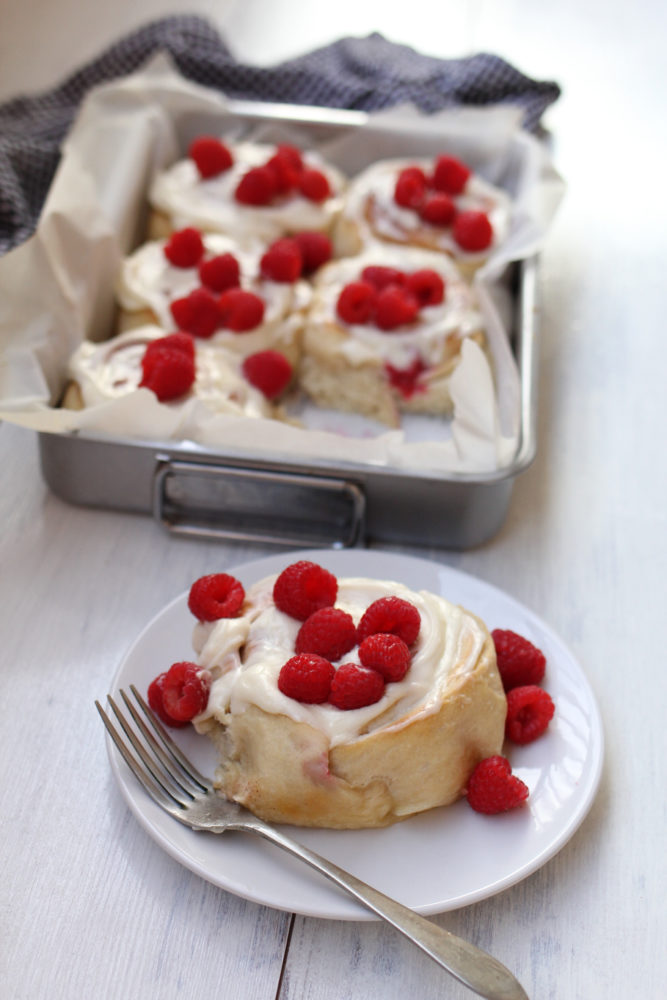 A Fun Change to an Old Favorite
The idea of a raspberry cinnamon roll is basically the same as a traditional cinnamon roll, only with fresh raspberries in the filling. I love the little bit of tart the raspberries give to the sweet roll and the way the raspberries slightly melt into the buttery sweet filling after being baked. I just wash and dry the raspberries thoroughly, then sprinkle on top of the filling just before rolling up (see photo). It's not absolutely necessary to top the rolls with more fresh raspberries, but I think it takes this recipe to over-the-top status!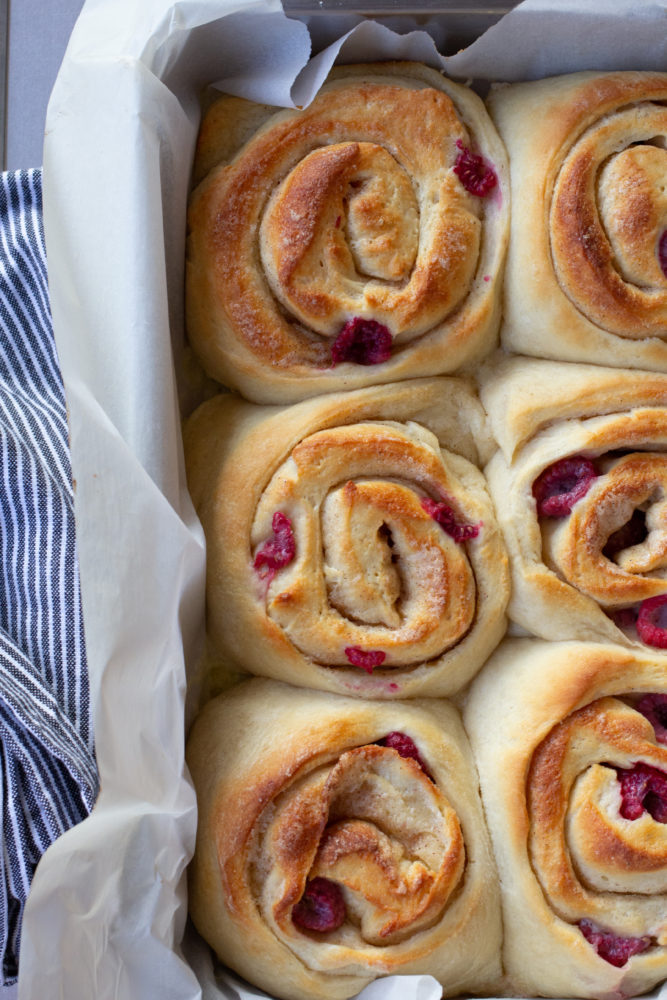 Fresh Fruit FTW
There's nothing better than a homemade cinnamon roll. My favorite type of cinnamon roll is not too light, not too heavy, a bit chewy, moist, with gooey filling and smothered with thick, dreamy frosting. I've developed a similar idea using traditional cinnamon rolls made into a fresh raspberry version!
You won't find thin, flavorless filling in these rolls. This filling is pure heaven. Combined with the most perfect roll texture and thick cream cheese frosting, talk about a fun new way to celebrate the humble cinnamon roll!
When I'm in the mood to make a sweet breakfast treat, I tend to turn to my traditional Overnight Cinnamon Rolls or Cutler's Cinnamon Rolls. Raspberry Cream Cheese Cinnamon Rolls are the best of both worlds. They are perfect for so many occasions: family brunch, holiday time, conference weekend, you name it! These sweet rolls belong on your table. 
Fresh fruit, moist filling
Some may be hesitant to add fresh fruit in baked goods, because it can make the bread or dough a little soggy. These rolls are definitely best served the same day, but they are perfectly delicious, even on day two.
I highly recommend using fresh raspberries when possible. My favorite brand of fresh raspberries for any type of baking are Driscoll's. I've found this brand to be picked fresh and packed with very little water if any, so they work well in this recipe. You will need two pints or about 3 1/2 to 4 cups for one recipe if you'd like enough for topping the rolls as well as the filling!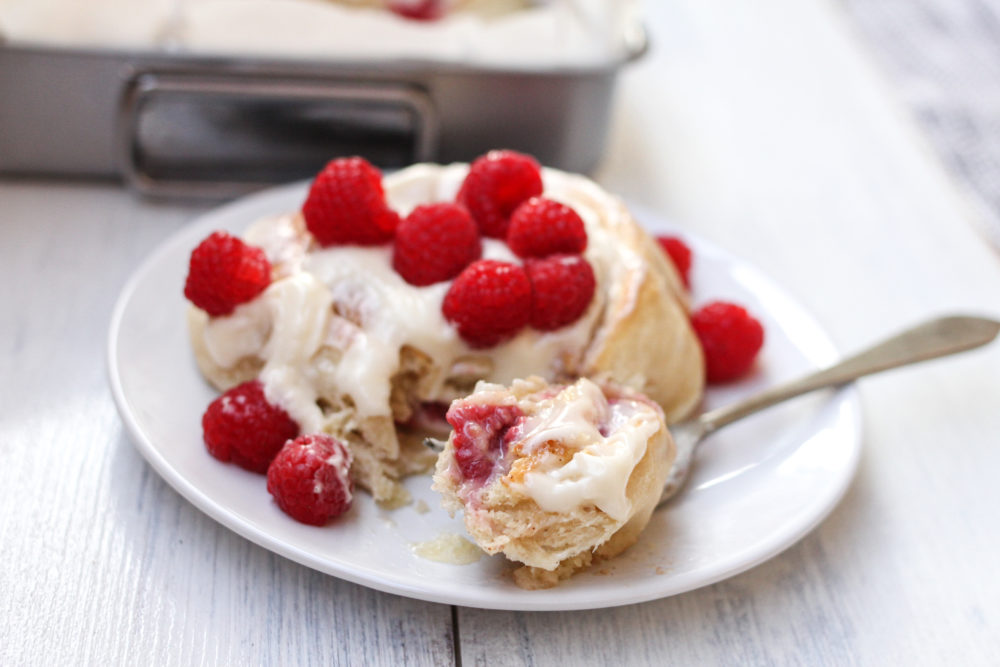 The secret to moist gooey cinnamon rolls!
Last year, Kathleen (my assistant and dear friend) told me she and her daughters tried pouring cream over cinnamon rolls before baking and they were over crazy about the results. I have to agree! The combination of cream poured over the rolls (see below) just before baking, juicy raspberries, and then frosting the rolls partially with a decadent cream cheese frosting while they're still warm…amazing! Did I mention more fresh raspberries on top?! You've never tasted a roll this good.
How to make-ahead Raspberry Cinnamon Rolls
If you're like me and you like to make everything ahead as much as possible, without compromising quality, I have good news for you! I initially thought this recipe would not freeze well because of the fresh berries. I was wrong. After experimenting, I've found a method that works and the rolls taste just as wonderful as if made and baked the same day! Follow the recipe until the rolls are shaped and placed into the baking pan. See recipe notes for details. After the rolls are shaped, they may be frozen until day of baking. You need to allow about 3 hours to let the rolls thaw and rise before baking.
Raspberry Cream Cheese Cinnamon Rolls are a must have on your holiday menu this year Pin this recipe so you'll be able to find it easily. This recipe is sure to become a new family favorite. Oh, and one more bit of advice, take out your dessert plates, this sweet roll can't be eaten on a napkin!
Raspberry Cream Cheese Cinnamon Rolls
Thick and gooey cinnamon rolls filled with fresh raspberries, topped with cream cheese frosting and more fresh berries! Don't be intimidated by the amount of steps in this recipe! There are a few basic steps: make dough, let rise, make filling, shape rolls, make frosting, bake rolls, frost rolls. Much of the time in the recipe is to allow the dough and shaped rolls to rise!
rising time and cooling time
2
hours
30
minutes
Total Time
3
hours
15
minutes
Ingredients
Dough
2

cups

warm water

1 3/4 cups in extremely humid environment

⅔

cup

nonfat dry milk

2

tablespoons

active dry yeast

¼

cup

granulated sugar

2

teaspoons

sea salt

⅓

cup

unsalted butter, melted

1/4

cup

canola or sunflower oil

1

large

egg PLUS one yolk

room temperature

4½ to 5

cups

bread flour or all purpose

*see recipe notes

Oil for coating bowl
Filling
6

tablespoons

unsalted butter room temperature

1/2

cup

granulated sugar

1

tablespoon

all purpose flour

1

teaspoon

cinnamon

pinch

of salt

2

cups

fresh raspberries (more needed for topping)

see recipe notes

1

tablespoon

cream for each roll

room temperature
Frosting
6

oz

cream cheese, softened

regular (not low or no fat)

3

tablespoons

unsalted butter, softened

1

teaspoon

vanilla

2 1/2 – 3

cups

powdered sugar

pinch

of salt
Topping
fresh raspberries for garnish, about 1 1/2-2 cups

see recipe notes
Instructions
Make roll dough
Combine water and dry milk powder in a large bowl of a stand mixer. Using paddle attachment, stir until milk dissolves. You may also use a whisk and mix this portion by hand.

Add yeast, 1/4 cup sugar, 2 teaspoons salt, ⅓ cup melted butter, 1/4 cup oil, 1 egg PLUS 1 yolk, and 2 cups of the bread flour. Mix on low speed until ingredients are combined. Increase mixer speed to medium and mix for about 1 minute. Turn mixer off.

I like to change to the bread or dough hook at this point.

Add 2 more cups of flour. Mix on low speed until ingredients are combined for 2 minutes at low speed. Dough will start to get stiff. Remaining flour may need to be mixed in by hand.

Add remaining flour, until dough is soft and not sticky or wet looking (it is not necessary to use all of the flour). When the flour is mixed in, scrape down sides of bowl, and turn dough over in bowl. Lightly apply oil to the inside of the bowl with cooking spray or a paper towel coated with canola oil or butter.

Set the bowl in a warm place away from drafts. Cover the bowl with plastic wrap or a light clean kitchen towel and let rise for about 60-90 minutes or until dough has doubled.
Prepare fruit & filling (while dough is rising)
Wash raspberries gently in cold water, toss lightly and drain so all of the water is out of the cavity of the fruit. Let sit on on paper towel and come to room temperature while dough is being prepared and rising. Save about 1 1/2 cups of the raspberries for topping the rolls after baked and cooled. Two cups of the raspberries go in the filling of the roll.

In a small bowl, mix 1/2 cup granulated sugar, 1 tablespoon all purpose flour, cinnamon and salt. Set aside.
Frosting (prepare while rolls are baking)
Place 6 oz cream cheese and 3 tablespoons unsalted butter in a large mixing bowl or bowl of a stand mixer. Mix until combined.

Add 3 cups powdered sugar, vanilla and salt. Mix on low until powdered sugar is combined. If mixture is too thick, add a little milk or cream. Set aside until ready to frost rolls.
Assemble, let rise & bake rolls
When the dough has risen, generously flour a clean surface with all purpose flour.

Roll out dough into approximately a 20"x10" rectangle. Spread 6 tablespoons room temperature butter over filling. Sprinkle filling onto the dough evenly. Sprinkle 2 cups of the raspberries on top of the filling evenly over the dough (see photo).

Roll up the dough, starting with the long side, until the dough is rolled into one long piece (see photo).

Using a sharp knife, pastry scraper with sharp edge or unflavored dental floss, cut the rolled dough into half, then each half into 2 pieces, then each portion into 3 even portions. You should have 12 rolls when finished.

Butter a 9×13 pan, or two 9 inch round cake or pie plates, or line with parchment paper. All of the rolls will fit into one 9×13, or if you prefer to space the rolls out a bit, use 2- 9×13 pans or 6 each in the round pans. Place the rolls into prepared pans.

Cover the rolls with parchment or a clean kitchen towel. Let rise for about 45 minutes in a draft free place at least 72 degrees.

Place rack in middle of oven, and preheat oven to 375 degrees 15 minutes before baking.

Before baking, pour 1 tablespoon cream or half and half over each roll in pan. Make sure the cream is room temperature.

Bake the rolls for 18-20 minutes or until golden on top and the bottom is cooked and slighly golden as well. While rolls are baking, make frosting.

Remove from oven and let cool for about 5 minutes. While rolls are still hot, frost with about 1/2 of the frosting, being careful to not press down on the rolls too much.

After 30 minutes, frost rolls with remaining cream cheese frosting and place a few fresh raspberries on top of each roll before serving.
Recipe Notes
Remember, the amount of flour you will need depends upon the climate in which you are baking. If you are baking in a dry climate, your dough may only need 4 1/2 cups of flour. Especially if using bread flour! Bread flour has a higher protein content than all purpose flour, and usually when I'm baking in Utah, I need about 4 1/2 cups of flour in this recipe. In Spain, where it is very humid, and we are at sea level, I need 5 cups of bread flour plus I have to reduce the liquid in this recipe by 1/4 cup. Follow recipe directions and watch the dough. If you have mixed in all of the flour and it still is wet and very sticky, add an additional 1/4-1/2 cup of flour until you have the right consistency!
For success in roll making, always start with a warm bowl. Run warm water into the bowl used for making rolls and wipe out with towel. Proceed with making rolls.
Use large, room temperature eggs.
If you do not have access to dry milk, you may use 2 cups of whole milk, warmed just a bit. I like the texture better when using dry milk and water. 
For best results, keep flour at room temperature, not in a cold or hot garage or storage space. I use bread flour for cinnamon rolls. Bread flour has a higher protein content than all purpose flour and will produce a bit better rise and a chewier texture in cinnamon rolls.
Pouring cream or half and half over the rolls is not absolutely necessary, but  will change the overall moistness of the roll after baked. It also creates a creamy, soft texture inside of the cinnamon roll.
This recipe requires about 4 cups or two pints total of raspberries. 
You should allow about 3 1/2  hours start to finish (majority of time rising and baking). 
For make ahead: Follow directions, make dough, let rise, roll up dough and cut into pieces. Instead of letting rise again in pan, place the rolls in a freezer proof pan, cover tightly and freeze.  When ready to bake, remove from freezer and place in a warm (at least 72 degrees) room, covered. Let rise for about 3 hours or until almost doubled in size.  Top with cream and bake as directed.