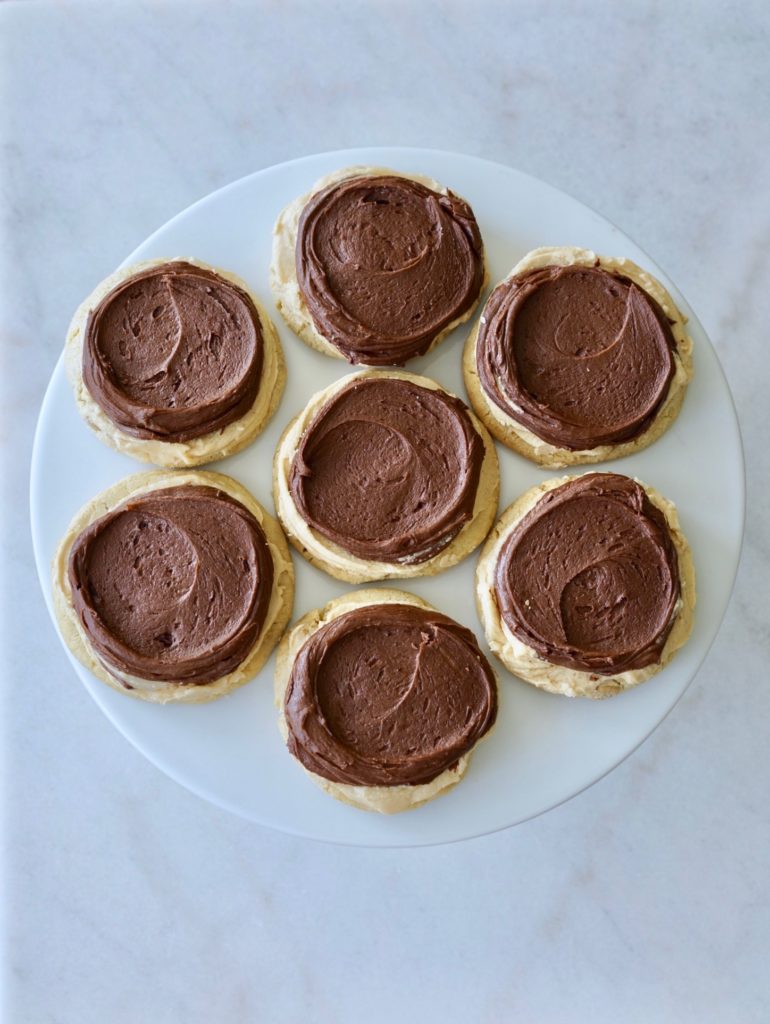 Cutler's Frosted Peanut Butter Cookies are a chocolate and peanut butter cookie lover's dream! Soft cookie with Reese's peanut butter chips, peanut butter frosting and chocolate frosting on top. It's so soft and creamy and literally melts in your mouth!
Cutler's Cookies is a family owned shop located in Bountiful, Utah. Yes, the same Bountiful where we lived when I first started blogging on A Bountiful Kitchen in 2008!
Back when I first collaborated with Curt Cutler, he agreed to teach classes in shop and offered a class, cookie samples and a coupon for lunch for $10. Yes TEN DOLLARS. Amazing! Those seriously were the good old days!
Make-at-home version of the original Cutler's recipe
Years ago, when I approached Curt and asked if he would share his cookie recipes for posting on ABK, he generously agreed. Curt scaled down the cookie recipes for baking at home, which had not been done previously.
When we first started posting Cutler's recipes, there were many happy readers who had grown up or lived in Bountiful but now moved away, and couldn't run to Cutler's for a treat. Now they are able to make the cookies no matter! Thanks to the Cutler family for being so generous and sharing their recipes. See end of post for links to other Cutler's Cookie recipes.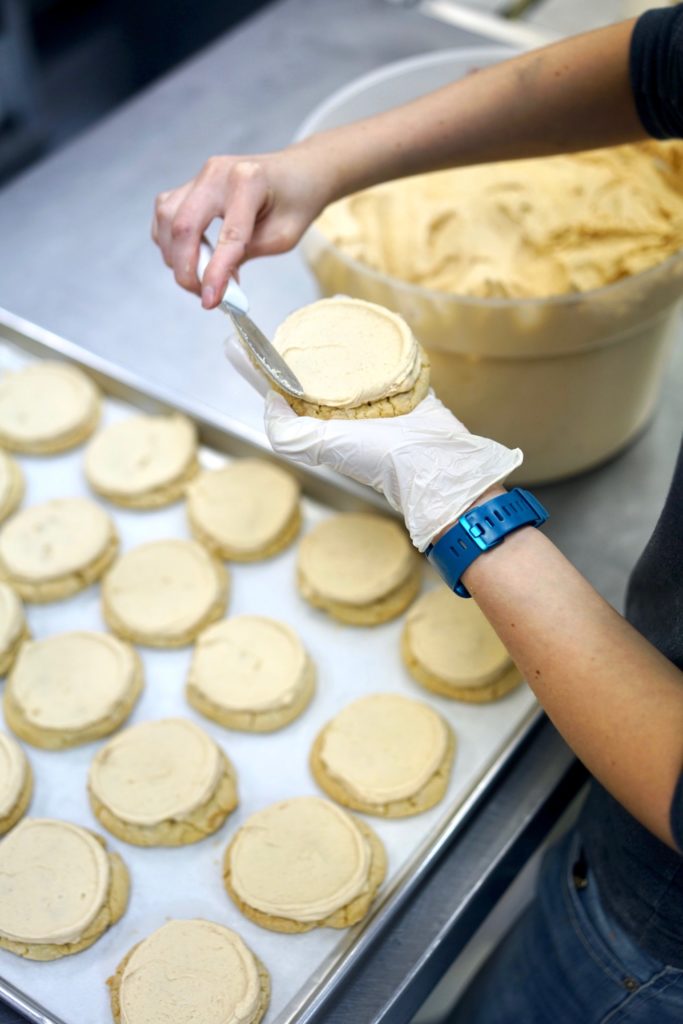 Update 2020
We have recently re-worked some of the Cutler's recipes (with the help of Cutler's) to make sure they turn out as good as the store bought cookies in your home kitchen!
This recipe in particular, needs to be made with All-Purpose flour for best results. We also highly recommend refrigerating the dough after shaping for at least one hour to insure the cookies hold their shape while baking.
Curt and his wife Nancy are the kindest and most generous people. The recipes for Cutler's Cookies on ABK are not copycat recipes, they are original recipes, straight from the shop!
If you are in the Bountiful area, make a stop at Cutler's and try all of their delicious treats and sandwiches. My favorite is the turkey avocado, no sauce, add mayo on white. So good!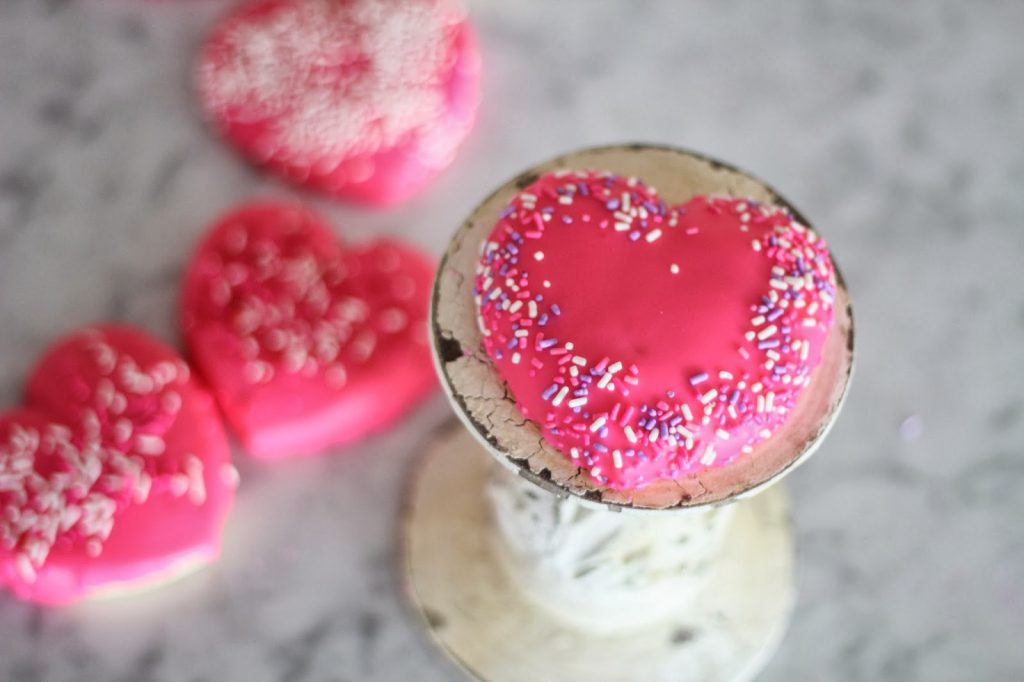 If you'd like to try other Cutler's cookie recipes, Curt has also shared the following which are also originals and on ABK:
Cutler's Famous Sugar Cookies with Buttercream, Cutler's Sugar Cookies with Glaze, Cutler's Gingerbread with Buttercream, Cutler's Brownie Marshmallow Cookie, Cutler's Mexican Wedding Cookie, Cutler's Pumpkin Chocolate Chip Cookie, and finally Cutler's Cinnamon Rolls. The rolls are not sold in the store, but are absolutely delicious!
Original post 2013. Recipe and photos updated in 2021.
Cutler's Frosted Peanut Butter Cookies
This peanut butter and chocolate cookie is a heavenly blend of two flavors made for each other! I dare you to find a better peanut butter and chocolate cookie anywhere.
cool, frosting (2 layers) time to set up
45
minutes
Total Time
1
hour
5
minutes
Ingredients
For cookies:
1

cup

butter

room temperature

¾

cup

brown sugar

¾

cup

white sugar

1

teaspoon

salt

1/2

teaspoon

baking powder

1/2

teaspoon

baking soda

1

teaspoon

vanilla

2

large

eggs

3 1/4

cups

All purpose flour

Curt uses cake flour in Cutler's cookies, but we found AP flour works better at home

1- 12

oz

bag Reese's Peanut Butter chips

no substitutions
Peanut Butter Frosting:
1/2

cup

butter

soft-room temperature

3

cups

powdered sugar

1/2

cup

peanut butter

not natural

milk to thin to proper consistency

whole milk is best
Chocolate Frosting:
1

cup

butter

soft- room temperature

3

cups

powdered sugar

1/4

cup

unsweetened cocoa

or less if you like a lighter cocoa frosting

1

tablespoon

vanilla

1/4

cup

milk
Instructions
cookie
Cream together butter, sugars, salt, baking soda and powder. Add vanilla and eggs. Mix well.

Add flour and peanut butter chips. Mix just until flour and chips are blended together.

Shape the cookies into balls (about 3 tablespoons each or use a cookie scoop), place the cookie dough balls in the fridge for 1 hour before baking.

About 15 minutes before baking, pre-heat oven to 350 degrees and place rack in center of oven.

Bake 8 cookies per pan, for 10-12 minutes or until set on top and the cookie no longer looks wet. Let cookies cool completely before frosting.
frosting
Peanut Butter: Cream together room-temperature butter and powdered sugar. Add peanut butter and beat until smooth. Add milk a tablespoon at time, just until frosting is smooth and creamy. Set aside.

Chocolate: Cream butter and powdered sugar. Add cocoa and vanilla. Add milk a tablespoon at a time until frosting is smooth. If needed, add more powdered sugar.

After cookies are cooled, frost with peanut butter frosting.

Then frost on top of the peanut butter frosting with the chocolate frosting. When spreading the chocolate frosting on top of the peanut butter frosting, be very gentle and leave a small space between the edge of the peanut butter frosting and the chocolate frosting for a layered frosting look (see photos).
Recipe Notes
At Cutler's they use Cake flour in their cookie recipes. After testing this recipe at home, we found All Purpose flour works best and still tastes about the same. Using  Cake flour creates a cookie that spreads out a bit too much for home baking. 
Highly recommended, refrigerate the dough for at least 60 minutes after shaping for best results!