Ready, set, let's go to Greece! This Easy Greek Pasta Salad with Homemade Dressing is filled with our favorite Mediterranean flavors. Greece is known for fresh and delicious cuisine. This salad incorporates traditional Greek Salad ingredients with pasta for any time of year!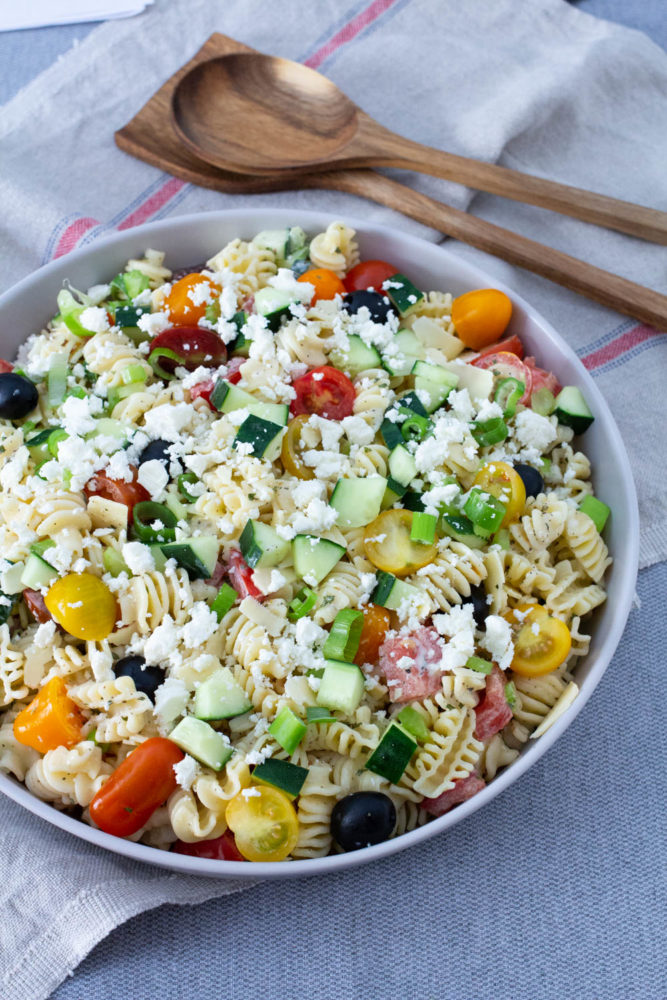 Fresh salad dressing!
My Sister in law, Sheri made this salad for me years ago and it became a staple in our pasta salad rotation! A few years later, I updated the dressing a bit. I changed it from a store bought bottled dressing with a few mix-in's to a homemade dressing I know you will love.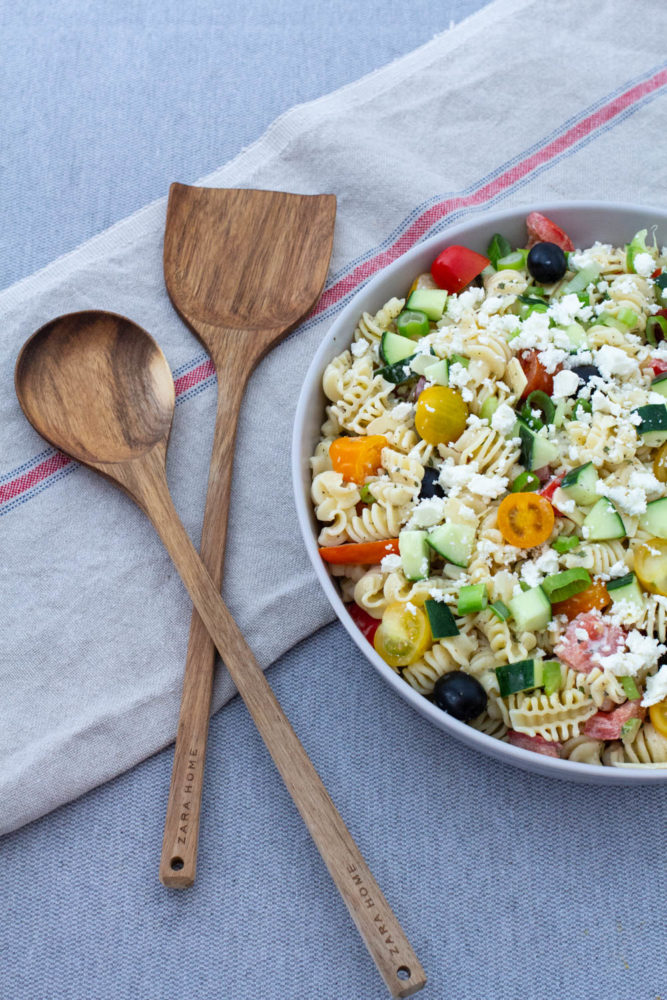 The original dressing recipe made with bottled dressing is on the post as well. This easy to make recipe can be made start to finish in about 30-40 minutes. I highly recommend refrigerating the salad for a few hours to let the flavors develop before serving! Like many pasta dishes, this Greek pasta salad is definitely best the next day as leftovers!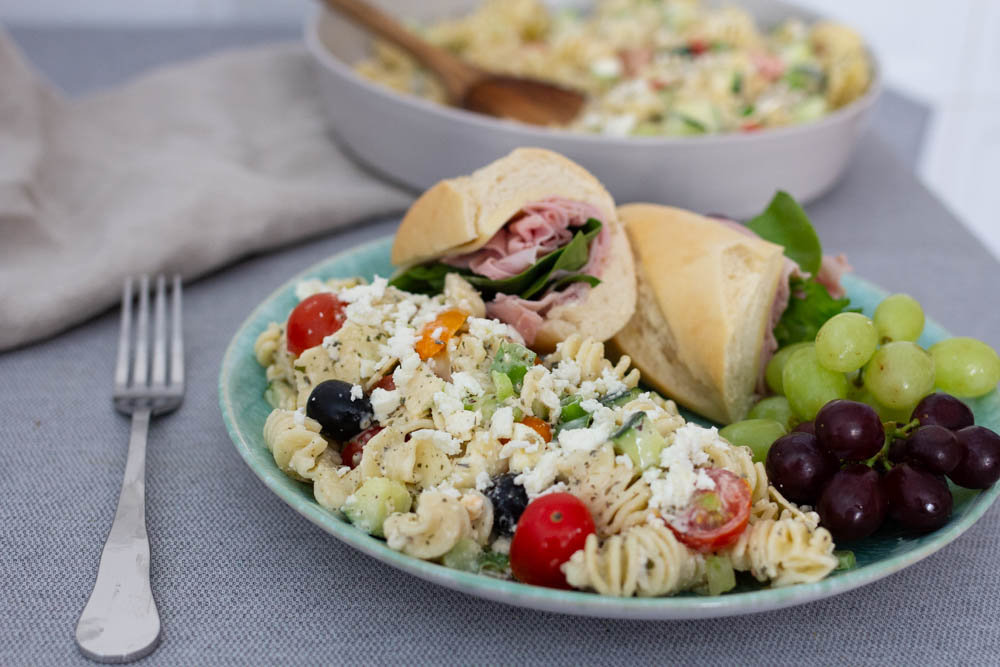 Full of color and the perfect side
Our Easy Greek Pasta Salad with Homemade Dressing is full of amazing flavors and beautiful colors. Bright colors in recipes are not only pleasing to the eye, but usually more healthy as well!
This fun Mediterranean pasta salad is a perfect side dish for so many meals! We love this salad with the addition of grilled chicken or alongside any type of grilled meat or fish!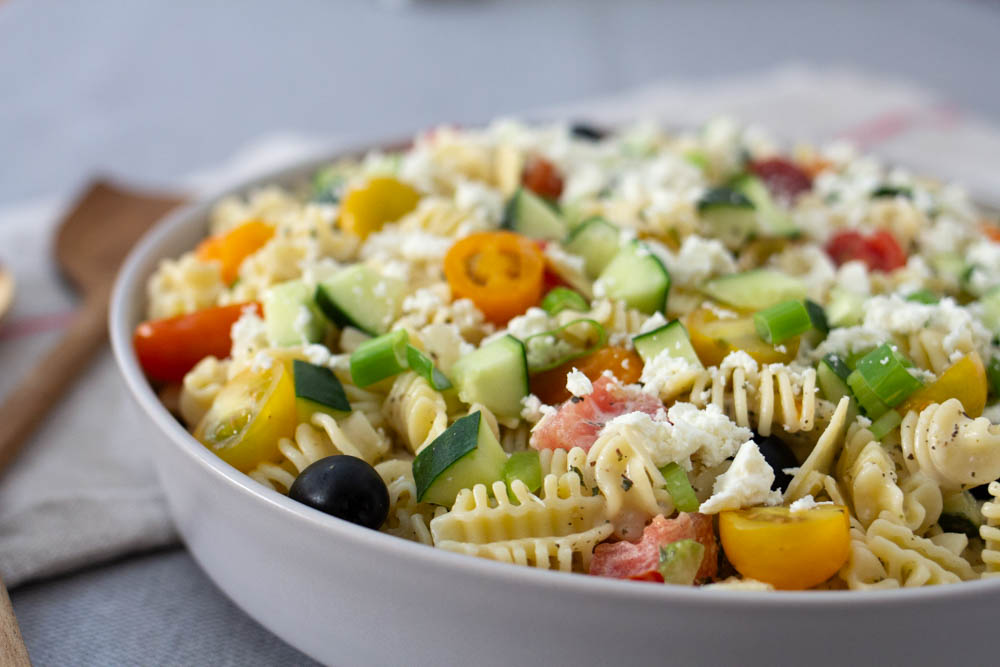 Easy Greek Pasta Salad with Homemade Dressing for parties
Potluck for summer? This is the best salad to bring. It's an instant hit and also delicious alongside burgers and hotdogs. Also, it travels well and can be made ahead!
Easy Greek Pasta Salad with Homemade Dressing is one of my favorite salads to make when I host a party and offer a few different salads for a meal. The flavors in this salad are unique and stand out enough from most of our other favorites that it is distinct and different!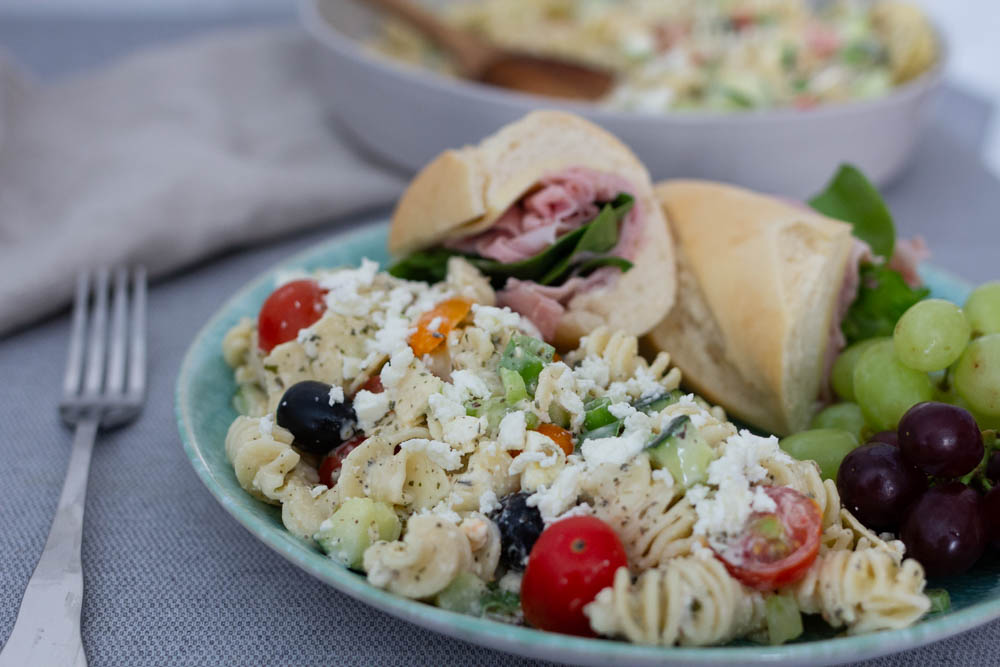 How to Make the Greek Pasta Salad:
Cook pasta shells according to package directions.
Rinse the cooked pasta with cold water, drain.
Set aside some of the feta and chopped veggies to top the salad.
Add the remaining chopped veggies (except tomatoes) to the salad bowl.
Whisk together the dressing ingredients.
Fold the dressing, cheeses and tomatoes into the pasta/veggies mixture.
Sprinkle the reserved veggies and feta on top to finish it off!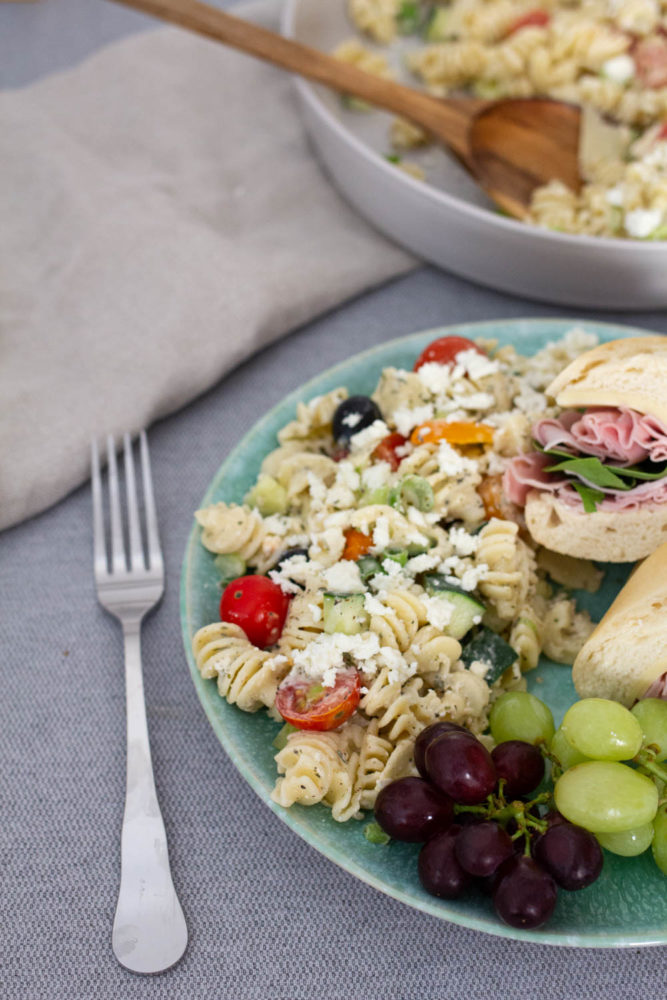 A few of our other favorite salads include: Basil Couscous Salad, Teriyaki Spinach Pasta Salad, Chicken Pear and Smoked Gouda Salad, and Mango Chicken Pasta Salad with Tarragon Dressing.
Easy Greek Pasta Salad with Homemade Dressing
Easy Greek Pasta Salad with Homemade Dressing is made with fresh ingredients including tomatoes, cucumbers, onion, olives and feta cheese. It can be made in minutes and is best made ahead!
cool time for pasta
15
minutes
Ingredients
1 1/2

lb

small- shell shaped pasta

1

cup

diced celery or green or red pepper

1 14-15

oz

can small or medium pitted black or green olives

drained

1

medium

cucumber seeded and diced, about 2 cups chopped

1

bunch

green onions

chopped

3

medium

diced tomatoes

seeded and chopped OR 8 oz grape or cherry tomatoes

1/2

cup

grated Parmesan cheese

8-10

oz.

crumbled feta (also reserve some for topping salad)
Dressing:
1 1/4

cup

prepared "Zesty Italian" bottled dressing

1/2

cup

mayo, regular or light

1

tablespoon

dry oregano

OR to make homemade dressing:

1/4

cup

olive oil

1/3-1/2*

cup

white balsamic vinegar

1/2

cup

mayo or plain unsweetened Greek yogurt

I prefer yogurt

1

clove

minced garlic

about 1 teaspoon

1

tablespoon

dry Italian seasoning

1

tablespoon

dry parsley or 1/4 cup chopped fresh parsley

1/2

teaspoon

salt

ground pepper

1-2

teaspoons

honey, to taste
Instructions
Cook pasta according to package directions, taking care to not overcook. Rinse with cold water and drain well.

Add celery (or peppers), olives, cucumber, green onions, and tomatoes to pasta in large bowl. Set aside 1/2 to 1 cup of this mixture for topping salad.

In a small bowl, whisk together dressing ingredients. If using bottled dressing, whisk dressing, mayo, oregano and pepper. If homemade, place all ingredients in a jar or deep bowl or blender. Use an immersion blender or regular blender to mix dressing. Set in fridge until ready to use.

Fold dressing and cheeses into pasta and vegetable mixture.

Add tomatoes, folding in gently.

Sprinkle reserved feta and a few reserved vegetables on top of salad before serving.
Recipe Notes
I use a portion of the dressing on the salad when tossing with vegetables and cheeses. If I serve it right away, I drizzle more on top after arranging. If I wait to serve it later in the day or the next day, I toss again with more dressing before serving and serve any remaining dressing on the side. 
When making the dressing, I start out with 1/3 cup of vinegar. If the dressing seems a little heavy, add another few tablespoons of white balsamic to the dressing and blend. You may also thin the dressing with a bit of cold water.