Our Easy Low-Sugar Peach Raspberry Jam is made with a small amount of sugar compared to traditional jam recipes! The flavor in this low-sugar jam is sweet and a bit tart, and so perfect on everything from bread to pancakes!
Let's talk about making low sugar jam. When it comes to making jam, I'm usually an "all or nothing" type of person. I am absolutely not interested in making jam without sugar, or a sugar substitute. So when my friend Megan gave me a jar of her low-sugar jam last summer I was skeptical. How good will it taste?? I thought?
One spoonful of this jam on my toast and I was convinced. I hurried and made a batch last fall to get us through the winter and then I waited all year until peaches were ripe again to work on and perfect this recipe so I could share it with you!
tweaks to the recipe…
I made a few adjustments to make this recipe a bit more user-friendly. I found the original recipe to be just a bit thick, so I reduced the amount of pectin in the recipe. The jam recipe as written is not processed in a water bath to seal the jars, so it is best stored in the freezer or if using immediately, in the fridge. I tried the method without processing (in a water bath or pressure method) last year and found that one of the jars had mold in it late this year! Yikes.
A few questions you may have about our Easy Low-Sugar Peach Raspberry Jam…
Can I use frozen peaches in my peach raspberry jam?
Unfortunately, and by experience I can report, NO. I tried to speed up the process of sharing this recipe by using frozen peaches, thawed a bit, then pureed to make our peach raspberry jam (before peach season). Big mistake. The water retained in the peaches made the mixture super watery and the jam turned into a gloppy mess, which I had to put in the garbage because I feared clogging up my disposal! Frozen raspberries are ok in this recipe, frozen peaches are not.
What type of peaches are best for peach jam?
Any type/variety of peach you have on hand! I have made traditional peach jam for over 30 years and have used a variety of peaches. All work well, and any will work in this recipe. You will find that some peaches cling to the pit more than others, and if the peach is not quite ripe, the peach will be more difficult to peel and separate from the pit. Use the hot and cold water bath for best results when peeling peaches (described in the recipe notes).
Is the fruit measured before or after crushing?
The peaches for this recipe are measured after peeling, pitting and crushing. The raspberries are measured whole.
How to make Easy Low-Sugar Peach Raspberry Jam
Prepare peaches by washing, peeling, pitting and chopping.
Wash raspberries add to peaches and blend again.
Add fruit and sugar to a large pan, cook until boiling.
Boil for 15 mintues.
Add jello and pectin, stir in and cook for an additional 5 mintues.
Pour jam into prepared jars, seal. Let sit on counter for 24 hours, then refrigerate or freeze.
Why I love this recipe
Delicious homemade jam with all the flavor and less sugar
Made with sugar and not a sugar substitute
Can be adapted to replace raspberries with: blackberries, blueberries, cherries
Tastes like raspberry jam, while using more peach than berry
Can be made as freezer jam or sealed and stored in pantry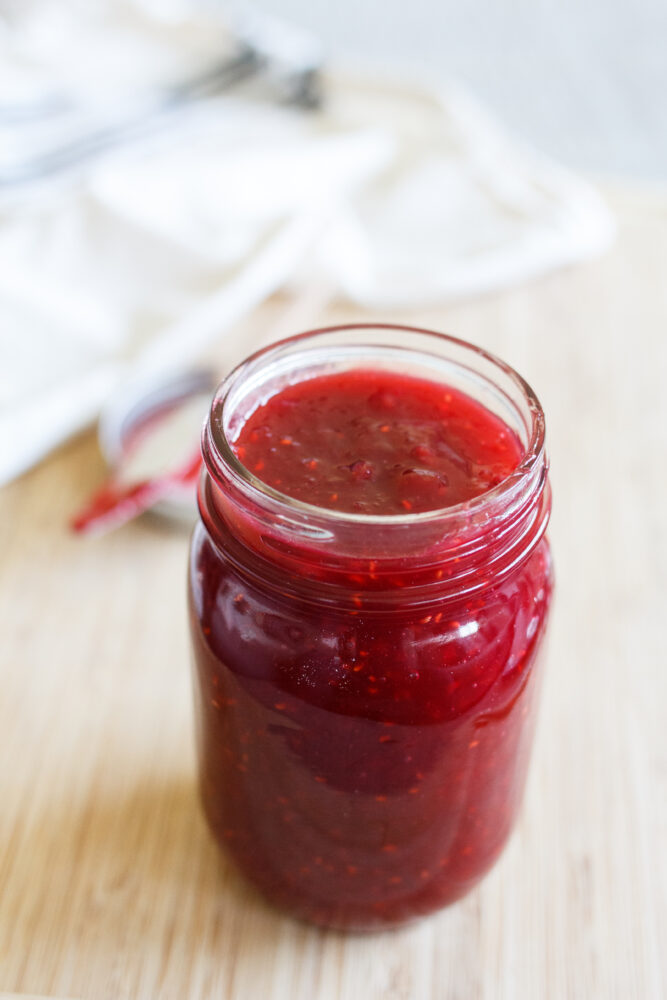 Ingredients needed to make Easy Low-Sugar Peach Raspberry Jam
8 cups pureed peaches
4 cups or 2 (10-12 oz) packages frozen raspberries
7 cups sugar
1 box of Sure Jell Less Sugar Pectin
1 large ( 6 oz) box Jello: Raspberry, Peach or Strawberry
How much sugar is used in a jam recipe?
What makes this a low sugar jam recipe? Most jam recipes call for 4 cups of sugar to 2 cups of fruit. Yes, that's right, double the amount of sugar to fruit. Yikes! Our lower sugar version calls for 12 cups of pureed fruit to 7 cups of sugar.
When making the lower sugar version of jam, I use pectin that is made specifically for this purpose. Sure-Jell makes a low sugar pectin product that works perfectly in this recipe. Megan's recipe also includes a box of Jello along with the pectin which serves two purposes. The gelatin in the Jello helps the jam to set up and also provides a bright red color.
Start to finish, you'll need to set aside about 1 1/2 hours to make this recipe. When winter comes you'll be very happy you took the time to bottle up this last little bit of summer!
Helpful Tools for making Jam:
Funnel for canning and pouring jam into jars. This is by far the most helpful tool I purchased over 30 years ago. There are countless different models, make sure to purchase one that can fit over multiple size jar openings.
Large Stockpot. I've had this 8 quart pan for 30 years. There are less expensive pans available, that work as well. In the early years of our marriage, I borrowed and also bought pans at thrift stores.
If you love this recipe, you'll love our Strawberry Coconut Freezer Jam and Apricot Almond Jam!
Easy Low-Sugar Peach Raspberry Jam
Our Easy Low-Sugar Peach Raspberry Jam is loaded with flavor and made with about half the amount of sugar in traditional jam recipes!
preparing jars + lids and filling jars
20
minutes
Total Time
1
hour
10
minutes
Ingredients
8

cups

pureed peaches

about 18-24 medium size peaches

2

10-12 oz packages frozen raspberries or 4 cups fresh

7

cups

sugar

1

1.75 oz box Low-Sugar Sure Gel (pink box)

1

6 oz box raspberry Jello (large box) peach or strawberry flavor may also be used
Instructions
Measure the sugar into a bowl and set aside.

Prepare jars, lids and bands by washing with hot water and soap and drying completely. Set aside.

Peel, pit and chop peaches. Place in blender. Puree the peaches to measure 8 cups. Add raspberries to the blender (or use an immersion blender). Pulse until the raspberries are broken up.

Pour the blended fruit into an 8-quart (large saucepan).

Place the fruit on the stove and turn heat to medium-high. Stir in sugar and bring to a boil.

Once the mixture starts to boil, boil for 15 minutes. Set timer, and stir frequently. Add one teaspoon of butter if the mixture is foamy. The butter will reduce the foam.

After boiling for 15 minutes, sprinkle the package of Jello and the Sure Jell pectin over the top of the cooked fruit mixture. Using a whisk, immediately whisk in until all dry ingredients are dissolved into the fruit mixture.

Set the timer and continue to boil for 5 additional minutes, stirring frequently.

Remove the pan from the heat. Using a funnel and ladle, pour jam in clean jars, within ¼ inch of top. Wipe off the rim and threads of jar using a clean damp dishcloth. Place the clean lid onto the jar, and screw on lid tightly.

Turn the jar upside down and let cool for several hours. When the jam has cooled, turn the jar right side up. Let sit on counter top for 24 hours.

Label the jar with contents and date. Store jam in refrigerator for 1 month or in the freezer for up to one year.
Recipe Notes
For best results, lay out all ingredients and equipment for jam BEFORE making recipe. 
Always prepare jars and pre measure sugar into a bowl before starting jam. 
Do not re-use seals for jars. Always buy new lids, it is ok to reuse screw-on bands.
To peel peaches easily, boil water, place peaches in boiling water, a few at a time for about 30-60 seconds. Remove using slotted spoon to a bowl of ice water. The peels will easily come off after using this method!
Use ripe (not overripe) fruit. Remove any blemishes on fruit before using.
If you would rather seal the jam jars using a canning bath, follow directions on inside of pectin package to make this jam shelf stable (without refrigeration required). 
For Freezer Blackberry Jam: Allow the jam to cool at room temperature for 24 hours, then store in the fridge for up to 1 month, or the freezer for up to 1 year.
To Can: Process in a boiling water bath for 10 minutes (or longer if at high altitude*). Allow to rest on your counter for 24 hours, to ensure the jars settle and seal properly. Check seals, and store jam in a cool, dry place for up to one year.