After years of trial and error, I've found the perfect way to cook a whole turkey. ABK's How to Roast Turkey in a Bag will guide you step by step through the simple process of preparing and roasting a moist, tender and beautiful turkey for your holiday gathering!
ABK's Free Thanksgiving Ebook, with printable timeline checklist, grocery list, more recipe links for ABK Thanksgiving favorites and additional Thanksgiving tips to help you keep everything running smoothly!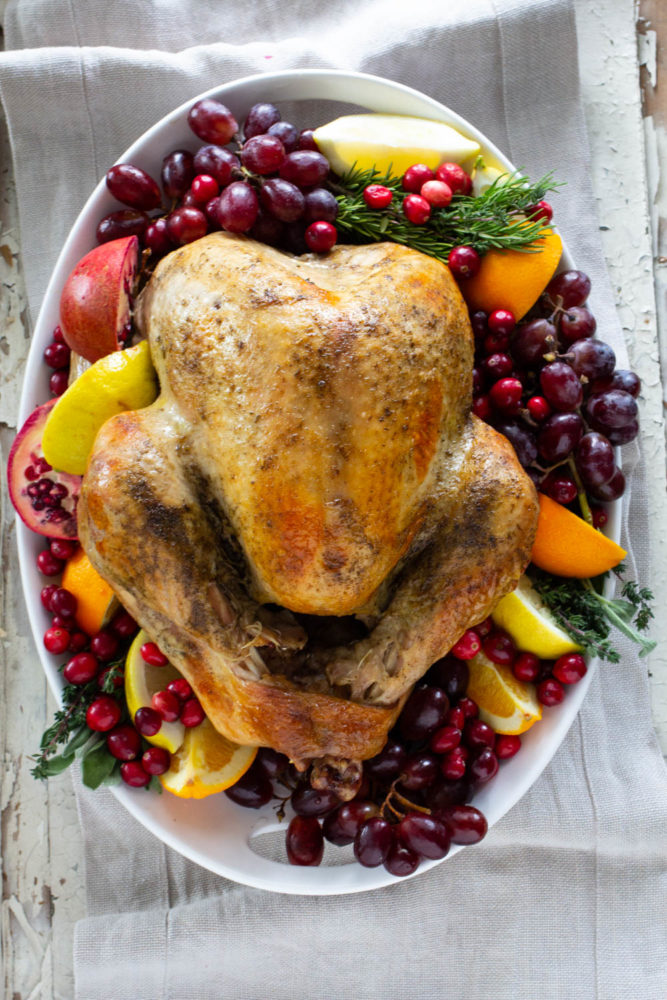 I cooked my first Thanksgiving dinner when I was 19 or 20 years old. It was in a little apartment on 6th avenue in Salt Lake City. The floor of the kitchen was covered in turquoise carpet, with matching turquoise counter tops, turquoise stove and fridge. Those were days before Google and Food Network. Days of trial and error. Many, many errors on my part!
After years of cooking turkeys and trying to guess what time the turkey would be done (or if it was done at all) and the debate over should I or should I not baste the turkey, do I or don't I cover the turkey in foil, I decided to go the poultry bag route. My mom was a believer for many years before I jumped on board, and Mom's turkeys were always, always moist and delicious. Mom was right. This is hands down, the easiest, foolproof method of cooking a turkey I have found.
Here's my step by step on How to Roast a Turkey in a Bag with tips included in the recipe.
If this is your first time cooking a turkey, or if you are a seasoned Thanksgiving host, you'll love this method.
The countdown is on!
Ready? Do yourself a favor. Read this step by step guide on How to Roast a Turkey in a Bag all of the way through.
Then once more before starting to cook.
If you're reading this and it's the Sunday before Thanksgiving, and your turkey is still in the freezer. Get it out NOW. Place your turkey in the fridge and start thawing!
Gather these items (above) and place on counter.
I often use food handlers gloves. If touching raw poultry makes you queasy, get some. Most important (below)- the bag. A Large Poultry Roasting bag is essential for this recipe! They are found online and in most grocery stores near where the foil, plastic wrap etc are sold. Also, during holiday time they are sometimes found near the turkeys!
Place one tablespoon of flour inside of the bag and shake so the flour coats the inside of the bag. Preheat the oven and adjust the rack.
Warning. The next few photos are of a n aked bird. Not attractive. But necessary in this tutorial.
My apologies.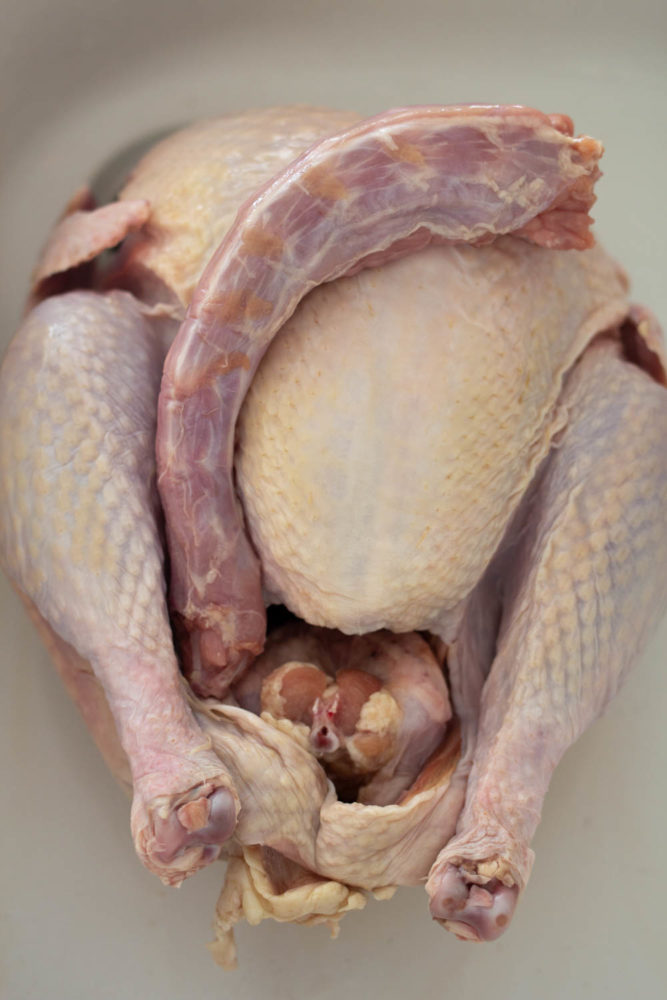 Take the bird out of the packaging. It should be totally thawed.
I usually set it on a large jelly roll pan, or in my sink which has been thoroughly cleaned. Remove any turkey parts in side of the cavity. There is usually a neck and organs from the bird inside of the cavity. Sometimes these parts are wrapped in plastic, sometimes, they are loose. You will find at least two, sometimes three items to remove and discard, or use to make gravy. MAKE SURE TO LOCATE AND REMOVE THESE PARTS.
Tip turkey on its side and release any water. Pat your big bird dry with paper towels and discard paper towels. Remember to stay safe when handling poultry!
Place bird on its tummy and tie with cotton string to keep the legs
and wings from drying out while cooking. I buy the string or twine in kitchen specialty stores such as Orson Gygi, in Salt Lake City, or online on Amazon. I have a big spool and use it to tie up cello bags when I give away cookies, among other uses!

Observe in this photo how I was a little too aggressive in tying up my bird.
Poor thing. I tied him up so tight, that the strings ended up making an indent in my beautiful turkey. Be firm, but gentle.

Here's a better overall shot. Run the string under and on top of the bird, tie. Gently. Then season with salt, pepper, garlic (or garlic salt) and poultry seasoning. Place the turkey inside of the bag that has been coated with flour.

There he goes. Into the bag. And the pan. I love my All Clad Roasting Pan. An investment, but it will probably live longer than either of us! A really nice gift, for the cook in your life. Or for yourself 🙂

No action shot, but at this point, I drizzle olive oil and melted butter
(or sometimes I just dot the butter on top and skip the melting) on top of the turkey.

Gather the ends of the bag together and tuck under the bird.
Seal the end of the bag with the little twisty tie in the box.
Tuck under the turkey. Cut 5-6 one inch slits in the top of the bag.
Insert a meat thermometer into the bag on the outside of the plastic
so you can read it while it's in the oven.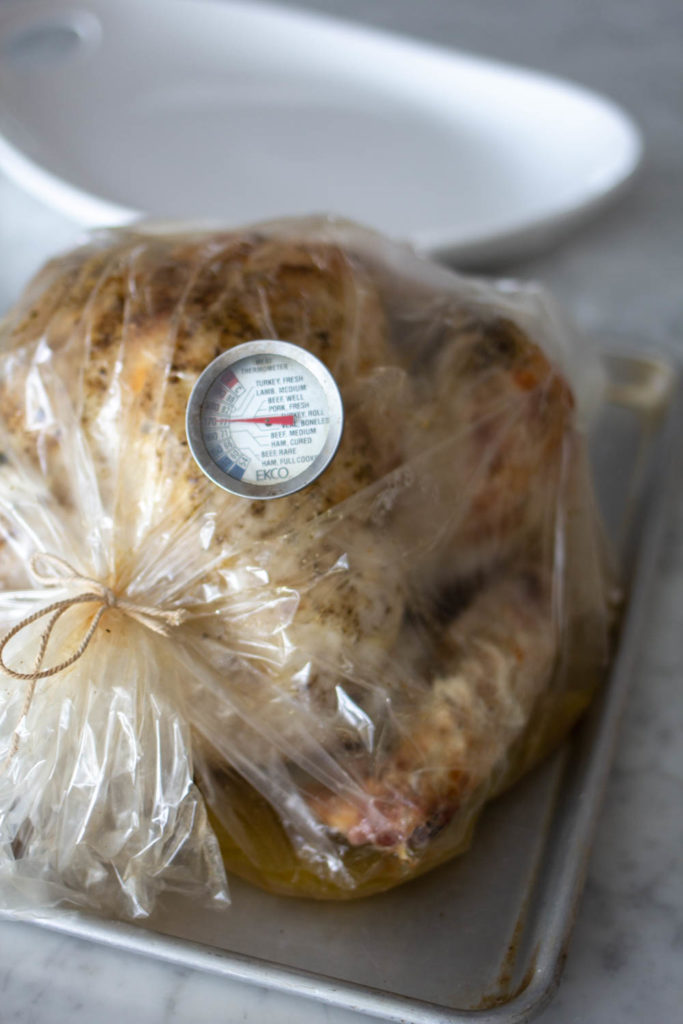 Or make sure there's a place to insert an instant read thermometer.
Place it in the oven, just below the middle rack, remove any racks above the turkey. Cook according to the size of turkey.

The gauge is reading 170 in this photo.
180 is what you're looking for with a whole turkey if you insert the
thermometer in the turkey breast. remember, the internal temperature will continue to rise about another 5-10 degrees after removing from oven. It is safe to remove anytime after the thermometer reads 170 degrees.

After the turkey has set out for about 10 minutes, gently remove the bag.

Cut the bag away and gently peel away from turkey. Cut the strings as well.

Use turkey/roast lifters or two big forks and transfer to a serving platter.

See the little white button? That's the sensor the turkey people insert to tell you if the turkey is done. Or not. I can't tell you how many times my little sensor has not popped up.
ALWAYS use a thermometer.
Always.
Always.

Wow. Did you cook that?
That's what your in laws are going to say.
Well, yes. I did.
Congrats.
Originally posted in 2014, this post has been updated with text as well as current photos in 2020.