Hosting Thanksgiving dinner is manageable if you use ABK's guide to plan and carry out this otherwise overwhelming task! How to Host Thanksgiving Dinner is an easy to follow, step-by-step recipe guide that will make you look like a pro in the kitchen!
ABK's Free Ebook, with printable timeline checklist, grocery list, more recipe links for ABK Thanksgiving favorites and additional Thanksgiving tips to help you keep everything running smoothly!
How to Host Thanksgiving Dinner
WHAT.
It's your turn to host Thanksgiving dinner? And you've never cooked Thanksgiving dinner? Ever? If you're 25 or 55, you've come to the right place. ABK's planning, recipes and step-by-step timeline will help you get Thanksgiving dinner on the table!
My first piece of advice is stick with traditional. Trust me. Traditional is best for Thanksgiving. That means turkey, mashed potatoes, gravy, stuffing, sweet potatoes, cranberry sauce, rolls, salad and of course, pie.
A few suggestions before we start:
Take a deep breath. This is just a meal. Sure, it's the most anticipated meal of the year, but in the end it's only a meal. Meat, potatoes, gravy. You. Can. Do. This.
Take any help offered. If you're hosting, and others want to help, LET THEM HELP. It's okay if you don't have total control. If Aunt Betty's pie is a runny mess, NO BIG DEAL. Remember, although I'm a bit of a control freak when it comes to food, it's okay if everything doesn't taste exactly as you planned or if every dish doesn't turn out to look like it could be photographed for the next issue of Martha Stewart Living. This holiday is about family and friends and blessings. I've found the best way to end up with the tastiest dishes at your feast is to let guests bring what they love to cook! Every year my sister in law Sheri makes Southern specialties, because she learned how to make broccoli casserole and cornbread dressing and pies served in the South while she lived in Alabama. She makes them better than anyone else. Period.
Interested in step-by-step videos for your holiday dinner? Check out our ABK Essential Holiday Dinner videos! I'll help take the stress out of planning, preparing and serving your holiday meal so everything is hot and ready to go at the same time! We will address FAQs and give you all the visual and mental tools you need to produce a delicious and memorable holiday dinner.
Now that those important items are out of the way, I'm going to point you toward our favorite Thanksgiving recipes on A Bountiful Kitchen! All of the recipes are delicious and simple for first time cooks or hosts to use on Thanksgiving. I am "an every year Thanksgiving cook" and have been for over 35 years. I use each of these tried and true recipes every year.
After the recipe is listed, I'll break down timing for when to cook what, so it all ends up on the table hot, at the same time. Also included are updated items on this post, Thanksgiving dishes that are on our family dinner table every year, without fail. The original post included beginner recipes, which I stand by if you are truly a beginner and want homemade and simple!
One more thing worth mentioning. You don't need a huge kitchen to make Thanksgiving dinner. I have made Thanksgiving dinner in a one bedroom apartment when we were first married, in Spain (another small kitchen with a tiny oven and fridge) where I had to do a lot of improvising, and in my Bountiful Kitchen. With planning, a willingness to make adjustments, and a can-do attitude, Thanksgiving dinner can be prepared almost anywhere!
HERE WE GO.
Typical Thanksgiving eve scene in A Bountiful Kitchen…
Turkey
If you can get a fresh turkey and you like fresh better than frozen, great. Order one. Don't plan to run to the store on Wednesday to pick up a fresh turkey up without ordering in advance! Remember, "fresh" is a relative term. It is also worth saying, do not plan to go to the store on the day before Thanksgiving to pick up a frozen turkey. Frozen turkey needs time to safely thaw!
Most fresh turkeys have been flash frozen. The flavor difference between fresh and frozen is not drastic and you will usually spend a significant amount more per pound for a fresh turkey. I am more concerned with the ingredients inside the turkey and the amount of processing than I am with a fresh or frozen label!
How much turkey to buy per person? This is a question I am asked often! While many sources say to plan on a pound per person, I think that applies if you are not planning to send home leftovers for turkey sandwiches, or if you are not having guests after Thanksgiving. I always seem to have guests around, and I like to send a to-go bag of leftovers home with everyone who comes to dinner. In this case, I say 1.5 pounds of turkey per person (adult) of on the bone turkey. Meaning, if you are using turkey breasts instead of a whole turkey which is boneless, you will need no more than 1 lb per person.
If the turkey is frozen, make sure to start thawing about 3-4 days before cooking. If I purchase a 24 lb turkey, I start thawing it (at least) Saturday or Sunday before Thanksgiving. Place it in the fridge in a large pan. Leave it in the wrapping. Don't ever thaw a turkey on the counter. Unless you want to chance ending up in the bathroom or the ER for a very long time after Thanksgiving dinner…
Here's my fool-proof way to cook a turkey for Thanksgiving dinner. It involves a roasting bag, a few seasonings, butter, olive oil and a roasting pan. A few minutes of prep and a few hours in the oven. That's it. No basting, just slide in the oven and bake. Are we best friends yet?
And yes, it really does brown up nicely inside of a bag. Isn't that a thing of beauty?
Gravy
Simple Pan Gravy Use the drippings from the turkey for the best gravy. If you have a roasting pan, you'll be able to roast the turkey and then make the gravy in the same pan. You'll need a few cans (2-3) or cartons of chicken broth or stock, butter, flour, salt, pepper and chicken flavor booster (I like Knorr or Better than Boullion). Flavor booster is concentrated stock. Better than Boullion is available at Costco, and less expensive than the Knorr products.
Mashed Potatoes (If turkey is king, mashed potatoes are queen)
Slow Cooker Mashed Potatoes After you've made these, you'll never, ever go back to boiling on the stove. Plug in the slow cooker early in the day, mash the potatoes right in the slow cooker and keep your prepared dish on the warm setting until showtime!
Instant Pot Mashed Potato Recipe No need to make your mashed potatoes ahead of time this year. Instant Pot mashed potatoes to the rescue! Cook them in minutes and keep warm until you're ready to serve.
Cranberry Sauce
Fresh Cranberry Sauce Look on ABK's index for a few variations of cranberry sauce. Cranberry sauce is of those- never, ever, EVER buy in a can items. This is the most simple recipe of all. The difference in taste? Not even comparable.
You can make this up to a week (or two) in advance.
Takes about ten minutes total to make. Let cool, refrigerate and take out a few minutes before serving dinner.
Stuffing
Mom's Apple, Sausage and Herb Stuffing Start drying your bread now. Here's a few tips on preparing the bread for your stuffing. If you don't have time or just can't face cutting up and drying your own bread, grab a couple of boxes of bread cubes at the grocery.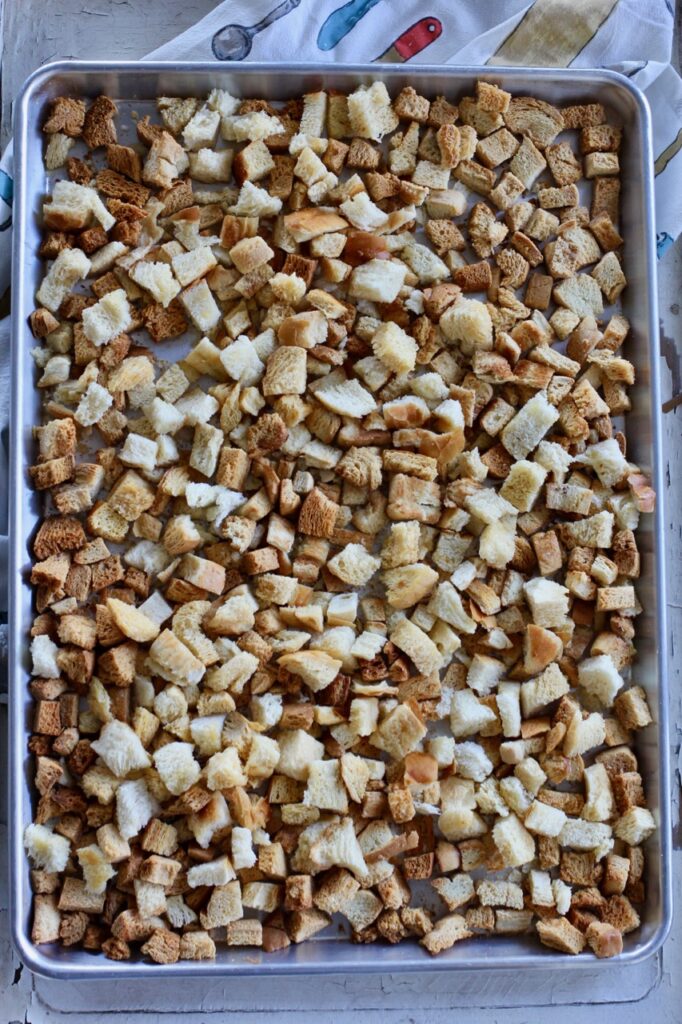 This is my mom's tested and true, crowd favorite stuffing. You can make it a few days ahead and refrigerate until ready to heat up. Also, cooking tip- I stopped cooking stuffing in the bird a years ago. It slows the cooking time of the turkey considerably and makes predicting the cook time of the turkey more tricky.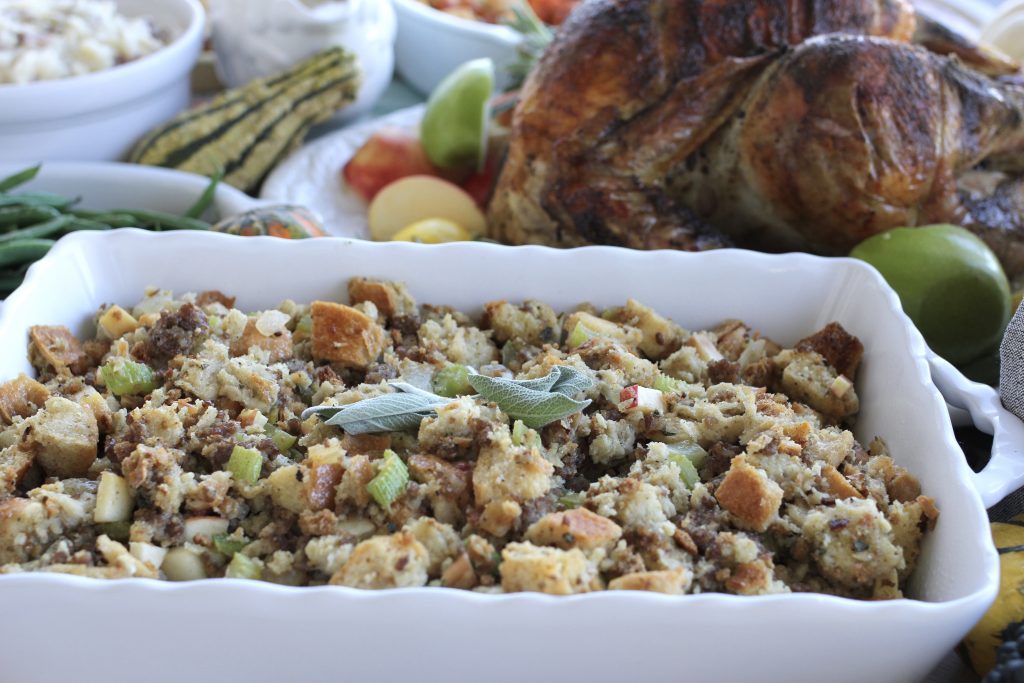 Sweet Potatoes
It wouldn't be Thanksgiving without at least one sweet potato or yam dish. We have two favorites, Chunky Yams and Apples and Southern Sweet Potato Casserole with Brown Sugared Pecans.
The Southern Sweet Potato dish is mashed, the other recipe, is made with chunks of yams and apples. Both are perfect for make ahead! If you have an Instant Pot, this recipe for Instant Pot Sweet Potatoes (below) is amazing and has become a reader favorite!
Green Salad
Mixed Greens with Jicama and Sliced Orange Every Thanksgiving dinner needs a green salad. I love this one. It's simple and fresh.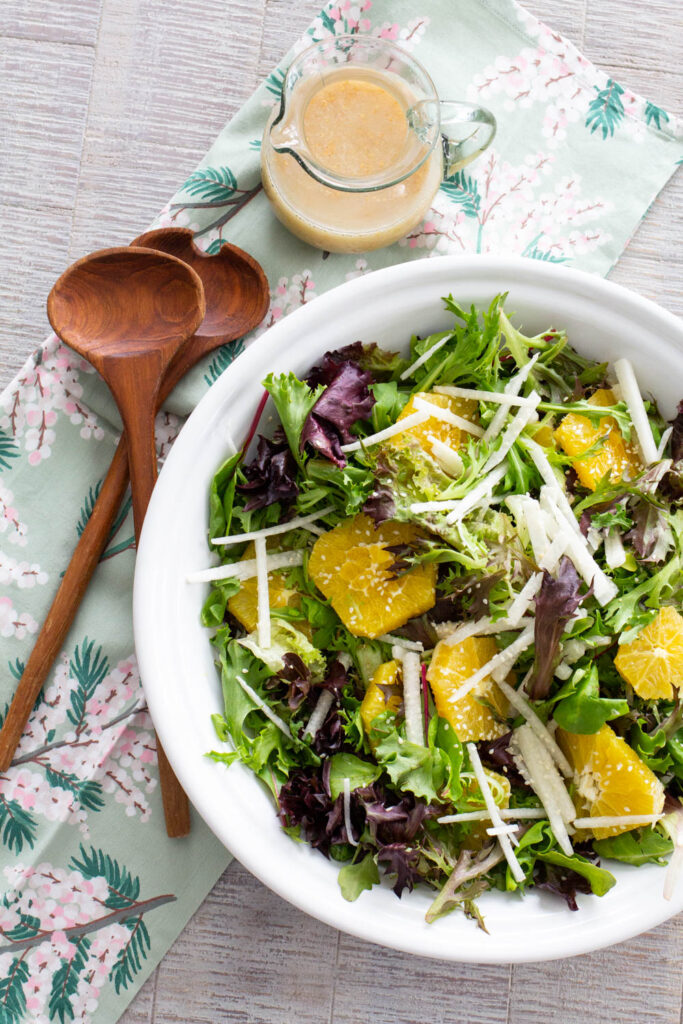 Cut the fruit the day (or two) before. Use a Spring Mix or Spinach leaves for the greens. Make the dressing up to a week ahead. All you have to do the day of the meal is place the greens on salad plates on the table, top with fruits and drizzle with dressing. So simple. I also love this Apple, Feta and Spiced Pecan Salad (in photo below) which is perfect for make ahead too!
Jello or fruit salad
Claudean's (Best) Cherry Jello
What's Thanksgiving without J-E-L-L-O ?
You'll love this recipe. Make it on Tuesday. Let it sit until the big day. You can make it in a 9×13 or individual custard cups. So good, it will turn a Jello hater into a fan!
Rolls
I like this recipe for beginners because there's no rolling out and shaping. Just let rise once, scoop into pan, raise again and bake. You can make these the night before. If you feel confident about your roll making ability, give this recipe for Lion House Rolls a try, it's our favorite and I make a batch, or two or three every holiday season!
And finally, Pie
Really now. Who can have Thanksgiving without pie? Can you fully trust a person who says they don't like pie? Maybe, but my inner voice tells me they really do like pie, they've just never eaten good pie. I chose two simple recipes, classics, which most people will love.
Both are beginner recipes. Pecan pie is probably the easiest pie for beginners! Make the crust, shape and place in pan. Follow my tutorial on crust here. The second recipe is for a classic Favorite Pumpkin Pie. My recipe takes the classic Libby's recipe and adjusts the spices and milk so you don't end up with runny filling. Perfect pumpkin pie. Every time.
Two other pies I highly recommend for beginners are Fudge Brownie Pie and Original Toll House Pie. Both are easy to mix together and are irresistible served warmed with ice cream! They are also both incredibly tasty served at room temperature.
Oops, almost forgot. Ice Cream. No, you don't have to make your own. Just don't forget it.
If you DO want to make your own, here's the link to my Dark Cherry Chocolate Ice Cream.
Complete Menu and Links
On the menu every year at our Thanksgiving table in addition to, or in place of similar recipes listed above… for example, I don't make Maddox rolls for Thanksgiving, but listed them on the menu above because it is a simple beginner recipe. I usually make Lion House Rolls or Overnight Refrigerator Rolls. It is easy to make make the dough anywhere from 2-3 weeks ahead, form and freeze before the rolls have risen on the pan. On Thanksgiving day, remove from freezer about 4 hours before serving dinner, let thaw and raise loosely covered with a clean kitchen towel. After raised, bake as directed.
other recipes we make every year…
TIMELINE (printable version with checklists available on free ebook)
1-4 weeks ahead
Make a grocery run to purchase all non-perishable items. All chocolate, canned goods, stock or broth, spices, dry herbs, soda, etc. can be purchased now.
Purchase any paper goods, napkins, plates, cutlery, extra containers for storing leftovers. This is also a good time to stock up on ziplock bags, foil and plastic wrap. I also buy containers from the deli counter in grocery stores, they are clear and disposable and stack well! Don't forget the garbage bags!
Take an inventory of dishes and serving pieces along with your serving utensils. Do you have a pan for roasting the turkey? If a new pan isn't in your budget, borrow one from a friend, or buy a disposable pan and place a jelly roll pan underneath for stability. If you are short items, buy or borrow now instead of Thanksgiving week or day! Many stores sell platters, pie plates and serving pieces at discounted prices. Often your grandmother (who long ago stopped making holiday meals) has serving pieces she would be delighted to let you borrow.
Decide how many tables and chairs are needed. Make arrangements to rent, purchase or borrow now.
Check on linens for tables, both tablecloths and napkins. If they need to be washed and ironed (or sent to cleaners) do it now! There are also beautiful paper good available if you'd rather go that route. My favorite source for quality paper products is My Mind's Eye. Order now!
5-6 days ahead
Thaw the turkey in refrigerator if you are cooking over a 20 lb turkey. Remember, the insides need to be completely thawed before cooking.
Print out recipes, gather in one folder or binder and make grocery lists.
Buy all remaining non-perishable groceries (and some fresh, depending on how early you are preparing dishes). Don't forget items like spices, jam, drinks, ice.
Make cranberry sauce. Cranberry sauce may be made a month ahead and frozen. Thaw in refrigerator a day or two before serving.
Cut up bread, dry in oven.
Make dressing for the green salad.
3-4 days ahead
Cook the yams or sweet potatoes for the sweet potato casserole dish. Let cool, mash in bowl. Refrigerate until ready to complete recipe.
If you are making ice cream, mix, follow directions and keep frozen until Thanksgiving.
For the stuffing, cook the sausage and all of the veggies. Refrigerate until ready to add to the rest of the stuffing ingredients.
2 days ahead
Shop for any remaining perishable items.
Purchase all greens, dairy (don't forget the sour cream and whipping cream CHECK THE EXPIRATION DATE WHEN PURCHASING), flowers, if you like fresh flowers on your table!
Make the Jello.
Complete the stuffing, mix together, place in fridge.
Cut up fruit for the green salad, place in separate bags and refrigerate.
1 day ahead
Make pies. Set in a cool dry place. If you make pumpkin pie, refrigerate after completely cooled. Pecan pie may be left on the counter. I highly recommend leaving apple pie on the counter top, uncovered. If the crust is covered with foil or plastic wrap, it will trap the moisture from the pie next to the crust and the crust will become soft.
Wash potatoes.
Make rolls, let cool and place in a plastic bag so they don't dry out after they are completely cooled. If you under bake the rolls a bit, meaning not until they are completely golden, you can pop back into the oven on Thanksgiving to warm up for about 5-8 minutes at 350, and they won't dry out!
Gather ingredients for roasting turkey, place in one spot in kitchen.
Set out all serving platters, bowls, and utensils. I like to set the serving utensil right in the dish, so I don't have to look for (or direct someone to look for) serving utensils while I'm in the final stages of preparing the meal. It is also helpful to use small Post-It notes and label each dish for example "mashed potatoes".
If you can, set the table for dinner. Decorate the table. Don't forget the salt and pepper.
Thanksgiving Day
Put on your apron and some comfy shoes. I highly recommend listening to Michael Buble while cooking.
Prepare turkey for cooking. Do this about 4-5 hours before serving dinner.
Cut up potatoes and place in slow cooker about 5 hours before dinner is served. OR use the Instant Pot method and make a couple of hours before and leave on warm setting after completely finished.
Cook Turkey according to chart on recipe notice how many pounds your turkey weighs BEFORE tossing the weight tag on the turkey.
About 2 hours before turkey is done, remove the sweet potatoes and stuffing from refrigerator. Let sit on counter for one hour. If you have a second oven, place these dishes in oven to warm at 325 for about one hour, loosely covered with foil. If the stuffing is too dry, add a few tablespoons of chicken broth and gently fold the stuffing a bit to loosen the bread and allow the broth to moisten the stuffing. If you have one oven, Place these dishes on another rack in oven with turkey if possible for about an hour. If you have to wait until the turkey is done, cook both side dishes at 375 for about 30 minutes on middle rack, uncovered. Check to see if they are warmed in the middle of dish before serving. They can go into the oven immediately after the turkey is removed, adjust the heat and start cooking right away.
After the mashed potatoes are cooked (about 4 hours), complete recipe and keep slow cooker or Instant Pot on warm setting.
Place any frozen veggies (corn, green beans, etc) in pans on stove with water and butter in pan. Do not cook yet.
Place the rolls on table in basket.
Place butter, jam, cranberry sauce etc on table.
Plate and dress salad, set on table.
Place jello on table.
Remove turkey from oven and let sit for 10-15 minutes. Follow directions for removing bag.
Transfer turkey to platter to serve. Cover loosely with foil while making gravy.
Fill drink glasses.
Make gravy according to recipe. While making gravy, cook corn.
Transfer turkey to table.
Remove stuffing and sweet potatoes from oven and corn from stove – pour into serving dish, place on table. Place mashed potatoes in serving bowl on table.
Place gravy in bowl with ladle and place on table.
Take off your apron, gather with your loved ones at the table, take a photo 🙂 and thank the Lord for your blessings! Happy Thanksgiving!
Originally published in 2019, this post has been updated with new content and photos in 2021