Make these delicious, chocolatey, chewy, fudgy One Bowl Brownies in minutes! Need I say more? I promise, once you make these, you will never buy a boxed brownie mix ever again.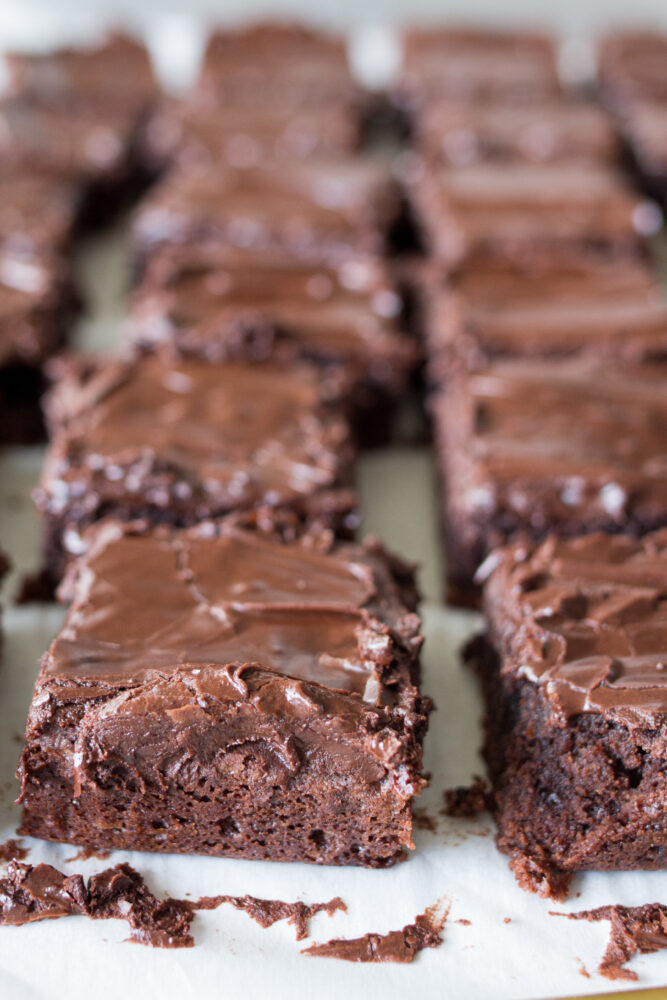 When asked what is the dessert I'd choose if I could only pick a single dessert for the rest of my life? The answer is BROWNIES. It is a difficult choice. You know how much I love pie. And cookies. And cake. But there's nothing like a warm, homemade brownie. One Bowl Brownies are perfect for those late nights when you're craving something with chocolate, but don't want to spend an hour in the kitchen.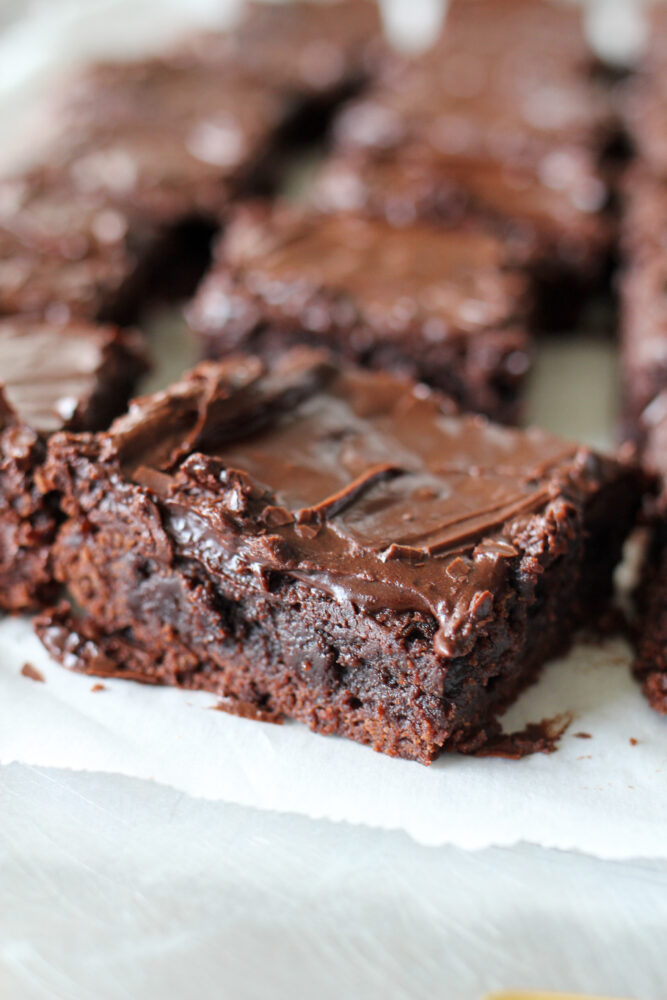 One Bowl Brownies are everything you could ever want in a brownie, and here's the bonus. This recipe is pantry-friendly because it is made with unsweetened cocoa powder! I often run out of unsweetened baking chocolate, but I never run out of cocoa powder. The rest of the ingredients are pantry/fridge staples as well: granulated sugar, eggs, butter, flour, salt, powdered sugar and a bit of milk or cream. I love pantry-friendly desserts, especially on Sunday nights when the family is over and I haven't planned ahead to buy dessert ingredients!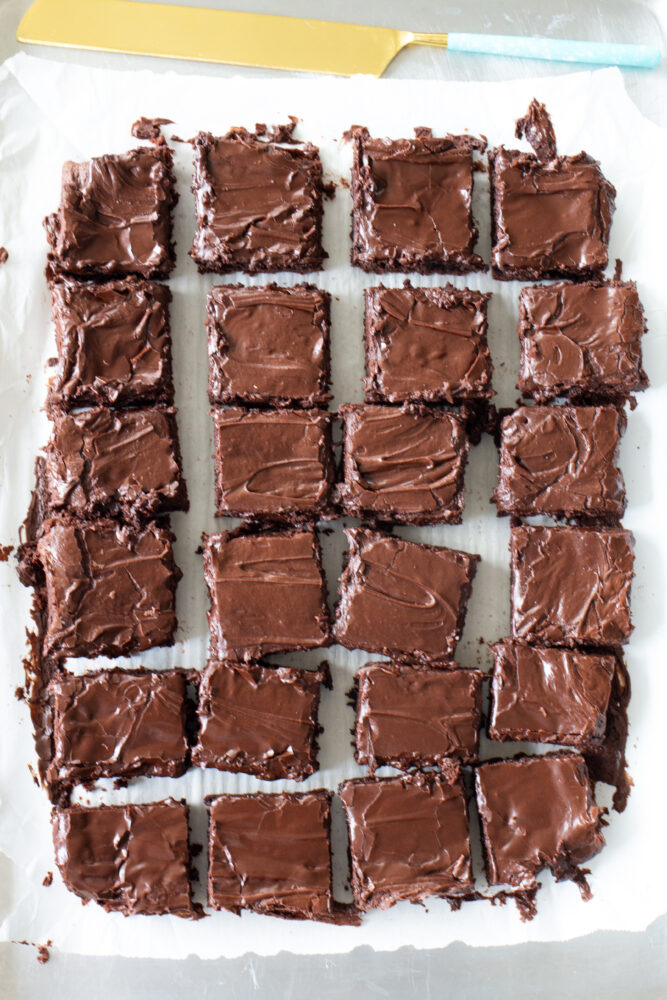 Throw ALL of your boxed brownie mixes away, because it doesn't get easier than this recipe. It's as easy as making brownies from a box, but so much better. You don't even need a mixer. In fact, I never use a mixer to make brownies. Here's a tip: For the best tender brownies, always mix in a bowl, by hand.
This is also a great recipe to make with kids! From beginner to expert baker, if you've got a few minutes, you can make this recipe. I believe brownies are one of the easiest recipes for a new cook to master. Remember to trust your nose when baking. The more you bake, the more you will recognize if a dish is done by smell!
One Pan Brownies are delicious served alone, but when you're feeling a little extra, top them with a scoop of ice cream and homemade 5 Ingredient Hot Fudge for a dressed up dessert. Some of my other favorite brownie recipes are Quick and Easy Caramel Brownies, Fudge Brownies, and Peanut Butter Fudge Brownies.
Here's what you need to make One Bowl Brownies:
unsalted butter
cocoa powder
granulated sugar
4 large eggs
vanilla
all-purpose flour
milk or cream
powdered sugar
I hope you will love this recipe and it will become your new favorite easy dessert!
One Bowl Brownies
One Bowl Brownies are my go-to when I need to make a dessert quick for a crowd. It's easy to make and filled with chocolatey goodness!
Ingredients
Brownies:
1

cup

unsalted butter, melted

½

cup

unsweetened cocoa powder

2

cups

sugar

4

large eggs

1

teaspoon

vanilla

2

cups

all-purpose flour
Chocolate Frosting:
¼

cup

unsalted butter, softened

¼

cup

+ 1 tablespoon of milk, cream or half & half to thin

1/3

cup

unsweetened cocoa powder

3

cups

powdered sugar

dash

salt
Instructions
Brownies:
Preheat oven to 350° degrees and place rack in center of oven. Line a 9×13-inch baking dish with parchment paper.

Place the melted butter and cocoa powder in a large bowl. Whisk until smooth.

Add the sugar. Mix until blended well, then add eggs and vanilla. Mix until smooth.

Using a large spoon or spatula, fold in flour, just until flour disappears.

Spread the batter into the prepared baking pan and spread out evenly.

Bake 25 minutes or until a toothpick inserted in the center comes out with a few moist crumbs attached. Do not over bake. Remove from oven.
Chocolate Frosting:
While the brownies are baking, make the frosting.

Beat together all the frosting ingredients in a bowl until smooth. After the brownies have cooled for 30 minutes, pour frosting over warm brownies and spread gently. Let cool completely before cutting and serving.
Recipe Notes
I also make this recipe right in the same pan used to melt the butter. Just melt the butter and proceed with the recipe as directed. 
If  parchment paper is not available, use a piece of foil that has been sprayed lightly with cooking spray. Line the inside of the pan with foil and then spread the brownies on top of the foil (I use the shiny side up). 
These brownies are very thick and fudge-like. They are best stored covered in the refrigerator. Best served chilled.
When we lived in Spain, I made this recipe several times to feed to the missionaries and young adults. Each pan yields 24 small brownies. In Mallorca it is very humid (often over 70% humidity). I was baking at sea level and the ovens are very small. I add 2 tablespoons of flour to this recipe in Spain, and baked on the lowest rack because all of the heat came from the top of the oven. For the unsweetened cocoa I  used a product by VALOR which was a dark chocolate that was lightly sweetened.  In high humidity this brownie is best served chilled and stored in the refrigerator.