If you grew up in the 70's or 80's you've probably eaten Chicken Divan. Our family calls it "Chicken, Broccoli and Rice", and this is our favorite Chicken Divan recipe!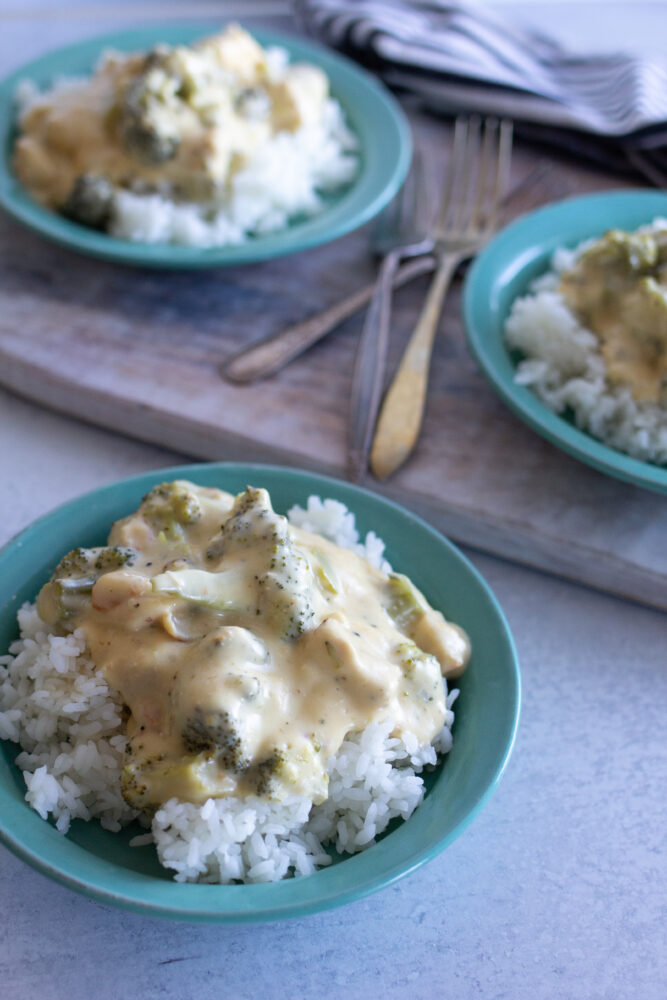 The story goes that Chicken Divan was made famous when created in the Divan Restaurant in the Chatham Hotel in New York City in the early to mid 1900's. A chef working in the restaurant created this dish filled with chicken, almonds, broccoli and a creamy sauce as part of a contest to establish a signature dish for the restaurant. The dish was wildly popular, and served for years at the distinguished hotel built in 1916. Isn't it fascinating to see the trickle down effect of one person's creative ability and what an impact it can have on countless people around the country and even the world?!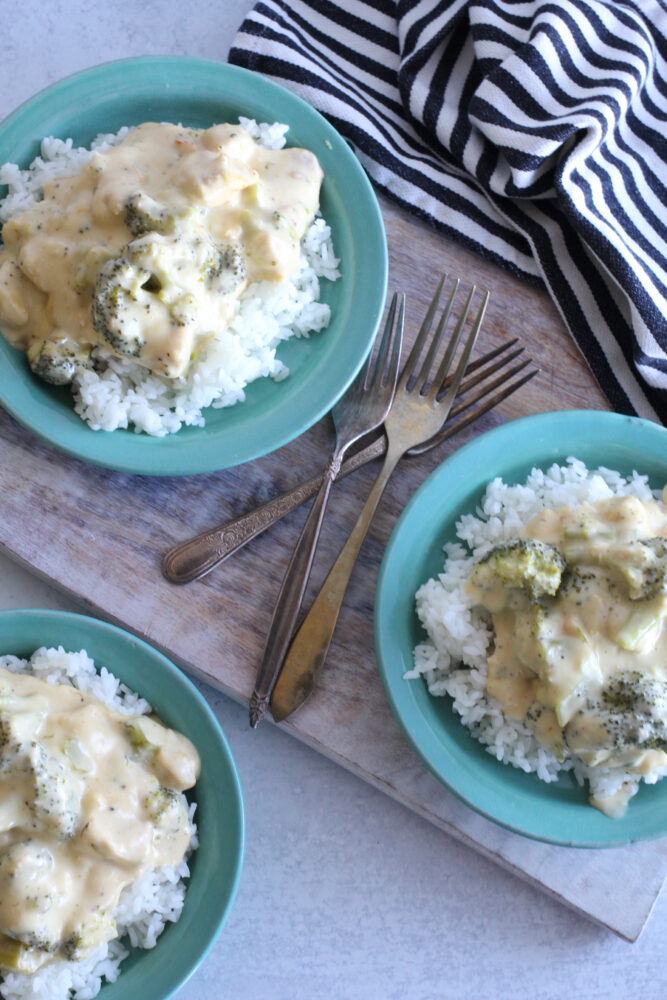 In our little corner of the world, if you were to ask my kids what their favorite dinner was growing up, they would all say the same thing "Chicken, Broccoli and Rice", but as I stated earlier, it is known to most as Chicken Divan. I have never served this recipe with almonds, but I attended many women's events in the early 80's where many a casserole, including this one, was topped with toasted almonds. It was definitely a 70's and 80's thing!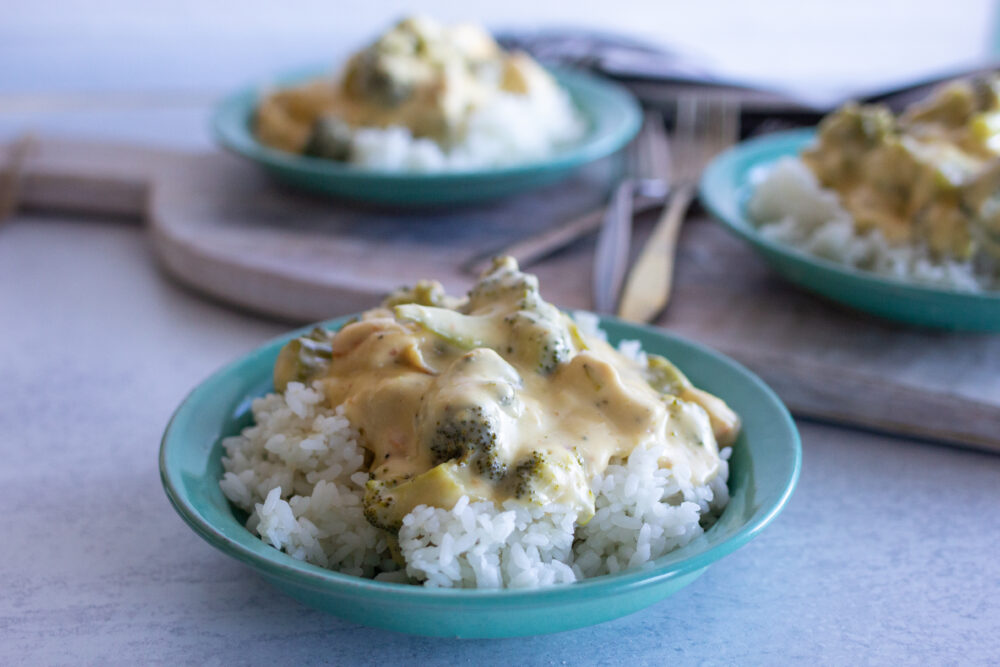 There are several ways to make Our Favorite Chicken Divan, the super simple canned soup route, or the made-from-scratch version. It's one of those adult-version or kid-version recipes. When I was in a hurry, I could have dinner on the table in less than 20 minutes start to finish with the canned soup (kid) version, but the from scratch version doesn't take much longer, and in my opinion, tastes waaay better!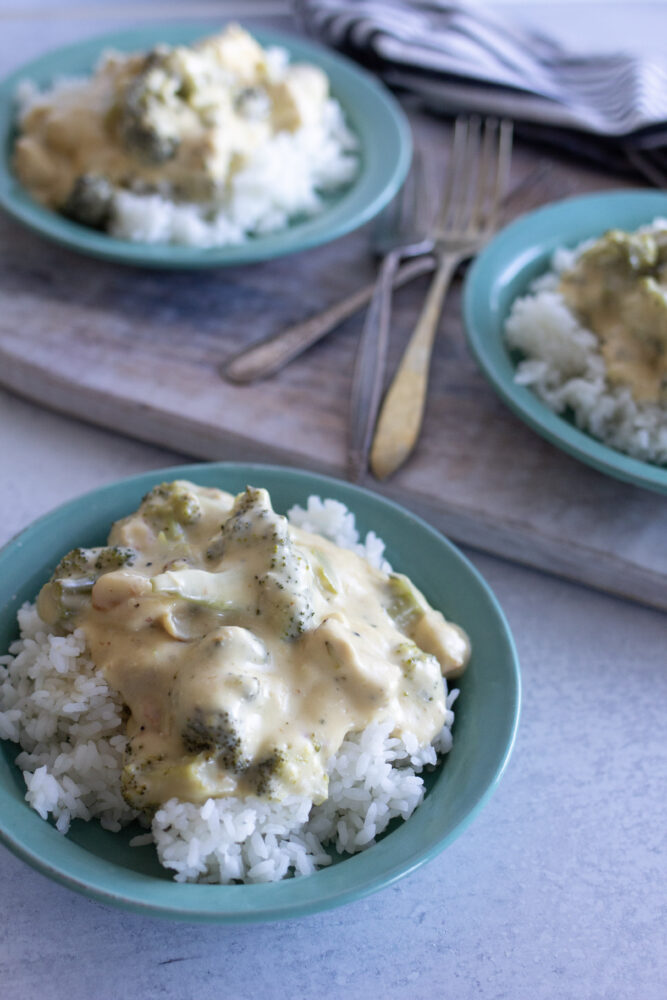 My favorite way to serve this dish is to bake it in the oven after making the sauce. I love the way the dish tastes when the sauce is spread over the rice and baked for a few minutes, topped with a little bit of grated cheese. Serving it straight from the stove top works too. Oh, one more thing. If you're looking for a way to get your kids to eat broccoli, this dish should do the trick!
Here are a few other chicken recipes your family will love!
This recipe was originally posted in 2015, updated with new content and photos in 2022
Our Favorite Chicken Divan aka Chicken, Broccoli and Rice
A Bountiful Kitchen
Ingredients
6-8

cups

cooked rice

I like Pearl or Japanese style rice for this dish

4-5

cups

chopped broccoli

1/2

cup

butter

1/2

cup

flour

2

teaspoons

chicken base flavor

Better than Bullion

1

teaspoon

each salt and pepper

4

cups

milk

skim

1

cup

mayo

regular or low fat

4

cups

cooked chicken

1

cup

milk

1-2

cups

grated cheddar cheese
Alternative (kid favorite) Favorite Recipe:
6-8

cups

cooked rice

4-5

cups

chopped broccoli

4

cups

chicken

about 2-3 large chicken breast halves

2

tablespoon

olive or canola oil

salt and pepper

2

can cream of chicken soup regular or low fat

2

cans milk

1

cup

mayo light or regular

1-2

tablespoons

bottled lemon juice

2

cups

grated cheese

more milk to thin

if necessary
Instructions
Cook rice, set aside.

Steam broccoli by placing on a plate or non metal pie plate with about 3 tablespoons of water, cover with a damp paper towel and microwave on high for about 3 minutes or until bright green. Remove and set aside.

Melt butter in a large pan over medium heat. Add flour and cook while whisking and butter and flour make a smooth paste. Cook for about 2 minutes. Add one package liquid chicken flavoring and salt and pepper. Slowly add milk to the mixture a little at a time, whisking while adding milk.

Cook until mixture thickens, about 3-4 minutes on medium-medium high heat. Continue whisking.

Add mayo, whisking until smooth. Add broccoli, chicken and cheese. If the mixture is too thick, add an additional cup of milk until desired consistency.

If baking (not necessary) grease a 9×13 pan. Spread cooked rice (it's okay if it is still hot) into the dish. Pour chicken and broccoli mixture over the rice. Bake for about 20 minutes at 350 degrees. Top with additional grated cheese last ten minutes of baking.

If serving without baking all ingredients together, scoop rice onto individual plates and spoon broccoli and chicken mixture over the top of the rice.
Alternative Favorite Recipe:
Cut up the chicken and place in a large pan with oil over medium-high heat. Cook until no longer pink, about 3-4 minutes. Add chopped broccoli to chicken in pan, cook until broccoli is bright green (about 3 minutes) . Add salt and pepper. Whisk in the soup, milk, mayo, lemon juice and grated cheese. Continue to cook until smooth and cheese is melted, about 5 minutes.

Serve over top of cooked rice.
Recipe Notes
I like to use one of the following for the homemade version: Better Than Bullion or  Swanson brand "Flavor Boost" 100% Natural Concentrated Broth. You may also use bullion cubes(2) or other types of chicken flavoring.
It is not necessary to use the flavoring in the second recipe, the canned soup has plenty of chicken flavoring.