New in 2019 – ABK's Free Thanksgiving Ebook, with printable timeline checklist, grocery list, more recipe links for ABK Thanksgiving favorites and additional Thanksgiving tips to help you keep everything running smoothly! 
Our Favorite Pumpkin Pie recipe is a classic, made in a better way! This pumpkin pie recipe turns out perfect every time. After years of making pumpkin pie that turned out a little jiggly in the middle, I developed the perfect blend of creamy filling that sets up just right!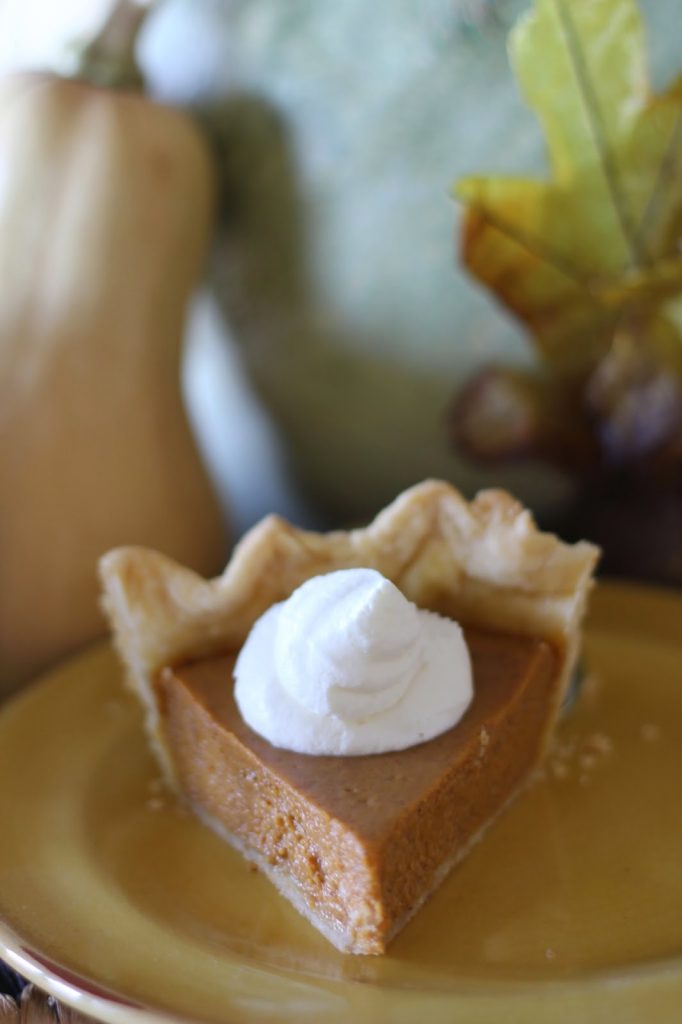 One of the biggest challenges with most pumpkin pie recipes is getting the filling to set up! An unbaked center used to be a challenge for me. No matter how long I baked the pie, it was still WET, not set. One year I decided to troubleshoot the uncooked center of my pumpkin pie.
I concluded I was dealing with a few different issues. We live at a high altitude (about 4400 feet) which may have something to do with the not completely set-up center of my pumpkin pies!
I have always loved the taste of my mom's pumpkin pies. Her recipe came straight from the back of the Libby's Pumpkin can. But there was still the issue of not being set up enough!
I've tried fresh pumpkin, but like the texture, flavor and color of Libby's better. I found after several adjustments to their recipe, this one works time and time again. No jiggly middle. Just a nice bite of lightly spiced pumpkin filling in every single bite!

Everyone needs a good pumpkin pie in their repertoire of holiday favorites. This our family favorite, never-fail pumpkin pie recipe. I hope you love it too. Happy baking!
Our Favorite Pumpkin Pie
Our favorite pumpkin pie recipe is perfectly spiced and sets up every single time!
Total Time
4
hours
55
minutes
Ingredients
1 1/2

cups

granulated sugar

1

teaspoon

salt

1

tablespoon

pumpkin pie spice

OR 2 teaspoons cinnamon, 1 teaspoon ground ginger, 1/2 teaspoon ground cloves*

4

large eggs

1 -29

oz

can pure pumpkin

NOT pumpkin pie filling

20

oz

evaporated milk

canned

1

teaspoon

vanilla

2

unbaked pie crusts*

4 cup volume each
Instructions
Place oven rack on bottom third of oven and turn oven to 425 degrees.

Mix sugar, salt, pumpkin pie spice and eggs together in large bowl for about 2 minutes, or until blended well. Add pumpkin, mix well until smooth and incorporated. Add canned milk and vanilla. Make sure all ingredients are mixed together well.

Pour into two 9- inch prepared pie crusts.

Place in oven and bake for 15 minutes at 425 degrees, then without opening oven door, reduce temperature to 350 degrees and bake for an additional 40 minutes.

The pies are done when the middle is set and no longer looks wet. you may insert a knife in the center of one pie. If the pie is done, it will come out clean.

Let cool completely before serving. May be made the day before serving.

Refrigerate if not serving the same day.

Yield two- 9 inch pies
Recipe Notes
You may make your own pumpkin pie spice for pennies using my recipe on this page.
Use the extra evaporated milk in your mashed potatoes.
The best and most simple pie crust in the world may be found here.
Make sure to have whipping cream on hand. To make a nice swirled pile of fresh whipped cream atop your pies, spoon the whipped cream into a large ziplock bag and snip off a corner. When ready to serve, pipe the cream on top of the pie. Serve immediately.