If you've been around for a while, you know I love anything chocolate and coconut. This recipe for Quick and Easy Chocolate Coconut Overnight Oats is one of my favorite breakfast meals! Chocolate + Coconut + Almond Milk + Chia Seeds + Maple Syrup. This breakfast is so good, you may want to eat it for dessert. Whether for breakfast, snack or dessert, this recipe is a great addition to your busy week!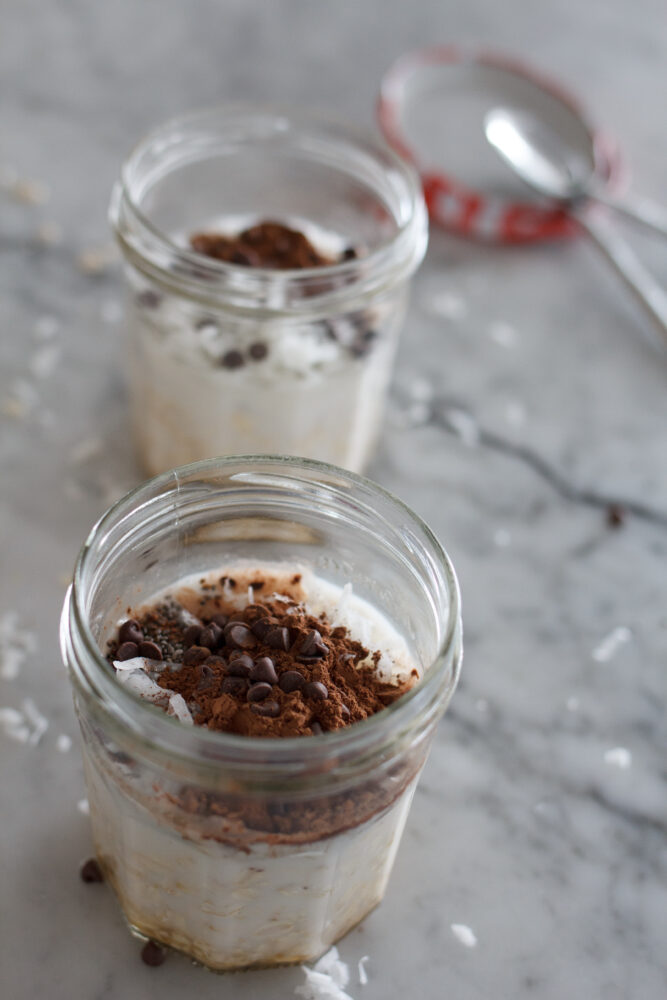 I love breakfast. Especially when you can make it the night before, and enjoy it on the go during busy mornings! These Quick and Easy Chocolate Coconut Overnight Oats are a game changer. They're so good, they almost seem like dessert for breakfast.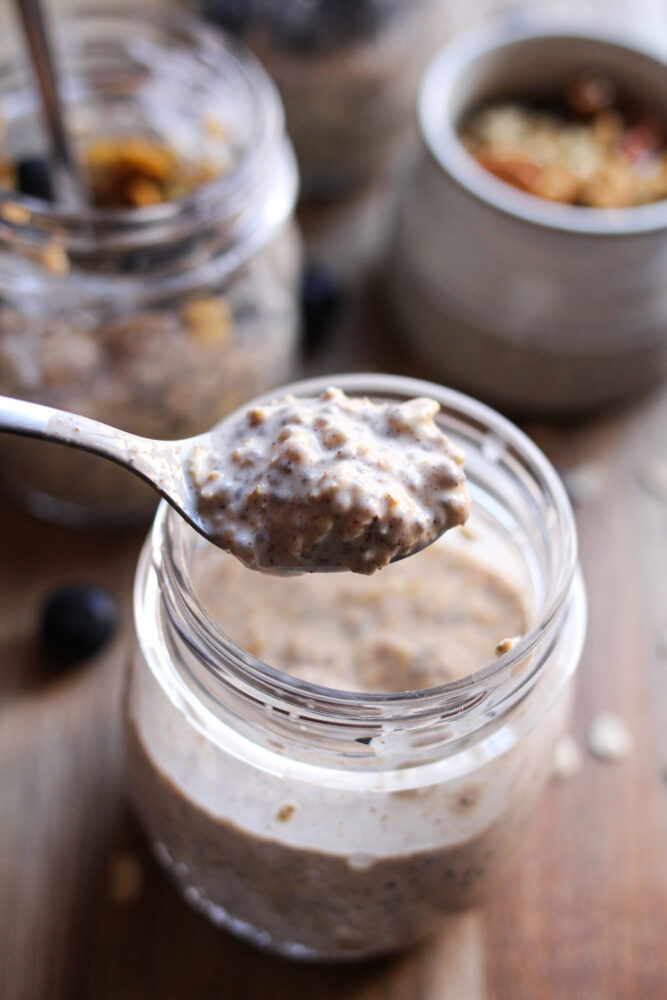 I wasn't always a fan, in fact, I was very skeptical of overnight oats in general. Once I tried them, I wondered why it took me so long to get on board! Take a look at this post for Easy Overnight Oats with Cinnamon for my full conversion story.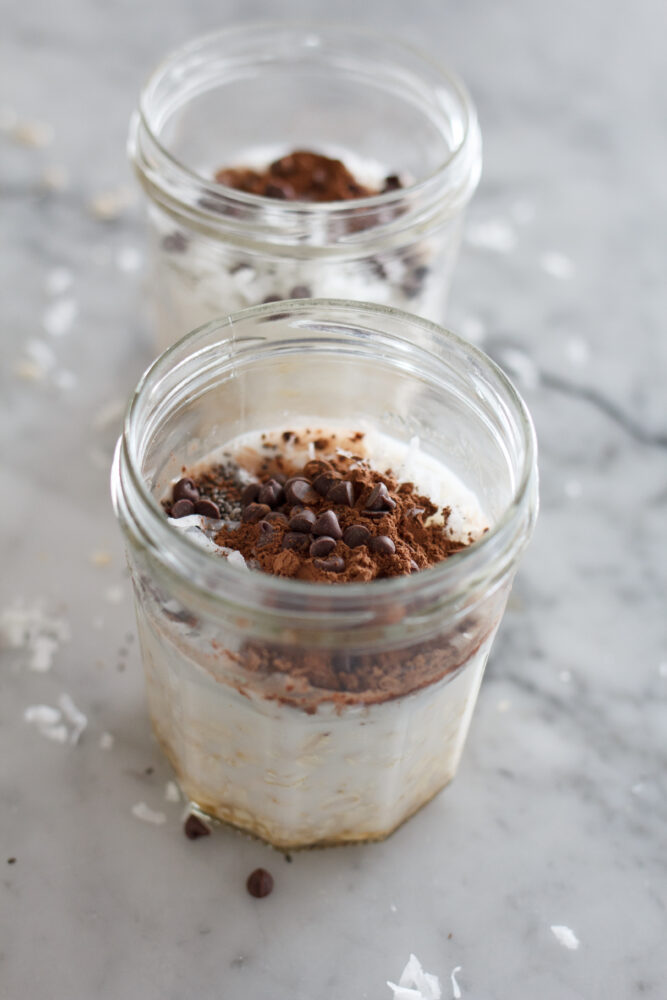 What are overnight oats?
Overnight oats are a no-cook version of oatmeal. The oats soak in milk overnight along with a few other ingredients to create a jar full of soft and flavorful oats ready to eat! The beauty of this recipe is it takes 5 minutes to mix together, place in the fridge overnight, and breakfast is ready for the next 5 days.
What type of milk is best for overnight oats?
I use almond or coconut milk, but any type of milk works (including diary). Don't forget to add your favorite oatmeal toppings when assembling overnight oats! If making several jars of overnight oats for the week, make sure to check the expiration dates on milk and yogurt.
Can I use Steel Cut Oats in overnight oats?
The best type of oats to use in our Quick and Easy Chocolate Coconut Overnight Oats are old fashioned oats. I do not recommend using steel cut oats because they need to be cooked on the stovetop or Instant Pot before using in this recipe. Old fashioned oats are the best choice for overnight oats.
How to make Chocolate Coconut Overnight Oats:
Place milk in a jar.
Add oats, chia seeds, coconut, maple syrup, cocoa powder, mini chocolate chips and vanilla.
Stir contents of jar, or shake after lid is on.
Place in fridge for 8 hours.
This recipe along with cinnamon overnight oats (below) are perfect for busy college students, girls camp, a brunch time wedding or baby shower, or even just for stocking in the fridge during the summer. You'll always have something ready to go when the kids get hungry between meals!
Did someone say kid-friendly?? This recipe is easy and fun to make, and no need to turn on the oven or stove. Remember, If they make it, they are more likely to eat it!
I hope you'll experiment with this recipe and add-ins! The possibilities are endless. Please leave a comment below and let us know how you make this recipe your own!
Chocolate Coconut Overnight Oats
Easy to make overnight oats for a busy week! Throw everything into a jar, shake and refrigerate for a few hours or overnight.
Total Time
8
hours
5
minutes
Ingredients
2

cups

milk (almond, coconut or dairy)

1 1/3

cups

old fashioned oatmeal

not steel cut

2

tablespoons

chia seeds

1/4

cup

coconut, sweetened and shredded

2

tablespoons

maple syrup

2

tablespoons

unsweetened cocoa powder

2

teaspoons

vanilla

1/4

cup

mini dark chocolate chips (optional)
Instructions
Pour 1/2 cup milk in each of the 4 jars. Add the remaining ingredients, dividing evenly between the jars.

Stir with spoon or place lid on jar and shake. Make sure oats and chia seeds are mixed well with milk.

Place sealed jars in fridge for 8 hours.

Will keep for 3-5 days without fresh fruit added. Serve with fresh fruit, granola, nuts, or additional coconut. 
Recipe Notes
If adding yogurt, use unsweetened Greek yogurt or vanilla Greek yogurt. 

Any type of clean container may be used  to mix and store overnight oats. Plastic containers with tight fitting lids, old jam jars, even a glass or bowl with a lid or tight fitting plastic wrap. 

For sweetener, I prefer pure maple syrup. Honey, brown sugar, stevia or other sweeteners may be used.  Chopped dates also work well as a sweetener.

You may layer the oats with fruit in the jar.

I wait to top the oats with granola and nuts until just before eating to keep the granola crunchy.

For a warm breakfast, heat the oatmeal up for a few seconds in the microwave after refrigeration. I do not recommend heating the oatmeal if yogurt is added.