Easy Overnight Oats with Cinnamon is a great way to start your day! Healthy and easy to grab as you run out the door, or before an early Zoom meeting.
I was first introduced to overnight oats a few years ago. I used to work as a weekly volunteer at the Bountiful, Utah Temple of the Church of Jesus Christ of Latter Day Saints. We started our shift with a prayer meeting at 5 AM.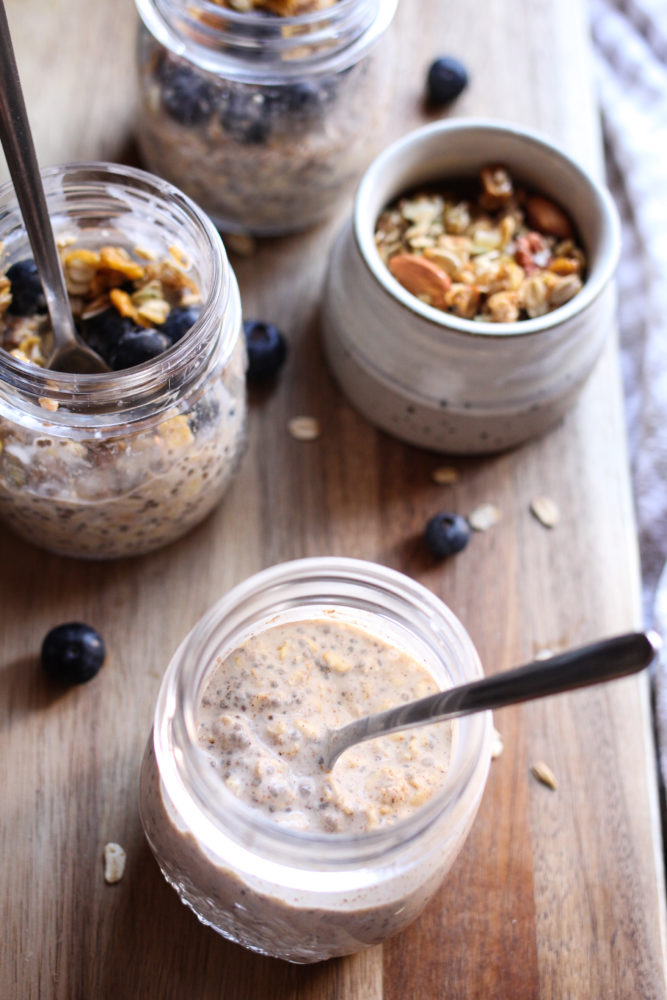 I had to get up at 3:45 in the morning to leave my house at 4:30, be dressed in white and ready for the meeting to start at 5:00. It was always a rush to get out the door and to the temple on time.
Do you see where a good overnight oats recipe may come in handy in this situation?! Still, it took me quite a while to get onboard with this healthy trend…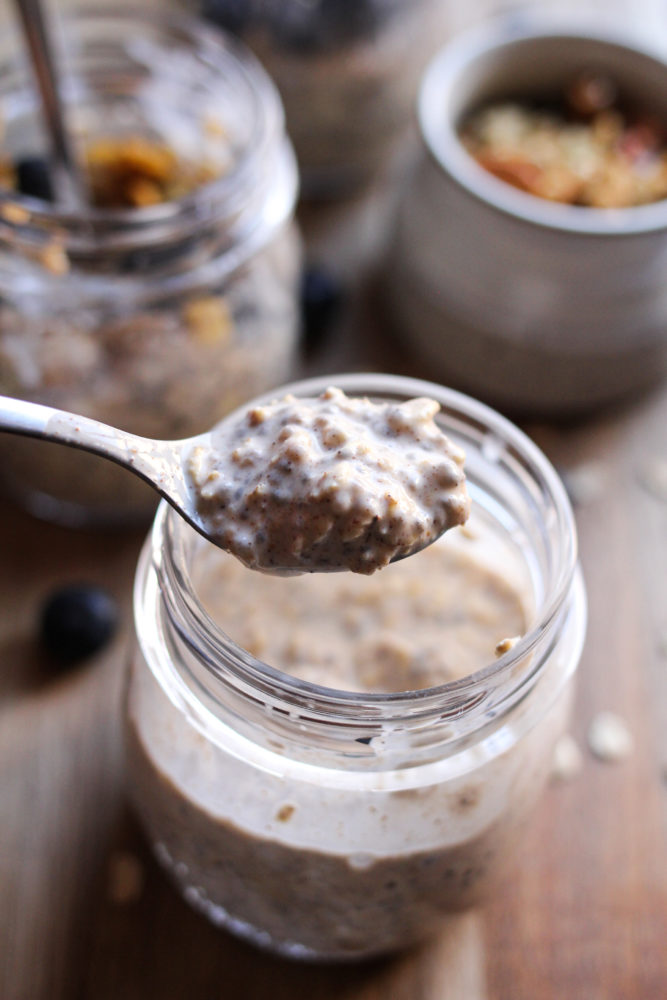 During our break time, I sat in the temple cafeteria with other women who were eating their overnight oats. I eyed their cold containers of overnight oatmeal while I ate my usual yogurt, granola bar and hard boiled egg.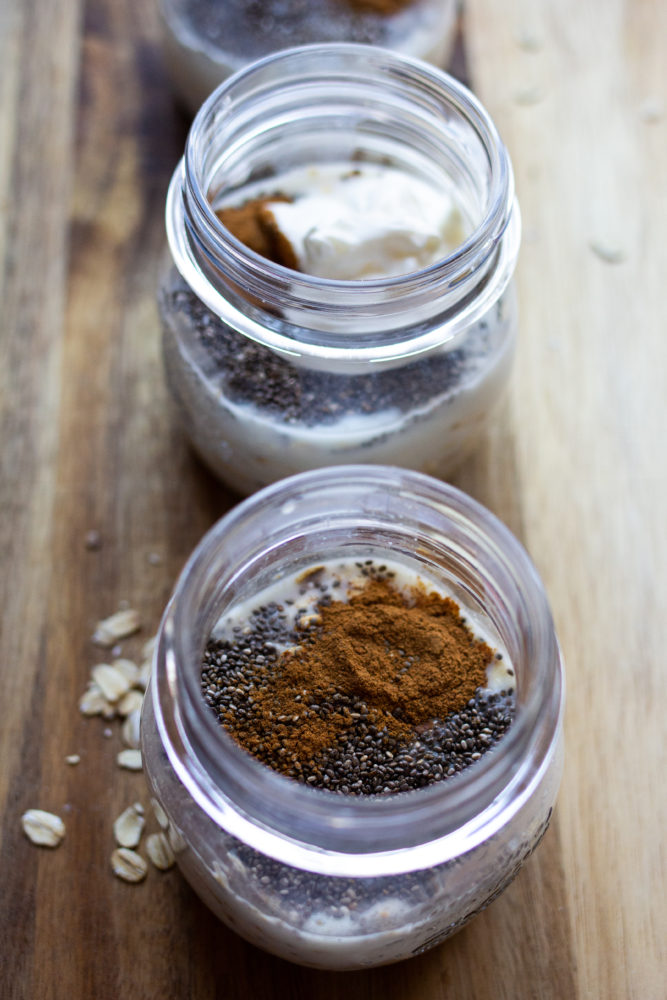 I thought to myself, cold overnight oatmeal? How good can that taste?! When I found out it was uncooked, I was even more suspicious. How could oatmeal taste good served cold? It just didn't seem right.
Fast forward to 2020. We are living in Spain, and after months of experiencing restrictions during the Covid pandemic, I had grown tired of almost everything I have prepared for breakfast in the last several months…
So, I started experimenting with overnight oats. HELLO. Jars of Easy Overnight Oats with Cinnamon are now my favorite and a regularly stocked item in our fridge.
I eat them cold, and on some mornings, I warm them up a bit in the microwave. I even love overnight oats as a snack mid-day or late in the evening with fruit and granola.
I've made several different variations of this basic overnight oats recipe. Adding Greek yogurt to our overnight oats is on our regular breakfast rotation. Vanilla Greek yogurt also works well!
If you haven't tried chia seeds, they don't flavor the oats, but add texture and help the oats to thicken up. Chia seeds also have many positive health benefits including a source of calcium, protein and fiber.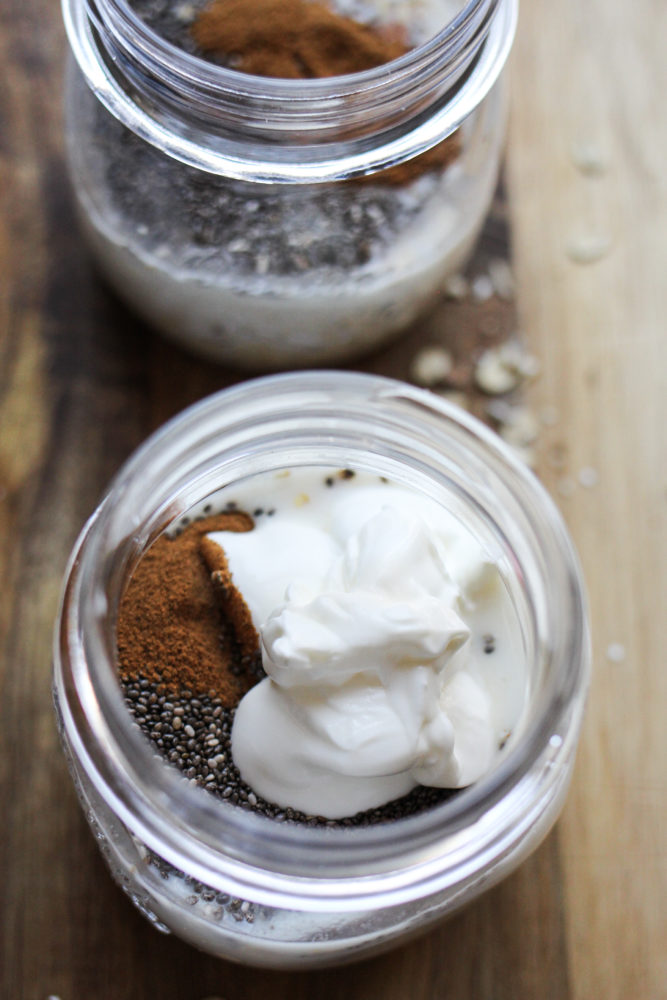 I have used maple syrup, brown sugar and even honey to sweeten my overnight oats. My favorite sweetener for this recipe is pure maple syrup. It only takes about 1 1/2 teaspoons per serving and it's just sweet enough to satisfy my sweet tooth!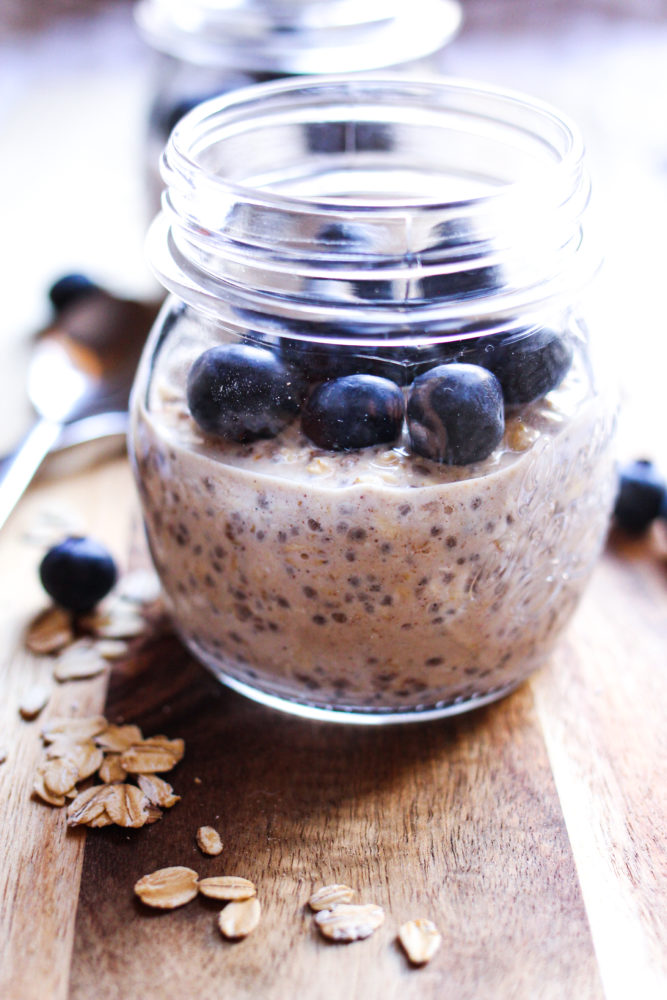 When I mix up my overnight oats, I usually do not add fruit. I like to add it in the morning, along with a big spoonful or two of homemade granola! That said, you can add fruit the night before if you like. It's fine to mix it in, layer it or just place it on top of the mixed oats before securing the lid.
The best type of oats to use in Easy Overnight Oats with Cinnamon are old fashioned oats. Steel cut oats are best when cooked for a long period of time over the stovetop or in the Instant Pot, for this reason, I don't recommend using steel cut oats in this recipe!
How to make Easy Overnight Oats with Cinnamon:
Place almond milk in a jar.
Add old fashioned oats, chia seeds, maple syrup, cinnamon and vanilla.
Stir contents of jar. Or shake after lid is on!
Screw lid onto jar.
Place in fridge for 8 hours. That's it!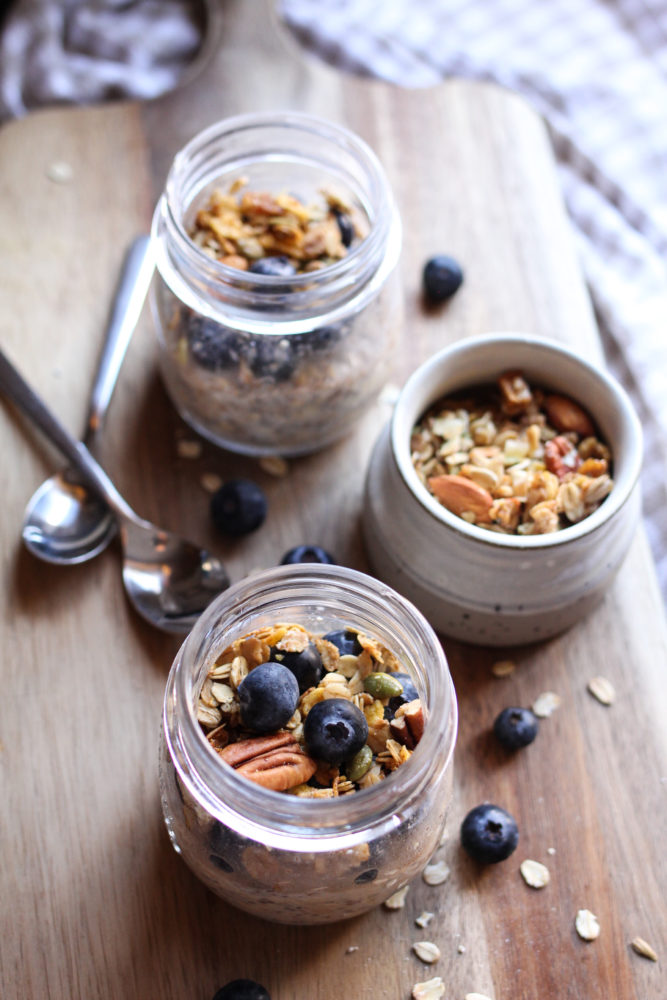 I think this is the perfect amount of oats for breakfast. If you try this and the portion seems a little on the small side, see the second set of ingredients on recipe for larger serving size.
This easy overnight oats recipe is easily adaptable. Along with granola, I love to eat my oats with blueberries, raspberries, strawberries and even coconut! What is your favorite topping?
Easy Overnight Oats with Cinnamon
This easy to make overnight oats recipe will simplify your breakfast routine! Made with old fashioned oats, almond milk, maple syrup and a bit of cinnamon, you will love this delicious filling meal or snack.
Total Time
8
hours
5
minutes
Ingredients
1/2

cup

plus 2 tablespoons almond milk

1/3

cup

old fashioned oats

1 1/2

teaspoons

chia seeds

1 1/2

teaspoons

pure maple syrup or brown sugar

or to taste

1/4

teaspoon

cinnamon

1/4

teaspoon

vanilla or almond flavoring
For larger serving: When making overnight oatmeal for Grant, I use the following measurements and place the ingredients in a 16 oz jar
1

cup

almond milk

3/4

cup

old fashioned oats

1

tablespoon

chia seeds

1

tablespoon

pure maple syrup

1/2

teaspoon

cinnamon

1/2

teaspoon

vanilla extract
Instructions
Place all ingredients in a 12 oz jar.

Stir with spoon or place lid on jar and shake. Make sure oats are mixed well with the almond milk!

Place in fridge for 8 hours.

Will keep for 3-5 days without fresh fruit added. Serve with fresh fruit, granola, nuts, or coconut.
Recipe Notes
If adding yogurt, use unsweetened Greek yogurt or vanilla Greek yogurt.
When adding sweetened Greek yogurt, I add a little more maple syrup if the yogurt is extra tangy!
You may use any type of clean container to mix and store your overnight oats. Plastic containers with tight fitting lids, old jam jars, even a glass or bowl with a lid or tight fitting plastic wrap. 
When making oats for a few days ahead, make sure to check the expiration date on the almond milk and Greek yogurt (if adding). 
For sweetener, I prefer pure maple syrup. You may also use honey, brown sugar, stevia or other sweeteners.  Chopped dates also work well as a sweetener.
You may layer the oats with fruit in the jar. I wait to top the oats with granola and nuts until just before eating to keep the granola crunchy!
If you prefer a warm breakfast, heat the oatmeal up for a few seconds in the microwave. Stir and eat.