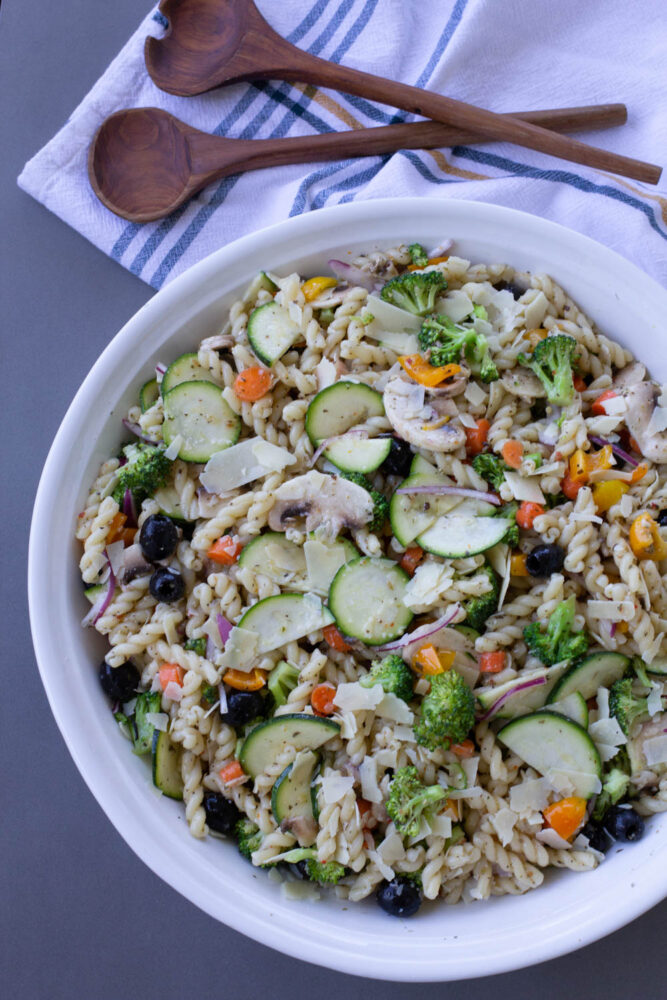 The Best Easy Italian Pasta Salad Recipe
This is quite the claim, I know. I have been making this pasta salad for over 35 years and IMHO, the name is deserving. What makes a delicious Italian pasta salad? Quality pasta, fresh veggies, flavorful dressing and a bit of Parmesan cheese. This salad is easy to make, with the best pasta salad dressing you have ever eaten. And the best news? It's going to be the easiest pasta salad you have ever made!
Pinch of Salt Lake Cookbook- origin of this recipe!
Way back when, before cell phones and the internet and pebble ice, I used one cookbook over and over. It was "A Pinch of Salt Lake". This cookbook was my close friend when we moved from Salt Lake to Portland, Oregon in the mid 1980's.
Grant was in law school. Corrine ( two years old) and I spent a lot of time in our little apartment after I got home from work. I tried most of the recipes in that book, and loved the majority. It became my cooking Bible, in a way. I think I have made more recipes out of that book than any other in my collection, which at last count was 300 cookbooks! This recipe is adapted from the Marinated Pasta Salad recipe in the Pinch of Salt Lake Cookbook.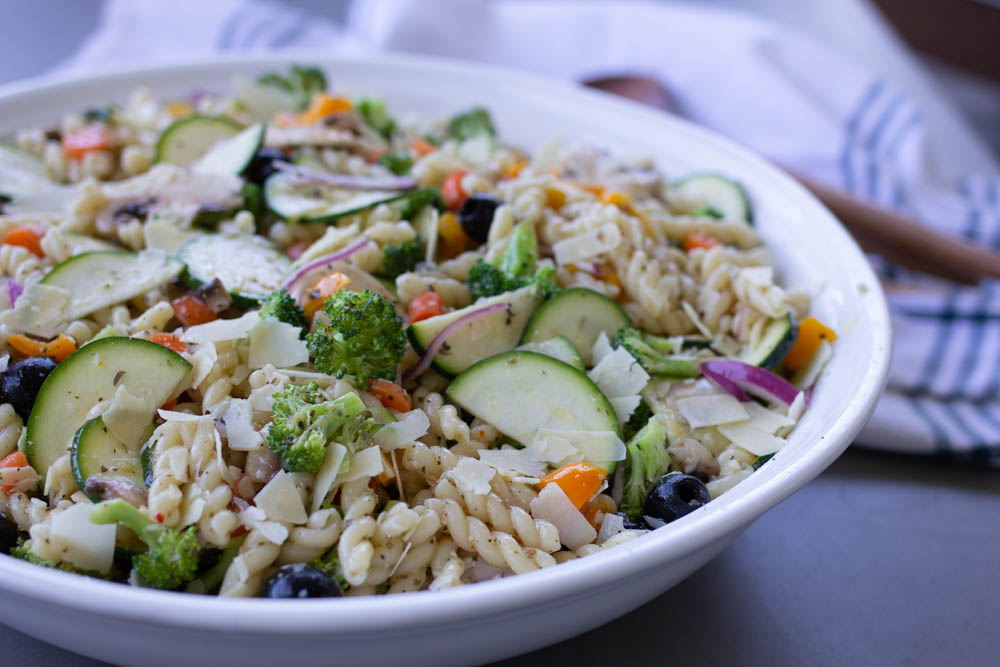 What makes the best pasta salad?
How many times have you eaten a pasta salad, only to be disappointed with the lack of flavor? Sooo many pasta salads look good, but leave me wanting more seasoning on the pasta itself. This recipe solves the problem of bland pasta salad once and for all! The secret? Sprinkle the cooked pasta and veggies with dry Italian dressing before making the salad and then use a wet dressing as well! I learned this trick years ago, and this has been my go-to pasta salad recipe since.
Sprinkling dry Good Seasons Italian Dressing over the veggies and pasta really make the flavor stick to all of the ingredients. My recipe for The Best Easy Italian Pasta Salad Recipe includes instructions for making a homemade version of Good Seasons dry mix as well. You can change the vegetables to suit your taste. I like the olives, not only because I'm an olive lover, but also for the color. This recipe is a great base for starters to any combination of pasta and/or vegetables according to the season and your preference!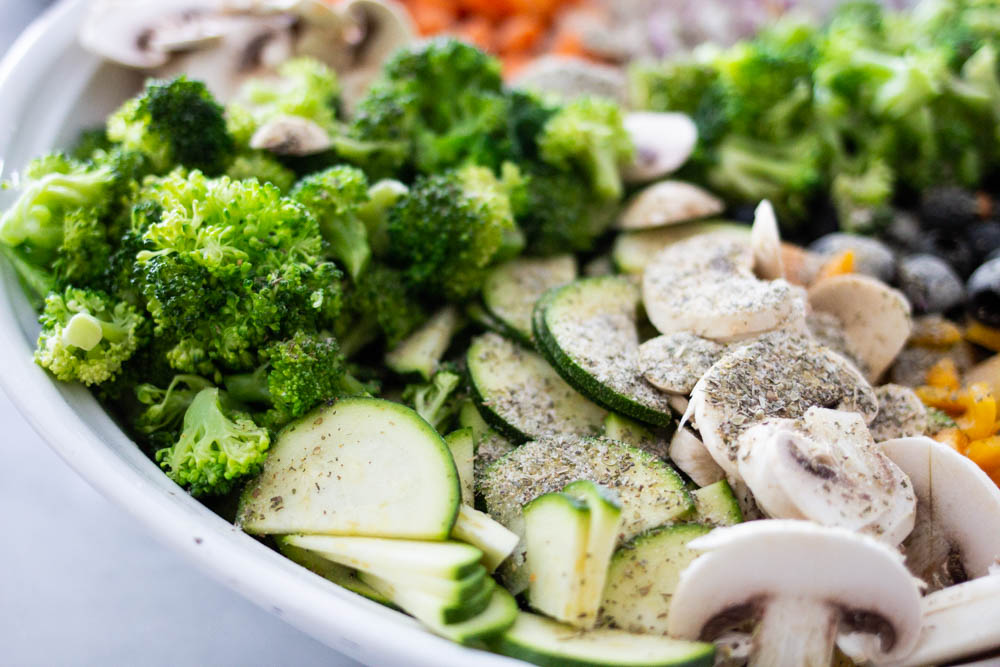 Options for vegetables in this recipe:
With this simple and basic recipe you can add whatever vegetables you prefer! This recipe calls for a Bermuda onion, yellow pepper, carrots, zucchini, broccoli, mushrooms, artichokes and olives, but can easily be adapted to any of the following ingredients:
chopped tomatoes
cherry tomatoes
cucumber, seeded or not
red, orange, or green bell peppers
cauliflower
Fresh green beans
fresh or frozen peas
green onions
spinach leaves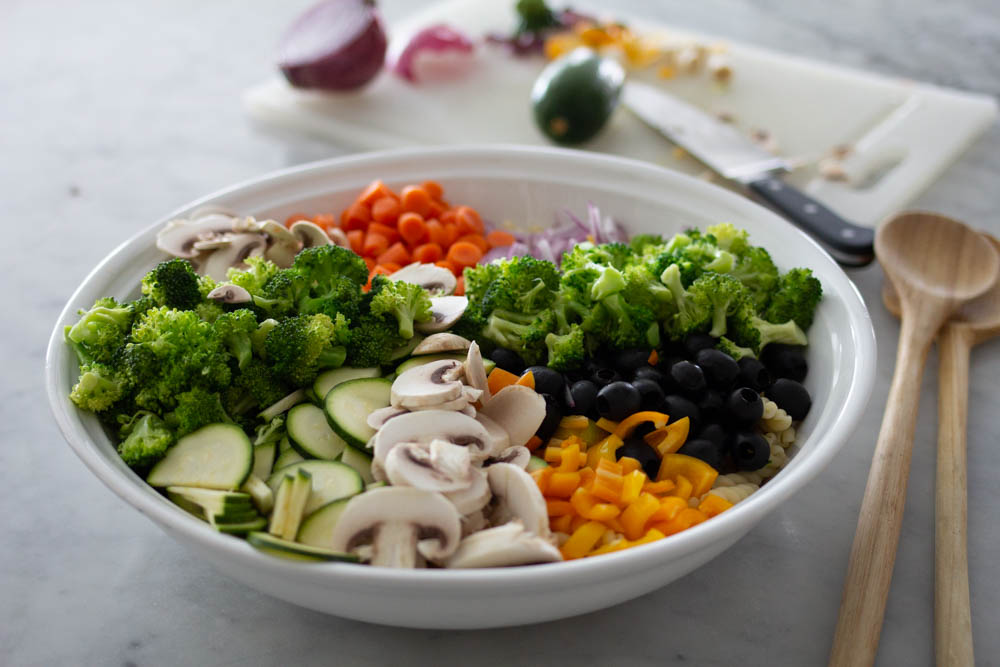 How to make The Best Easy Italian Pasta Salad Recipe:
Cook the pasta and drain.
Add chopped veggies to cooled drained pasta.
Sprinkle the veggies and pasta with dry dressing and also bottled dressing.
Add grated cheese just before serving.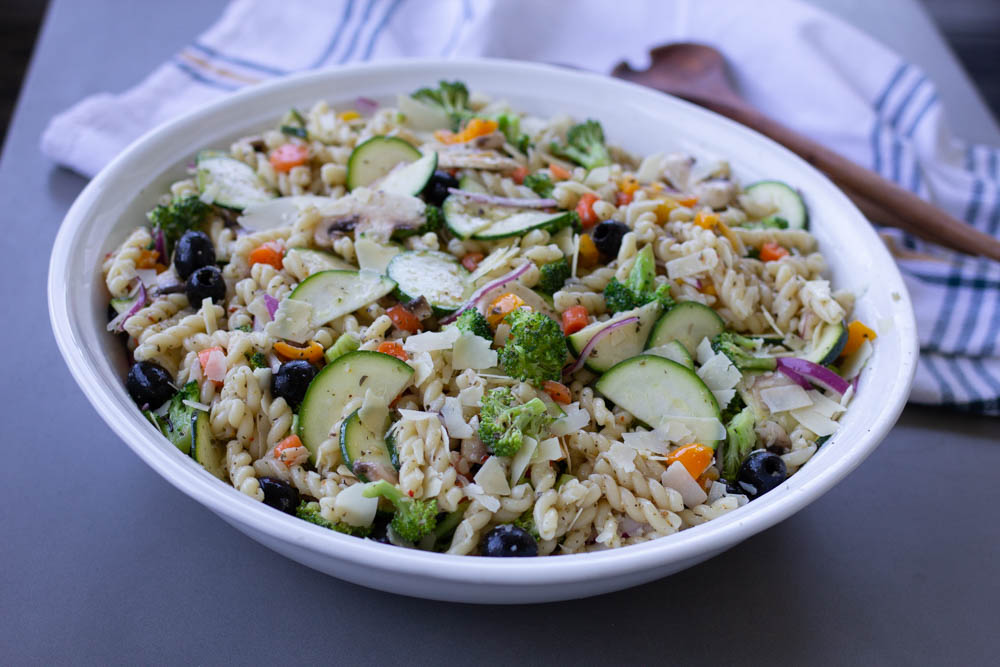 Other Pasta Salad recipes to try:
The Best Easy Italian Pasta Salad Recipe
The Best Easy Italian Pasta Salad Recipe is the most flavorful pasta salad! The secret ingredient is dry Italian dressing mix sprinkled over the pasta and vegetables!
cool and marinate time
2
hours
Total Time
2
hours
30
minutes
Ingredients
1

lb

pasta

any shape

1/3

cup

Bermuda (red) onion

chopped

1

yellow pepper

seeded and sliced

2

carrots

thinly sliced

2

small zucchini

thinly sliced

2-3

cups

broccoli flowerlettes

1/2

lb

mushrooms

sliced

1

large can pitted olives, black or green

1

12-14 oz can

artichoke hearts, drained well and quartered

may use marinated or packed in water

1

.07 oz

package dry Good Seasons Italian dressing mix OR recipe attached for homemade dry mix

1

16 oz.

Bernstein's Cheese and Garlic Italian dressing* see recipe notes

or other good quality Italian bottled dressing I have also used "Ken's Simply Vinaigrette"

1

cup

fresh grated Parmesan or Romano cheese
To make dry Italian seasoning:
1

tablespoon

garlic powder

1

tablespoon

onion powder

3

tablespoons

dry Italian seasoning

1

teaspoon

dehydrated onion flakes

optional

2

teaspoons

granulated sugar

1/2

teaspoon

celery seed

1

teaspoon

ground pepper

2

tablespoons

sea salt
Instructions
Cook pasta according to package directions. Rinse with cold water, drain and set aside.

Wash and cut vegetables, place in a large bowl. Add cooked, cooled pasta and sprinkle with dry seasoning mix (packaged or homemade). If using homemade dry mix, use 3-4 tablespoons.

Add a generous amount of fresh ground pepper. Pour bottled dressing over all, toss and refrigerate.

Just before serving, grate fresh Parmesan or Romano cheese over the salad.
Recipe Notes
I use about 1/2 of the well shaken bottle of dressing to start. Let it sit (preferably) for at least 2 hours. Then add more bottled dressing as needed, tossing before serving. The longer the dressing sits on the pasta before serving, the more it will be absorbed into the pasta. This is great for flavor, but needs to be adjusted to make sure the pasta salad does not taste dry before serving!
For make-ahead, if waiting more than 3 hours to serve, add the mushrooms and grated cheese just before serving.
For tender, bright green broccoli, place the washed broccoli on a microwave safe plate. You may chop the broccoli before or after cooking. Add 2-3 tablespoons water to the plate. Cover with paper towel and cook the broccoli for about 2 minutes or just until the broccoli turns bright green. Carefully remove from microwave. Drain hot water from plate and rinse the broccoli briefly with cold water to stop cooking process. Drain well (I like to give it a good shake or two) and add to the salad. The same may be done with cauliflower.