When our kids were little and I made the best easy meatloaf recipe for our family, the boys would say "meatloaf smeatloaf, double beatloaf, I hate meatloaf!" They loved this line from the movie Christmas Story and thought it was funny to tease me every time I made meatloaf!
Actually our boys loved this recipe for meatloaf and almost looked forward to it more the next day for leftovers! I'd always slice it thick and warm the meatloaf up with a slice of cheese on top…
Then, I'd slide the warmed up pieces of meatloaf on top of toasted bread, spread a thin layer of mayo on the bread and just like that, dinner was ready for the second night!
Can we talk about topping for just a minute? When my mom made meatloaf, we just squeezed some ketchup on top when we ate. This meatloaf is amazing partly because it is baked WITH the topping baked on..
And it's not just a little squeeze of the ketchup bottle. It is sweet and tangy and just the right amount of coverage to give this meatloaf the best baked on flavor!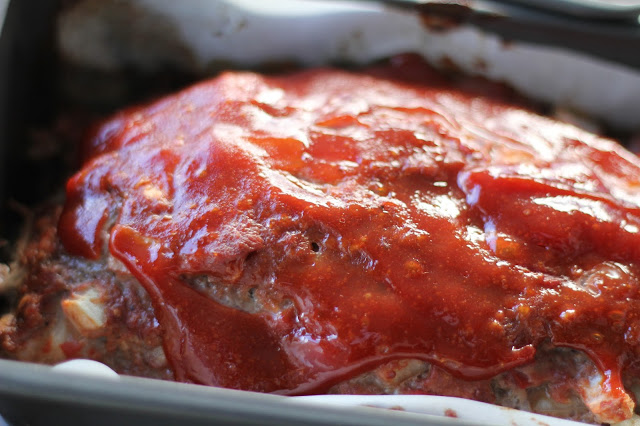 I grew up in the 60's and 70's eating meatloaf, and remember my mom always served it with canned green beans. Not sure why, but green beans were always a side dish with meatloaf!
The best easy meatloaf recipe is classic comfort food. It's easy to make, feeds a lot of people (with little effort) and is warm and filling!
This article, "The History of Meatloaf" in Bon Appetit tells the story of meatloaf and how it came to be in American cooking…(this is an excerpt from the article)
"By the 1950s, meatloaf was here to stay. Betty Crocker had recipes, which home cooks tweaked. A 1958 book, 365 Ways to Cook Hamburger, included 70 recipes for meatloaf… advocating smashed bananas, for example, or ketchup-filled peach halves."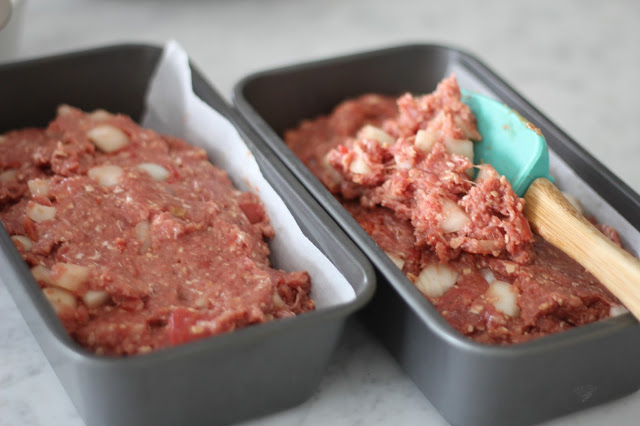 Are you thinking SICK! I hate meatloaf, I promise if you give this recipe a try you will see why it's named the best easy meatloaf recipe (in the world). Seriously, I haven't met a person young or old, who doesn't love this recipe!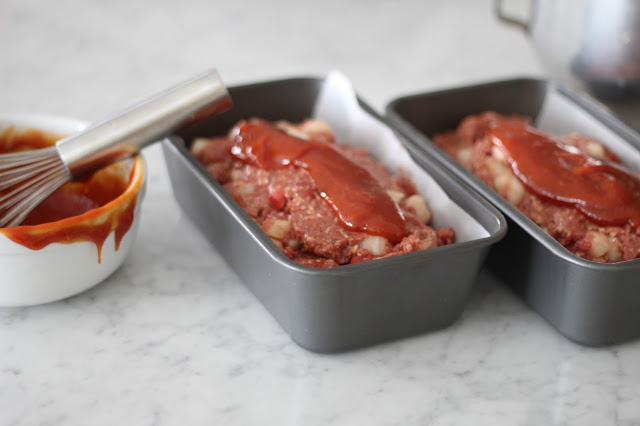 When I found this recipe years ago in a cookbook, I made a few changes, and have never used another recipe since that time.
Meatloaf is a great way to make a pound or two of ground beef go a long way! Whenever I make the best easy meatloaf recipe, I double it (see recipe notes) so we will have leftovers!
I usually make our favorite meatloaf with funeral potatoes, a simple green salad and some type of bread.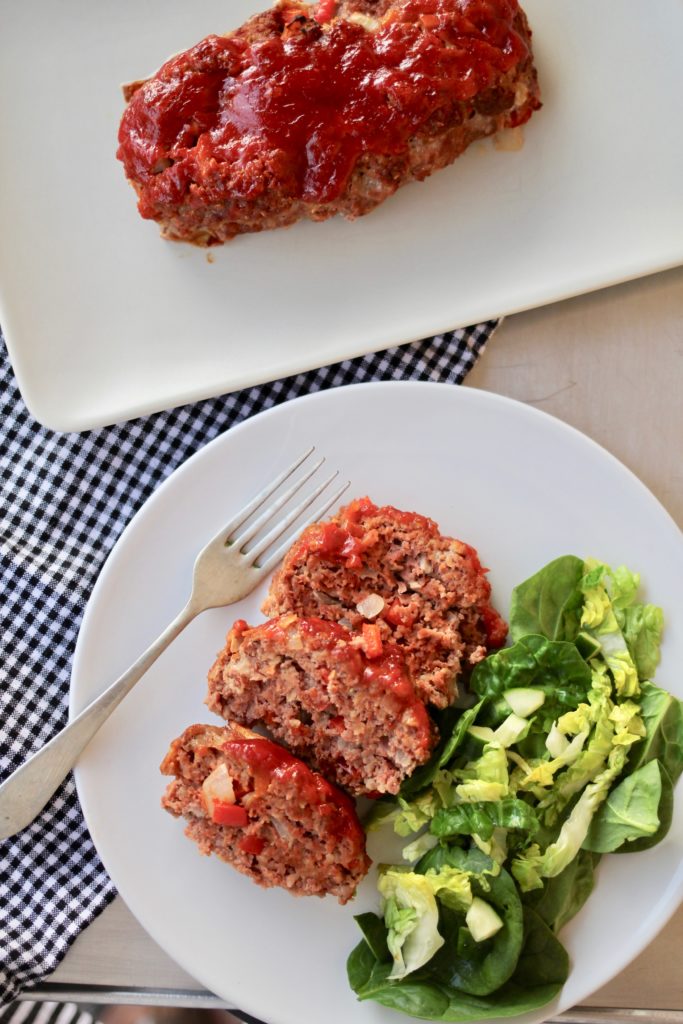 How to make the best easy meatloaf recipe:
Place all of the meatloaf ingredients into a mixing bowl
Mix topping ingredients in a small bowl
Place the meatloaf in dish to bake
Spoon topping ingredients over top of meatloaf
Bake
Remove and let sit for 5-10 minutes before slicing
This recipe was originally posted in 2008 on A Bountiful Kitchen. New photos and additional text added in this update!
The Best Easy Meatloaf Recipe
This easy meatloaf recipe turns out moist every single time! Made with chopped tomatoes and onion and the most delicious topping!
Total Time
1
hour
5
minutes
Ingredients
Meatloaf:
1

pound

lean ground beef

1

teaspoon

salt

ground black pepper, about 1/2 teaspoon

1

cup

chopped onion, I recommend a sweet onion

Vidalia or Walla Walla

1

egg, beaten

8

ounces

canned diced tomatoes with juice

1

tablespoon

Worcestershire Sauce

recommended, but not necessary

½

cup

quick-cooking oats
Topping:
1/3

cup

ketchup

2

tablespoons

brown sugar

1

tablespoon

prepared mustard
Instructions
Preheat oven to 375 degrees
Meat:
Place meatloaf ingredients into a large bowl or the bowl of a stand mixer. If mixing by hand, use a large spatula to mix. If using a stand mixer (this is how I do it) place in bowl and turn the mixer on low using the paddle attachment. It will take less than one minute to mix the ingredients.

Mix all meat loaf ingredients well, shape and place in a loaf pan or baking dish*
Topping:
Mix ingredients for topping and spread on top of the meat.

Bake for 1 hour on middle rack at 375 degrees uncovered.

After removing from oven, run a knife around the edges. Let sit for about 5-10 minutes, then remove from pan with spatula and serve immediately.
Recipe Notes
For easy of cleaning and lifting the meat out of the baking pan, I line the pans with parchment paper. When the meat is done, let sit, then lift out of the pan to serving plate. Discard paper.

When doubling this recipe (which I do almost every time!) I use a 14.5 oz can of chopped tomatoes for a double recipe. 
The topping can also be made with grainy, honey or spicy mustard.
I have also made this into mini loaves (see photos). They bake up a little faster if made into 2 mini loaves. I bake at same temperature for about 45-50 minutes. 
For the best leftovers in the world, heat thick slices of meatloaf in microwave. Add a slice or grated cheese to the top in the last few seconds of heating. Toast bread, spread with mayo, place warmed meatloaf on top of bread and enjoy!