Peaches are on and nothing celebrates a fresh peach like ABK's Brown Butter Peach Cobbler! This recipe will take your peach cobbler to the next level.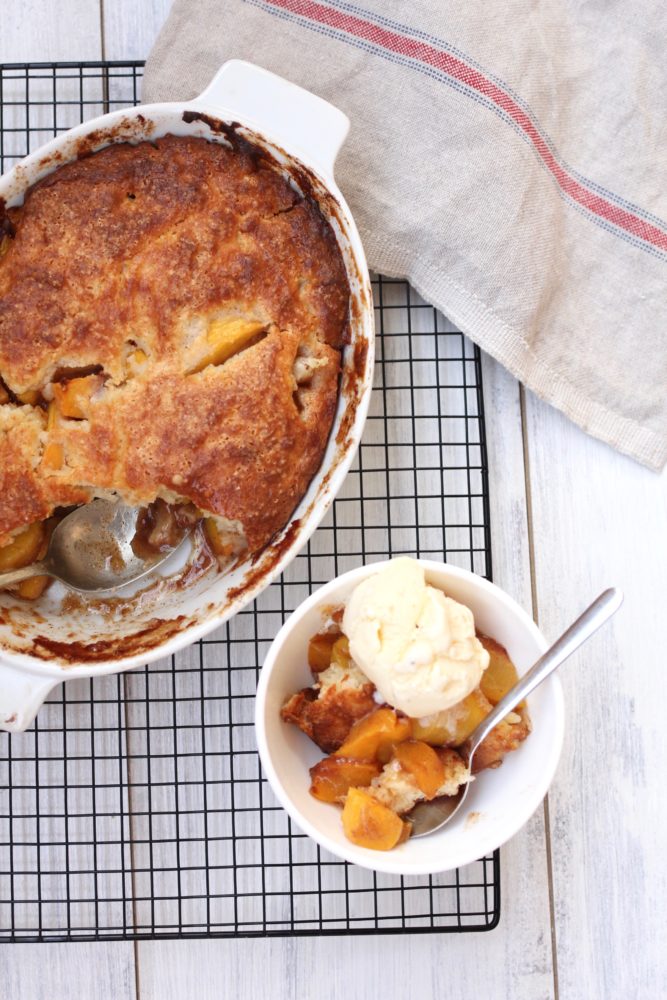 Creating the best peach cobbler
I love peach desserts. Peach pie and peach crumble are two of my all-time favorites! Whenever asked about peach cobbler, I usually say I'm not a fan. There is always something about the batter or cake portion of cobbler that I don't like. So I set out to create a peach cobbler I love, without reservations. This is IT.
Brown Butter Peach Cobbler – a next level dessert!
Brown Butter Peach Cobbler is the perfect blend of sweet peaches, in a light syrupy sauce made of fresh lemon juice, vanilla, cinnamon and our best friend, sugar. I think that's part of the reason I was never a big fan of peach cobbler in the past. Not enough sugar in the batter, and most cobblers seemed to be a bit bland.
The brown butter makes all the difference in this recipe. Most peach cobbler recipes mix the butter or oil right into the batter, but I like to slightly sauté the fresh peaches for a minute with the browned butter, cinnamon and vanilla. I think this enhances the flavors in this dessert and creates the most delicious sauce you have ever eaten. In. Your. Life.
How to brown butter without burning
The brown butter is one extra step, but worth every minute of your time. The first time I attempted to make brown butter years ago. It took several tries before I browned the butter without burning it! I finally realized my error was trying to hurry the browning process too much. Also, I imagined all of the butter or melted butter turning brown. When, in fact, brown butter refers to little brown flecks appearing in the melted butter!
Using a pan with a light interior for making brown butter
First tip when making brown butter: use a pan with a light interior! Either a stainless steel pan, or a pan with a white or light interior instead of a dark colored teflon pan. I promise using a light colored pan will help you to immediately see when the brown flecks appear in the butter.
Watch party
Place the pan on the stove, on medium to medium-high heat, and then wait until the butter melts and starts to bubble (side note: this is not a good time to empty your dishwasher or clean out your fridge. The melting of the butter and browning the butter is a quick process and your butter will burn if left unattended!) The butter usually browns within seconds of getting bubbly. At that point remove the pan from the heat. Perfect brown butter every time! If you want to see a quick video of the process of making this dessert, along with a shot of the brown butter, I made a Reel on Instagram…
Just right filling…
I worked on this recipe for over a month and finally found the right combination of brown butter, peaches, sugar and spice. The topping is just right, not too heavy and not too light. I also found that the filling needs to be saucy, without being too runny, so you will have extra juice to spoon over the desert when serving!
The peaches have a lot to do with the amount of juice or syrup in the finished cobbler. After experimenting with the maceration method used in perfect peach crumble, (where juice is drained off of the peaches after mixing with sugar) I decided to simply add one teaspoon of cornstarch to thicken the juice. If your peaches are extra juicy, you can add an additional teaspoon of cornstarch to this recipe.
ABK's Brown Butter Peach Cobbler recipe can be used with almost any fruit such as nectarines, blueberries, blackberries, plums or apples. If you are using apples, make sure to slice them no more than 1/4 inch thick so they will cook all the way through while baking!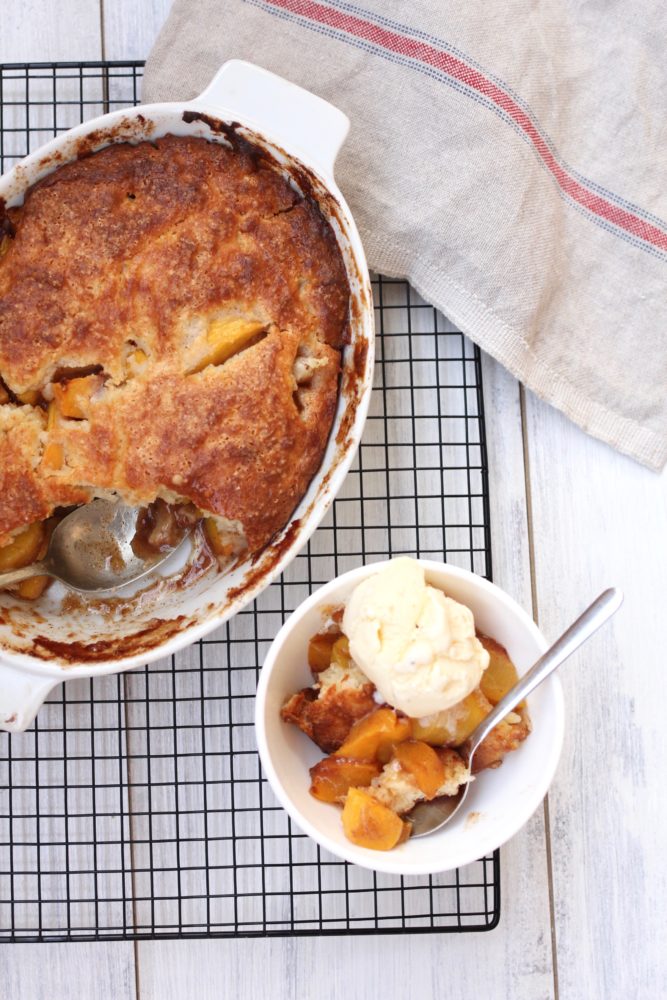 A good old fashioned dessert hot out of the oven, or served the next day!
The versatility of Brown Butter Peach Cobbler is a winner because while it is best served warm with a scoop of vanilla ice cream, it is also good at room temperature. Peach cobbler travels well and this recipe can be stretched to feed 10, or generously feed 6. The beauty of cobbler? You don't have to worry about the crust getting soggy on the bottom, because all of the dough bakes on top! I hope you love this sweet dish of comfort!
Brown Butter Peach Cobbler
Brown Butter Peach Cobbler takes this humble dessert to a whole new level! Brown butter, fresh peaches, cinnamon, vanilla and fresh lemon baked into a simple sweet batter made with Greek yogurt. Over the top delicious!
Ingredients
5-6

cups

peaches

skin washed and left on if desired or peeled

4

tablespoons

butter

unsalted

1

teaspoon

cinnamon

1/4

cup

granulated sugar

1

teaspoon

cornstarch*

more if the peaches are extra juicy

1

teaspoon

vanilla or almond extract

2

tablespoons

fresh squeezed lemon juice

1

cup

all purpose flour

1/2

cup

sugar plus 2 tablespoons

1

teaspoon

baking powder

1/2

teaspoon

salt

1

cup

plain unsweetened Greek yogurt or sour cream

in Spain's humid environment, I use 3/4 cup!

2

tablespoons

milk
Instructions
Lightly grease a 9×9 or other 2 quart baking dish

Cut peaches into slices or chunks and set aside.

Preheat oven to 350 with rack in middle of oven.

In a saute pan or fry pan, melt butter over medium heat until the butter begins to brown and little flecks appear. Be careful to not burn the butter! Remove pan from heat.

To the butter in frying pan, add the chopped peaches, 1/4 cup of sugar, cinnamon, vanilla, cornstarch and fresh lemon juice. Toss until all of the peaches are coated.

Place pan back on burner on medium heat and heat just until mixture starts to bubble, cook for one minute. Remove from heat and turn off burner.

In a medium bowl, place flour, 1/2 cup + 2 tablespoons sugar, baking powder, salt and Greek yogurt (or sour cream) and milk. Fold with a fork just until the ingredients are mixed together. Do not over mix.

Pour the peach mixture into the prepared baking pan.

Top peaches with the batter. The batter will be thick, spread it a bit with the back of the spoon.

Place the baking pan on top of a cookie sheet to catch any syrup that may bubble over.

Bake for about 45 minutes, uncovered, until topping is baked thru and the top of the cobbler is golden brown.

Let cool for at least 15 minutes, serve warm or at room temperature.
Recipe Notes
If the peaches or fruit are very juicy, you may want to add additional cornstarch. I have found 1 teaspoon is about right. This dessert is best when some juice is still in the bottom of the pan after baked. 
If you don't have plain Greek yogurt or sour cream,  you may use milk or buttermilk instead. 
If the dessert is not eaten after the first day, cover and refrigerate any leftovers.