Blueberry Buckle is a recipe that reminds me of the days when life was a little less complicated! This easy to make cake-like dessert can be on your table in less than an hour start to finish and will make your house smell heavenly.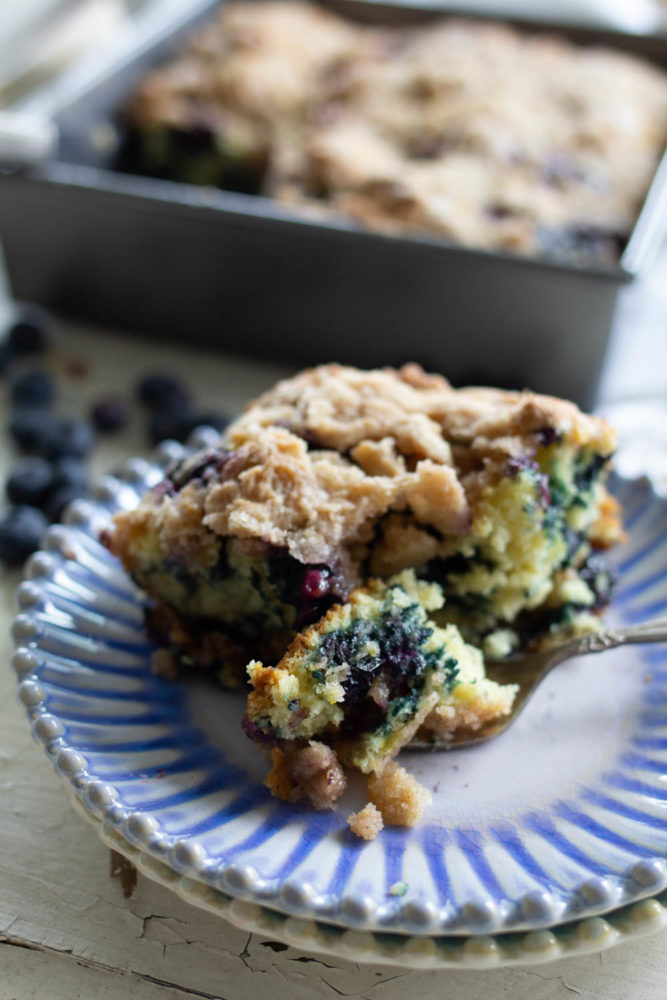 What is Blueberry Buckle?
If you've never heard of Blueberry Buckle, you're not alone. It's a dessert that became popular back in the early 1960's when I was a kid. Along with buckle came crisps, cobblers, and slumps! They were desserts that took little time and money to make, and often consisted of pantry friendly ingredients, along with fruit in season.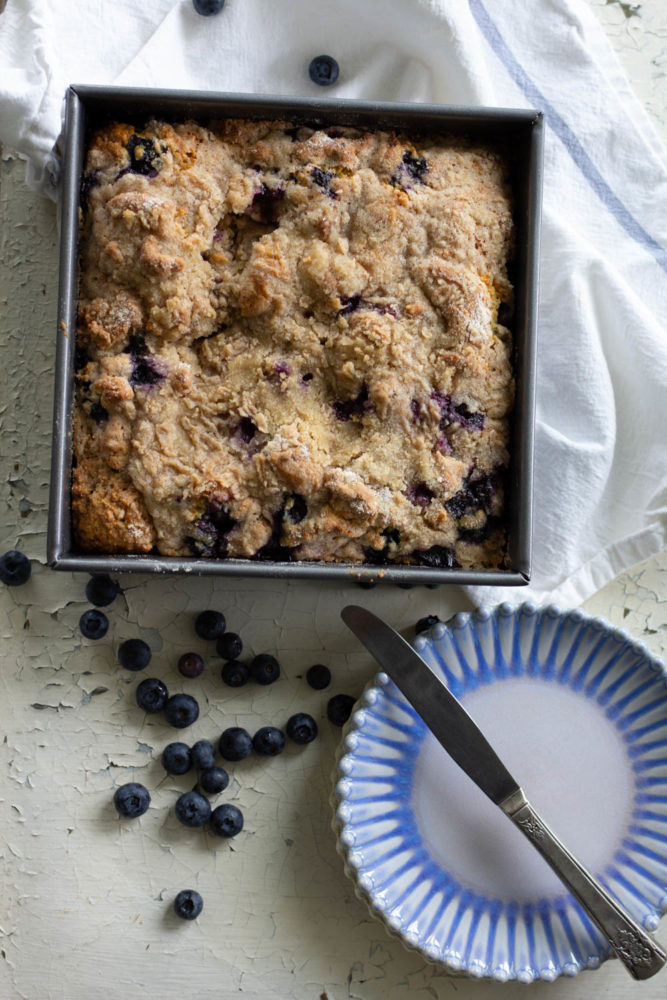 These desserts were usually baked in a pan, topped with either a dough, biscuits or a mixture of ingredients that included sugar, butter, flour and oats, and served warm.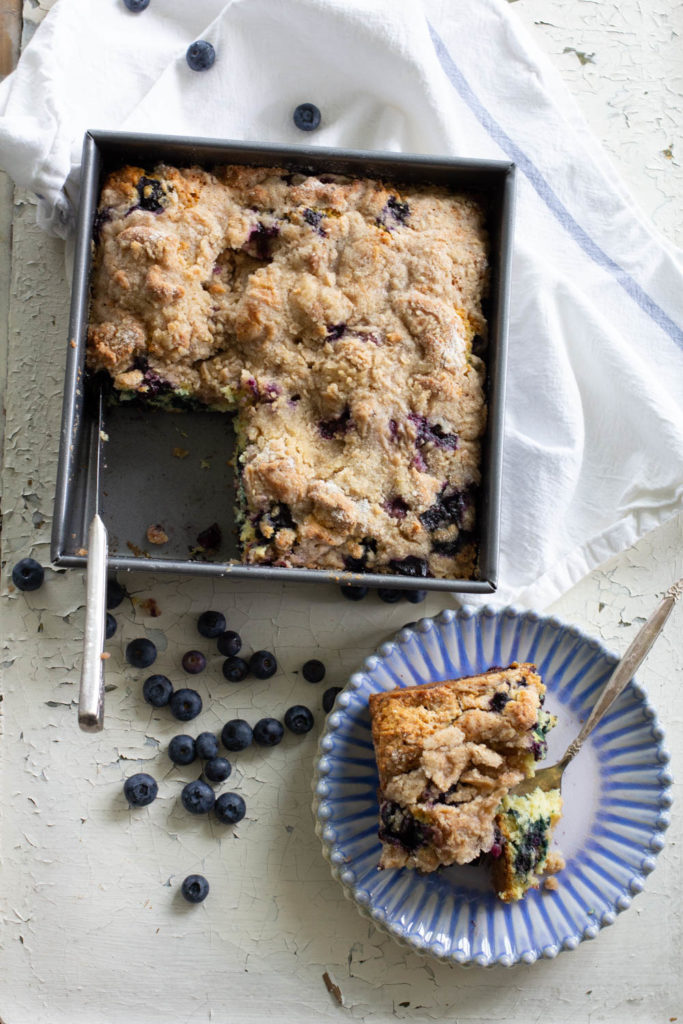 Recipes for these common desserts were either handed down in families on recipe cards (hand written) or found in cookbooks such as Betty Crocker or my mom's bible, Better Homes and Garden.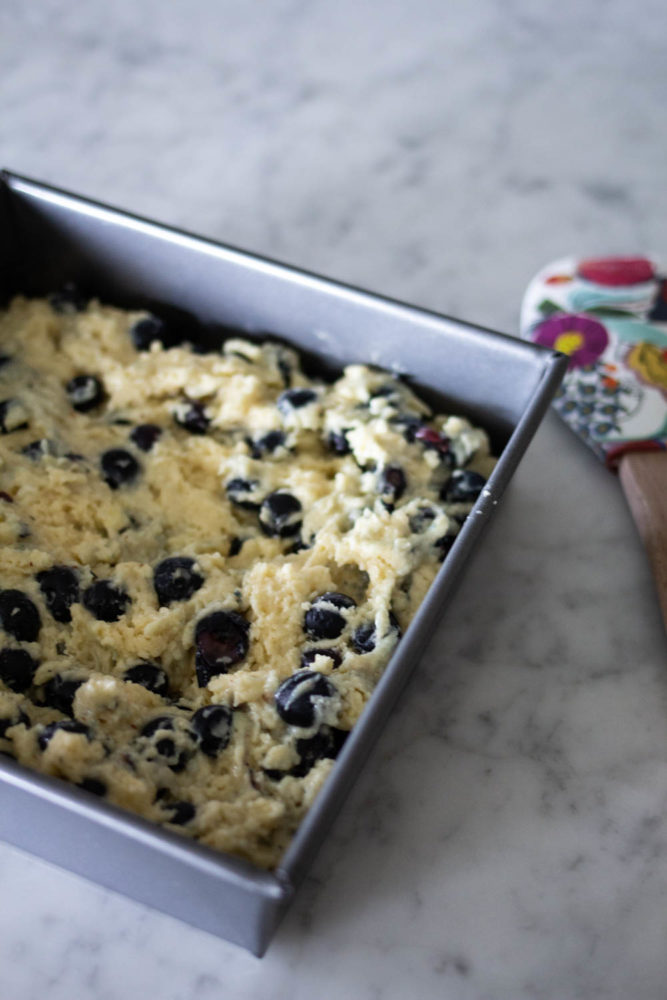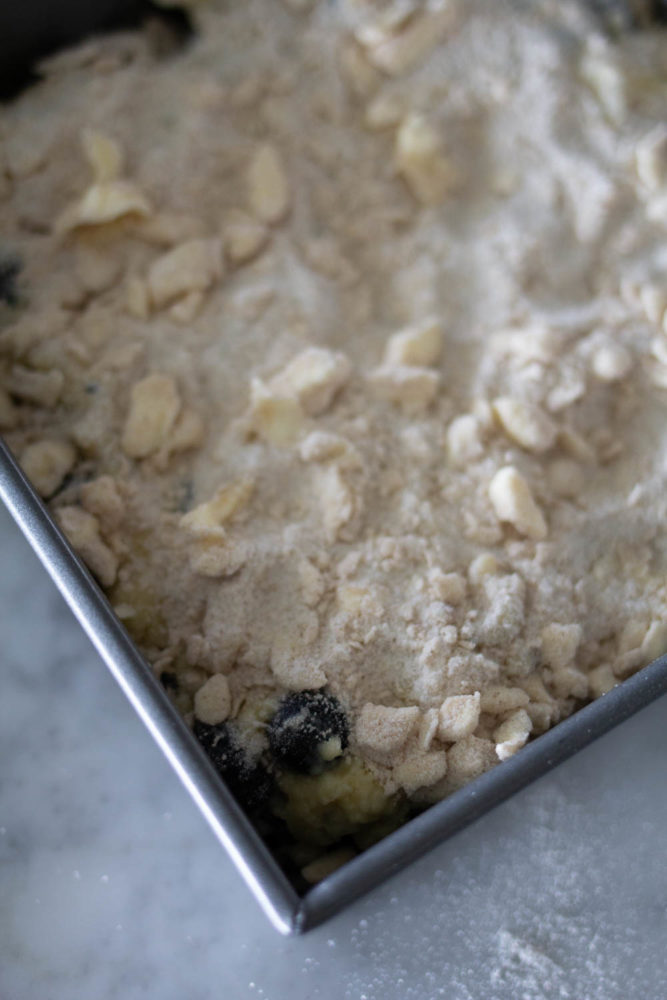 What's the difference between a crisp, cobbler, crumble or a buckle?
Crisp is a dessert baked in a pan (often a 9×13) most of the time with fresh apples or peaches, or a combination of fruits. The fruit layer is tossed with sugar and topped with a mixture of flour and/or oats, butter, sugar and cinnamon, which creates a crisp topping when baked. A crisp is usually juicy, and needs to be eaten within a day or two. I make Apple Crisp or Caramel Apple Crisp more often than any of the other desserts mentioned. This is our favorite recipe for Apple Crisp (below).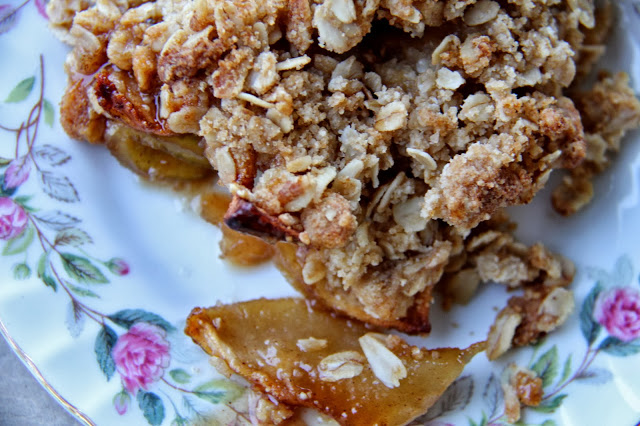 A cobbler is a dessert, also baked, usually with fruit that is a bit more moist, like a peach or blueberry. Cobbler is often made in a deep dish and topped with ingredients that resemble a batter, then baked. The topping is usually dropped or spooned on the fruit layer and is often not very sweet. A cobbler is a little more syrupy and moist than a buckle and needs to be eaten within a day or refrigerated.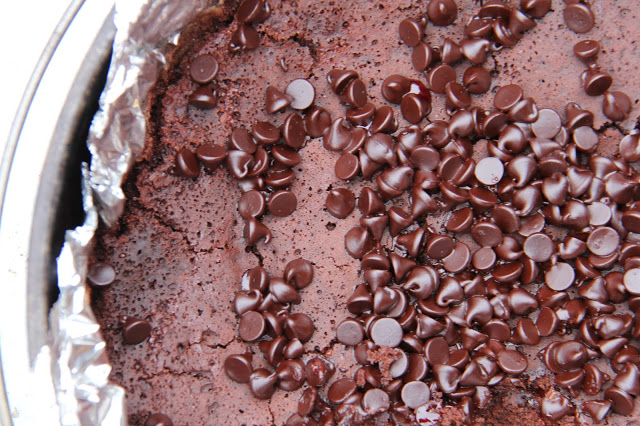 While we are on the subject of cobbler, I have two recipes for quick and easy Dutch-oven cobblers that are perfect for camping trips! They are a little different than traditional cobblers made with fruit and pantry staples. Both recipes are the cake-mix variety, with a few added ingredients. This Raspberry Dutch Oven Cobbler and Black Cherry-Chocolate Dutch Oven Cobbler are both crowd favorites and so simple to make!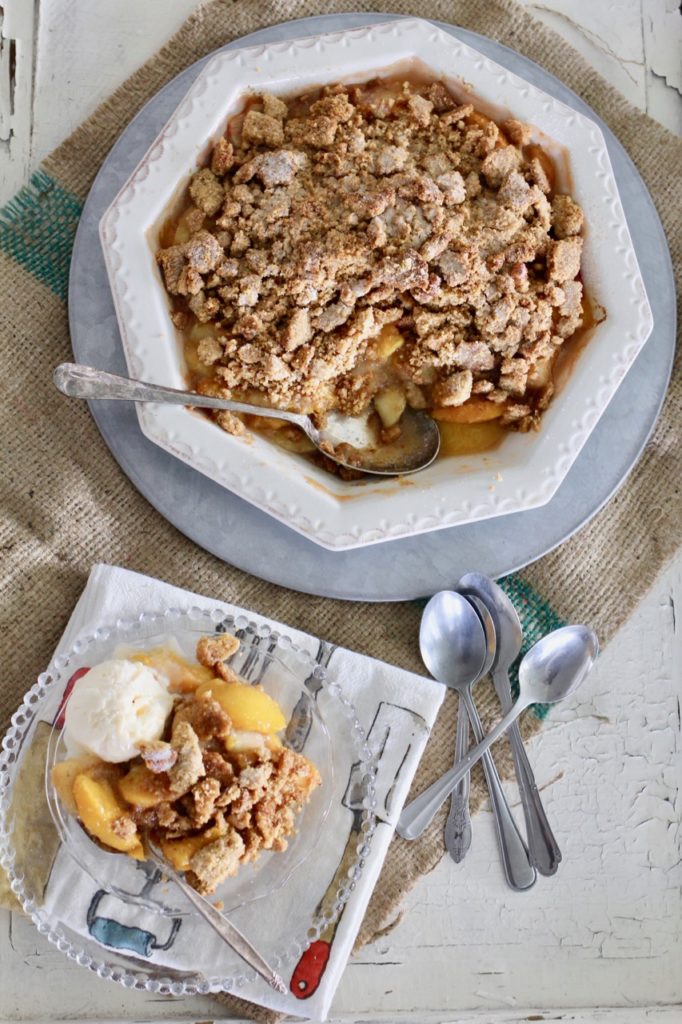 A Crumble is usually made with fruit, cut up, mixed with sugar and spices and topped with a mixture of flour, sugar and butter. Crumbles usually don't have oats in the topping, which are often found in "crisp" toppings. This is our favorite recipe for Peach Crumble.
Finally, a buckle includes fruit in a cake-like batter. The batter is topped with fruit and a crumble mixture. When baked, the top of the cake collapses a bit around the fruit, which is where the name "buckle" originated.
I love cake, so buckle is probably my personal favorite of the desserts mentioned because it is most like cake! Since this dessert is not quite as syrupy or wet like a cobbler or crisp, it will usually last a few days on the counter, covered.
I know you will love this easy to make recipe for Blueberry Buckle! It requires just a few ingredients you most likely have at home and about 10 minutes to mix up and less than 30 minutes to bake! No need to wait for it to cool completely, it is best served warm. You may use fresh fruit in season or a mixture of fruits, or frozen as well.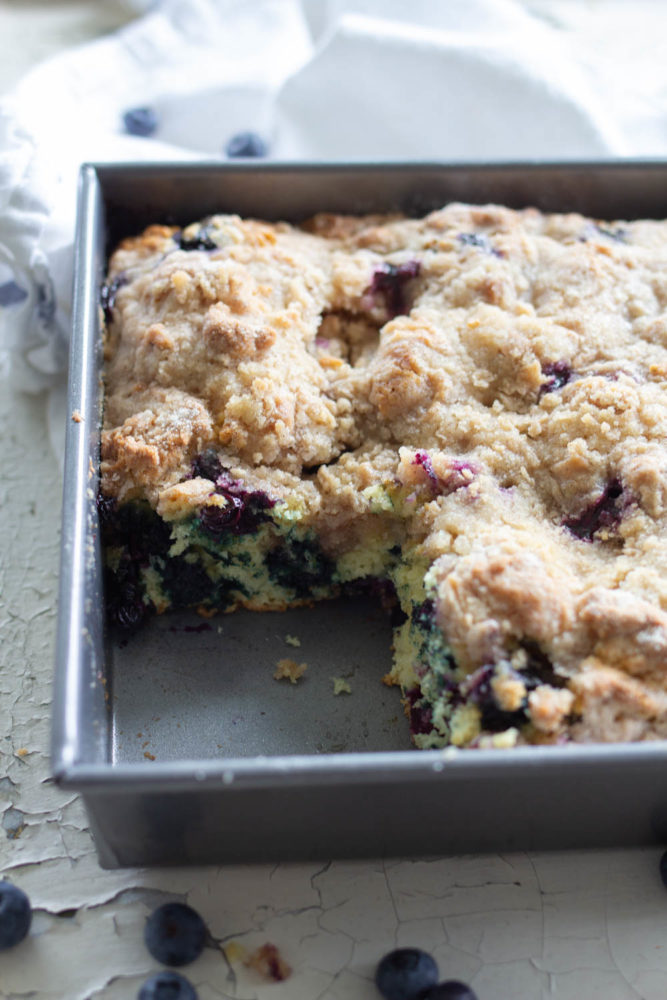 Mix up this recipe, place it in the oven to bake and invite your neighbors over for dessert. It will be like a little taste of the past!
Blueberry Buckle
Blueberry Buckle is similar to coffecake, with blueberries. It is sweet and moist and so easy to make! The topping is golden and a little crunchy. This dessert made popular in the 60's will become a family favorite!
Ingredients
for cake:
3/4

cup

granulated (white) sugar

1/4

cup

unsalted butter, softened

1

large

egg

1/2

cup

buttermilk

see recipe notes for homemade

2

cups

all purpose flour

1

teaspoon

baking powder

1

teaspoon

baking soda

1/2

teaspoon

sea salt

2

cups

blueberries

fresh or frozen (do not thaw)
for topping:
1/2

cup

granulated or light brown sugar

1/3

cup

all purpose flour

1/2

teaspoon

cinnamon

1/4

cup

unsalted butter, cut into tablespoons
Instructions
Preheat oven to 375 degrees, spray an 8×8 pan, or an 8 or 9 inch round cake pan, or pie plate with cooking spray or line with parchment paper. Place rack in center of oven.
for cake batter:
Mix together 3/4 cup granulated sugar and butter in mixer until smooth.

Add egg, and beat until smooth.

Scrape down sides and bottom of bowl to ensure all ingredients are mixed into batter. Add buttermilk to the bowl. Mix until blended a few seconds.

Turn off mixer and add: flour, baking powder, baking soda, salt and blueberries to the bowl. Fold dry ingredients into the wet ingredients by hand with a spatula just until flour is mixed in. Do not beat!

Scrape the batter into the prepared pan.
for topping:
Make the topping by placing the ingredients in a bowl and cutting the butter into the dry ingredients with a pastry cutter or by using your fingers to break up the bits of butter while mixing with the dry ingredients. (see photo on post for consistency of topping)

Sprinkle the topping over the batter. Bake at 375 degrees for about 20-25 minutes or until a toothpick inserted in center of cake comes out with a few moist crumbs attached.

Serve warm or at room temperature.
Recipe Notes
If using frozen blueberries, do not thaw before using. Just toss into the dessert frozen. 
If you don't have buttermilk on hand, try the following: for each 1 cup of buttermilk called for in a recipe, pour 1 tablespoon of lemon juice into a 1 cup measure. Fill the cup with milk and let sit on counter for 5 minutes. For 1/2 cup of buttermilk, pour 2 teaspoons of lemon juice into a 1/2 cup measure, add milk to the 1/2 cup line. Let sit and use after 5 minutes. 
If you double the recipe, I highly recommend using two 8×8 square OR two round cake pans 8 inch or 9 inch, OR two  9 inch pie plates and bake as directed. It may take a few extra minutes if there are two pans in the oven. 
Im often asked about my favorite baking pans, this pan from USA  Bakeware is heavy duty and will last a lifetime!