Caramel Apple Breakfast Bake is the most delicious way to start your holiday brunch! It's the perfect overnight breakfast or brunch recipe.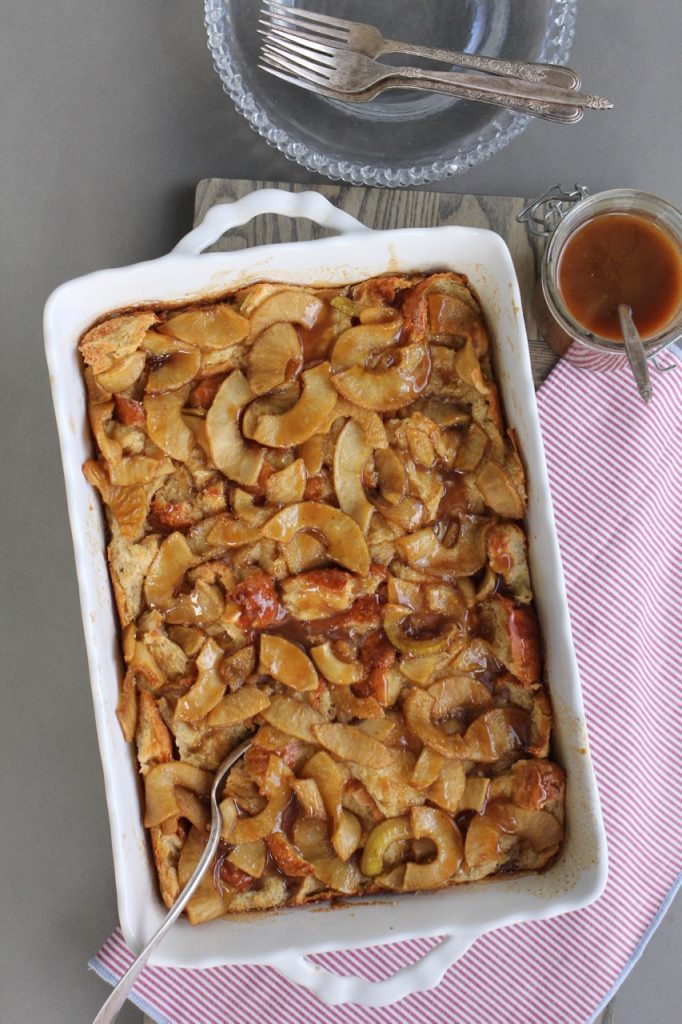 Overnight or right away
Caramel Apple Breakfast Bake can be made and baked immediately, or if you want to plan ahead, it also works to make the day before.  Either way, it's a delicious breakfast that everyone is going to love. This recipe has all the yummy things- baked apples, cinnamon, sugar, cream! This might even become a new family recipe tradition of yours.  It's definitely one of our family favorites.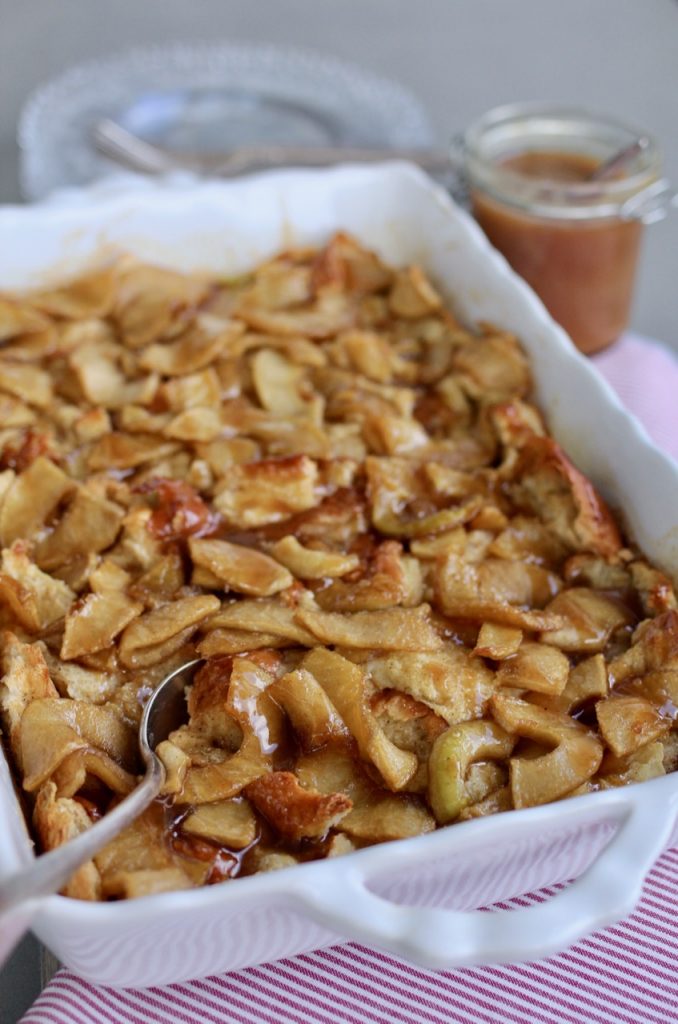 Bread bread bread
This caramel apple breakfast bake requires a dozen dinner rolls purchased at the grocery store. But you can also use any leftover bread you have- French bread or other rolls you need to use up before they go stale. You can even use croissants. I like to purchase Costco croissants for this casserole and leave the lid off for a couple of days before assembling to help dry out a bit. No matter what bread you use, one thing is for sure, anything is yummy with caramelized apples on top right?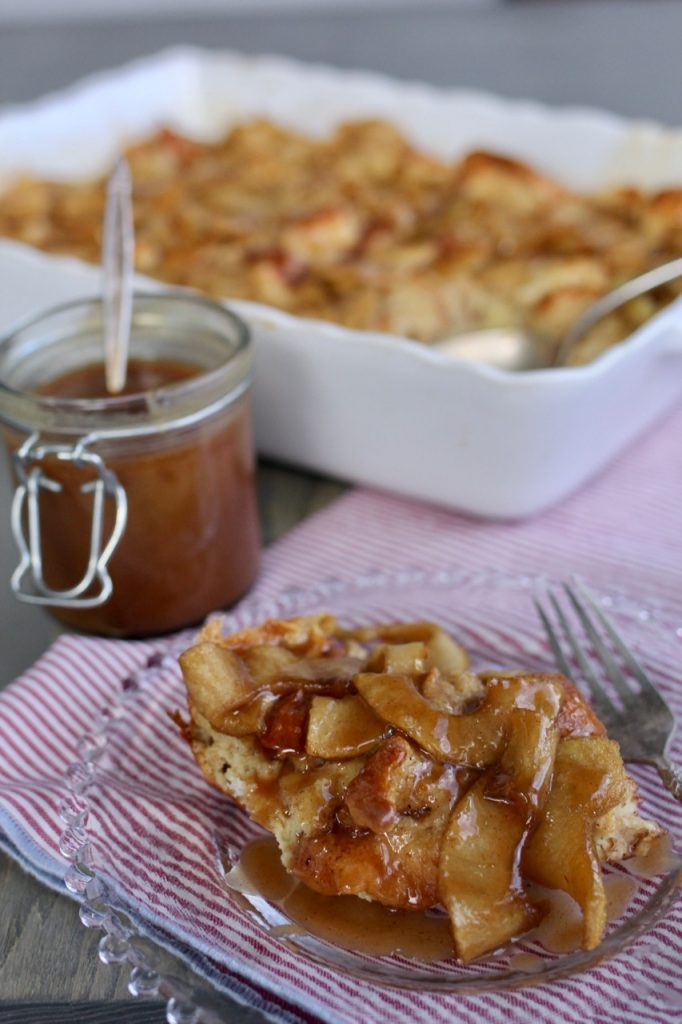 Caramel Apple Breakfast Bake for any occasion
Caramel Apple Breakfast Bake is perfect for any occasion or holiday! Easter, Christmas, wedding and baby shower, or any large group gathering you have planned. It's such an easy recipe – get the kiddos involved in the cooking! They'll love to help measure and mix things together. If you need to feed a crowd, make a couple pans of this to serve to everyone. This is also great for bringing to a breakfast/brunch potluck. I promise it will be the favorite dish!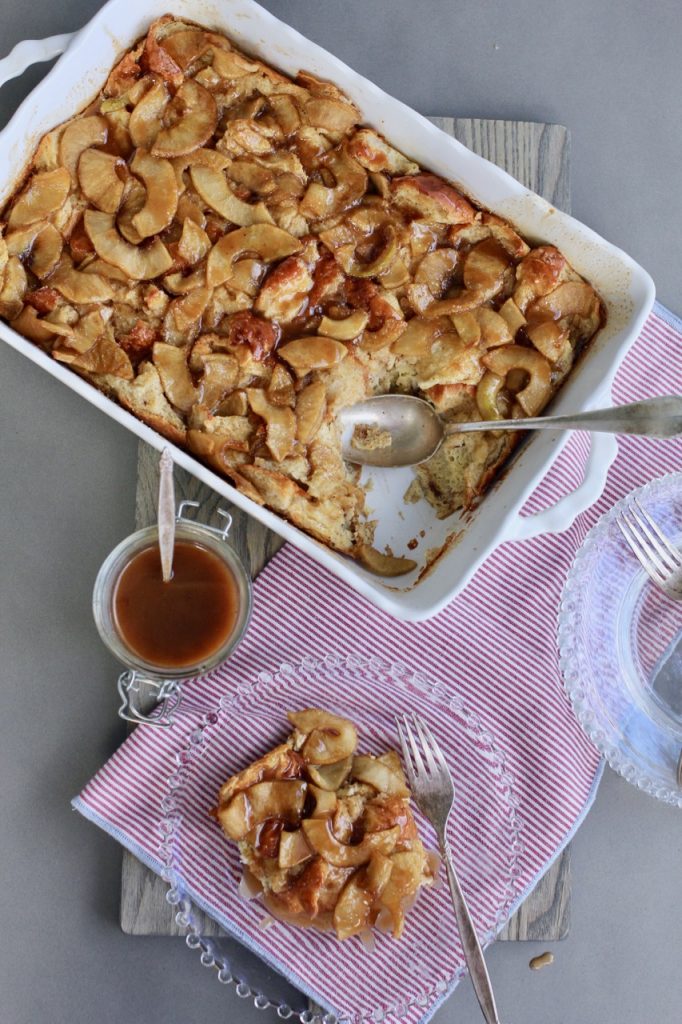 Tips to keep your breakfast HOT
One trick I use when taking a hot dish to a gathering is I bake and then cover with foil ( I spray the side facing the dish so it won't stick). Then, I place the baked dish in a small cooler lined with newspaper, or a big towel. Fold the excess towel or newspaper lightly over the casserole to create another insulating layer. Close the lid and you've got a portable warming device. You can also do this with a simple cardboard box. Newspaper and cardboard boxes work best, in my opinion. I keep the extra boxes from Costco for transporting food so the spills don't end up in my car! The key is to create a layer of insulation all around the dish you want to keep hot.
If you're looking for something savory to go along with this recipe, try one of these tried and true breakfast bakes… The first recipe is gluten free!
Caramel Apple Breakfast Bake
Caramel Apple Breakfast Bake is an easy to make breakfast or brunch dish filled with apples, cream, eggs, brown sugar and leftover rolls! perfect to make ahead or make and bake immediately. A Christmas and Easter brunch favorite!
Total Time
1
hour
5
minutes
Ingredients
1

dozen

dinner rolls (about 12 oz)

about 10-12 cups torn up

8

eggs

2

cups

half and half

1

tablespoon

vanilla

1

teaspoon

cinnamon

2

tablespoon

sugar

1/4

teaspoon

finely ground pepper
Caramel Apple Mixture:
4

small

Granny Smith apples (about 2 1/2 cups sliced)

sliced thin

2

tablespoon

butter

1/2

cup

brown sugar

1

tablespoon

vanilla
Caramel Syrup
1/2

cup

butter

1

cup

heavy cream

1/2

cup

brown sugar

1/2

teaspoon

pumpkin pie spice or cinnamon

dash

salt

3

tablespoon

raw sugar (coarse)

dash

sea salt (optional)

1/2

teaspoon

baking soda
Instructions
Prepare Casserole:
Preheat oven to 375 degrees and place rack in middle of oven.

Add the torn up rolls (or other bread) to a greased 9x13 pan.

Whisk together eggs, half and half, vanilla, cinnamon, pepper, and sugar in a bowl. Or blend mixture together in a blender. Pour over the rolls (or bread) in the 9x13 pan.

Cover pan loosely with foil and bake for 30-40 minutes at 375 degrees. Prepare the apples and caramel sauce while baking.

After baking, remove pan from oven remove the foil from pan. Spoon the apples over the casserole. Drizzle 1/3 cup of the caramel syrup over the top of the apples and rolls.

Sprinkle with 3 tablespoons of raw sugar and a few pinches of coarse sea salt distributed evenly over whole dish (optional).

Place dish back into the oven and bake for another 10 minutes uncovered.


Serve immediately with remaining caramel syrup on side.
Caramelized Apples:
Place 2 tablespoons butter, 1/2 cup brown sugar and 1 tablespoon vanilla in a sauté pan over medium heat. Cook for a few minutes until bubbly. Add the thinly sliced apples and mix to coat the apples. Continue to cook, stirring about twice a minute, until the apples are caramelized, and the mixture starts to thicken and bubble, and the sugar is no longer grainy, about 5 minutes. Turn off heat and leave caramelized apples in pan.
Caramel Syrup:
Whisk 1/2 cup butter, 1 cup heavy cream, 1/2 cup brown sugar, spice and dash of salt on stove in a medium saucepan over medium high heat.

Cook until the mixture starts to boil. Then cook for two additional minutes, stirring to prevent scorching. Remove from heat and add 1/2 teaspoon baking soda. Whisk again. Set aside.
Recipe Notes
If you are making this dish ahead and wish to bake it the next morning, keep some half and half on hand and pour an additional 1 cup, drizzled over the entire dish just before baking and covering with foil. This will help keep the dish from drying out! 
The caramel syrup and the caramelized apples may be made ahead and refrigerated, or made while the dish is baking. If you would like to make the entire dish ahead, place the caramelized apples on the dish, and drizzle with caramel syrup. Cover with foil. Take out of refrigerator for an hour before baking. Bake at 375 for about 45-55 minutes, removing foil for last ten minutes of baking. Test center to see if done. Warm up remaining syrup in microwave for a few seconds and serve.