This Easy German Apple Pancake Recipe can be served for breakfast, brunch or even dessert! One pan serves 8 generously and can be eaten hot out of the oven or at room temperature.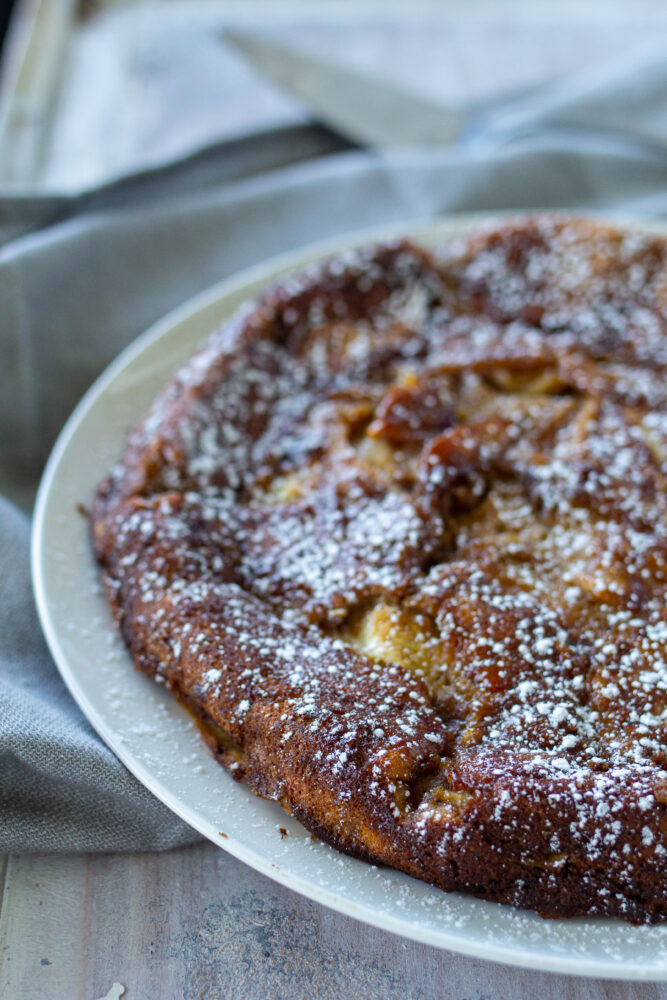 If it is possible to make the perfect fall dish, this is IT. Caramelized apples, butter, cinnamon, nutmeg and vanilla, all baked into the most delicious family style pancake! The caramelized apples give this recipe just the right amount of sweet.
I prefer to eat this German Apple Pancake with a sprinkle of powdered sugar on top, but if you want to top it with syrup, I highly recommend either Creamy Maple Syrup, or this recipe for Caramel Syrup.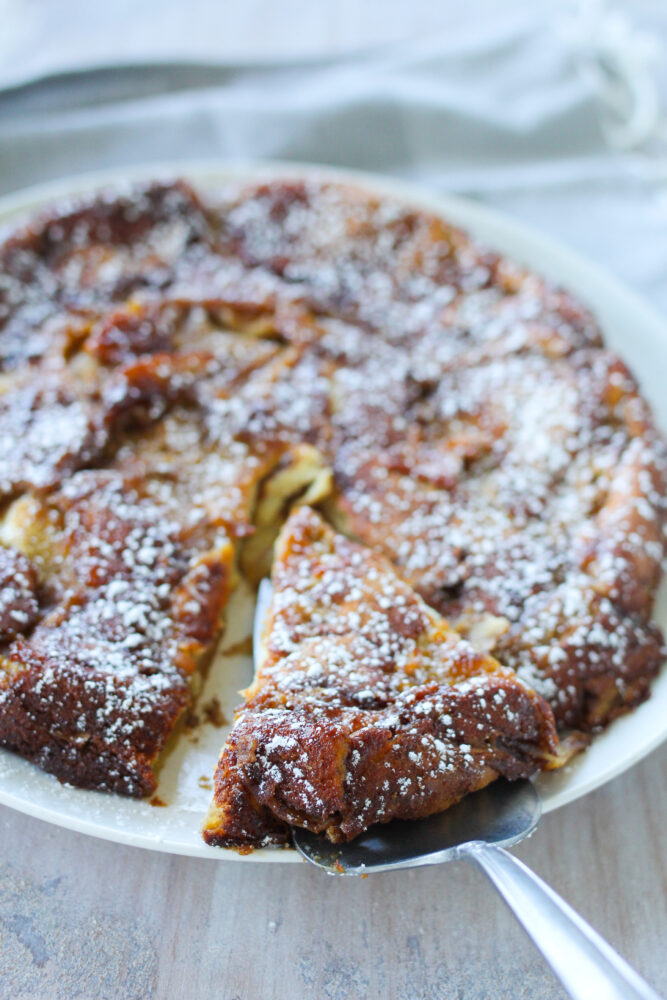 Our German Apple Pancake is the ultimate recipe for a crisp fall weekend, a holiday celebration or even a lazy weekend at home.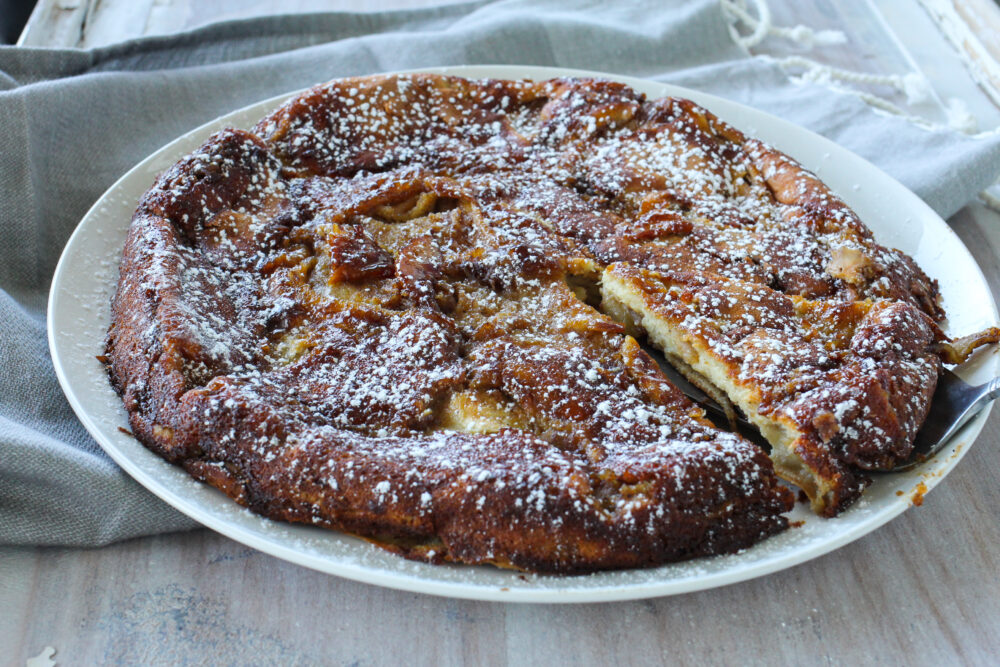 Tips for baking ABK's Easy German Apple Pancake Recipe:
Use a mixture of Granny Smith and Honey Crisp apples for the best blend of tart and sweet.
Use fresh apples instead of canned pie filling for best results and fresh flavors!
A cast iron pan will help to retain heat and produce a perfectly golden brown pancake.
Butter the sides of the pan to prevent sticking.
Let the baked pancake rest for 5 minutes before inverting onto plate when done.
This recipe is best served warm, but can be served at room temperature as well. I love it with a scoop of vanilla ice cream for brunch or dessert. a light sprinkle of cinnamon on the vanilla ice cream adds a nice bit of color and little extra flavor! If you love nuts, 1/2 cup of pecans work well in the caramelized apple layer.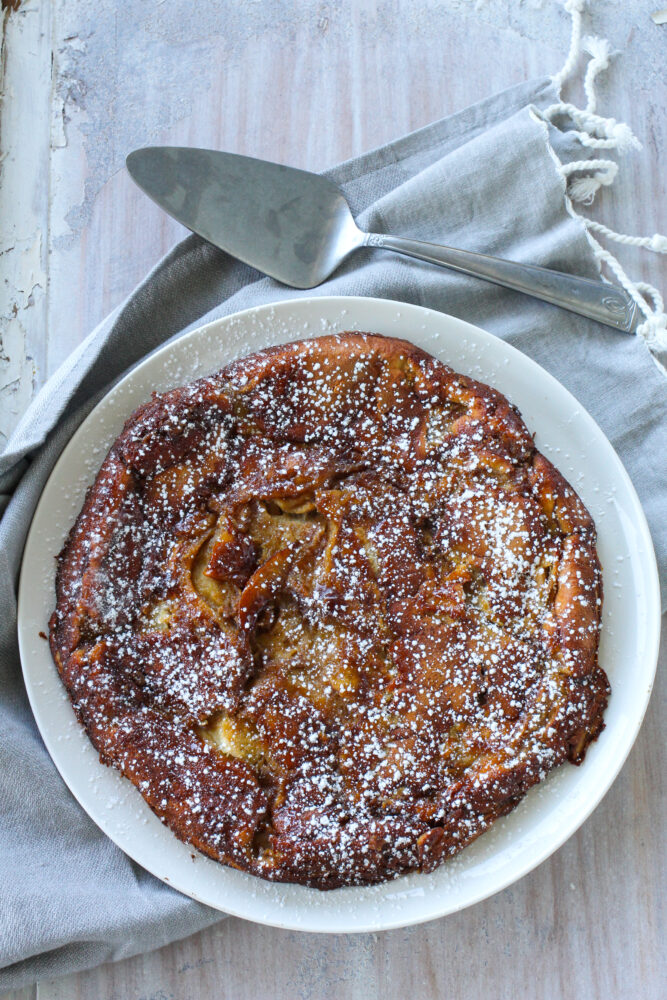 Tools to make this recipe easy!
Three tools I use when making this recipe are my trusty apple peeler, corer and slicer. Can't live without this tool when making anything that includes peeled and sliced apples! A good quality cast iron skillet is a kitchen essential you'll use forever. This is the 10 inch Lodge pan I use for this recipe. The last tool I use often is this sugar shaker it gives a nice even sprinkle of powdered or cinnamon sugar to finish off many dishes!
Don't be intimidated by this recipe. It is very simple and can be broken down in a few easy steps…
How to make German Apple Pancakes:
Preheat oven. Very important to have the oven HOT for this recipe.
Prepare the pancake batter (this may be done up to 24 hours ahead and stored in fridge).
Cut the apples, melt butter and sugars and spices in pan. Add apples and caramelize.
Pour pancake batter into hot pan of caramelized apples.
Bake pancake, remove and serve!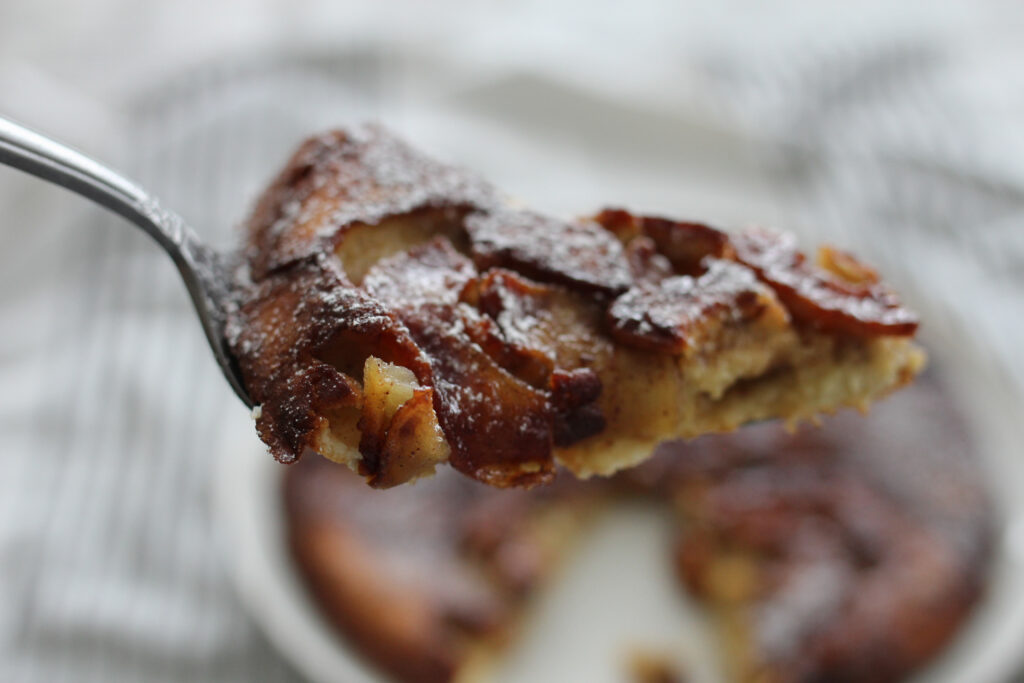 I hope you love this tasty new recipe. Let us know in the comments if you make ABK's German Apple Pancake for your family!
Easy German Apple Pancake Recipe
Our Easy German Apple Pancake Recipe is comfort food for fall! Loaded with caramelized apples, cinnamon and butter it bakes up in minutes and can be served for brunch or dessert!
caramelize apples
5
minutes
Ingredients
4

large eggs

room temperature

1

cup

milk (whole is best)

1

teaspoon

vanilla

2

tablespoons

unsalted butter, melted

1

cup

all-purpose flour*

1/2

teaspoon

baking powder

1

tablespoon

sugar

1/4

teaspoon

salt

3

apples, about 3 cups loosely packed

1/4

cup

unsalted butter

1/2

cup

light brown sugar

1/4

cup

white sugar

1

teaspoon

ground cinnamon

1/2

teaspoon

ground nutmeg

1

tablespoon

white sugar for topping apples
Instructions
Preheat oven to 475 degrees with oven on middle rack.
Batter for pancake
In blender or a large bowl, mix eggs, milk, vanilla and melted butter.

Add flour, baking powder, 1 tablespoon sugar, and salt. Mix just until blended. Let rest for 30 minutes.
Apple filling
Peel, core and slice the apples into 1/8 inch pieces. Set aside in bowl.

Melt butter in a 10-inch cast iron or other stove and oven-proof dish over medium heat. Swirl butter to cover sides and bottom of pan. Place sugars and spices into the melted butter in pan. Stir. The mixture may look dry, but it will melt as the pan continues to heat up.

Add the cut up apples to the pan and cook for about 5 minutes. If the mixture is not bubbly, turn the heat to medium-high. The sugar mixture should be bubbly and start to caramelize. Evenly spread the apple slices around. Sprinkle the top of the apple slices with 1 additional tablespoon of white sugar.
Assembly and bake
Pour the batter mixture over the apples and sugar and turn off stove heat. Carefully transfer the hot pan to the oven. Close oven door and immediately reduce temperature to 425, Bake for 15 minutes.

After 15 minutes, reduce oven temperature to 350 degrees (do not open oven door) and bake for an additional 10 minutes.

Remove from oven and let sit for 5 minutes. The pancake will pull away from sides of the pan a bit. Run a knife or spatula around edge of pan to loosen the pancake. Place a plate (larger than cast iron pan) on top of the pan and carefully invert the pancake onto a plate. Sprinkle with powdered sugar and serve.
Recipe Notes
It is very important to remember to turn the heat in the oven down when the pan is placed in the oven and also at the 15 minute mark. Set a timer and stay close to the kitchen. 
All-purpose flour works well in this recipe. At my elevation (about 4800 feet above sea level) I have the best luck with 1 cup of flour. Many recipes for German apple pancakes use as little as 1/2 cup of flour. I have also had success with 3/4 cup of flour, but find the pancake seems a little more doughy with less flour. 
Unsalted butter is best, but salted butter will also work. 
I like a mixture of Granny Smith apples and Honey Crisp for this recipe. 
I have used 2 tablespoons instead of 1/4 cup of butter in the apple layer and found there is not a lot of difference in the flavor overall, but the caramelization  of the apples is not quite as good!
Any oven proof dish will work when baking the pancake. 
The finished pancake may also be served straight out of the pan without inverting.