If you know me, you know that I LOVE breakfast casseroles or bakes, especially during the holiday season. This Chicken & Apple Sausage Breakfast Bake is so flavorful, and can be baked right away or the next morning. It is the most delicious, savory Christmas breakfast recipe!
There's nothing like a hot meal to start off the morning. I've always cherished the time we've spent as a family eating breakfast together. It's also one of the reasons I love the holidays so much!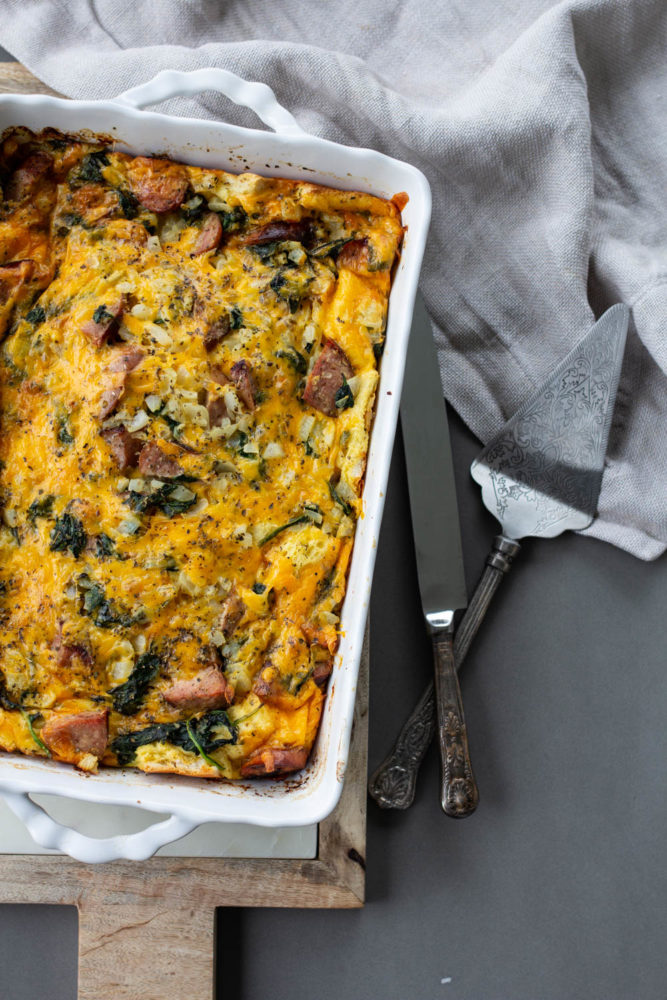 On a normal weekend Southern Buttermilk Pancakes, Buttermilk Biscuits (below), quiche, homemade gravy with biscuits and waffles are a few of our favorites!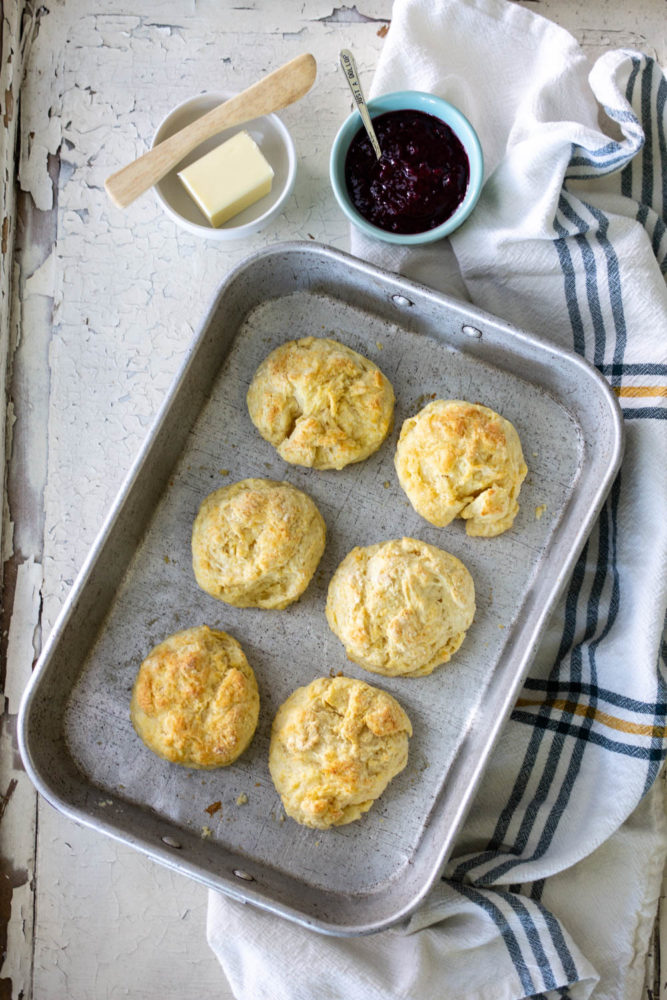 What is in a breakfast bake?
This breakfast bake is definitely not your ho-hum, average recipe. It will take your holiday brunch game to a whole new level! Yes, it's that good! It's full of delicious flavors: savory sausage, soft french bread, fresh spinach, cheese, eggs, onion and a wonderful blend of herbs. It's the perfect warm, filling comfort food you crave on a cozy holiday morning.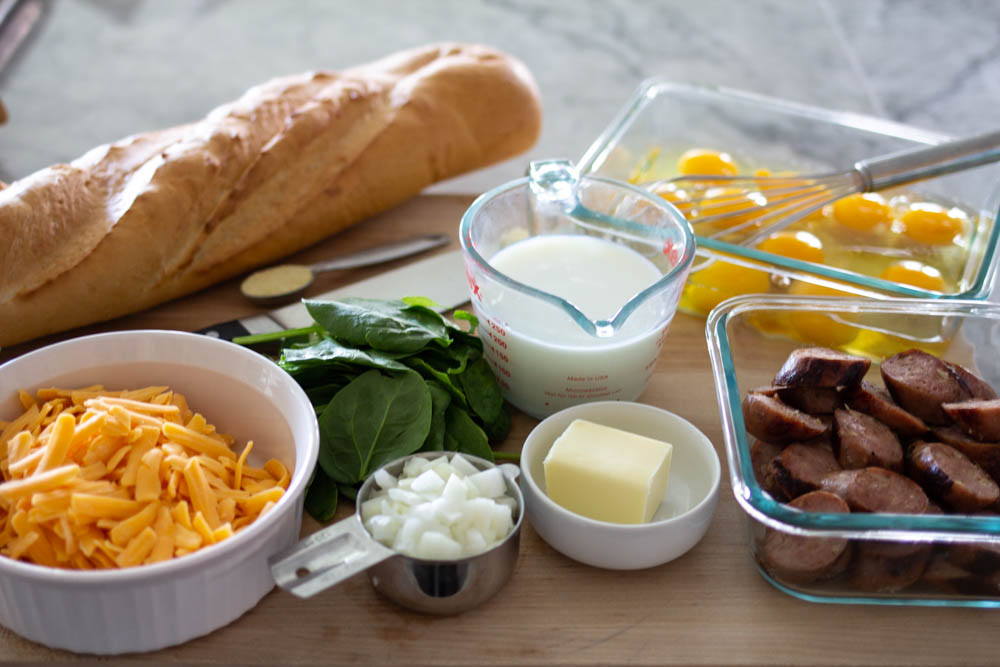 How to assemble a breakfast casserole
This recipe is a must-try! Chicken & Apple Sausage Breakfast Bake is so quick and easy it is to whip up. I'm serious. Just lay down the sliced French bread, cook the sausage and a few other ingredients, whisk the eggs, pour everything over the bread, top with cheese and bake! What's better than a stress-free meal that everyone will love?
Can a breakfast bake be made ahead?
You can also make this Chicken Apple Sausage with Spinach Breakfast Bake ahead so you can sleep in! It can assembled the night before or made and baked immediately the day of. It's even easy enough to let the kids make! When our kids were younger and I had to run around on Christmas Eve day, I'd put them in charge of making the Christmas breakfast overnight casserole. They loved being in charge of our special Christmas brunch, and I loved having one item checked off of my to-do list!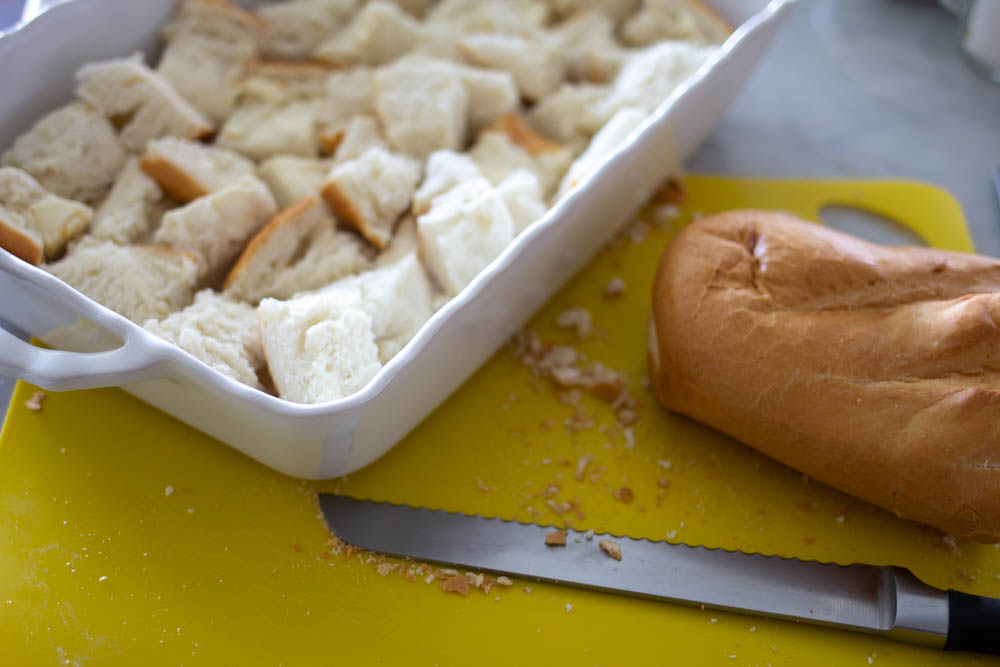 How to make this easy make ahead breakfast casserole:
Assemble all ingredients
Cook the chicken apple sausage, drain on paper towel
Slice and butter (optional) the French bread slices, place in pan
Cook onions and fresh spinach just a bit
Whip up the eggs
Assemble the breakfast bake
Cover and refrigerate, or bake immediately
How to prepare a few days ahead…
If you want to make this a week ahead, and assemble the night before or the morning of, here are a few things you can do ahead!
Cook the sausage and freeze.
Grate the cheese and refrigerate,
Cut up the bread and freeze. You can even butter the bread as well!
Sauté the onions and freeze.
If assembling the whole casserole for baking, I'm often asked how far in advance can this be done. My answer is the day or night before! If this is done too far ahead, the eggs may begin to separate.
ABK's Chicken & Apple Sausage Breakfast Bake is so good served with Sheri's Simple Salsa, and a little something sweet, like Overnight Cinnamon Rolls (above) or Raspberry Cream Cheese Cinnamon Rolls. If you're a breakfast fanatic like I am, you might also like these breakfast casseroles, like Ham and Melted Swiss Overnight Breakfast Casserole, or gluten-free option like Hashbrown Breakfast Casserole.
Chicken Apple Sausage with Spinach Breakfast Bake
This easy to make savory breakfast casserole is the perfect start to your weekend or holiday brunch gatherings! Chicken apple sausage, spinach, cheese, eggs and French bread are key ingredients in this delicious recipe!
Total Time
1
hour
5
minutes
Ingredients
4

links (12-16 oz)

chicken apple sausage, sautéed

3/4

loaf of french bread

sliced thick and buttered(optional) on one side

1 1/2

cups

chopped onion

2

tbsp

olive oil

1

clove

garlic

minced

1

tsp

dry mustard

1

tsp

dried oregano

3

cups

fresh spinach

washed and drained

10

large eggs

2

cups

milk or half and half

salt and pepper

3

cups

grated cheese any type (cheddar, colby-Jack, Swiss or a combination)
Instructions
Grease a 9×13 casserole dish and preheat oven to 350 degrees.

Brown the chicken apple sausage. While browning, butter one side of French bread slices (optional) and place in dish, buttered side up. I like to tear or cut the slices into 1/4 and then throw into dish (see photo in post).

When sausage is browned, remove from pan. Add olive oil to pan on medium heat. Add onion saute for 2-3 minutes. Then add minced garlic. Cook for one minute.

Remove from heat, add dry mustard, oregano, and fresh spinach. Mix well. Place back on heat just until spinach starts to wilt. 

Spoon cooked sausage and spinach mixture over bread in pan. 

Whisk 10 large eggs, milk or half and half, and salt and pepper in a bowl. 

Pour over rest of ingredients in baking dish. 

Top with grated cheese. Cover with foil and bake for 30 mins. Take foil off and bake for an additional 20 minutes.

Serve with salsa, sour cream or plain unsweetened Greek yogurt.
Recipe Notes
I usually purchase grocery store French Bread for this recipe. You may also use leftover rolls, thick sliced bread, any type. Artisan loaves also work well! 
If making ahead, assemble the casserole and cover with foil and place in refrigerator. When ready to bake, remove 30-45 minutes before baking and place on counter. Preheat oven and bake as directed.