Summer just wouldn't be summer without a loaf or two of zucchini bread!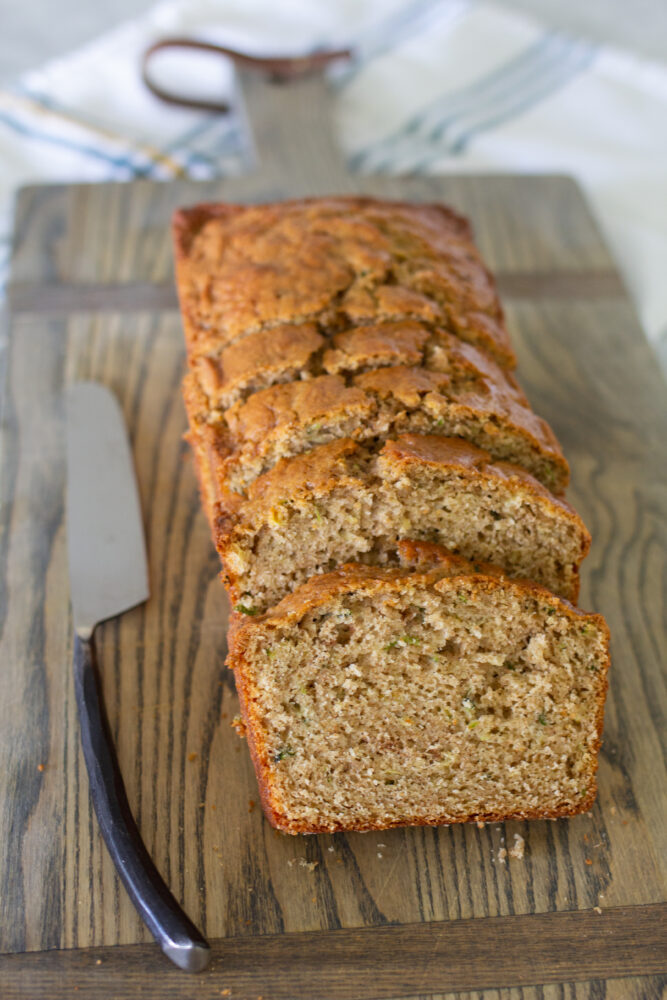 Looking for an easy to make zucchini bread recipe with your zucchini harvest?? I updated my decades old recipe and spent hours testing and baking up the best zucchini bread ever with all of your most pressing questions about zucchini bread answered in this post! Totally taking a deep dive into the WHY of everything zucchini bread. If this is not "on the edge of your seat" reading material, skip to the recipe 🙂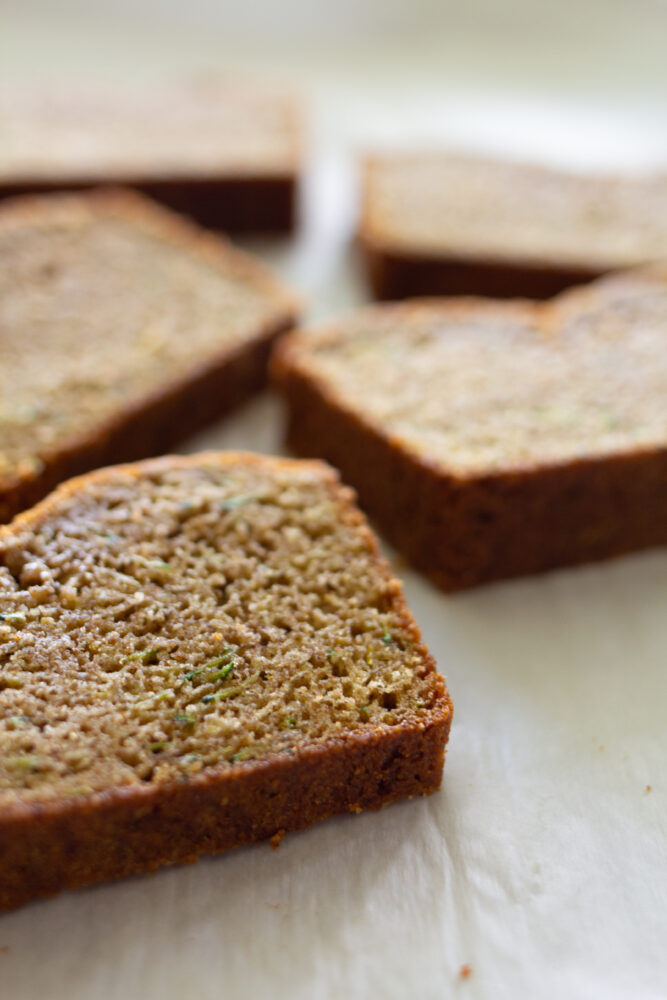 FAQ about Zucchini Bread
Do I need to peel the zucchini before making zucchini bread? This is always a question that comes up when making zucchini bread. I never peel my zucchini! Just wash, and then use a box grater. I use the larger of the two settings on a box grater. You can also use a food processor with the grater attachment.
Is it better to use large or small zucchini for zucchini bread? I have found smaller zucchini are better to use than large, because the larger zucchini often have large seeds, and tend to be quite dry. If you have to use a large zucchini, just cut the strip of seeds out of the middle before grating!
My zucchini seems watery, should I drain it? Yes! I simply squeeze the water out of the zucchini over the sink before using in this recipe. Sometimes, I squeeze the zucchini twice to make sure the excess water is removed. Some zucchini are very wet when grated and others relatively dry; squeezing out the excess water helps to regulate ingredients in the recipe.
Should I pack the zucchini in the measuring cup? Yes, packing the zucchini (patting down) in the measuring cup will give a more accurate measurement, and will help you to have success using this recipe. I place the zucchini in a measuring cup (after squeezing out liquid) then just pat it to measure out 1 1/4 cups.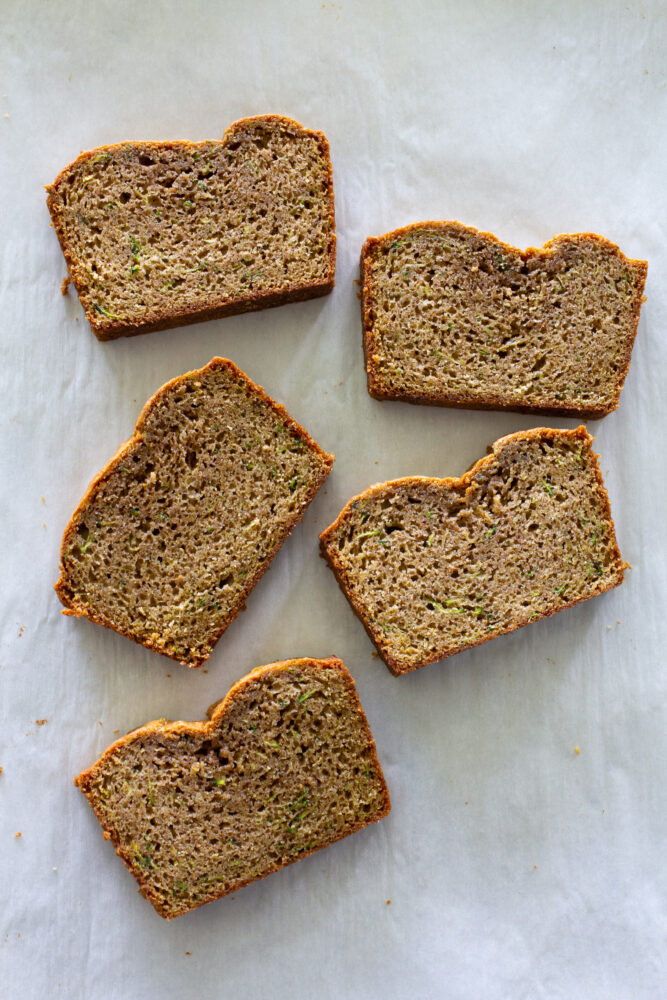 Can I leave out the nuts? Yes, but if the nuts are left out, you will need to compensate for the volume of the nuts. Add two additional tablespoons of All-Purpose flour to the recipe. You may also add in other mix-ins such as chocolate chips, coconut, raisins, dried cranberries, etc.
How do I prevent the middle from sinking in my zucchini bread? This is one of the most FAQ! There are a few things that prevent sinking of quick bread. If you live in a high altitude environment (like me 4500 ft above sea level) using an extra bit of leavening (this recipe has 1.5 teaspoons of soda and powder combined) to help with sinking issues. Also, the right ratio of wet to dry ingredients helps. This recipe has been tested to achieve just the right rise, without so much leavening that the bread ends up tasting dry. Oven temperature that is too high initially also creates problems with the product rising and then falling too quickly. I have tried baking at 325 with good results. If your oven bakes hot, try 325 for 50-55 minutes.
Is it better to use a light or dark pan? Does it matter if I use glass? The color of the pan matters! The darker your pan, the faster/hotter your bread will bake. Often, a dark pan causes bread to brown too quickly on the outside, and still undercooked in the middle. I HIGHLY recommend this USA Bake wear pan. These pans are made of aluminized steel, are extra heavy and will last a lifetime.
How can I make zucchini bread healthy? This is a loaded question! Zucchini is a vegetable. Vegetables are healthy foods. But, zucchini bread is generally not healthy. Many people have success in substituting applesauce for the oil (or part of the oil). Reducing sugar is also a possibility. Many readers have said they substitute Stevia, Monkfruit or coconut sugar for granulated or brown sugar. Changing the proportions and types of sugars will also alter the texture and taste of the finished product!
Results of testing…
Used coconut oil instead of vegetable or canola oil. (see recipe notes for results)
Tried increasing the oil to 1/2 cup. (too oily)
Tested pumpkin pie spice instead of cinnamon. (overpowered the flavor of the bread)
Added wheat flour, also increased wheat flour. (a little is good, fine line between good and too much wheat flour)
Replaced chopped nuts with additional flour. (see recipe notes for a no-nut option)
Added plain Greek yogurt. (made the bread too moist and difficult to keep from sinking in middle)
Combination of baking soda and powder gives best results. (found that only baking powder worked best for no sink loaf, but a combination is best for a loaf that doesn't taste too dry and doesn't collapse. See additional info in recipe notes)
Tried different types of pans, oven temperature and spraying pan, lined with parchment and without lining. (best pan- USA Bakewear pan, spray and line pan with parchment for best results)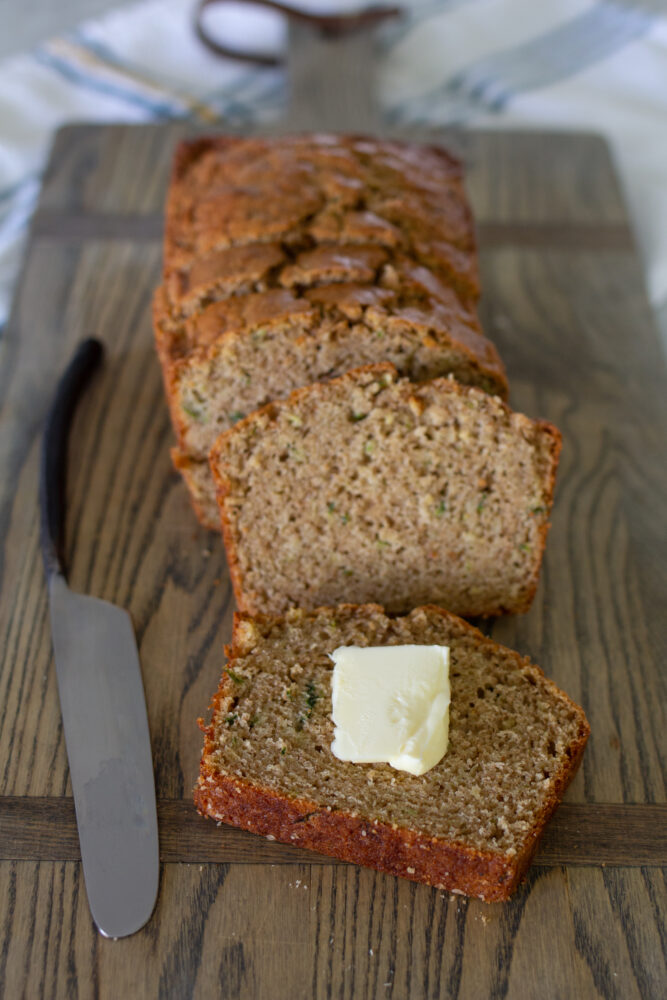 After testing all of the above variations, I've come up with a recipe that bakes up perfect every time. I think you will love this easy to make zucchini bread recipe. It can be made in one bowl, with pantry friendly ingredients. The recipe can also be adapted to make zucchini muffins (see recipe notes) and add ingredients like chopped nuts, coconut or even chocolate chips!
Easy to make Zucchini Bread Recipe
An easy way to make loaf of moist zucchini bread that won't sink in the middle!
Ingredients
2

large

eggs

room temperature is best

1/3

cup

canola oil or coconut oil

I prefer the texture of canola in this bread

1

teaspoon

vanilla

1/2

cup

granulated (white) sugar

1/2

cup

dark or light brown sugar

1 1/4

cups

grated zucchini, packed

measure after squeezing out excess liquid

1

cup

all-purpose flour

1/2

cup

whole wheat flour

1

teaspoon

baking powder

see recipe notes

1/2

teaspoon

baking soda

1/2

teaspoon

sea salt

1 1/2

teaspoons

ground cinnamon

1/2

cup

chopped walnuts or pecans (optional) *if not adding nuts, ADD 2 tablespoons of all-purpose flour to the recipe*
Instructions
Spray the bottom and sides of an 8.5×4.5 loaf pan with cooking spray. Line with parchment paper. Preheat oven to 350 degrees with rack in middle of oven.

Grate the zucchini and squeeze in hands over sink until excess water is removed. If the zucchini is extra wet, squeeze twice. Measure out 1 1/4 cups and set aside.

Place the eggs, oil and vanilla in a bowl, beat until mixed well.

Add the sugars and mix again until combined. Add the zucchini and mix again.

Add the flours, baking powder, baking soda, salt, cinnamon and nuts or other mix-in ( if using) to the bowl. If not using nuts, add 2 tablespoons additional all purpose flour. Mix using a large spatula, just until ingredients are incorporated. Do not overmix!

Scrape the batter into the prepared loaf pan. Place pan in center of oven. Bake for about 45-50 minutes or until a toothpick inserted in center comes out with a few moist crumbs attached.

Remove from oven, let cool for 10 minutes in pan. The loaf will continue to cook during this time. Run a butter knife around the edges of the pan to loosen.

Turn out onto a cooling rack. Let cool for 30-60 minutes.
Recipe Notes
I like quick breads best with nuts added. If you are not a fan of nuts, make sure to add an additional 2 tablespoons of all purpose flour to the recipe to compensate for the volume of the nuts! 
You may use either canola, vegetable or coconut oil in this recipe. I like the texture better when using canola oil. The coconut oil makes the bread a bit heavier, and not quite as moist. 
Make sure to line and spray the inside of the pan to prevent the loaf from sticking to the pan. 
Using a lighter colored pan will help your loaf to stay golden and not over-brown when baking. If using a glass pan, reduce the oven temperature to 325 degrees.
If using the USA bake wear, the pans are quite heavy and retain heat well. My loaves are usually done in 45 minutes at 350 degrees. 
I recommend making this batter in a bowl and hand-mixing the batter once the flours and other dry ingredients are added. Do not beat the batter with a mixer after adding the flour. This will create a spongy  texture in your zucchini bread! 
I like the combination of 1 t baking powder + 1/2 t baking soda. If you want a high rise on the loaf, use 2 1/4 teaspoons baking powder only. I find this amount to be the perfect amount for a mounded loaf, but it also tastes a bit drier to me. Bake at 350 degrees for 50 minutes. 
To make zucchini muffins, scoop into muffin tins with cupcake liners and bake at 375 for about 15 minutes. or until top springs back when touched lightly.  Depending on size of muffin tin, one recipe will yield 12-18 muffins.