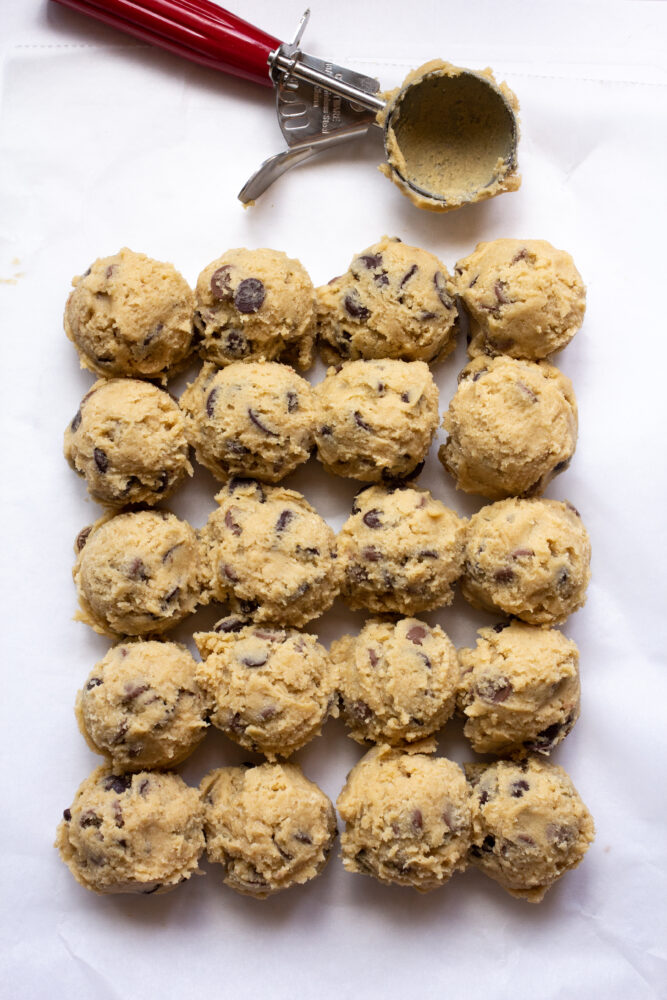 How many times have you made a batch of cookies and wondered if it's ok to freeze leftover dough? Or if it works to bake frozen dough? Maybe you want to know if cookies need to be thawed before baking? All of these questions and more are answered in this post!
Few things are more satisfying than warm, melty homemade cookies in minutes; except warm, melty homemade cookies with no clean up!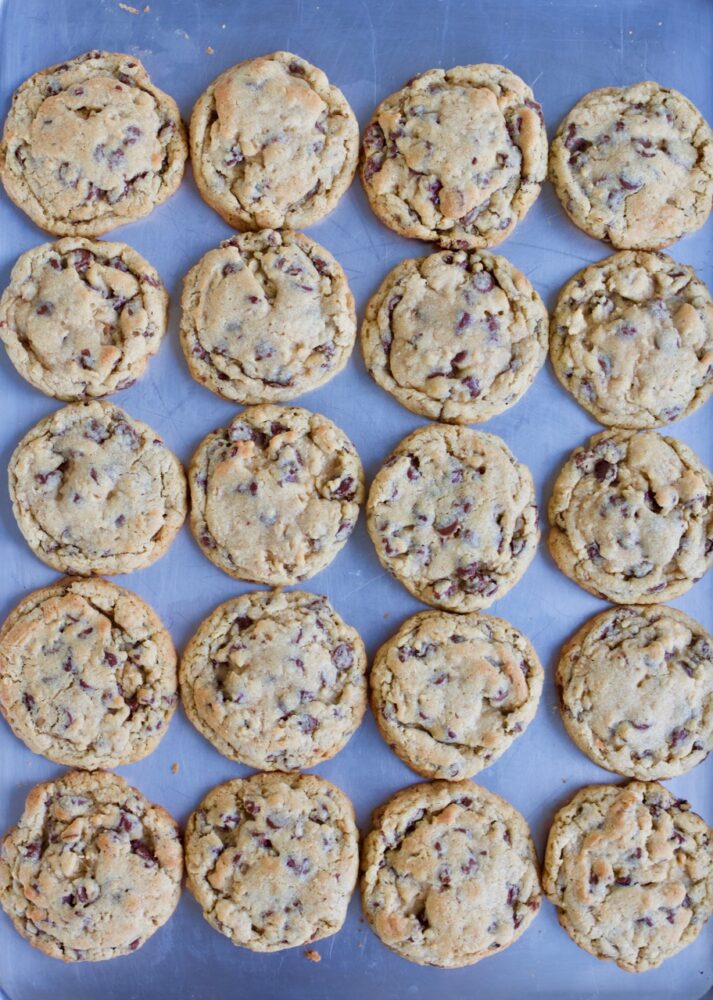 Why freeze cookie dough?
Let's talk about why I always have cookie dough shaped and ready to go in my freezer. I freeze cookie dough and keep it on hand at all times for emergencies!
You can be ready for drop-in visitors or prepared to assemble a plate of freshly baked cookies in a flash for a new neighbor, or friend in need if you keep a frozen cookie dough on hand. Here are some of the questions I receive most often about freezing cookie dough…
Can you bake frozen dough without thawing?
This is probably the most asked question about freezing cookie dough. The answer is YES! You can bake frozen cookie dough straight from the freezer without thawing the dough first. I recommend heating the oven up for (at least) 15 minutes before baking. Place the rack in middle of the oven. For regular bake, preheat the oven to 350 degrees.
I usually lower the temperature in the recipe by 25 degrees if I am baking frozen dough. For example, our Tried and True Chocolate Chip Cookies call for baking at 375 degrees, I adjust and bake at 350 when baking frozen dough. For this recipe, I bake the cookies for approximately 13-15 minutes or until golden and no longer wet or shiny looking. If you are using convection, it will take less time, usually about 9-12 minutes.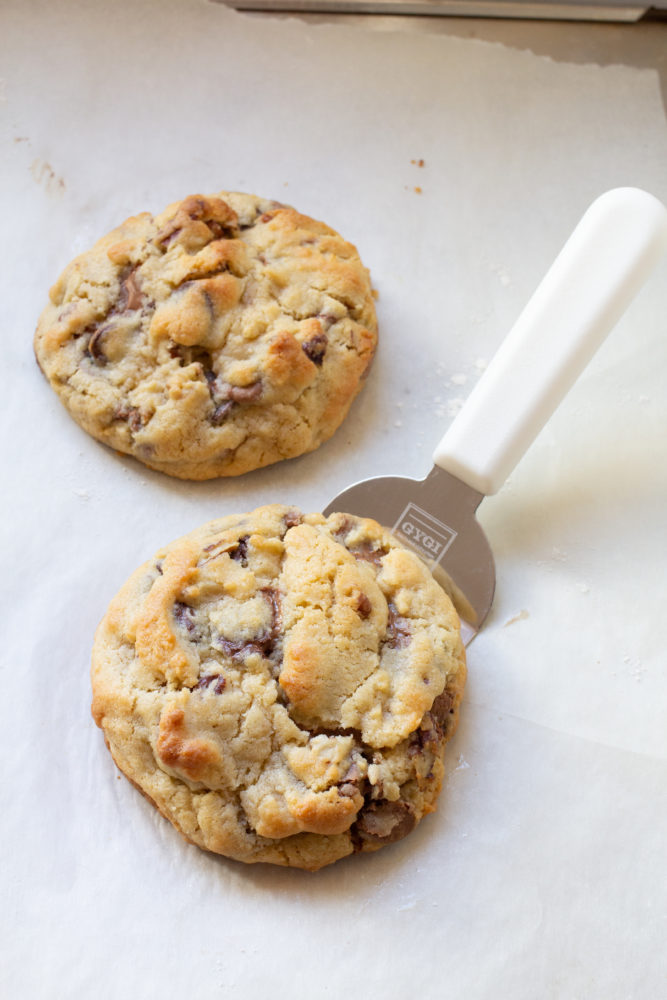 Bake time will vary from one oven to another. Watch the cookies carefully and note how long it takes in your oven. Remember, these instructions apply to frozen dough, not dough that has been thawed!
If baking cookie dough that has been frozen and thawed, follow recipe directions for baking, no adjustments needed.
what type of cookie dough freezes best?
I have frozen many types of cookie dough! My #1 for freezing is the Tried and True Chocolate Chip Cookies, Traditional sugar cookies, such as our Favorite Sugar Cookie also freeze well. Best in the World Oatmeal Cookies are perfect for freezing as well as our Chocolate Chip Oatmeal Cookie.
Bigger cookies, such as ABK Levain Bakery Chocolate Chip Cookies also freeze well! It is interesting to note that a reader once told me she watched the workers at Levain Bakery take cookie dough, frozen solid out of the freezer straight to the bakery oven. No thawing. Even with a large cookie.
I have baked Levain-style cookies and placed in the freezer and also frozen the dough after shaping, but before baking as well. This cookie freezes remarkably well either way.
Most often with Levain cookies, I bake as directed, let cool and then wrap each cookie individually in Saran Wrap, and then place in a Ziplock bag in freezer. The Levain cookie is almost 1/2 lb per cookie and makes a perfect gift for a birthday in a cello bag or cute parchment bag tied with a piece of ribbon! Just pull out of freezer, remove plastic wrap, place in cello bag for an instant homemade gift.
Snickerdoodle cookie dough works well to freeze and bake, but often the sugar dissolves in the freezing process so it is better to roll the Snickerdoodles in the cinnamon and sugar mixture after they have been frozen, and just before baking.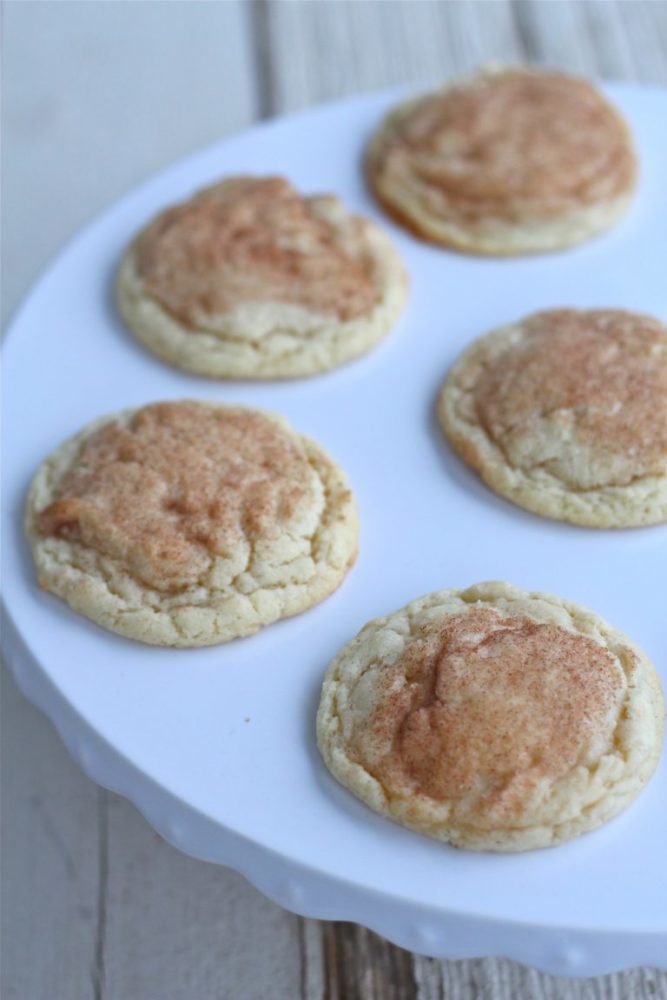 I recommend letting Snickerdoodle dough sit on the counter on the baking pan for 10 minutes before baking (so it has a chance to soften a bit), then roll in sugar and bake as directed.
Swig-Style sugar cookies can be frozen a few different ways. I have baked, cooled and then frosted Swig cookies. Once the frosting is set (place in fridge or freezer for a quick set up), layer in a box or container with parchment in between layers, and then seal well before freezing. I usually don't stack the cookies more than 3 high when freezing.
Freezing the dough of Swig cookies also works well for baking later. And finally, baking and stacking unfrosted cookies in the freezer is a great way to have most of the work out of the way in advance. When ready to serve, just remove from freezer and frost.
I made 250 Swig cookies for our daughter, Brookie's wedding (below). All of the cookies were made ahead, frosted and then frozen. They taste as as good (if not better) after being frozen!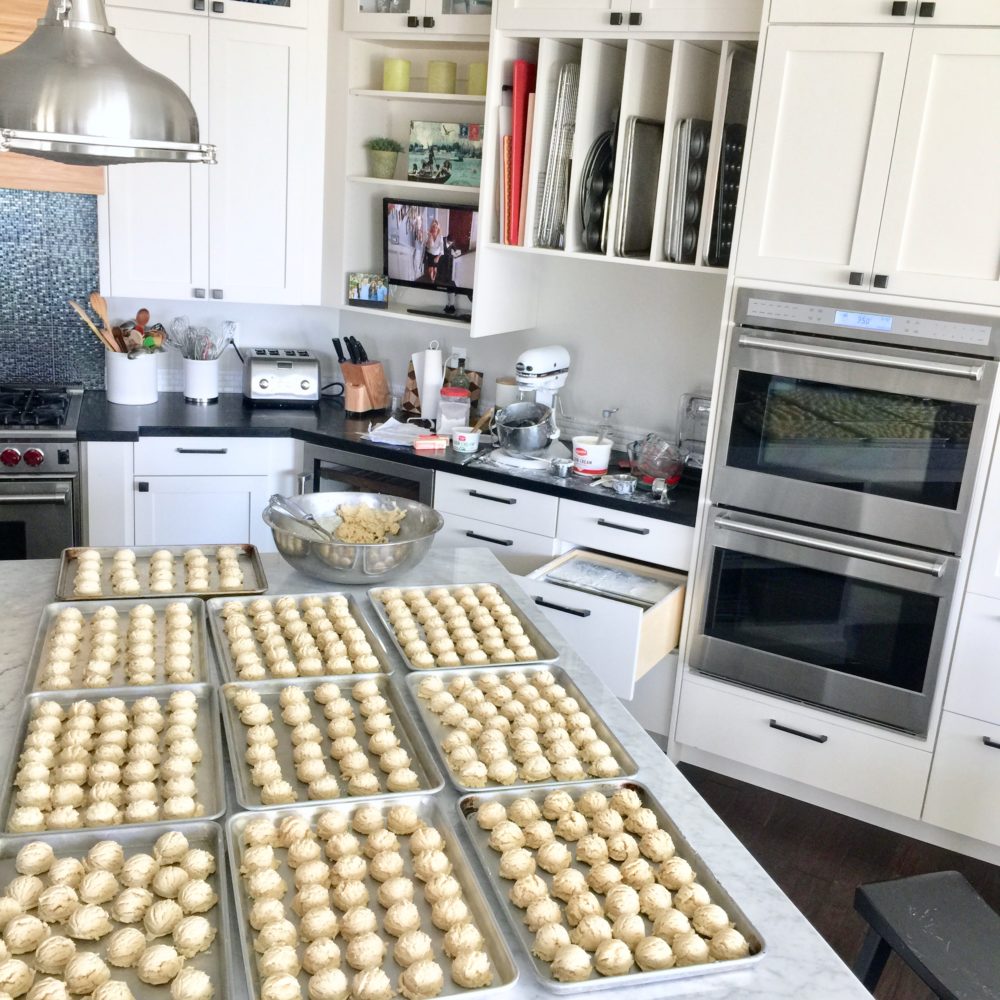 Can I frost cookies before freezing?
I generally freeze cookies (such as my Swig-style cookie recipes) frosted. You can frost the cookies after freezing, but frosting and freezing works well with most cookies that are sugar cookie-based with buttercream frosting. Cookies are ready to go right out of the freezer.
All of our Swig-style cookie recipes freeze well. The secret to stack frosted cookies is to frost, then place the cookie in the fridge or freezer and let the frosting set up. Once the frosting is set (meaning it is no longer soft) stack the cookies in a container using parchment paper in between layers.
Sugar cookies usually thaw in a few minutes at room temperature. If the cookies are layered with parchment and have been frosted, remove layered cookies from the container before the frosting comes to room temperature or the cookies will begin to stick together and ruin your beautifully frosted cookie!
The exception to frosting cookies before freezing are pan sugar cookie recipes. My two favorite pan sugar cookies are: Pan Cream Cheese Sugar Cookies and Sheet Pan Sour Cream Sugar Cookies.
I have baked Pan Cream Cheese Sugar Cookies many times for large gatherings, such as Girl's Camp and other youth activities. When I freeze sheet pan cookies, I freeze the baked pan of cookie after cooled. When ready to use, I remove from freezer, let thaw a few minutes and frost.
Why wait to frost until ready to serve? A large amount of frosting on a big pan of cookies tends to weigh down the cookie layer which can make the cookie layer flatten.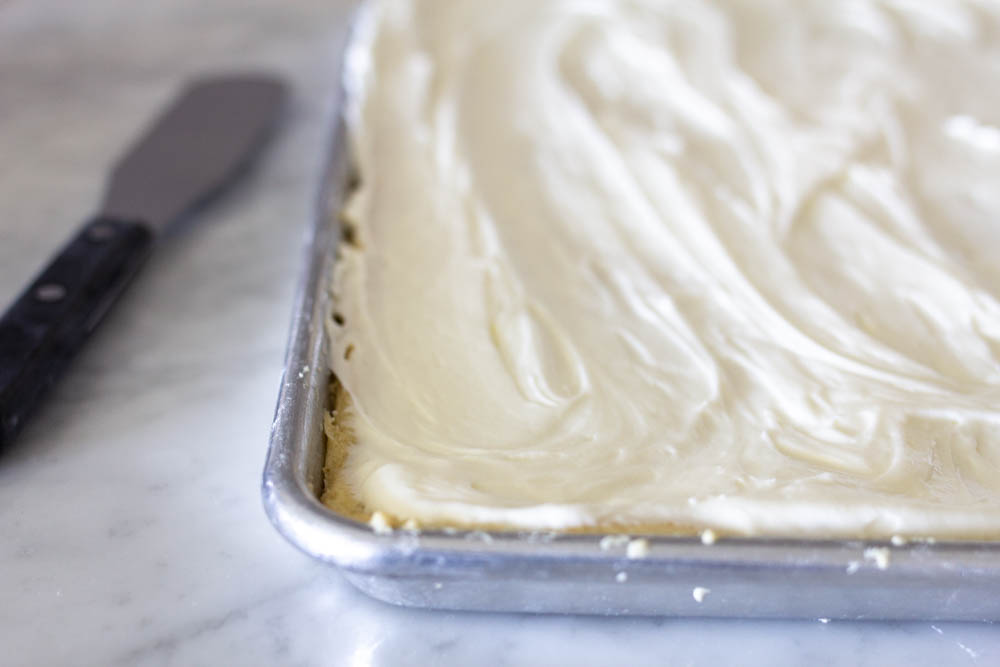 What container should I use when I freeze cookies?
I use a variety of containers to store cookies, everything from cardboard boxes, shoe boxes with lids, large rectangular cake boxes, 9×13 pans, Ziplock freezer bags, Tupperware, and even disposable steam-table pans. Once cookie dough balls have been frozen, you can toss them into Ziplock bags if you're short on storage space in the freezer.
I also often used a gallon or quart size Ziplock bags. When I use Ziplock bags, I open the bag and lay flat on a countertop. Scoop the dough and place the scoop inside of the bag and then empty the scoop of dough into the bag. Lay the cookies in a single layer until the bag is filled. Remove extra air from bag and label the bag. Lay flat in freezer.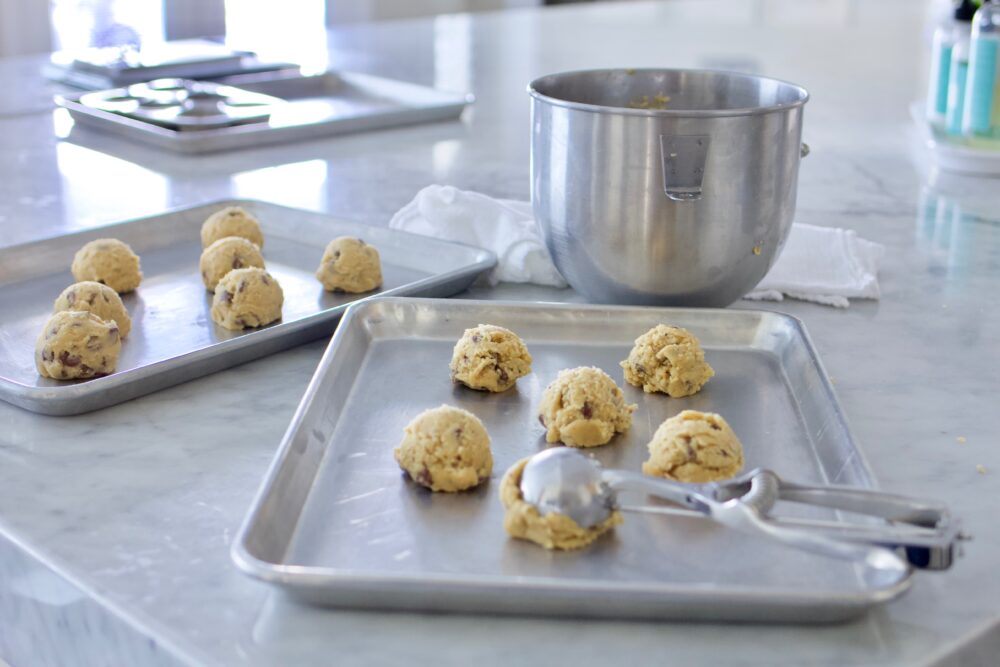 How long does cookie dough last in the freezer?
Cookie dough will last in the freezer for up to 3 months, IF sealed tightly. The biggest challenge I have encountered with freezing cookie dough is freezer burn! Occasionally, I have found a few cookie dough balls wrapped tightly in a bag in the back of my freezer that have been there for 6+ months. After baking, they taste as fresh as if they were made the same day.
Do I need to shape the cookie dough before freezing?
I usually shape the dough before freezing. I like to pull the cookie out of the container and bake immediately. It is also an option to place all of the dough into a container such as a Ziplock bag , shape into a round or square and seal. You will need to allow about 6 hours for the dough to thaw in the fridge before shaping into individual cookies to bake.
I hope this post has helped to answer all of your questions about freezing cookie dough! If not, leave a question below. Also, if you have any tips PLEASE share in the comment section!
Steps to freeze cookie dough:
Make the dough as directed in recipe.
Scoop the dough into a container, lined with parchment or Saran Wrap with a tight fitting lid, or use a Ziplock bag.
Place the cookie dough balls in a single layer. It is fine if the cookies are touching each other!
Place another piece of parchment over the top of first layer of cookie dough. Layer more dough on top.
Place lid on and make sure to seal container tightly.
Mark the container with the date the cookies were made and name of recipe.