Instant Pot Tomato Soup is the ultimate easy to make dinner! It is kid approved, takes minutes to put together and is the best way to celebrate fresh tomatoes!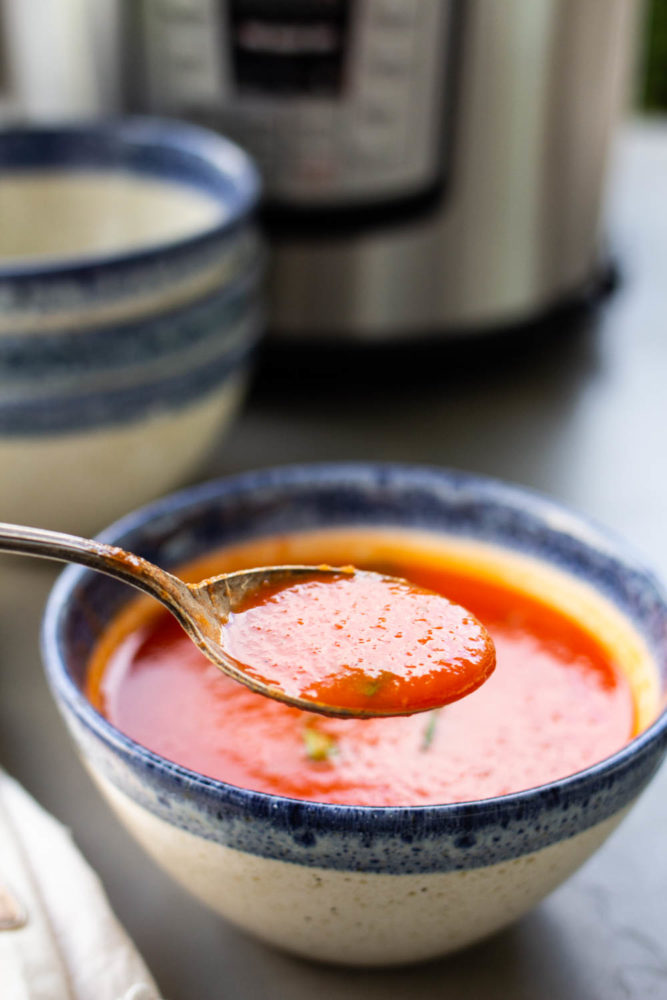 Calling all kids!
If your kids are like mine, they love grilled cheese with tomato soup! Nothing tastes quite like homemade tomato soup and this recipe for Instant Pot Tomato Soup is so easy you will wish you had fresh tomatoes year 'round! The good news- you can also use canned tomatoes with nearly the same result.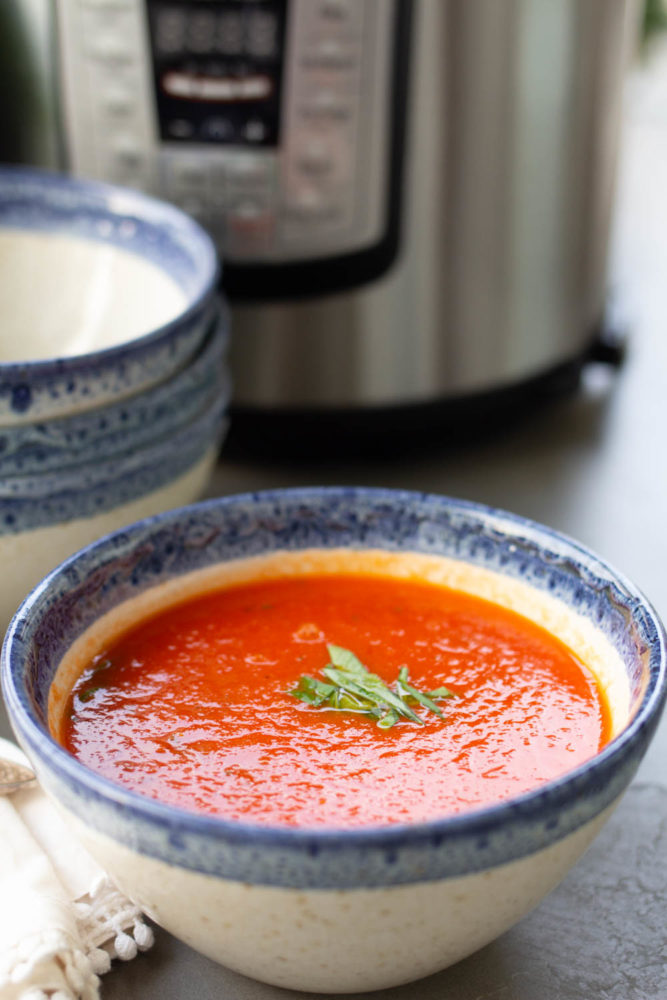 Making a meal out of tomato soup and grilled cheese!
There's something so comforting about a bowl of tomato soup with a melty grilled cheese sandwich! My kids are all grown up now, but they still love grilled cheese and tomato soup. I always felt like a grilled cheese on its own or a bowl of tomato soup alone were not really a meal, but paired together? A whole different story! If you want to try gourmet grilled cheese, try this recipe.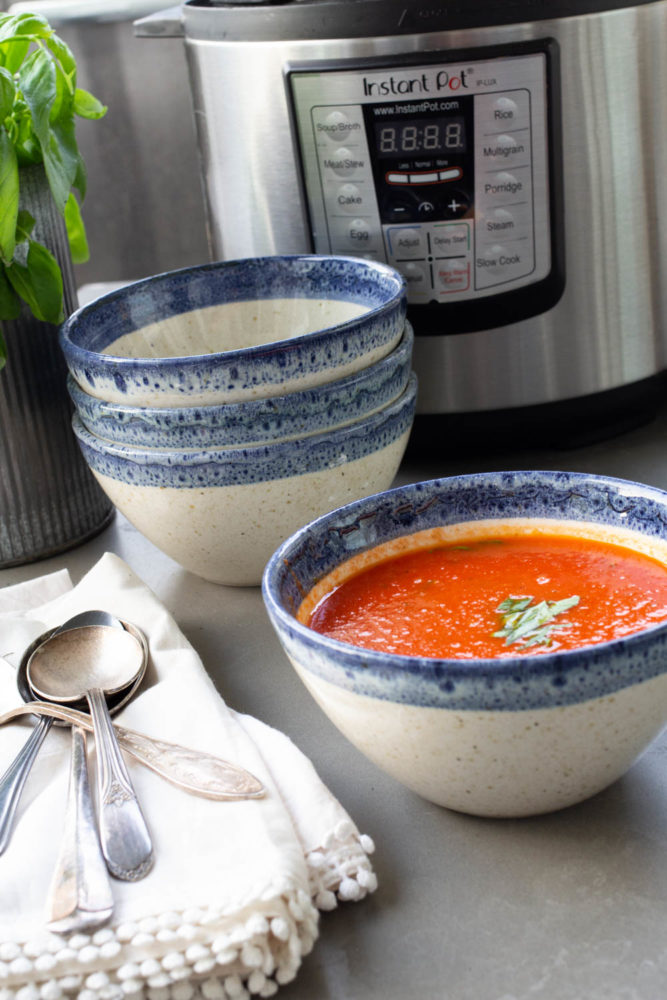 Instant Pot Tomato Soup – the only way!
Instant Pot Tomato Soup is a recipe you will make over and over again. I love making soup in the Instant Pot, because all of the cooking is done in one pot. The sauté feature is perfect for cooking/browning vegetables or meat before using the pressure cook feature. Once you learn how to make tomato soup in the Instant Pot, you will never want to make it any other way!
Immersion blender makes this recipe so easy!
If you can press a button and chop, you can make this recipe! The Instant Pot makes creating meals a simple task. Most recipes for tomato soup call for peeling the tomatoes. I've found not peeling the tomatoes and blending the skin right into the the soup makes a natural thickener. And one less step in any recipe is a winner in my book. The immersion blender and soups were made for each other!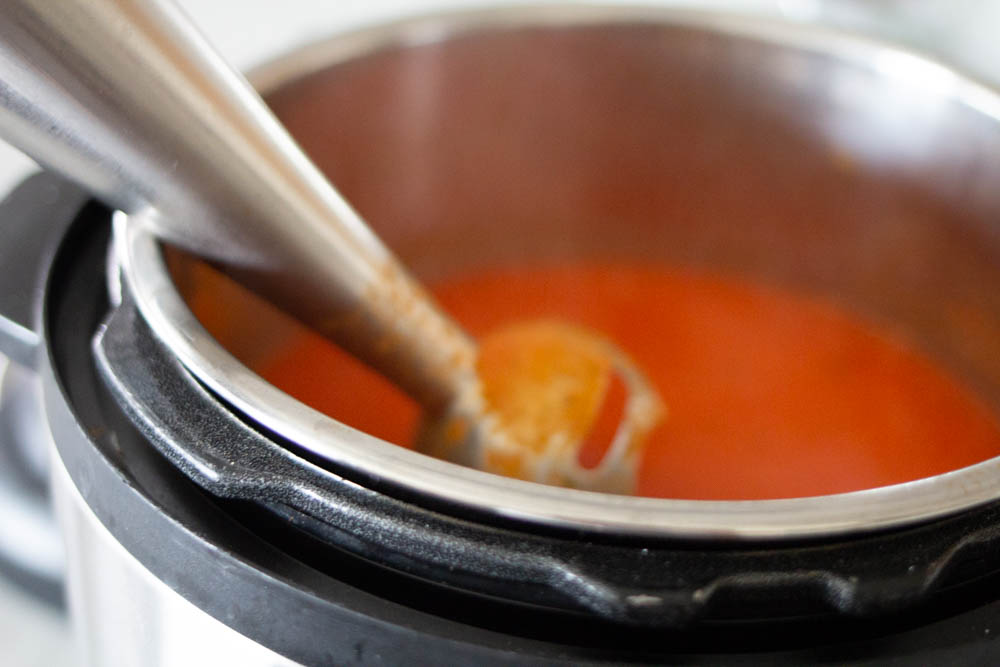 How to get started with the Instant Pot!
Haven't removed your Instant Pot from the box yet? Read this post on how to get started. Soon your Instant Pot will be your best friend! You seriously will wonder why you waited so long to use the Instant Pot! If tomato soup isn't your favorite, two other soups we love in the Instant Pot are Instant Pot White Cheddar Soup and Instant Pot Sweet Potato and Black Bean Chili.
Instant Pot Tomato Soup
Instant Pot Tomato Soup is the easiest way to make delicious homemade tomato soup in minutes! No peeling required!
pre heat time, saute time, release pressure
20
minutes
Servings
8
about 8- 2 cup servings
Ingredients
3

tablespoons

olive oil

2

cups

sweet onions diced, such as Vidalia or Walla Walla

1

clove

garlic chopped

2-3

teaspoons

sea salt

1/2

teaspoon

pepper

3-28

ounce

cans whole peeled tomatoes or about 12 cups chopped peeled tomatoes in chunks

drained

1

quart

chicken or vegetable broth

fresh basil

I use about 1/2 cup chopped and a little more for garnish

fresh oregano, parsley, thyme (optional)

2 tablespoons each, chopped

1

teaspoon

sugar

optional

serve with fresh herbs, greek yogurt or sour cream

1

cup

cream or half and half (optional) to replace 1 cup of broth
Instructions
Turn the Instant Pot to the SAUTE setting.

Sautee the onions in olive oil for about 5 minutes or until softened. Turn off SAUTE setting. Add the garlic, salt and pepper and saute with heat off for another minute.

Add the chopped tomatoes (fresh or canned) all at once. If using canned tomatoes, pour off any juice from can.

Add 1 cup of the chicken or vegetable broth to the mixture in the IP. Add fresh basil, and (optional) thyme, oregano, parsley, and 1 teaspoon sugar to the IP.

Make sure the rubber ring inside the lid is in place and the dial on top of the lid is turned to SEAL. Set the Instant Pot to the MANUAL or HIGH PRESSURE setting for 5 minutes.

Lock the lid into closed position and turn the IP on. 

After the timer goes off, let sit for 10-15 minutes and carefully release the remaining steam from the IP using the VENTING position on the lid. 

After steam is released, remove lid. Using an Immersion blender, blend the ingredients in the IP until smooth. Add remaining broth (or half and half if using) and stir. You may use the SAUTE setting to quickly warm the soup up if it has cooled after adding additional broth or half and half.

Alternately, carefully place 2 cups of the soup at a time into a blender until all ingredients are smooth.

Serve immediately or turn the IP to the keep warm setting. 
Recipe Notes
If you like a creamier version, omit about 1 cup of the chicken broth and add cream  or half and half.