Our Quick and Easy Chicken and Black Bean Taco Salad is the perfect blend of crisp lettuce, chicken, black beans, cheese and an easy homemade dressing!
We are a taco loving family. If you've been here a while, you've probably tried some of our favorites: Tacos al Pastor, Lone Star Taqueria Fish Tacos, Navajo Tacos, and South of the Border Taco Platter to name a few!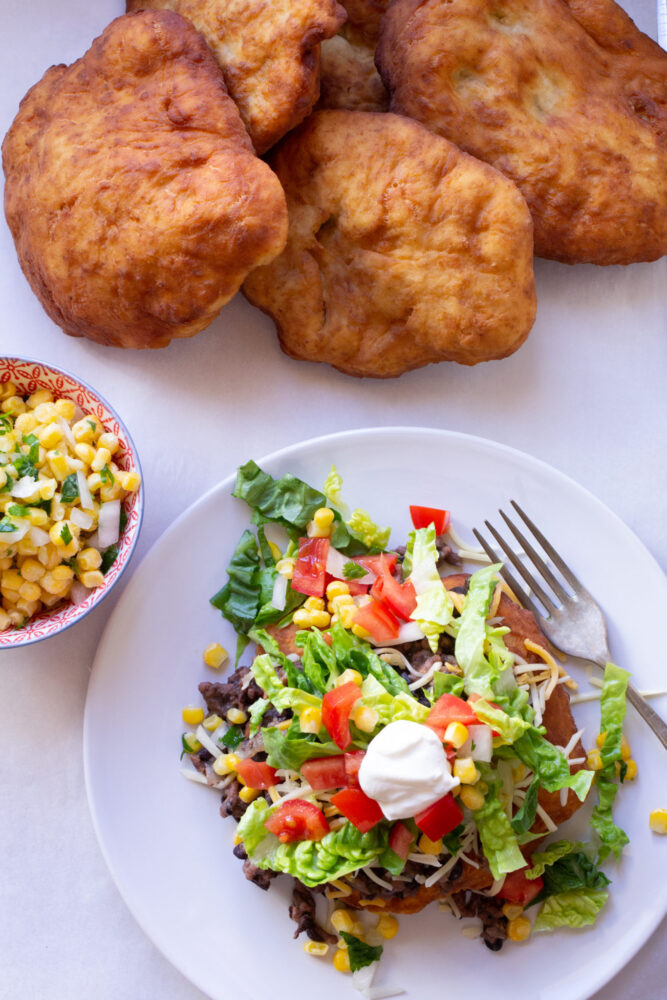 Tacos are one of my regular rotation dinners because they are quick, easy and who doesn't love a good taco (or taco salad)?! Our Chicken and Black Bean Taco Salad is so good for meal prep as well. Mix up early in the week, portion into containers, then grab and you're ready to go all week long!
If you are trying to eat more healthy, this recipe is a great option. I know the drive-thru is tempting, you may have even wondered "what is really in a Taco Bell taco salad?" or looked it up while waiting in the drive thru line. I can tell you this: If you take a few minutes to whip up a batch of this salad at home, it will cost loads less per serving and can feed you for most of the week! AND you'll recognize every ingredient in every bite. Doesn't that feel better already?!
I love this recipe, which was inspired by an old Cooking Light recipe years ago. I list two options for the dressing (one more health conscious). Here's a bonus, this recipe is easily adaptable to your taste! The options are endless when choosing veggies and other toppings. I love chicken in my taco salad, but have also added ground beef seasoned with cumin, chili powder, garlic and onion as well if I have it on hand. Salmon, shrimp or pork also works in this recipe or go meatless!
Here's what you need to make Chicken and Black Bean Taco Salad:
chicken breast halves or 4 cups cooked chicken
Romaine lettuce
black beans
tomatoes
red onion
cilantro
Cheddar or Jack cheese
lime
tortilla chips
buttermilk
plain Greek yogurt
taco seasoning
garlic salt
Quick and Easy Chicken and Black Bean Taco Salad
Easy to make and perfect for food prep! Chicken, black beans, crisp Romaine, cheese, veggies and topped with an option of two dressings!
Ingredients
for taco salad:
3

chicken breast halves or about 4 cups cooked chicken, seasoned generously with garlic salt and pepper

chopped or shredded

10

cups

washed and chopped Romaine lettuce

15

oz

can black beans drained and rinsed

2-3

tomatoes, or one pint grape tomatoes, chopped

1

medium

red onion chopped

about 1 cup

1

bunch cilantro chopped and divided

1 1/2

cups

Cheddar or Jack cheese grated

1

lime

tortilla chips
Creamy Cilantro Lime Dressing:
1

cup

buttermilk

1

cup

plain Greek yogurt or mayonnaise

1/2

bunch cilantro washed and chopped

1

tablespoon

prepared taco seasoning

1

lime, juiced

add 2 tablespoons, then more if needed

1/2

teaspoon

garlic, minced

fresh ground pepper, salt to taste
Lime Vinaigrette Dressing:
1/2 cup chopped seeded tomatillo

1/2 cup chopped cilantro

4 tablespoons olive oil

2 tablespoons Cider Vinegar

2 teaspoons lime rind grated

2 tablespoons fresh lime juice

1/2 teaspoon salt

1/2 teaspoon cumin

1/2 teaspoon chili powder

1/2 teaspoon pepper

1 garlic clove chopped

4 tablespoons mayo or plain Greek yogurt, optional
Instructions
Squeeze the juice of one lime over the cooked and chopped chicken. Set aside.

Combine all dressing ingredients in blender or bowl, and whisk or blend until smooth. Set aside in refrigerator until ready to dress salad. This may be done up to three days ahead.

Combine remaining salad ingredients including chicken into large bowl. Add desired amount of cheese and tortilla chips. Serve with prepared dressing.
Recipe Notes
Unless the salad is being served and eaten all at one sitting, I toss the chips, cheese and dressing with each individual serving.
 Variations include using a half bag of frozen corn; thawed, chopped bell peppers or sliced olives.
Substitutions for buttermilk and mayonnaise: for buttermilk- add 1/2 cup plain unsweetened Greek yogurt and 1/2 cup milk and stir. For mayo use plain, unsweetened Greek yogurt, sour cream (regular or light) or 4 oz softened cream cheese. 
If preparing the chicken ahead, cook and place in fridge after chopping. On the day of serving, toss with fresh lime juice.