Easy Navajo Tacos with Veggies and Indian Fry Bread will be on your list of weekly cravings after you try this recipe! Delicious fry bread, topped with seasoned meat, fresh veggies, cheese and sour cream is the best way to take tacos from ho-hum to WOW with very little time!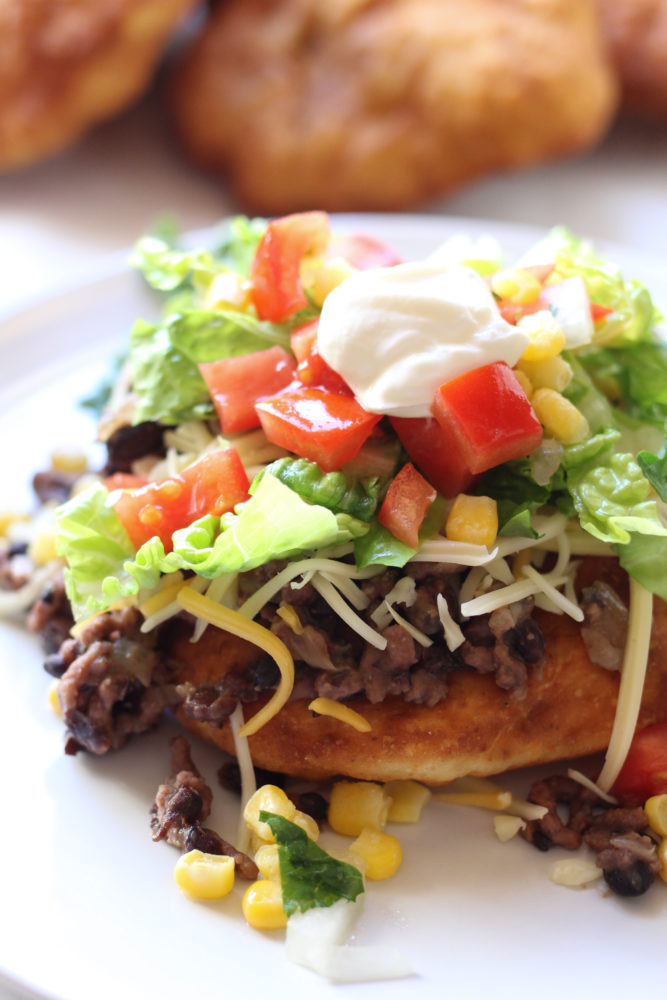 What is Indian Fry Bread?
Fry bread is dough that is fried and usually made without yeast. Baking powder is the leavening, instead of yeast. I live at close to 5000 ft in elevation in Utah, and this recipe works very well at a high elevation.
Fry bread pieces can be made as big or small as you like. I try to keep the dough fairly thin so the cooked bread doesn't seem like a donut!
Tip for light Indian Fry Bread
Here is a tip when making this fry bread recipe. If you make the dough and then let it sit for 20-30 minutes before frying, it will yield a softer piece of fry bread for your Navajo Taco.
I like to make the dough first, then let it sit while I cook the meat filling and chop the veggies. While you are chopping the veggies, heat the oil. It is still a quick and easy meal, and you can allow the dough to rest a bit and become tender while preparing toppings.
Can Fry Bread be made with Yeast?
Yes, fry bread can be made with yeast! I've included a recipe for fry bread with yeast on this post. The rising time for the yeast version is about 30-45 minutes. If you try both the yeast and the non-yeast version, you will see the fry bread made with baking powder is not quite as light and tender as the fry bread made with yeast. Yeast will (usually) yield a lighter product than baking powder.
There is a significant difference between the texture of the two types of fry bread, but the baking powder version takes a little less time.
Savory or Sweet?
If you live in Utah, you might recognize the similarities between fry bread and a "scone," which are nothing like traditional English-style scones. Utah scones are made from dough that is fried, and usually served with honey butter or powdered sugar.
The yeast version of fry bread is enough to make about 12 pieces of fry bread, which is enough for your taco and a piece of dessert! Just sprinkle the fry bread with powdered sugar or cinnamon sugar while it is still hot!
Make it Your way
We love how easy these Easy Navajo Tacos (Indian Fry Bread) adapt to your own personal preferences. You can use any type of meat: chicken, ground beef, pork, leftover Pot Roast, or chili.
I love corn on my tacos as well. In this photo you can see the corn salsa I made with corn, onions, cilantro, garlic and a little salt and pepper!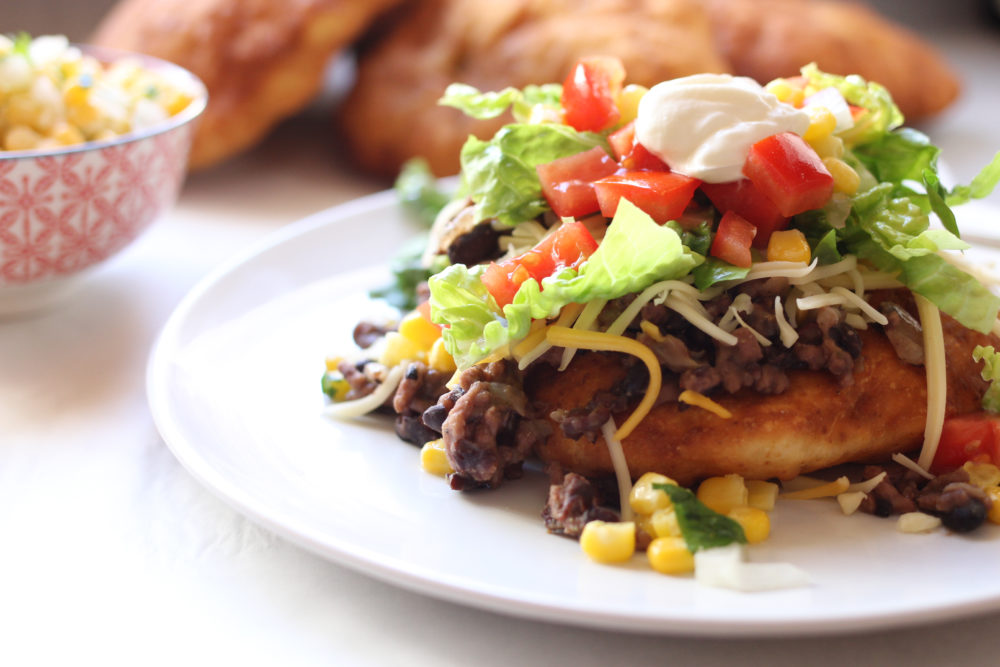 We always use the following toppings on our Navajo Tacos: lettuce, cheese, tomatoes, sour cream and avocado. I also add black or pinto beans to make the filling go farther.
When I add a can of beans, I add the juice from the can and let the beans cook for a few minutes. After the beans heat up, use a potato masher to help thicken the topping a little bit.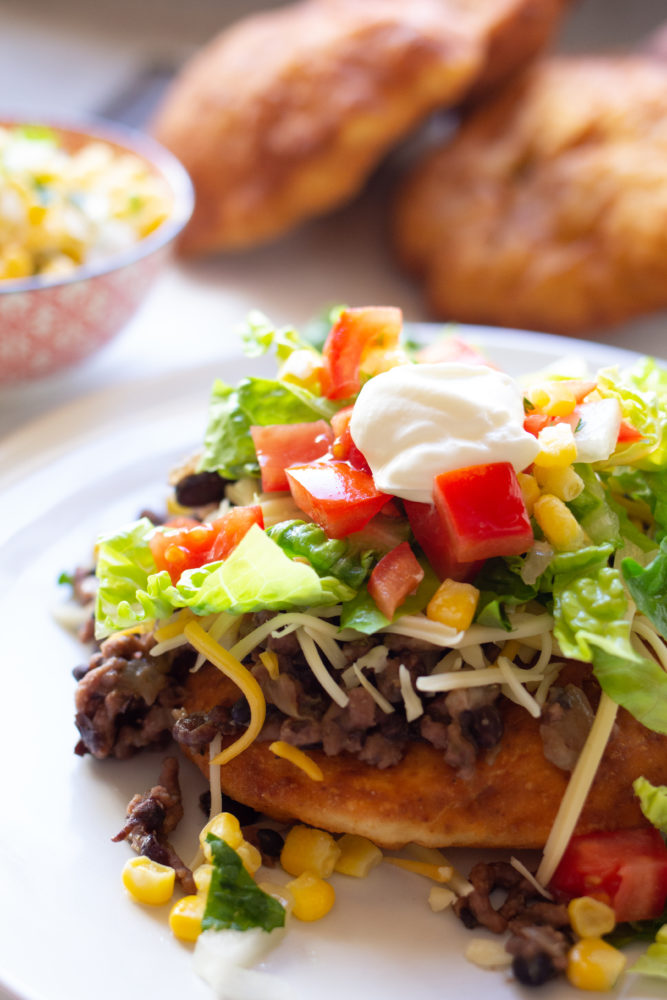 This recipe makes enough for 6 servings. If you don't want to make your own fry bread, use frozen bread dough, such as Rhodes Rolls; each roll thawed, stretched and then fried.  Allow about 2 hours for the thawing and rising process.
How to Make Easy Navajo Tacos with Veggies and Indian Fry Bread:
To make the fry bread, mix together flour, salt, baking powder and water. Set aside.
Prepare the meat filling.
Chop the veggies.
Heat the oil in a pan.
Divide dough into four large or six small pieces and flatten them out on a clean, floured surface.
Fry on each side until golden.
Top fry bread with meat, veggies, cheese, sour cream, avocado, serve immediately!
If you love tacos, here are a few of our family favorites: Cook's Illustrated Beef Tacos, Baked Taco Rollups, Tacos Al Pastor with Guacamole Taquero, Lone Star Taqueria Fish Tacos, South of the Border Taco Platter.
Navajo Tacos are the perfect twist for a regular weeknight meal. A little crispy on the outside, soft on the inside and topped with your favorite taco-themed ingredients.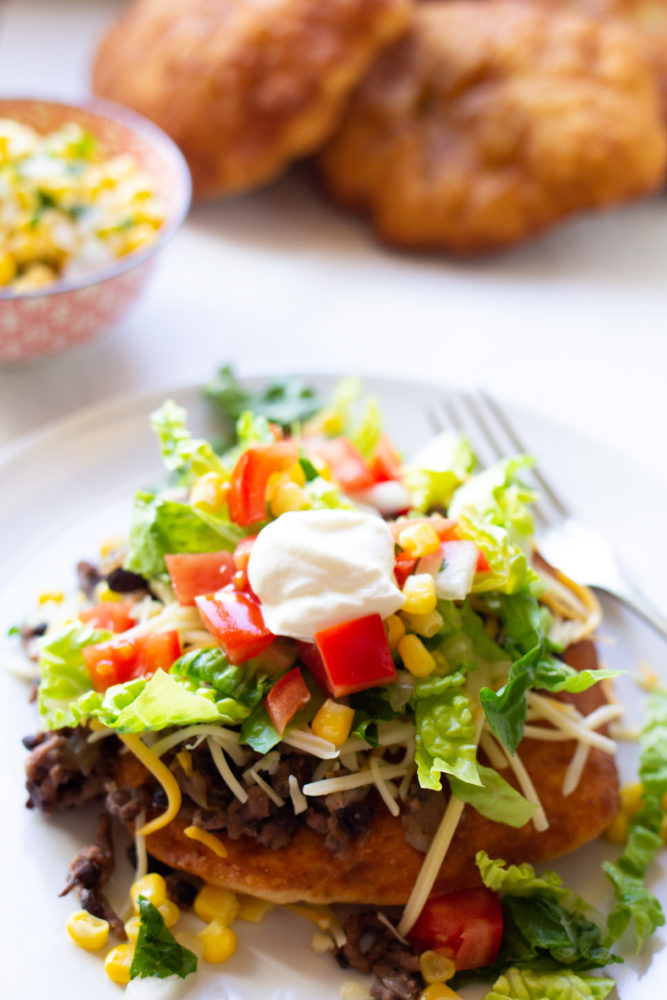 Basically anything normally stuffed in a taco or on a tostada, is going to be even more delicious on this pillowy fried goodness!
Easy Navajo Tacos with Veggies and Indian Fry Bread
Easy Navajo Tacos (Indian Fry Bread) topped with seasoned meat, veggies and cheese. Fry bread takes ordinary tacos to the next level!
Ingredients
For Fry Bread (see recipe notes for fry bread made with yeast)
3-3 1/4

cups

all purpose flour, plus about 1/2 cup for shaping

1 1/2

teaspoons

baking powder

2

teaspoons

salt

1 1/4

cups

very warm water

canola or vegetable oil for frying
For Taco Filling:
1

lb

ground beef

1

cup

chopped onion

1

teaspoon

salt and pepper

2

teaspoons

cumin

1/2

teaspoon

chili powder (or to taste)

1

14-15 oz

can small red beans, kidney beans, garbanzo or refried beans

(optional)
Toppings:
Lettuce

Cheese

Tomato

Olives

Sour Cream or plain unsweetened Greek yogurt

Avocado
Instructions
For Fry Bread:
Place 3 cups flour, baking powder and salt into large bowl. Mix.

Add 1 1/4 cups very warm water to bowl and stir with a large spoon just until combined.

The mixture should be soft, but not sticky. If the dough is wet and sticky, add more flour, a little at a time until dough is still soft, but not wet. 

Divide the dough into 6 pieces. Pat out on clean floured surface or between hands that have been dusted with flour. At this point I let the dough rest while cooking the meat filling and preparing the other toppings.

Heat oil in pan to 350 degrees. The oil should be at least 2 inches deep in the pan. Make sure to use a pan that is fairly deep to prevent the oil from bubbling over the edge!

When oil is heated, carefully place the dough into the hot oil one at a time. Make sure the temperature does not drop too much. If placing a piece of dough into the oil makes it stop bubbling, wait to add another piece of dough. I cook two pieces of dough at a time.

Cook on each side until golden. Remove from oil to a paper towel or piece of parchment paper. 
For Tacos:
Cook the ground beef in a skillet over medium heat. Drain any grease from pan and discard. 

Add chopped onion and all seasonings. Cook until onion is softened. 

Add one can of beans (small red beans, chili beans, kidney beans or even refried beans).  After the meat and bean mixture has cooked a few mintues, use a potato masher and smash down about 1/2 of the beans (optional).

Cook until mixture is heated through. Remove from heat and cover until ready to assemble. This may also be made a day or two ahead and then simply reheat when ready to serve.

Chop all of the topping ingredients and set aside in bowls for easy assembly.
Assembly:
Place warm fry bread on each plate. Let each person place desired toppings to make their own Navajo taco. Serve immediately.
Recipe Notes
Navajo Tacos are traditionally made with baking powder as the leavening, but many people make them with yeast. Here is the yeast version of Navajo Tacos we like, made with a modified scone dough that is perfect for topping with honey butter or butter and jam, Nutella, or  just sprinkled with powdered sugar. I recommend using a stand mixer with the paddle or bread hook attachment to make this dough. 
Fry Bread (with yeast) 
1 cup warm water
1 tablespoon yeast
3 tablespoons sugar, divided
1/3 cup of canola or vegetable oil
1 teaspoon sea salt
1 large egg
3 1/2* cups all purpose flour, plus extra for rolling or patting out
Directions:
Place warm water, yeast and one tablespoon of sugar in a large bowl.
 Let yeast bubble and rise. 
Add rest of sugar (2 tablespoons) oil, salt, and egg. Blend with whisk. 
Add 3 cups of all purpose flour and mix with large spoon. slowly add the additional 1/2 cup just until the dough is no longer sticky. This will vary according to the humidity. In Utah, I add less flour, in Spain, a little more! The dough should have a matte finish. 
Let rest for about 30-45 minutes covered (or up to 1 1/2 hours), or until the dough is nearly doubled in size. 
When ready to fry, divide the dough into 12 pieces. I use 6 for tacos and 6 for dessert fry bread. 
Follow recipe directions frying dough and for topping fry bread.