What's better than a spiced donut? A spiced donut made into a muffin! Spiced Donut Muffins are fluffy, moist, and finished with a butter dipped cinnamon sugar top. All the love of a donut, without deep frying!
If you're a spiced donut fan, you're going to love Spiced Donut Muffins! I have a serious weakness for donuts. One of the big drawbacks of making donuts at home is the messy frying process. This recipe mimics a spiced donut without deep frying. And you have to love a great pantry-friendly recipe!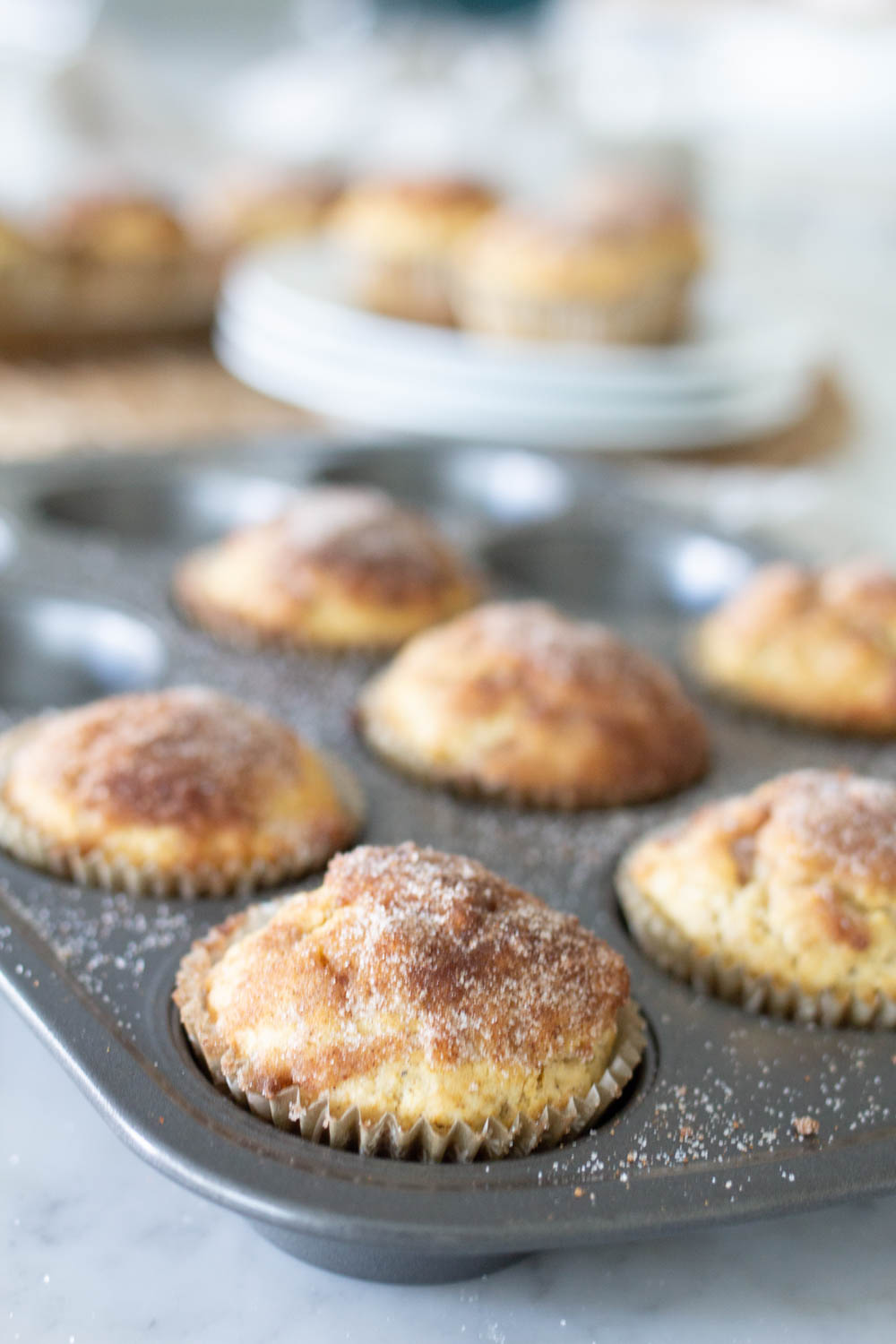 Muffins are one of the easiest recipes to make when you are just learning how to bake. Spiced Donut Muffins are very basic and easy to mix up when you want to make something homemade but don't have a lot of time on your hands. AND your house is going to smell amazing with spiced muffins baking in the oven!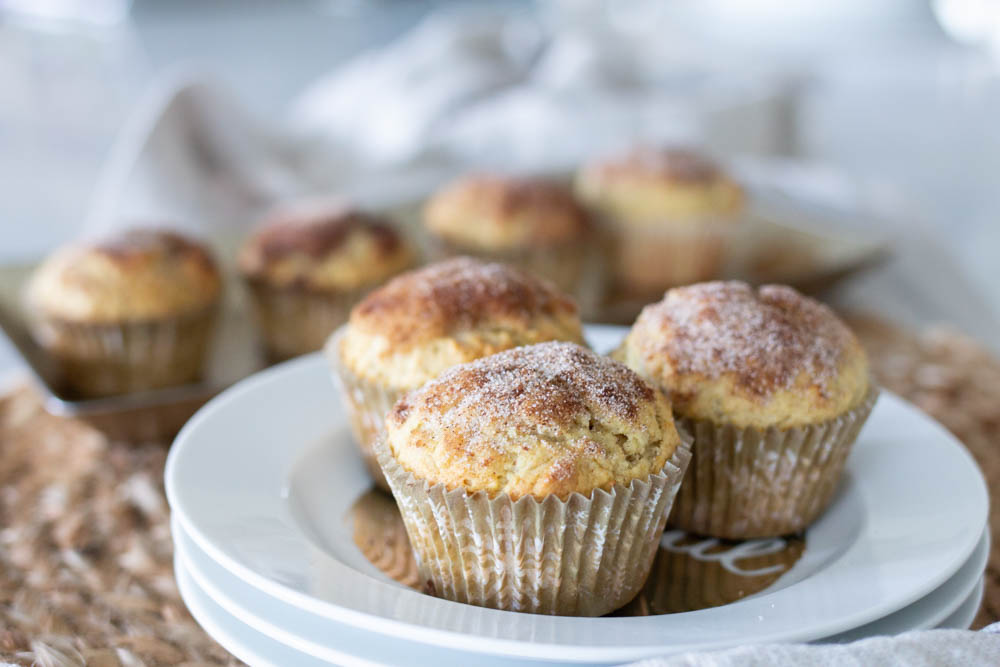 I love to bake up a batch in the morning to have around on busy days when I know family will be in and out of our home. They're so easy to pick up for a quick bite on the way out the door.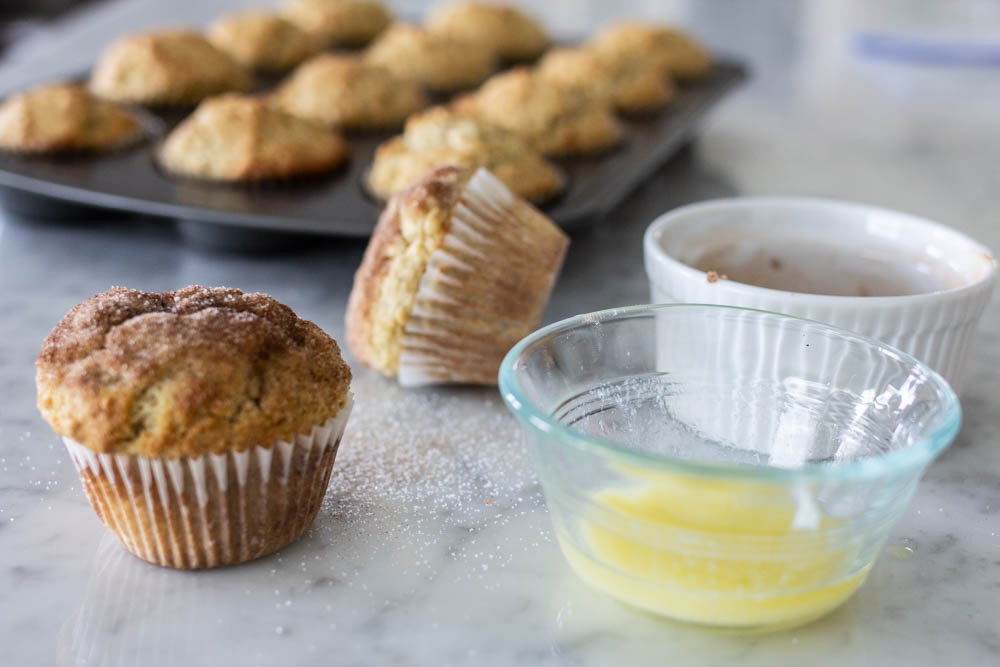 Serve these easy to make muffins with a fruit , yogurt, granola and scrambled eggs if you have a bit more time! ABK Spiced Donut Muffins are a treat everyone in the family will love.
Other Muffin Recipes:
Spiced Donut Muffins
This quick and easy muffin recipe mimics a donut without the frying!
Ingredients
Muffins:
1/4

cup

unsalted butter, softened

1/4

cup

vegetable or canola or coconut oil

1/2

cup

granulated sugar

1/3

cup

brown sugar

2

large eggs

2

teaspoons

vanilla

1 1/2

teaspoons

baking powder

1/4

teaspoon

baking soda

1/2

teaspoon

ground nutmeg

1

teaspoon

cinnamon

1

teaspoon

salt

2 2/3

cups

all purpose flour

I like to use half cake flour and half all purpose

1

cup

milk
Topping:
3

tablespoons

melted butter

3

tablespoons

sugar

1

tablespoon

cinnamon
Instructions
Preheat oven to 425 degrees. Set rack in center of oven. Line 12 muffin cups or grease the cups if not using liners.

In a medium sized bowl, beat the softened butter, oil, and sugars until smooth. Add the eggs and vanilla, and beat again until smooth.

Add the baking powder, soda, nutmeg, cinnamon, salt and flour to the wet mixture in bowl. Fold together by hand using a large spatula or spoon.

Add the milk all at once and fold again by hand using spatula or spoon. Make sure all ingredients are combined. Do not over mix!

Scoop the batter into the prepared muffin cups. The cups should be almost full.

Bake the muffins for 15-18 minutes or until tops are golden brown and set.

Remove from oven.

While muffins are cooling a bit, melt the butter in a small bowl. Set aside.

In a separate bowl, combine 3 tablespoons sugar and 1 tablespoon cinnamon.

Dip the top of the warm muffin into the melted butter, then the cinnamon sugar mixture.
Recipe Notes
-I used a blend of  1 1/3 cup cake and 1 1/3 cup all purpose flour to get a lighter muffin texture. You may use either type.
-Make sure to have the oven heated properly. Pre-heat while you are making the batter.
-This recipe could be altered to use a glaze as the topping, or drizzled chocolate. Or a sprinkle of powdered sugar and unsweetened cocoa. The possibilities are endless!