The Best Sloppy Joes are the ultimate meal in a bun! This easy to make dinner is one your family will love and you'll make over and over again.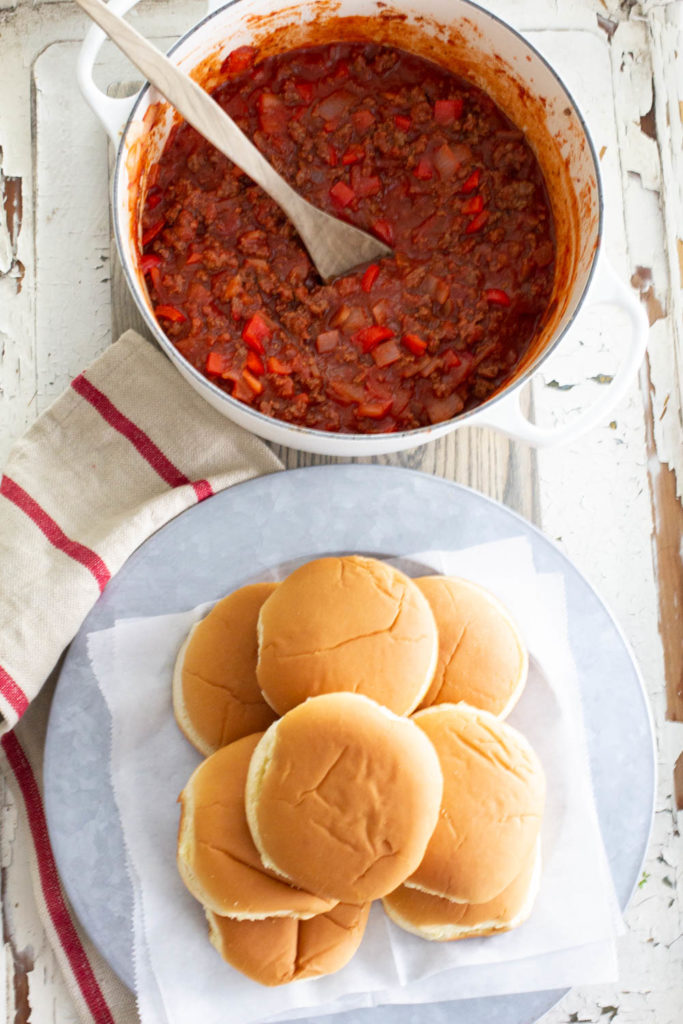 How did Sloppy Joes get their name?
Sloppy Joes have been around since the 1930-40's. Some say the term "Sloppy Joes" comes from a sandwich, sold in Iowa made by a cook named, you guessed it – Joe. Others say it originated in Cuba, when cooks threw together all of the leftover meats after a day's work and piled it on leftover buns. No matter the origin, this messy, warm sandwich is still a popular quick lunch or dinner today!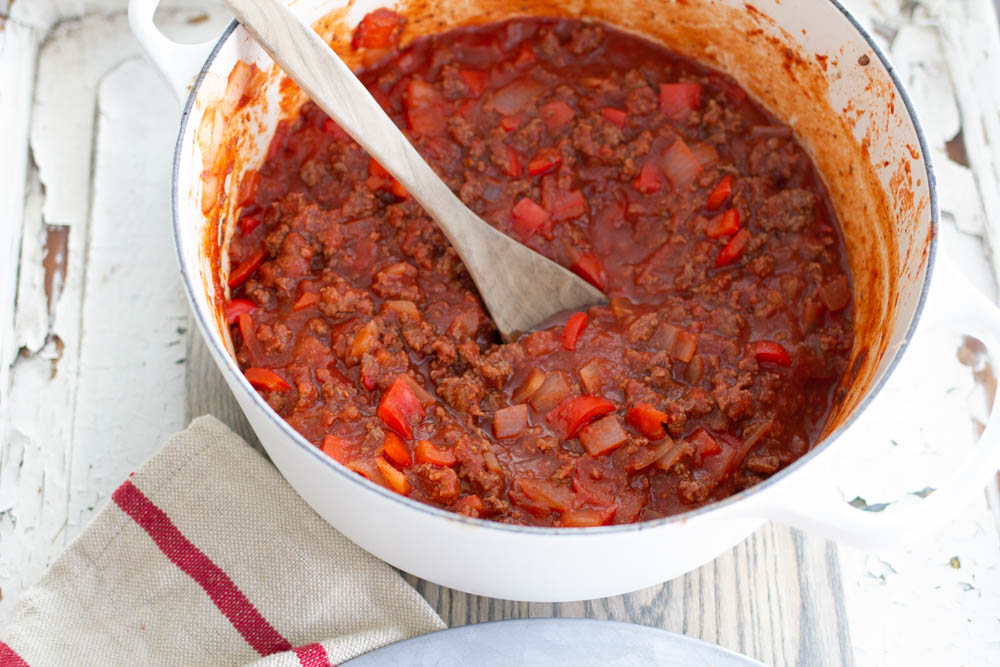 What makes this the Best Sloppy Joes recipe?
When you bite into the sandwich it's a little sloppy- but that's half the fun of eating it. What would a Sloppy Joe sandwich be if it didn't drip all over your plate? Truth be told, I usually eat mine with a fork, because I want to get every last bit of the flavorful meat!
This recipe is straightforward with just a few pantry staples and a couple of fresh vegetables included. The blend of sweet, savory, and a little tangy, along with the simple method makes this the Best Sloppy Joes recipe!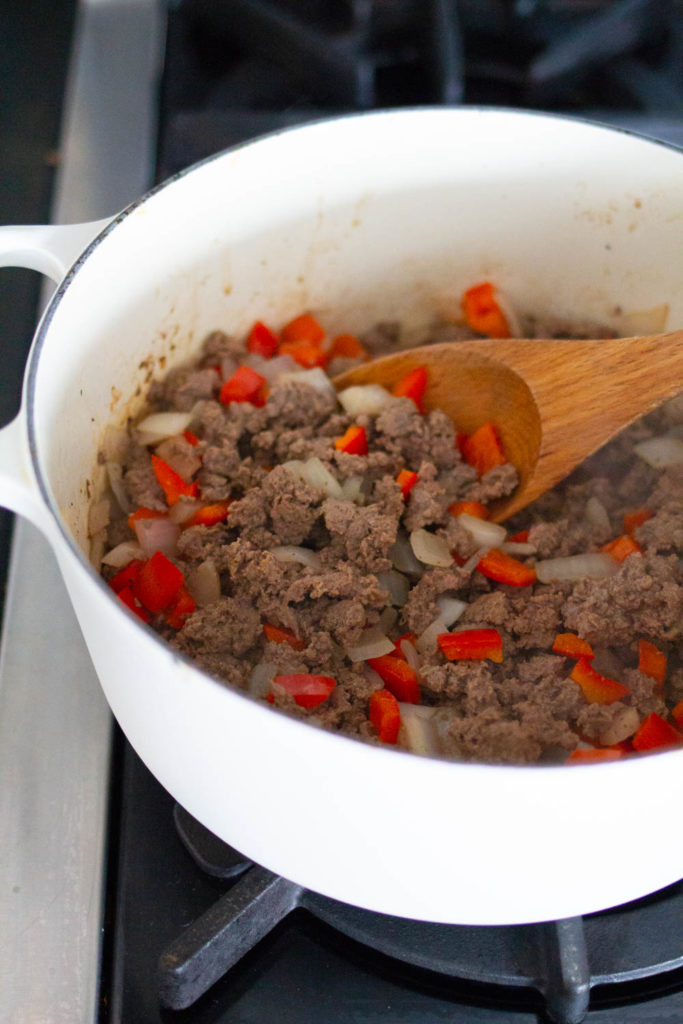 Better than Manwich or a package!
The Best Sloppy Joes are SO simple to make. I'm not talking about opening a can of Manwich, or using a package of flavoring. Homemade makes all the difference. I wanted to make a Sloppy Joe recipe that would be easy, tasty, and quick to make when my kids were young. This pantry friendly meal is homemade without being complicated! If you are wondering about the pan I'm using in this recipe, it's my favorite Le Creuset Dutch Oven, which I use for everything spaghetti sauce to pot roast. An investment, but worth every penny.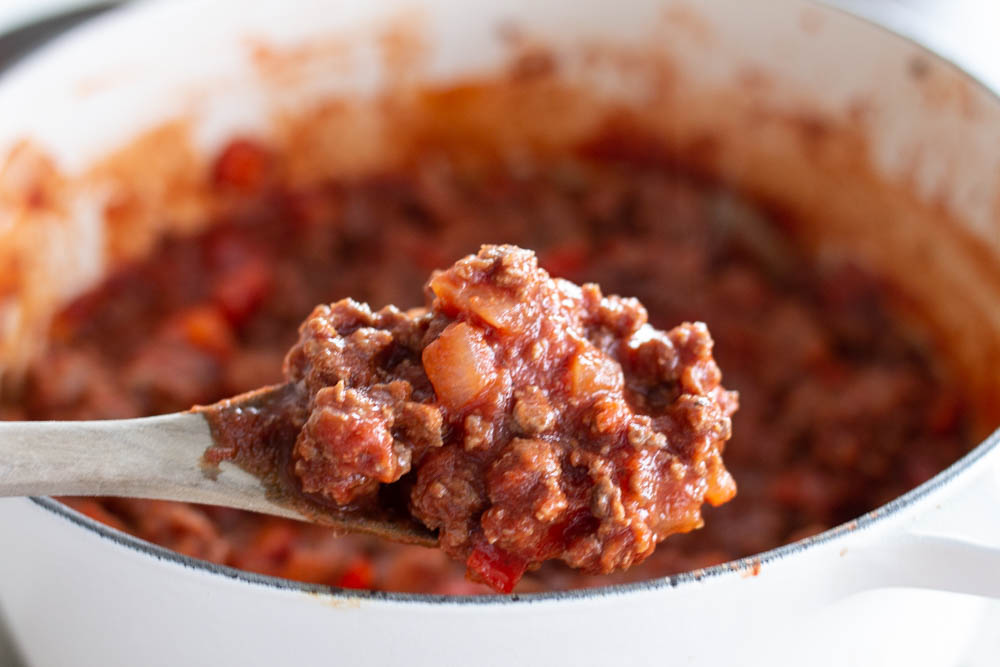 Quick and easy Sloppy Joes for family or a crowd!
Sloppy Joes take about 20 minutes start to finish so you'll have dinner on the table in no time! This recipe is perfect for make ahead or large crowds as well. Store the ground beef mixture in an airtight container in the fridge, and then heat it up on the stove before you're ready to serve with hamburger buns. This recipe also includes instructions for cooking in a slow cooker or Instant Pot in the recipe notes.
This recipe also freeze well, and are perfect for taking on River rafting trips, to Lake Powell, family reunions or Girl's Camp! Make it ahead, place in Gallon Ziplock bags, lay flat in your freezer and it will act as a piece of ice in your cooler when you are traveling. Nothing better than leaving the mess at home when you need to feed a group on vacation!
This recipe was originally posted in 2010, and has been republished with new photos and alterations to the recipe and post.
Sloppy Joes
Sloppy Joes are a blend of sweet and savory and are so juicy and filling! This Sloppy Joe recipe is the perfect quick and easy dinner and also great for large group gatherings!
Ingredients
Sloppy Joes:
1 1/2

lb

extra lean ground beef

1

onion, white, sweet or yellow

chopped, about 1 1/2 cups total

1

red pepper, stem and seeds removed

chopped (optional) about 1 cup total

1

clove

garlic

minced or 1/4 teaspoon garlic powder

6

oz

can tomato paste

15

oz

can tomato sauce

3

tablespoons

Worcestershire Sauce

or 2 tablespoons Balsamic Vinegar

1/4

cup

brown sugar

more if you like it sweeter!

1

teaspoon

salt

1/2

teaspoon

ground pepper

water 1/4 to 1/2 cup to thin sauce

if needed

few drops

hot sauce, such as Tobasco

optional
Instructions
Sloppy Joes:
Brown ground beef in skillet over medium high heat. Drain off any grease.

Add chopped onion and chopped red pepper. Season with salt and pepper. Saute until onion is softened, about 3-4 minutes. Add garlic and cook for one additional minute.

Add tomato paste, tomato sauce, Worcestershire sauce and brown sugar. Cook over medium heat. Add hot sauce if using. Simmer on low for about 5-8 mintues or until mixture thickens up a bit.

If mixture is too thick, thin with 1/4 to 1/2 cup of water. Serve with hamburger buns, top with cheese, if desired.
Recipe Notes
Slow Cooker and Instant Pot Instructions:
Slow Cooker or Crockpot– Place the meat in a skillet, cook on medium high and drain off grease. Pour the cooked meat and remaining ingredients into the slow cooker, stir and turn the setting to low. Cook for about 4-6 hours on LOW heat  or  2-3 hours on HIGH. Depending on the slow cooker, the cooking time may vary. Add water if needed after cooked. 
Instant Pot – Turn the Instant Pot to the SAUTE setting. Brown the meat and remove any extra grease from the pot. Add the chopped onion and red pepper and cook for a couple of minutes.  Turn SAUTE setting off. Add remaining ingredients, and stir well.  Make sure the sealing ring is in place, and turn the dial on top of the lid to SEAL. Cook on MANUAL or HIGH PRESSURE setting for 5 minutes. Let the pressure release naturally, or,  after 10 minutes, carefully release the remaining pressure and serve.