Our Best Apple Pie Bars with Salted Caramel Sauce are the perfect dessert for FALL! Imagine a soft, buttery crust, filled with tart apples, sugar and spices, plus an oatmeal-crumble topping that is similar to apple crisp, only better! Oh, and don't forget the salted caramel sauce!
If you are in love with apple pie or apple crisp, you have to make this dessert! As we approach the holidays, this dessert is a great option if you are feeling a little hesitant to commit to making a pie, but want to serve a special dessert at Thanksgiving or Christmas…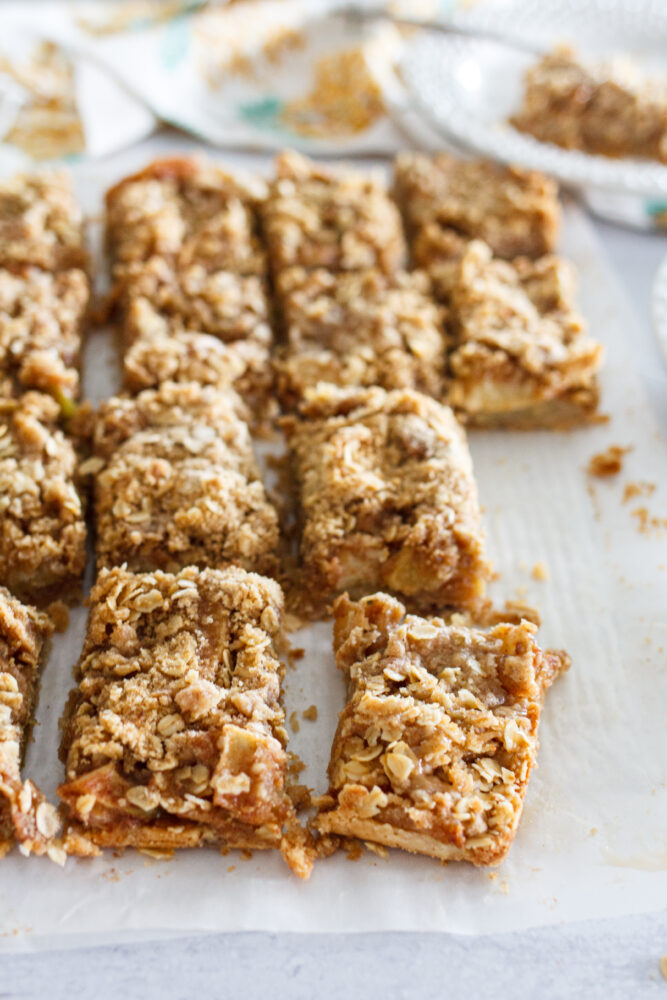 Our Best Apple Pie Bars are humble enough to make for a weeknight dessert, and fancy enough to take to special dinner. The Salted Caramel Sauce (recipe below) takes this dessert over the top! Serve the warm caramel sauce over a piece of our Apple Pie Bars with a scoop of vanilla ice cream. This dessert is going to be your new favorite holiday treat!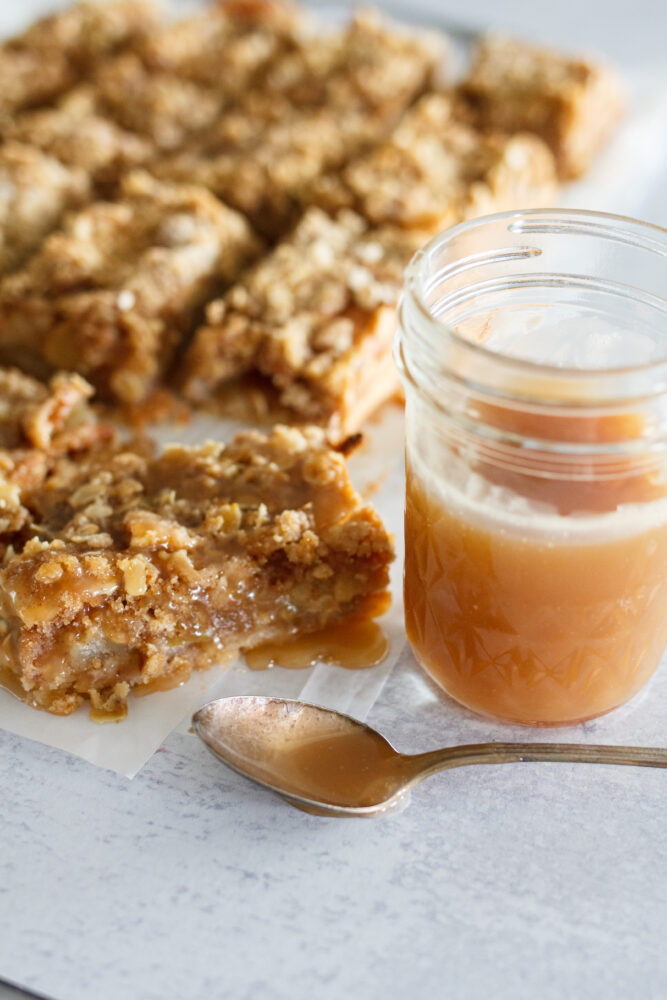 Funny note: When I was trying to decide what name best described this dessert, I searched "apple bar", and "apple pie bar", and even "apple dessert bars". The results took me first to THE Apple Bar (as in, if you need to get an Apple device fixed or schedule a consultation, make an Apple bar appointment)! Wouldn't that be THE BEST if you showed up to get your phone, laptop or other device problems solved AND they served apple bars as well???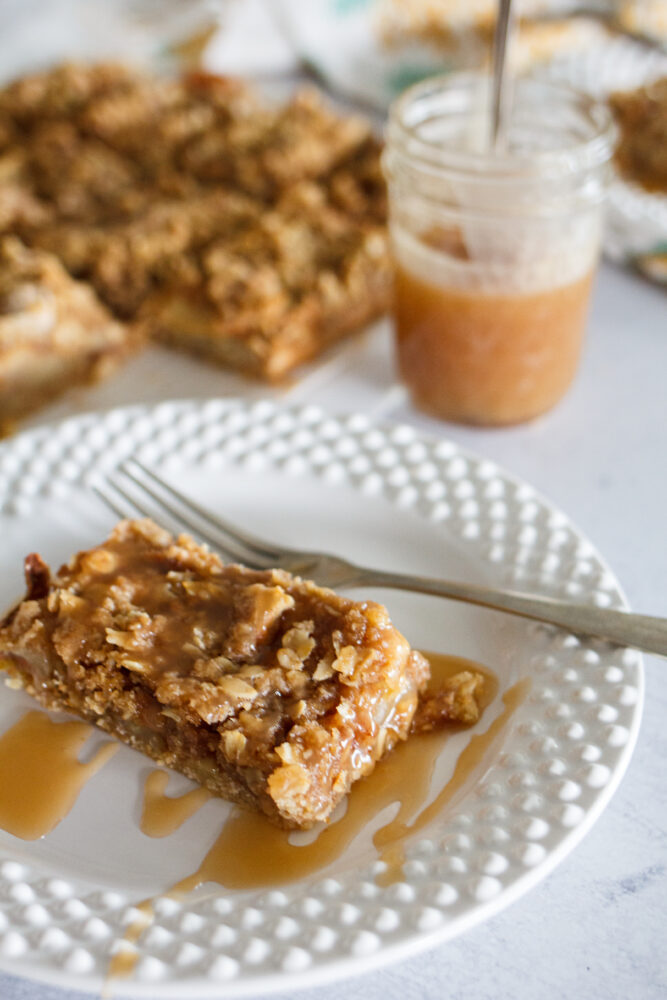 Why I love our Best Apple Pie Bars with Salted Caramel Sauce:
Sweet and tart apples, with a buttery crust and just the right amount of crumble topping
Easy to make, and layers can be made ahead (crust, topping, salted caramel) see recipe notes
One pan serves 16
Can be made in a 9×13 and served out of the pan, or on a platter
Can be served and eaten as a bar or on a plate with a fork
How to make our Best Apple Pie Bars:
Prepare the apple filling, set aside
Prepare the crumble topping, set aside
Prepare the crust, press into pan and bake
When the crust is done, remove from oven, pour apple filling on top
Spoon the crumble topping over the apples and bake again as directed
Remove from oven when golden and apples are fork-tender
Let cool and prepare salted caramel sauce (optional)
Spoon sauce over each piece and serve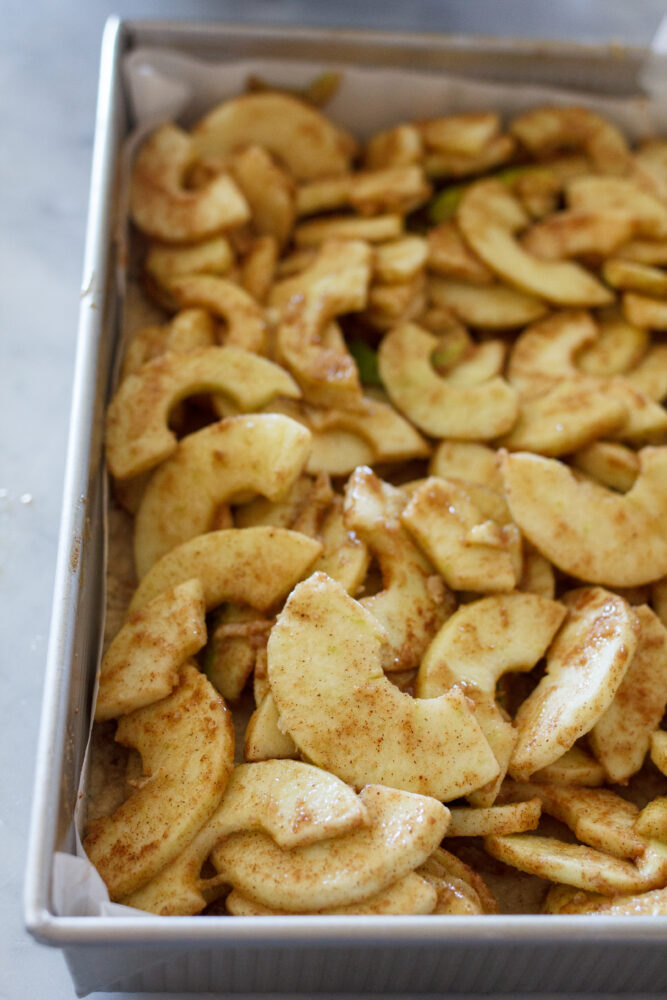 Ingredients to make our Best Apple Pie Bars: (several of the ingredients are used multiple times in layers)
Granny smith apples
Sugar, granulated and brown
Cinnamon, nutmeg
AP flour
Vanilla
Butter
Oats
Salt
Easy Salted Caramel Sauce recipe (optional), for the caramel sauce you need these ingredients:
Sugar
Butter
Water
Heavy cream
Salt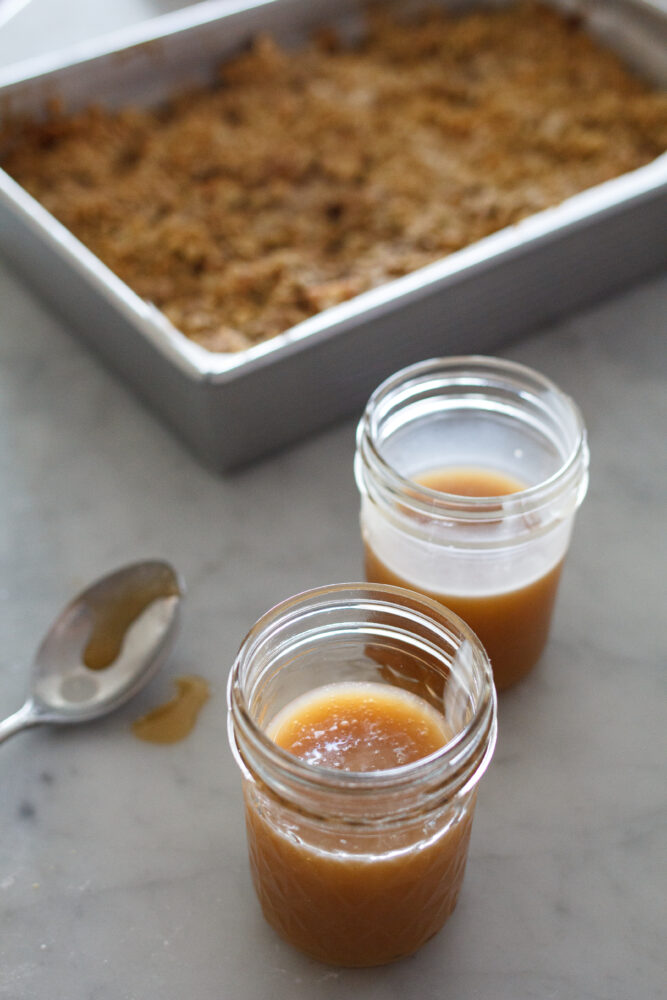 Do apple bars need to be refrigerated?
Apple Pie Bars are best made and eaten on the same day. They can be frozen, but the texture changes just a bit. The moisture in the apples tends to make the crust a bit soggy after freezing and thawing. It is best to refrigerate any leftovers!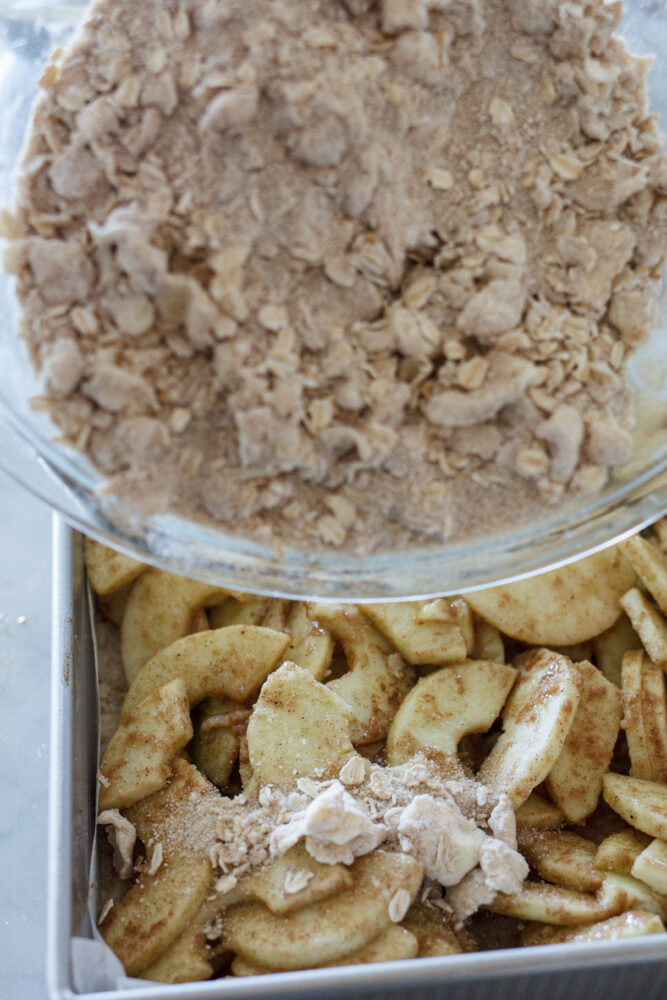 I know if you give this recipe a try you might seriously consider NOT making pie this holiday season because it's so easy to make and the flavors are practically identical to traditional apple pie! It still seems more like a dessert bar to me, than a pie, either way, I know you're going to fall in love with this recipe!
I can't wait to see photos make sure to tag @Abountifulkitchen on Instagram when you share!
Best Apple Pie Bars with Salted Caramel Sauce
The Best Apple Pie Bars start with a shortbread crust, fresh apple filling and an oat crumble top. Our Salted Caramel Sauce is the perfect way to finish this dessert off!
Total Time
2
hours
15
minutes
Ingredients
Apple Filling:
6

medium Granny Smith apples

cored, peeled and sliced

¼

cup

sugar

¼

cup

brown sugar

packed

¼

cup

flour

1

teaspoon

cinnamon

¼

teaspoon

nutmeg
Crumble Topping:
¾

cup

oats

Old Fashioned

¾

cup

flour

1

cup

brown sugar

packed

½

teaspoon

cinnamon

½

cup

butter

softened and cubed
Crust:
1 ½

cups

flour

⅓

cup

sugar

1

teaspoon

vanilla

½

teaspoon

cinnamon

½

teaspoon

salt

¾

cup

butter

melted
Instructions
Preheat oven to 350 degrees and set the rack in middle of the oven. Line a 9×13 pan with a sheet of parchment paper. Set aside.
For Filling:
Place prepared apples in a medium size bowl. Pour sugar, brown sugar, flour, cinnamon and nutmeg into the bowl. Toss to coat. Set aside.
For Crumble Topping:
Combine oats, flour, brown sugar and cinnamon into a mixing bowl. Cut the butter into pieces and add to dry ingredients. Using a pastry cutter, fork or hands, cut butter into dry ingredients until it forms small crumbles. Set aside.
For Crust:
Place flour, sugar, vanilla, cinnamon and salt in a medium size bowl. Add melted butter to dry ingredients and mix well to combine. Press dough into a parchment lined pan.

Bake at 350º for 10 minutes. Remove from oven.
Assemble, cool and serve suggestions:
Spoon the apple filling on top of the baked crust (no need to let the crust cool). Spread apples into an even layer covering the crust. Do not pat down the apples, they will settle while baking. Sprinkle crumble layer on top of the apple filling, distributing crumble all the way to the corners of the pan. Bake for 45-55 minutes or until the crumble topping is golden brown and the apples are fork tender.

Remove from the oven and allow to cool completely before cutting and serving. Serve with salted caramel sauce (optional) and ice cream, or without topping.
Recipe Notes
We like Granny Smith apples best in this recipe.
The caramel sauce (below)  is not necessary, but adds so much to this dessert!  The caramel sauce can be drizzled over the top of bars or spooned on individual pieces. 
The recipe calls for allowing the bars to cool completely before serving, which makes it easier to serve if the bars are served as a pick up item. If serving the bars with caramel sauce, they may be served warm using a small spatula. 
For make-ahead up to 3 days for crust and crumble: Make the crumble layer, store in fridge in a covered container. Make the crust layer, bake and let cool, cover let sit on countertop for up to 3 days or freeze and thaw before proceeding. Caramel can be made a week ahead, store covered in fridge. Let come to room temp or heat and stir before using. 
Any leftover bars are best stored, covered in the fridge. 
Easy Salted Caramel Sauce
One pan and 15 minutes to make this delicious homemade salted caramel sauce!
Ingredients
1

cup

sugar

1/4

cup

water

6

tablespoons

unsalted butter

1/2

cup

heavy whipping cream

1

teaspoon

vanilla

1/2

teaspoon

sea salt
Instructions
Combine sugar and water in a medium to large heavy saucepan over medium high heat. Cook until the sugar is completely dissolved, about 3-4 minutes.

Add butter, and let melt.

Bring mixture to a boil and continue cooking without stirring. The mixture will turn a golden amber color after about 7-9 minutes. This happens quickly, so do not leave the kitchen! Once the caramel reaches this color, remove from heat.

Carefully add the whipping cream to the pan. The mixture will bubble up quite a bit. Using a long handle whisk, carefully whisk until smooth. Add vanilla and salt and whisk again. The mixture will thicken as it cools. Store in a glass container, in the fridge for 1-2 weeks covered.
Recipe Notes
Make sure to use a large enough pan to make caramel! Once the cream is added, the mixture grows quite a bit in the pan and will overflow if the pan is too small. 
A small Mason jar or other heat proof glass works well for storage.