Looking for a delicious, beginner-level apple pie? If you want to make apple pie, but are hesitant to handle a top crust, you're going to love this recipe! Our Easy Apple Crumble Pie is filled with fresh apples, spices, and a brown sugar topping that is sure to make everyone want one more slice!
Less stress, Easy Crumble topped Pie
Apple Crumble Pie takes less time and effort than a traditional two-crust apple pie. Make the bottom crust, fill with the apple mixture and top with crumble. No rolling out a second crust, or sealing the crust layers together, or worries about the top crust getting too browned! Easy as pie.
Apple Crumble for Non-Pie Lovers
Crumble topped pies are for those who are less than enthusiastic about pie! The crumble topping completely changes an ordinary apple pie into something special. I have always been a huge fan of crust, so apple crumble has never been high on my list of must-make pies. After years of requests for an apple pie with a crumble topping, last summer I decided it was time!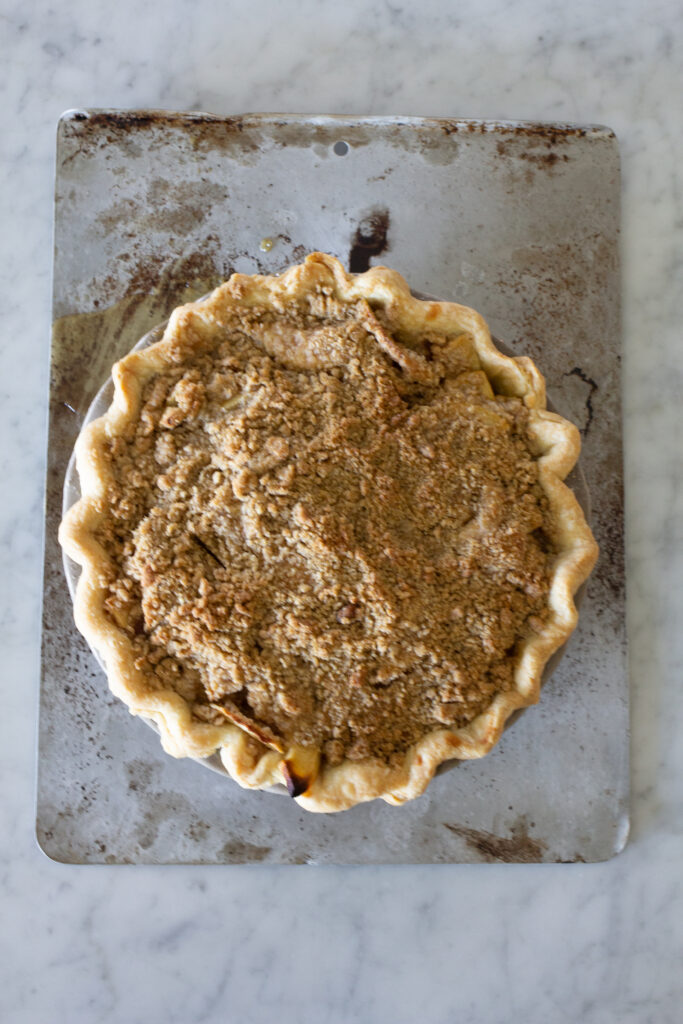 Simple Apple Crumble Topping
As we tested and tried methods for making apple crumble pie, I became more of a fan. I think the simplicity of the crumble topped pie won me over. I do love a good crumble topping. This one is not too heavy, and not too skimpy. Lots of buttery, crumbly goodness in every last bite. Crumble topping can be made in a bowl by hand or in a food processor in seconds.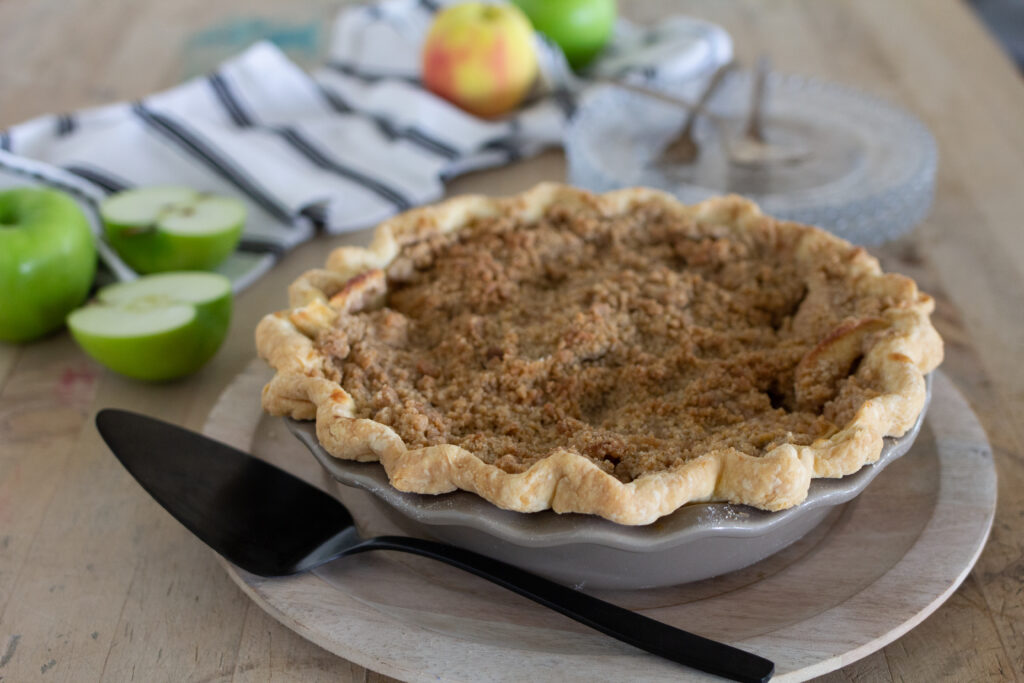 What is the difference between Dutch Apple Pie and Apple Crumble Pie?
Yes, there is a difference! Dutch apple pie brings together sugar, spices and cream for the apple filling (look for a Dutch apple pie coming in the new year!). Apple Crumble Pie combines a flaky crust, fresh apples, sugar and spices, and an easy-to-mix-together crumble. Honestly, it is the closest thing to apple crisp I have made, only nestled in a flaky pie crust.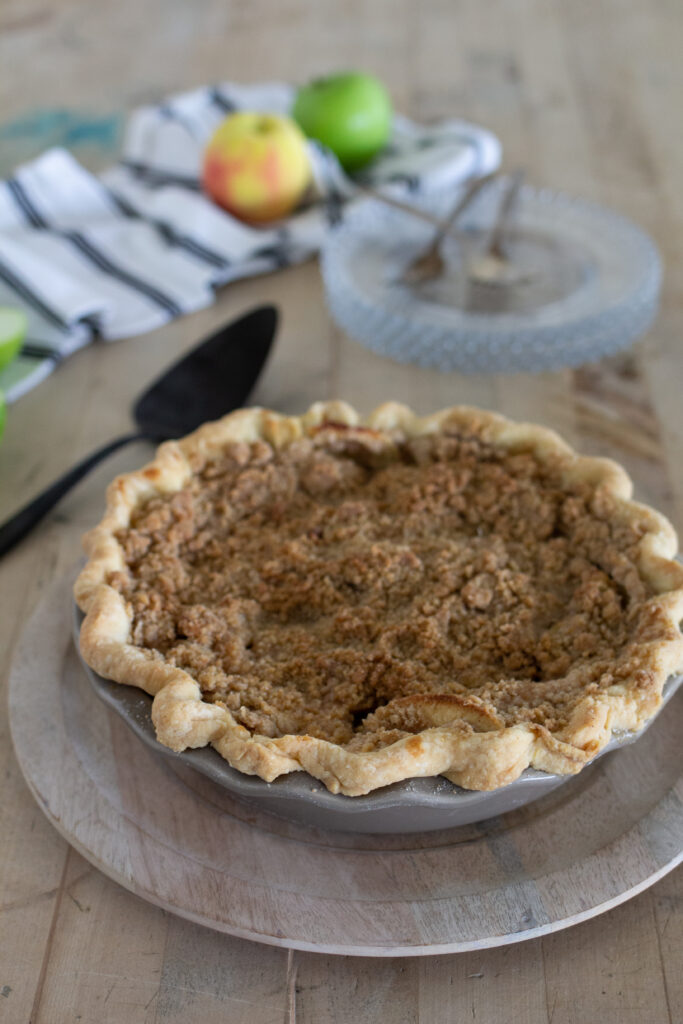 How we make Apple Crumble Pie
Make crust and place in pie pan
Combine all crumble ingredients- set aside
Mix sliced apples with sugar and spices
Fill pie with apple mixture
Evenly spread crumble on top of apple mixture
Bake, cool, and enjoy!
Other Apple Pie Recipes
Over the years I have made hundreds of apple pies. Here are three of my favorite recipes. If you like a bit of tart in your apple pie? Try our Fresh Apple Cranberry Pie. Sweet and salty lover? Salted Caramel Apple Pie with Streusel Topping is filled with caramel and apples. If you love traditional apple pie with the most flaky crust ever, try this recipe for the Best Easy Apple Pie.
Easy Apple Crumble Pie
A beginner pie made with fresh apples and a crumble topping.
Total Time
3
hours
20
minutes
Ingredients
Crumble Topping
1

cup

all-purpose flour

⅓

cup

granulated

white sugar

⅓

cup

packed dark or light brown sugar

1

teaspoon

ground cinnamon

Pinch

salt

1

stick unsalted butter

cut into pieces, room temperature
Apple Filling
3

pounds

mixed apples, peeled and sliced 1/4 inch thick

Granny Smith

1/3

cup

granulated sugar

1/3

cup

packed light brown sugar

2

tablespoons

all-purpose flour

1

tablespoon

fresh lemon juice

½

teaspoon

ground cinnamon

½

teaspoon

nutmeg

optional

2

tablespoons

unsalted butter

cut into small cubes
Instructions
Make the crust and place in a 9 ½ inch pie plate. Refrigerate or freeze while preparing pie ingredients, or overnight. See recipe notes for pastry recipe.
Make crumble topping:
Mix the flour, granulated sugar, brown sugar, cinnamon and salt in a medium bowl. Cut the butter into the sugar mixture with hands or using a pastry cutter. A food processor may also be used, only pulse for a few seconds, do not over mix! Set aside. If the kitchen is warm, place the crumble mixture in the refrigerator.
Make the filling:
Preheat the oven to 375 degrees and place one rack on the lowest setting in the oven, and the other rack in the top third of the oven.

Mix the apples, granulated and brown sugar, flour, lemon juice, cinnamon, and nutmeg in a large bowl.
Assembly and baking:
Spoon the filling into the chilled pie crust. Do not pack the filling, or the pie will take longer to bake!

Place the cut up pieces of butter on top of the apples, evenly distributing the butter over the apples.

Dump the crumb mixture on top and spread evenly.

Place the pie on a foil lined baking sheet (to catch any drips).

Bake on the lowest rack at 375 for 50-60 minutes or until the top is golden and the apples are bubbly. If needed, place the pie on the upper rack for the last 10 minutes of baking if the pie isn't browned enough on top.
Recipe Notes
For the flakiest pie crust, use this recipe. Each recipe makes two 9-inch crusts. One-half the recipe or make two single crusts and freeze one for later. 
1 lb of apples = approximately 3 small apples (lunchbox size) before peeled and cored. For this recipe you will need about 9 small apples or about 7 medium to large.
The best apples for this pie are Granny Smith, Honeycrisp or Pink Lady. Or a combination!
This pie may be frozen and baked later. Follow instructions for making and assembly. Wrap pie in Saran Wrap. Make sure pie is wrapped well to avoid freezer burn or drying out! Remove from the freezer for 30 minutes before baking. When ready to bake, preheat the oven for a full 30 minutes to 375. Place pie on bottom rack for 50 minutes. Reduce temperature to 350 degrees and bake an additional 15-20 minutes or until apples are bubbly.
If baking the pie ahead and freezing, wrap after cooled, freeze. The day before serving, thaw in the refrigerator for one day, then let sit at room temperature, uncovered for at least two hours before serving.