You can make homemade Kung Pao Chicken in your kitchen in minutes! You won't believe how easy it is to make Better Than Takeout Kung Pao Chicken at home in less time than you can call for delivery.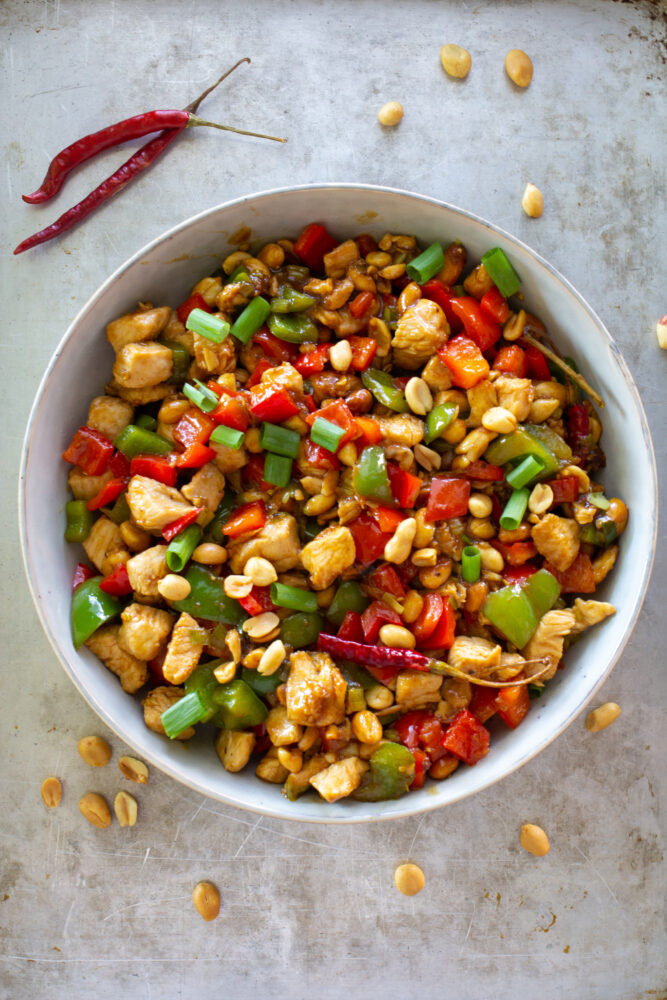 Have I ever told you the story about staying inside for 70, yes SEVENTY days while in lockdown in Spain during our missionary service? During that time, we lived in downtown Palma, on the beautiful island of Mallorca. It was quite an experience living in a foreign city, locked down without access to anything except the grocery store and a pharmacy. No car rides. No restaurants for take out. No delivery. Just Grant, me, and a piso (apartment) full of food.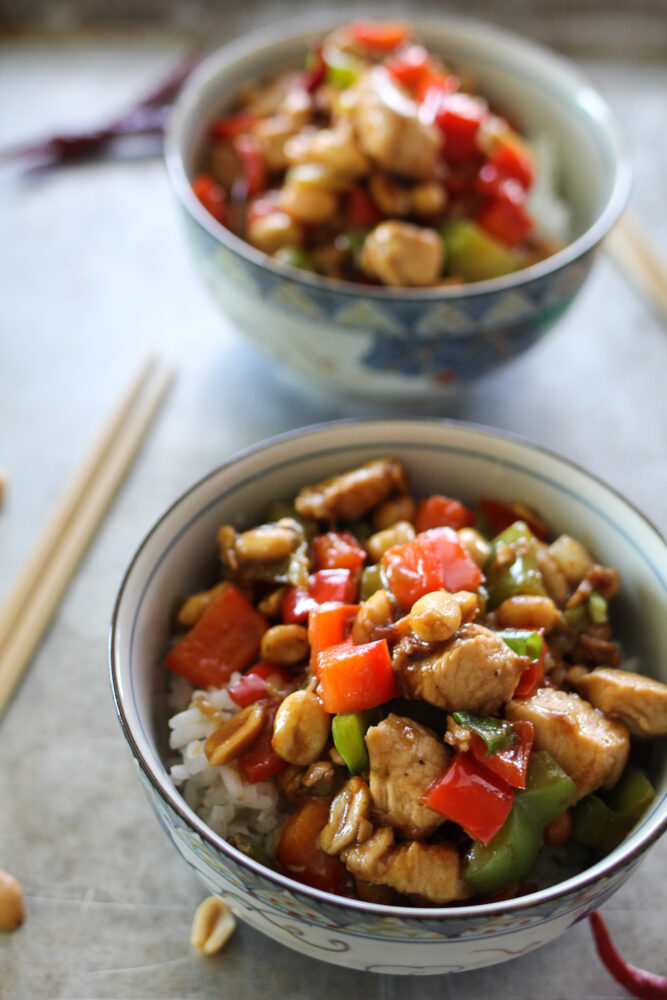 After craving my favorite Asian dishes for weeks, I made this tasty Chinese dish at home. I was pleasantly surprised to find I could make Kung Pao Chicken at home that tasted better than take out!
What is Kung Pao Chicken?
Kung Pao Chicken is a well known Chinese dish made of chicken, peanuts, vegetables and dried chili peppers. Often, people spell this dish "Kung Pow Chicken". This recipe comes from the Sichuan aka Szechuan (second largest) Province in south-west China. Depending on the province, this dish ranges from mildly hot to extra spicy!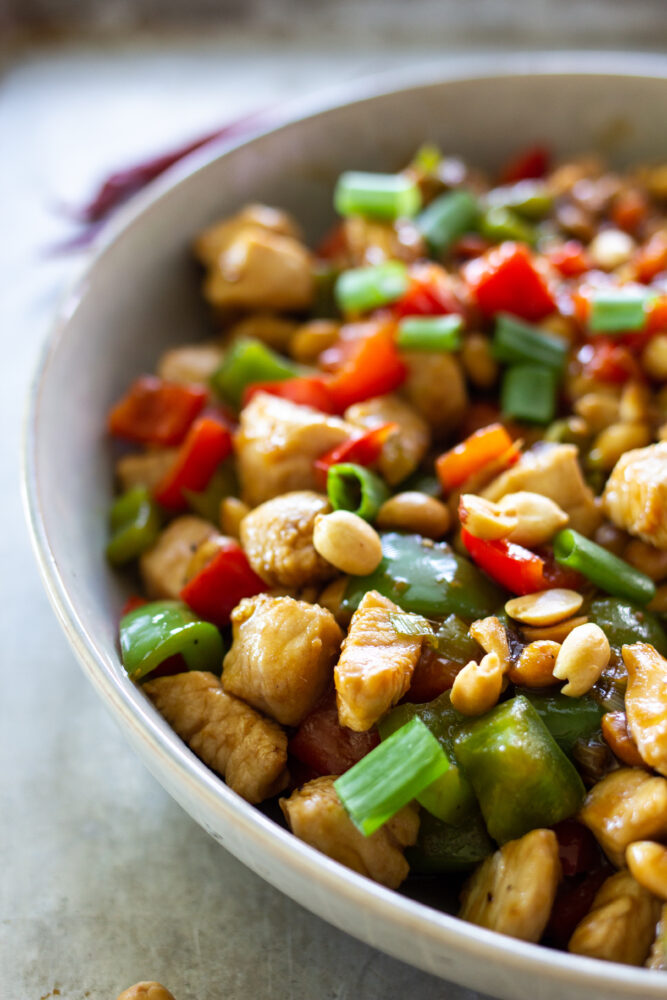 The sauce for Kung Pao Chicken also varies according to the cook and the region in which it is made. Traditionally, Kung Pao sauce is made of a combination of the following ingredients: chili peppers, oil, chicken broth, soy sauce, garlic, ginger, cornstarch, Hoisin Sauce, and vinegar. While this is not traditionally a super saucy dish, there is enough sauce to enjoy with rice! I highly recommend serving this dish with white or Perfect Instant Pot Brown Rice!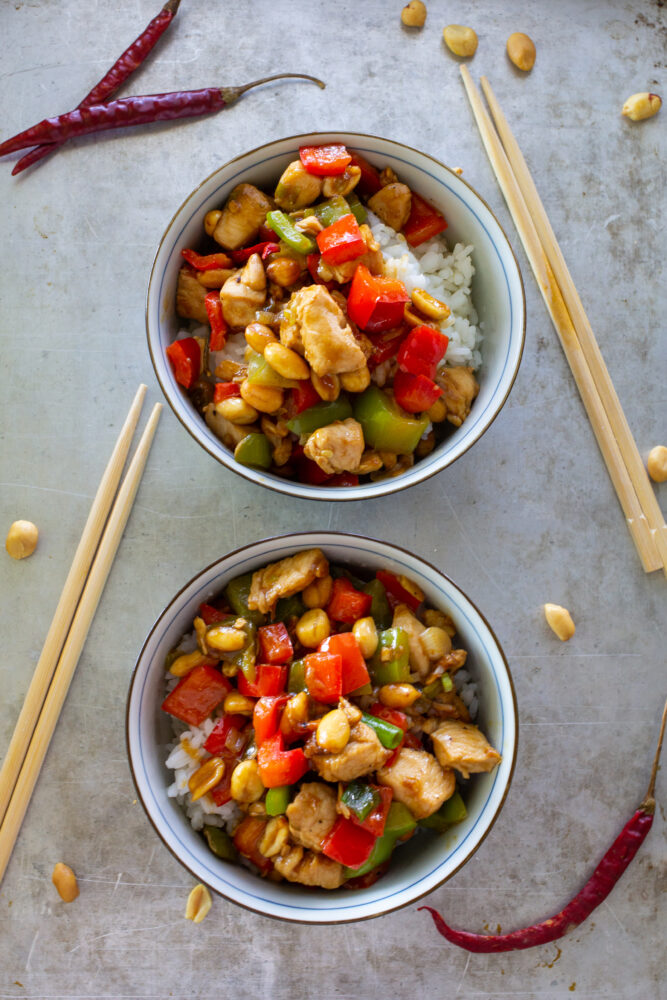 Family-friendly version of Kung Pao Chicken
If your family loves Chinese food, they will love this recipe for Kung Pao Chicken. It is family-friendly in more ways than one. First, it is easy to make in minutes for a quick dinner. This recipe is also pantry friendly. Most of the shelf stable ingredients are basic pantry items. Traditional Kung Pao Chicken includes Hoisin Sauce. It is an option to throw some Hoisin into the Kung Pao sauce, but not necessary to make a great tasting Kung Pao Chicken!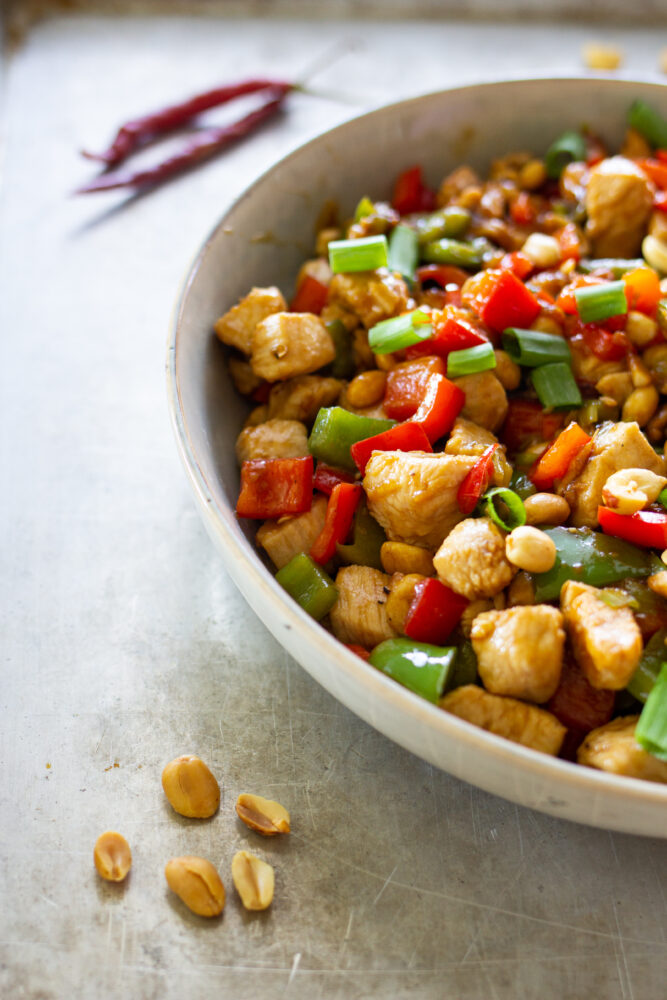 Included in the instructions are options for adding the chili peppers, and controlling the amount of heat in this recipe. If you have young kids who don't love spicy food, it is easy to tone this recipe down or completely leave out the heat (chilies)! I am not a huge lover of spice, but I love this recipe. I make this mildly spicy and give Grant a little dish of crushed peppers on the side so he can increase the heat level in his serving!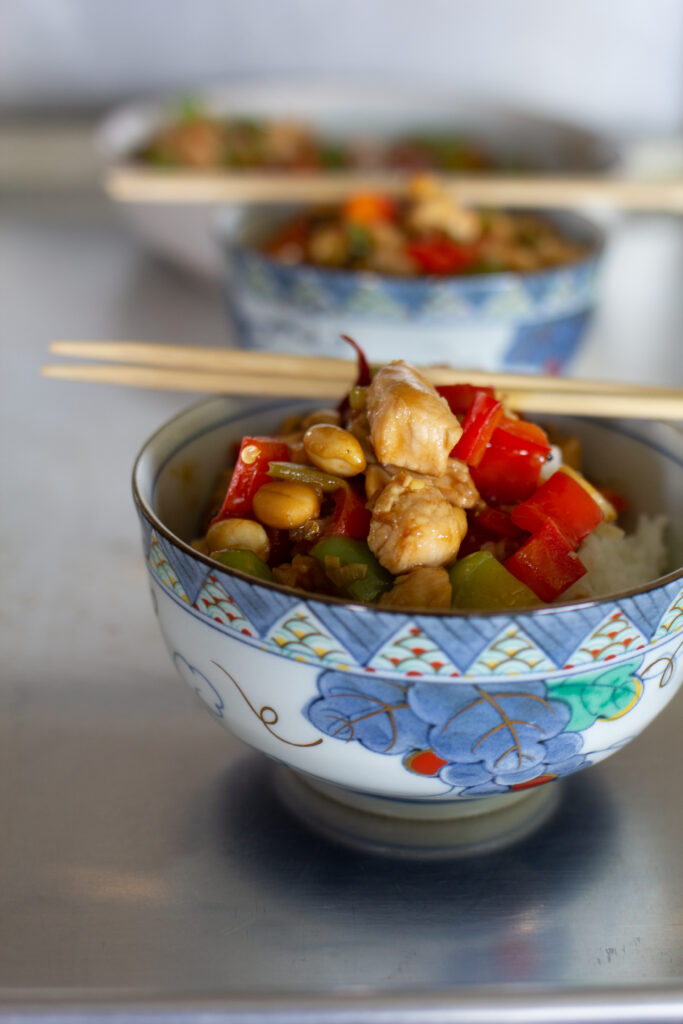 How to make Kung Pao Chicken:
Early in day or just before starting chicken, cook rice and set aside.
Combine marinade ingredients. Add chicken to the marinade.
Mix together sauce ingredients in a bowl. Set aside.
In a pan over high heat, add oil, then chicken and cook for two to three minutes, remove and set aside.
Add vegetables and ginger. Stir fry over high heat.
Add sauce, cook and then add chicken back to pan and remaining ingredients.
Serve while hot with cooked rice.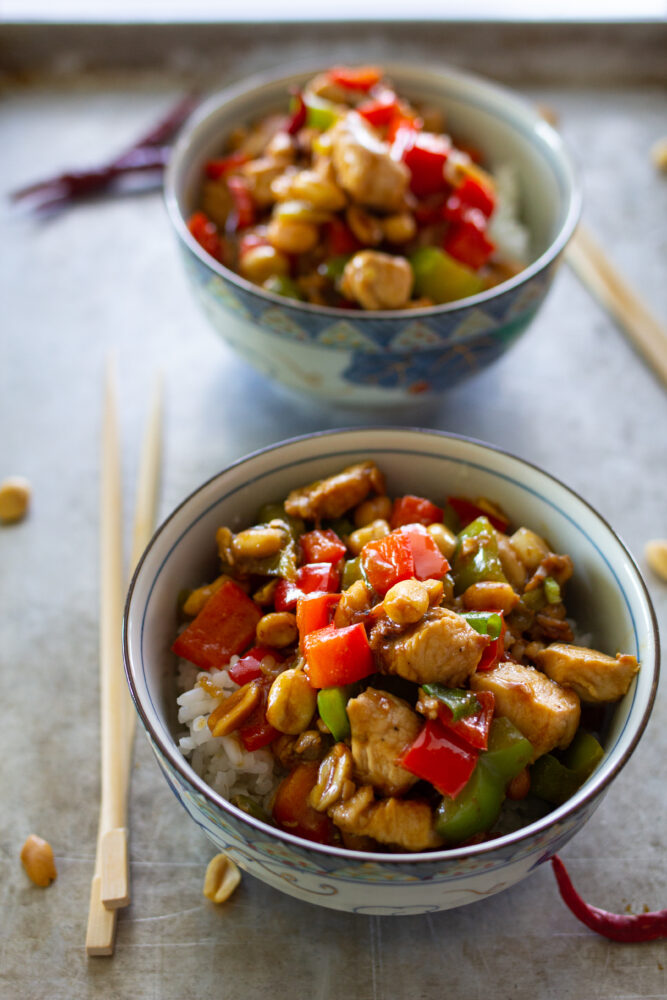 You will love this easy to make dish! Once you try Better than Takeout Kung Pao Chicken, you will never want to order out for Chinese again. I'll share my homemade Pan fried Chow Mein and Broccoli Beef (also lockdown inspired) recipes soon!
Better than Takeout Kung Pao Chicken
This quick and easy version of Kung Pao Chicken will keep you coming back for more and wonder why you ever ordered take-out!
Servings
4
generous 1 cup servings
Ingredients
cooked rice to serve with chicken
Chicken and Marinade
1

tablespoon

soy sauce

2

teaspoons

cornstarch

2

teaspoons

cider or rice vinegar

rice vinegar is sold in the Asian section of grocery

1

lb

chicken, cut into 1 inch cubes

I prefer chicken breast meat
Sauce
2

tablespoons

Balsamic vinegar or 1 tablespoon Hoisin Sauce (see notes)

2

tablespoons

soy sauce

2

tablespoons

sesame oil

1

tablespoon

granulated (white) sugar

2

teaspoons

cornstarch
Vegetables and Nuts
3-4

tablespoons

vegetable or peanut oil for stir fry

1

chopped red pepper about 1 1/2 cups

1

chopped green pepper or small zucchini about 1 1/2 cups

1

bunch

green onions, chopped white and green

1

teaspoon

minced ginger or 1/2 teaspoon dry ginger

2-3

dried chili peppers or 1/2 -1 teaspoon dry red pepper flakes

see recipe notes

1/2

cup

peanuts or cashews
Instructions
Early in day or just before prepping the chicken and vegetables, cook rice and set aside to serve with Kung Pao Chicken.

Combine marinade ingredients in a small bowl. Mix with a fork or whisk until cornstarch is dissolved. Cut the chicken and add to the bowl of marinade. Set aside on counter for 15 minutes or in fridge (covered) for up to one day.

Mix together sauce ingredients in a bowl. Set aside. 

Heat a 12 inch skillet or wok over medium-high heat. Add 1 tablespoon vegetable oil or peanut oil to pan. Tilt pan to allow oil to coat pan. Add chicken to pan, cook for two to three minutes. Remove chicken from pan to plate, set aside.

Turn heat to high. Add another 2 tablespoons oil to pan. When hot, carefully add chopped red pepper, green pepper or zucchini. Stir fry over high heat for about 2-3 minutes until barely soft. Turn heat down to medium and add chopped green onions and ginger. Stir fry for one minute. Add sauce and add back in the chicken, cook until the sauce thickens and is bubbly-about 2 minutes.

Add the dried red chilies or crushed red pepper. Stir and add peanuts or cashews.

Serve immediately with cooked rice. 
Recipe Notes
If you like spice, toast the red chili pepper in oil before cooking the vegetables. Remove pepper and set aside. When ready to stir fry the veggies or chicken, crush the dried peppers into the vegetable or chicken as you are stir frying. 
I like to use white chicken breast meat, some prefer dark meat, such as chicken thighs. Either works!
If you are making this ahead, follow recipe instructions, but do not cook the vegetables for more than a minute. When ready to serve, heat up until sauce is bubbly, add 2-3 tablespoons of water to thin sauce. Add nuts just before serving. 
The sauce and marinade can be made ahead, as well as chopping the chicken and vegetables. Place each in a separate container until ready to cook. The chicken and the marinade may be placed in one bowl, covered for up to 24 hours. 
A variety of vegetables may be used in this recipe. Any type of onion, any color of pepper (green, red, orange, yellow), zucchini, or celery. You will need about 3 cups total and about 1/2 cup of onion if substituting for the green onions.