Easy Beef and Vegetable Stew is filled with tender chunks of beef, carrots, onions and potatoes to create the ultimate cold weather meal in a bowl!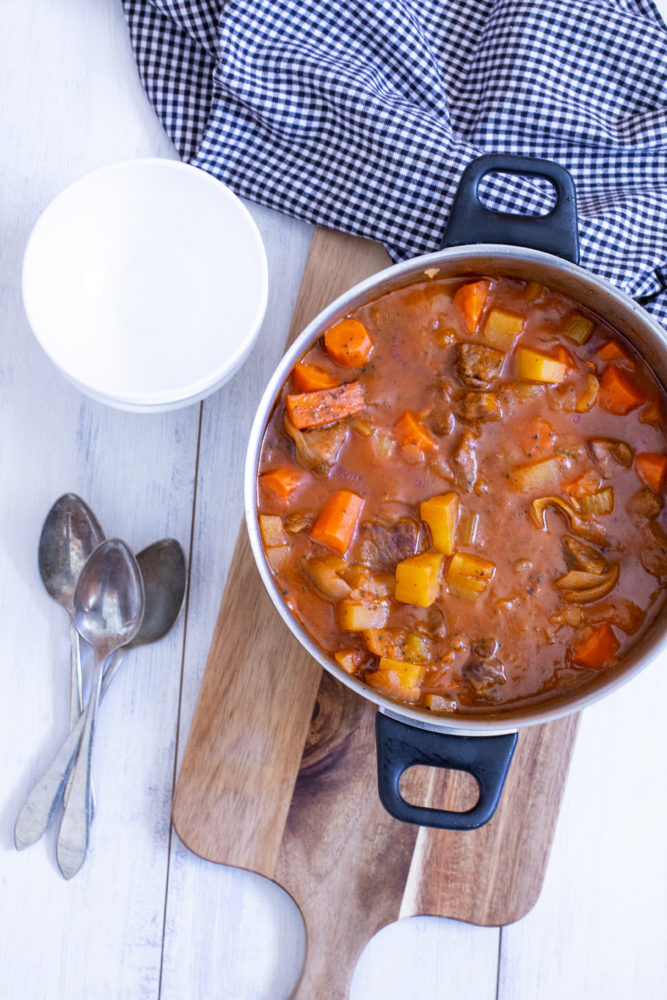 Every year in January, I get the urge to make stew. Easy Beef and Vegetable Stew is the ultimate one dish meal! It is easy to make, filling and a meal everyone will love. Let's get started!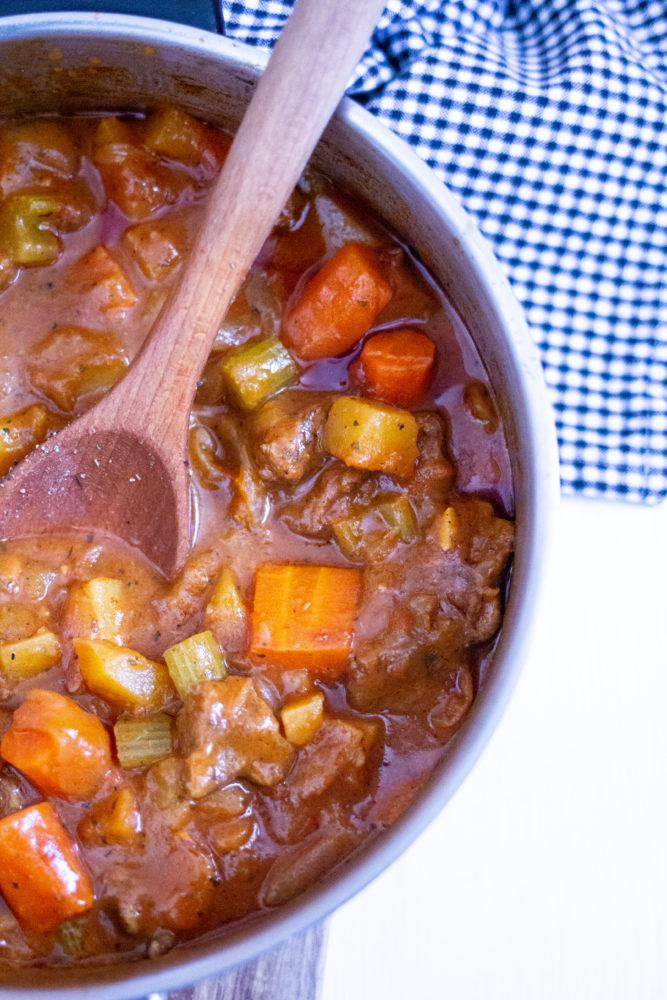 How to make the best beef stew
Advice for making the best beef stew include my #1 tip- brown the meat. This critical step adds so much flavor to the stew and only takes a few minutes! I like to use a little bit of olive oil, season the meat generously and toss in flour before browning.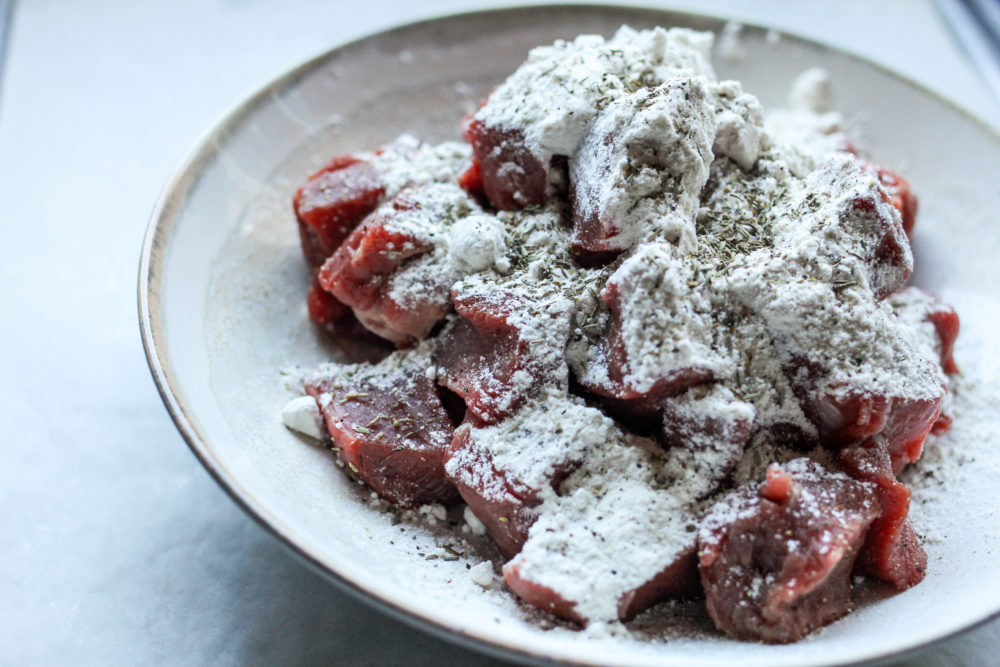 The flour helps create the rich, thick stew we all love. If you have a gluten allergy, skip the flour and simply mix a tablespoon of cornstarch into some of the broth before adding to the stew (see detailed instructions in recipe notes).
What size should I cut my vegetables for stew?
I like to cut my veggies into chunks that are not too big and not too small. If the pieces are too small, they tend to cook before the meat and end up mushy. If they are cut too big, I feel like (especially the potatoes) have a tendency to overshadow the star of the stew, which should be the tender chunks of beef! I aim for chunks that are about 1-1 1/2 inches in size in stew. I mean, I don't get out the ruler, but that is my target size.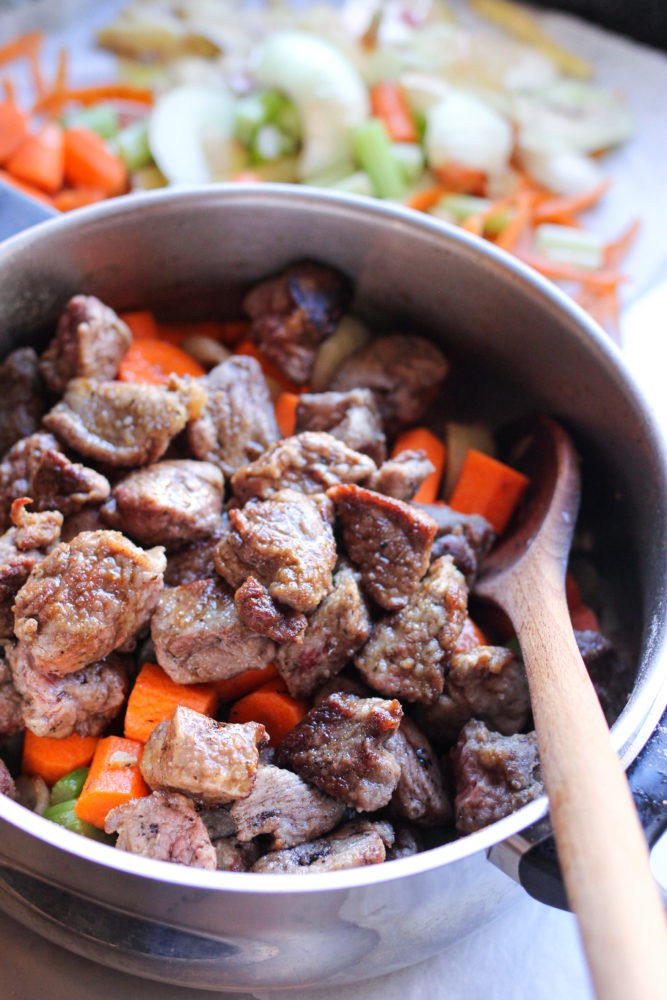 How to make flavorful stew
For rich stew, first, brown the meat and set aside, then brown the veggies in a little more olive oil. Letting the veggies have a chance to cook for a minute in the oil also gives a little extra flavor to the finished stew and more depth to the overall flavor of the dish. The secret ingredient is Worcestershire Sauce. It helps gives the stew a beautiful color and there is something magical about Worcestershire and beef together!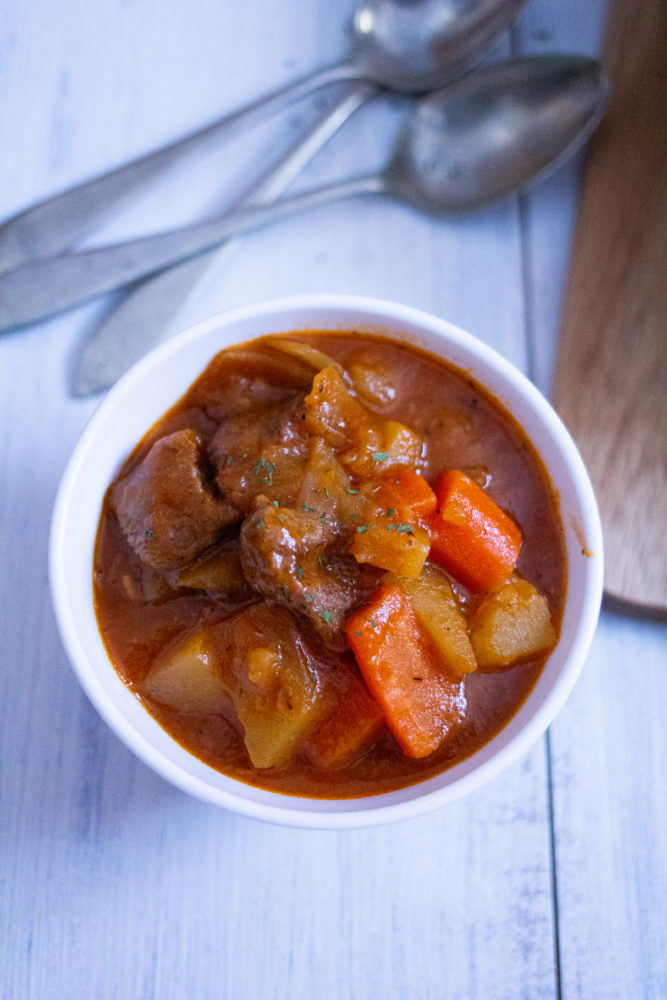 Boy Scout Stew
This stew recipe was one I used for years when our boys were younger. Back then, we called it "Boy Scout Stew" and I made it for many, many campouts! The kids often took the ingredients partially prepared and then cooked over the fire at scout camp. Boy Scout Stew can easily be doubled to feed a crowd! I also have made this for pioneer trek a time or two.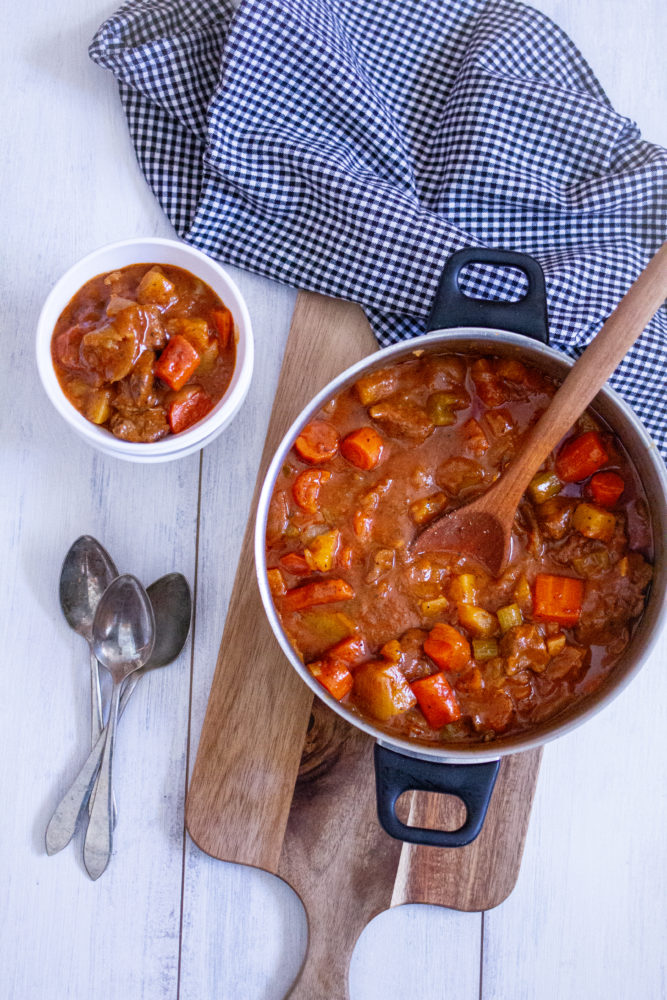 Make it your way…
The ingredients for Easy Beef and Vegetable Stew can be modified to include green beans, peas, corn, and mushrooms as well. I often throw in a bag of baby carrots already peeled and prepared instead of peeling and chopping carrots. I have used white, yellow, purple and sweet onions in this recipe, any type of onion will work!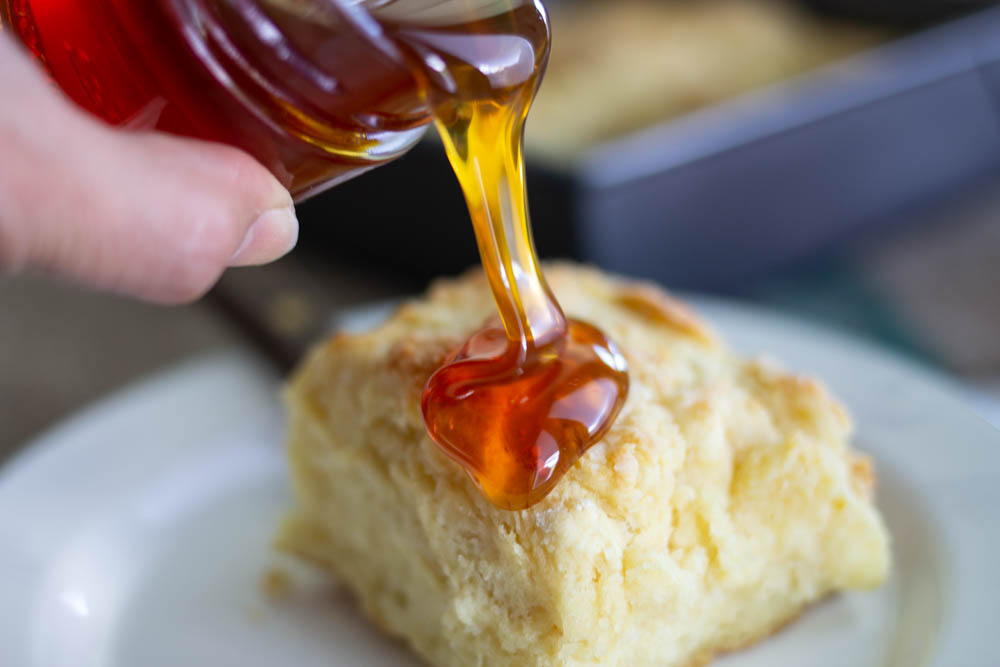 If you have an Instant Pot, I love this recipe for Instant Pot Beef Stew. And I cannot eat stew without making biscuits. I always make Best Butter Biscuits or Ruth's Diner Mile High Biscuits. Both are winners with this stew recipe.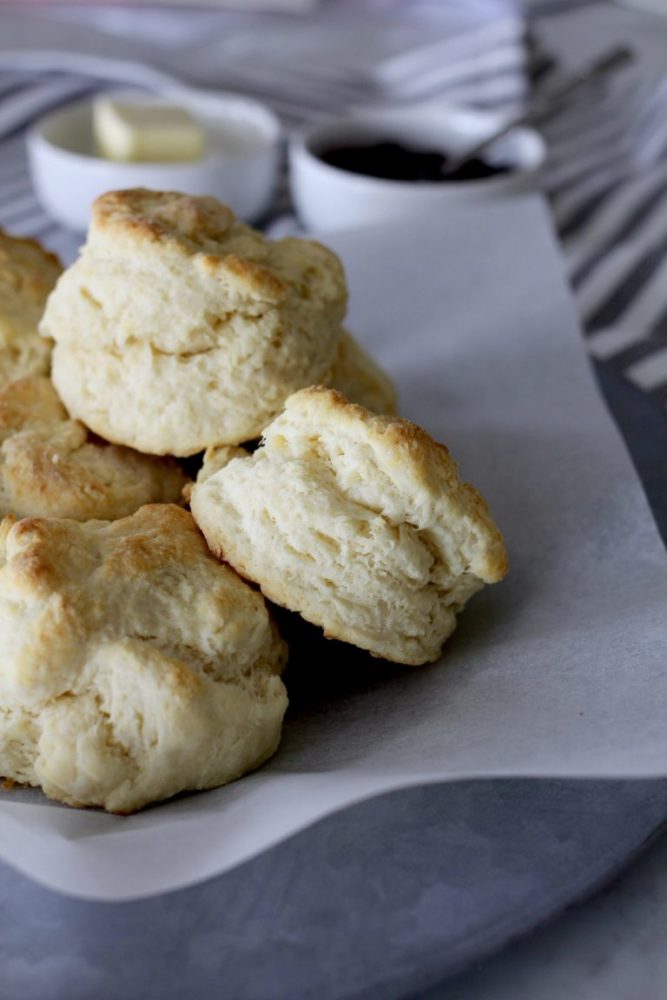 I hope you love this easy to make beef stew recipe as much as we do!
Easy Beef and Vegetable Stew
A Bountiful Kitchen
Cook Time
1
hour
45
minutes
Total Time
1
hour
55
minutes
Ingredients
1.5

lbs

beef brisket or chuck

cut into 2 inch cubes

1

tablespoon

dried thyme or oregano or Italian seasoning

1

teaspoon

salt

1

teaspoon

ground black pepper

1/4

cup

all purpose flour

3-4

tablespoons

olive oil

1

large onion, about 2 cups

cut in to chunks

1

clove

garlic

minced

3-4

tablespoons

Worcestershire Sauce

3

cups

V-8 vegetable juice cocktail or tomato juice

1

cup

water

1

Knorr beef homestyle stock cups

4.6 oz each, or 2 beef bullion cubes

1 1/2

cups

celery

cut into 1 inch pieces

1 1/2

cups

carrots

cut into 1-1/2 inch pieces or baby carrots, whole

3

medium potatoes (about 2 cups)

scrubbed clean and cut into one inch cubes
Instructions
Place meat in a medium bowl, season with thyme or dry herbs, salt and pepper. Toss with 1/4 cup flour.

Place the oil in a large stock pot or dutch oven. Heat to medium high.

Working in two batches, cook the meat until it is browned on all sides, when the batch is browned, remove and set aside on plate. If there is flour leftover, sprinkle it over the last batch of meat browning in the pan. Remove any remaining meat from pan, set aside.

Keeping heat on medium high, add more oil if needed. Place the onions into the pan on stove, cooking and stirring occasionally, until the onions are softened, about 5 minutes.

Reduce the heat to medium. Add the garlic and cook for about one minute.

Return the meat to the pan with the onions and garlic. Add Worcestershire sauce. Cook for about 1 minute.

Add the tomato or V-8 juice, water, beef flavoring, celery, carrots and potatoes.

Cover and simmer on low heat for 1 1/2 hours, stirring occasionally. Taste and add more seasoning if needed.
Recipe Notes
Knorr Homestyle Stock cups are sold in the soup section of most grocery stores. They come in a package with 4 cups enclosed. I like the flavor of the Knorr brand. You may use Swanson brand liquid flavoring, regular bullion cubes, or other types of stock flavoring if desired.
For stew, purchase beef that is a lower quality cut, such as brisket or chuck. This will produce the best result when slow cooking.
If you have a gluten allergy, skip tossing the flour into the meat. Just go ahead and brown the meat without the flour. Follow the directions for making the stew.  When adding water at the end of recipe, reserve about 1/2 cup of water and whisk in 1 tablespoon of cornstarch into water in a cup. Add to the stew mixture and stir gently. This will thicken the stew after a minute  or two! 
If you want to skip using cornstarch, get out an immersion blender and place in the pan of stew. Pulse the blender in one or two spots for a second or two. The blended veggies will thicken the stew instantly. 
Slow Cooker Directions: Brown the meat in a pan on stove as directed with flour and seasonings. Place the meat into a slow cooker and add vegetables and seasonings. Make sure to scrape out the bottom of the pan into slow cooker! Add everything except the water to the slow cooker. Cook on low heat for 6-8 hours or until vegetables and meat are tender. If needed, add water. 
This recipe is easily doubled for a crowd.