How do you feel about cauliflower? It seems most people have a love/ hate relationship with this vegetable. If you're not a fan, I've got a delicious side dish that's going to change your mind. Our Easy Cheesy Baked Cauliflower Casserole is creamy and rich and everything you imagine cauliflower to be on its very best day!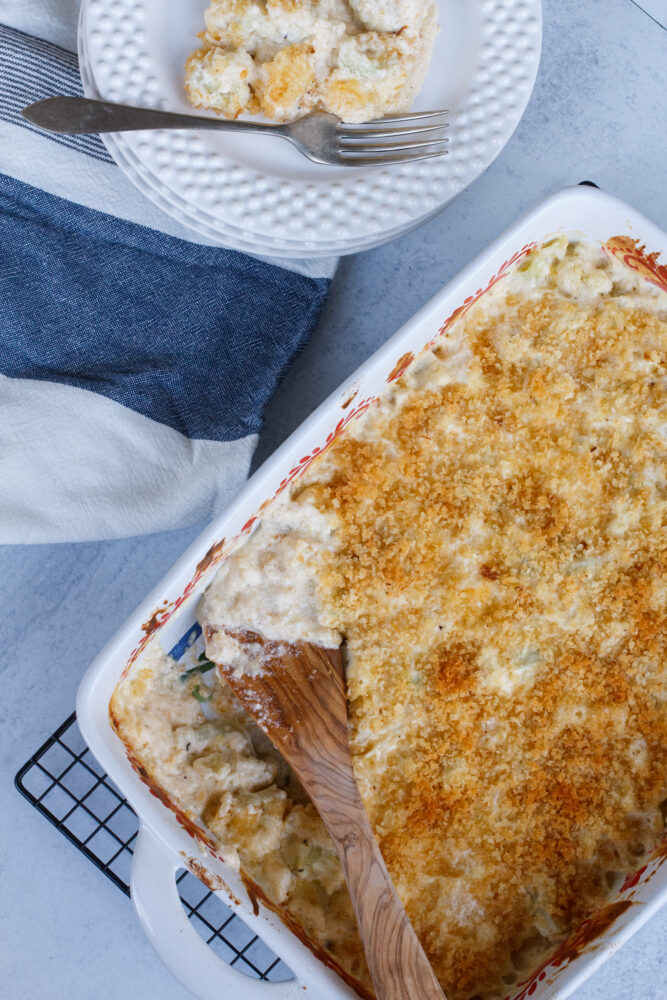 Other than roasted cauliflower, what's the best way to cook this oddly shaped vegetable that smells like, well, maybe we won't discuss what it smells like here, but not a super pleasant aroma. Why do we not have emojis available on Word Press??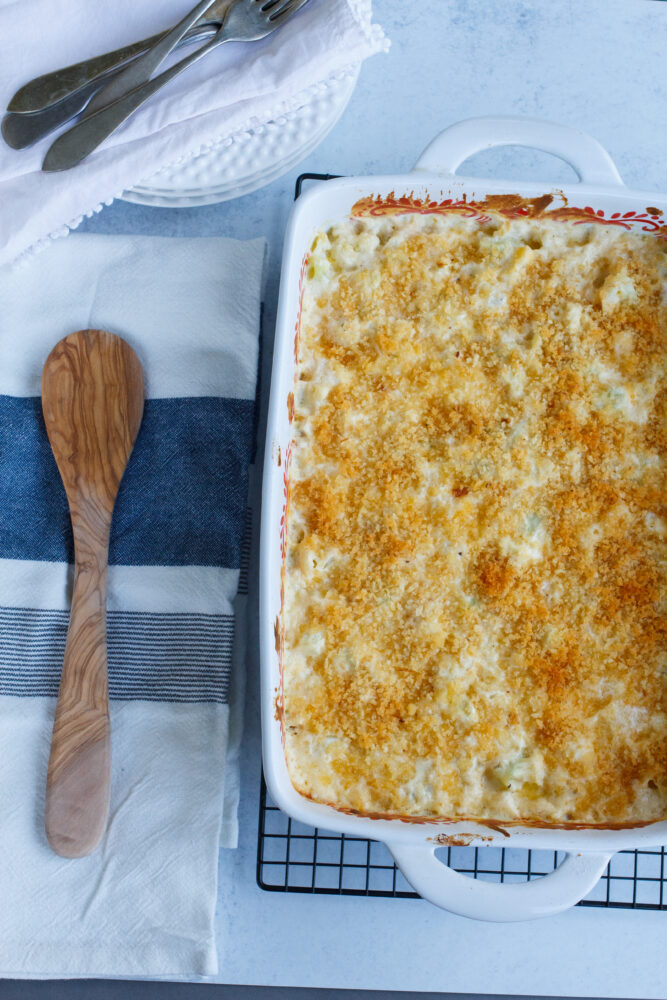 This easy recipe makes cauliflower irresistible as a side dish, especially for holiday meals without being overly rich or heavy. Our Cauliflower Bake works in a 9×13, or a casserole dish, or can even be made stovetop. It also works with half broccoli and half cauliflower if you want to add a little color to this dish!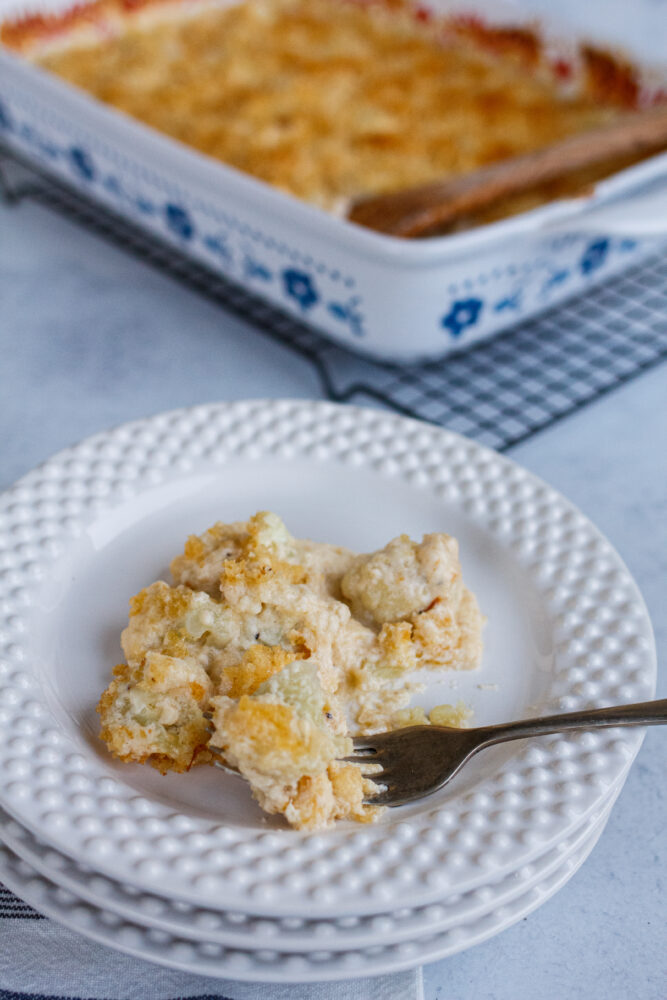 I tested a few different methods in recipe development, some were too cheesy, some too bland, some so saucy, which simply drown the cauliflower to the point where I could only taste sauce, and wondered if a vegetable really was under all of the sauce and cheese! This recipe came about after I flipped over the bag of cauliflower and read instructions for cooking. Guess what? I tried ( with a few modifications) the back of package recipe and loved it!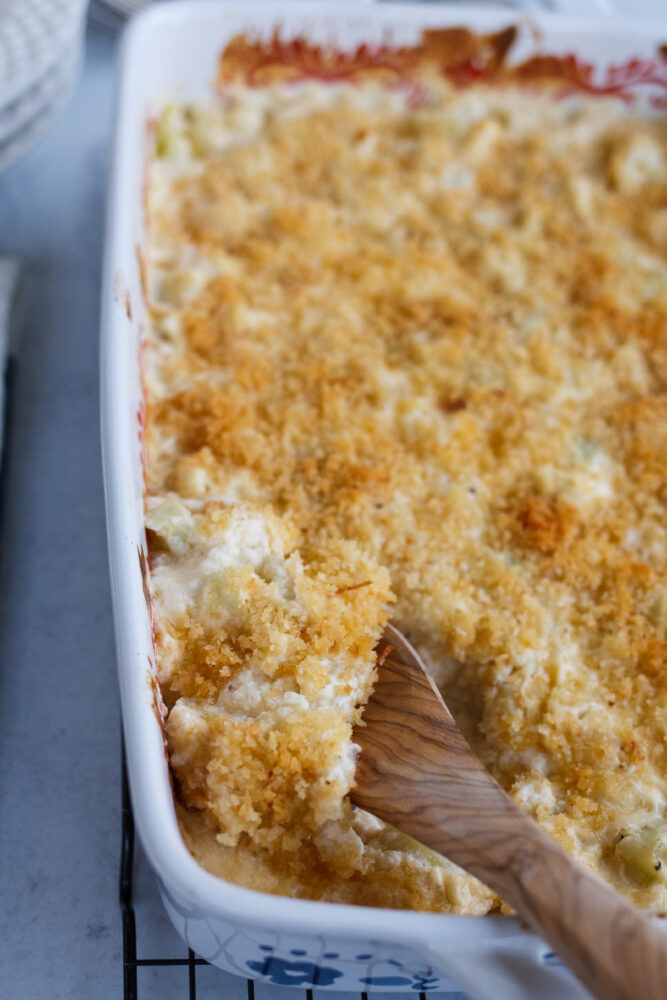 I know you and your family are going to fall in love with our Easy Cheesy Baked Cauliflower Casserole. Give it a try and leave a comment below!
Easy Cheesy Baked Cauliflower Casserole
Cauliflower in a not too cheesy sauce, topped with crunchy Panko bread crumbs baked to perfection!
Ingredients
2

lbs

cauliflower in bag previously trimmed

washed, trimmed of long stems, cut or broken into small florets

8

tablespoons

butter, divided

¼

cup

flour

1 ½

teaspoons

salt

½

teaspoon

pepper

¼

teaspoon

paprika

1

teaspoon

Dijon mustard

3-5

drops of hot pepper sauce

Tabasco to taste

3

cups

half and half

plus extra milk if making ahead-see recipe notes

½

cup

Panko bread crumbs with 1 tablespoon butter.

1 1/2

cups

grated cheese: cheddar, white cheddar, Colby jack
Instructions
Place prepared cauliflower in a dish. If desired, microwave or steam the cauliflower until barely fork tender (usually about 3 minutes in a microwave, covered). This will reduce the cook time in oven to 20 minutes. If microwaving the cauliflower, drain any excess water from dish. Set aside.

Preheat oven to 350 degrees.

Melt 7 tablespoons butter in a saucepan over medium heat. Add ¼ cup of flour and whisk. Let cook for about 3 minutes. The flour and butter will begin to bubble. Whisk to smooth.

Add salt, pepper, paprika, Dijon mustard and hot sauce and whisk again. Let cook for about a minute. The mixture may clump, but will be come smooth after adding liquid.

Add the half and half a cup at a time, whisking after each cup. Lower heat to prevent scorching. When the sauce hot and bubbly, add cheese and whisk until melted. Pour sauce over prepared cauliflower in dish. If making this dish ahead, add an extra 1/4 cup of half and half or milk to the liquid.

Wipe out or wash the pan used to make the sauce.

Melt the remaining 1 tablespoon of butter sprinkle in the pan. Sprinkle ½ cup of Panko bread crumbs into the pan, use a spatula to move the crumbs around so they don't burn while cooking. Sauté until golden. Sprinkle the crumbs over the cauliflower if baking right away, if not, reserve for later.

Bake uncovered for 20-30 mins until bubbly and golden brown. Serve immediately or keep warm for up to one hour.
Recipe Notes
Make-ahead instructions: Prepare cauliflower. Make sauce adding extra liquid as stated in recipe for make-ahead, reserving crumbs until baking. Set in fridge up to 2 days ahead. When ready to bake, remove from fridge, let sit on countertop for an hour. Bake as directed, but allow for an extra 15 minutes to ensure the casserole is heated through.
This recipe is easily halved.
Cauliflower may be purchase at Costco in 2 lb bags
Once the cauliflower is washed and cut, the cauliflower may be placed in a bowl and microwaved for 2-3 minutes with ¼ cup of water. Cover the bowl before microwaving. This method will cut down on the bake time by about 10 minutes. 
If making this dish stovetop, cook the cauliflower in the microwave until fork tender, about 5-6 minutes; or steam on the stovetop. Remove excess water after cooking. Prepare the sauce in the pan, add cauliflower to the pan.  Prepare the Panko crumbs in a sauté pan and set aside until just before serving. When ready to serve, pour cauliflower into a serving dish or right out of the pan and top with Panko crumbs. 
Half broccoli may also be substituted in this recipe.