What is better than soft, homemade raspberry honey butter?? Absolutely nothing! Here's a little known secret. Honey butter takes minutes to make, and today, I'm going to show you how to make raspberry honey butter at home!
The first time I tasted honey butter was when I moved to Utah. I was smitten with this sweet and creamy creation, and thought I had died and gone to heaven after eating honey butter on a warm roll. First, I should say we didn't eat butter growing up. I never even tasted butter (to my knowledge) until I was 18 and living Utah. We were a margarine family and I quickly realized when I was about to embark on my 20's what I had been missing all my life!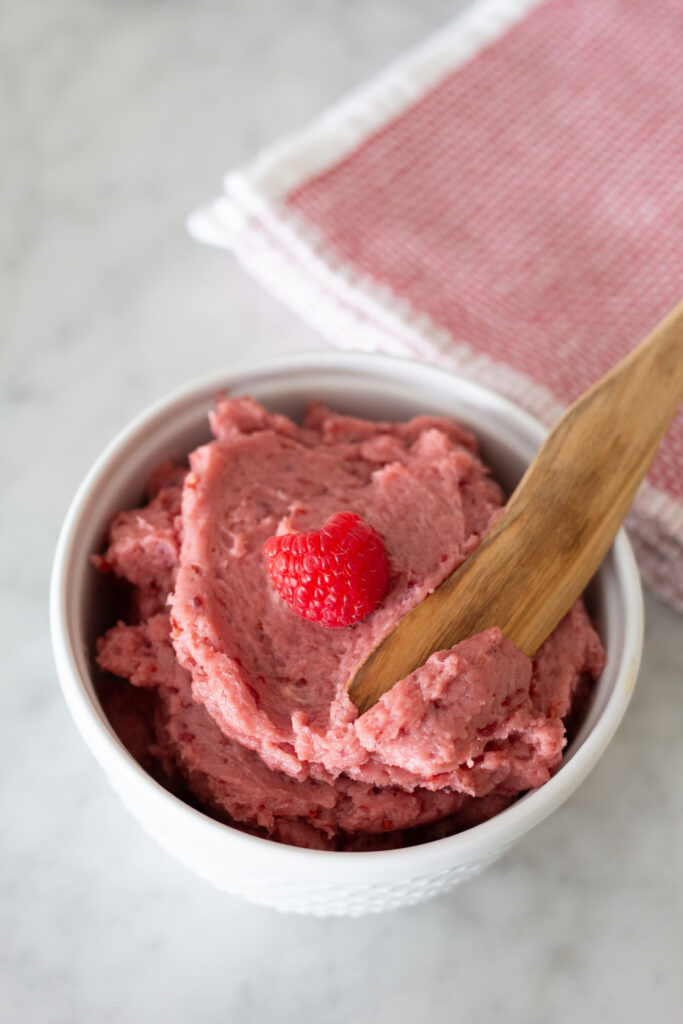 Flavored butters are really easy to make at home. All you need is softened butter, something sweet (jam, honey, fruit or a combination) vanilla, almond or other flavoring (optional), a bowl, a spatula and a good method of whipping the ingredients together. It's so easy to whip up while your bread is baking…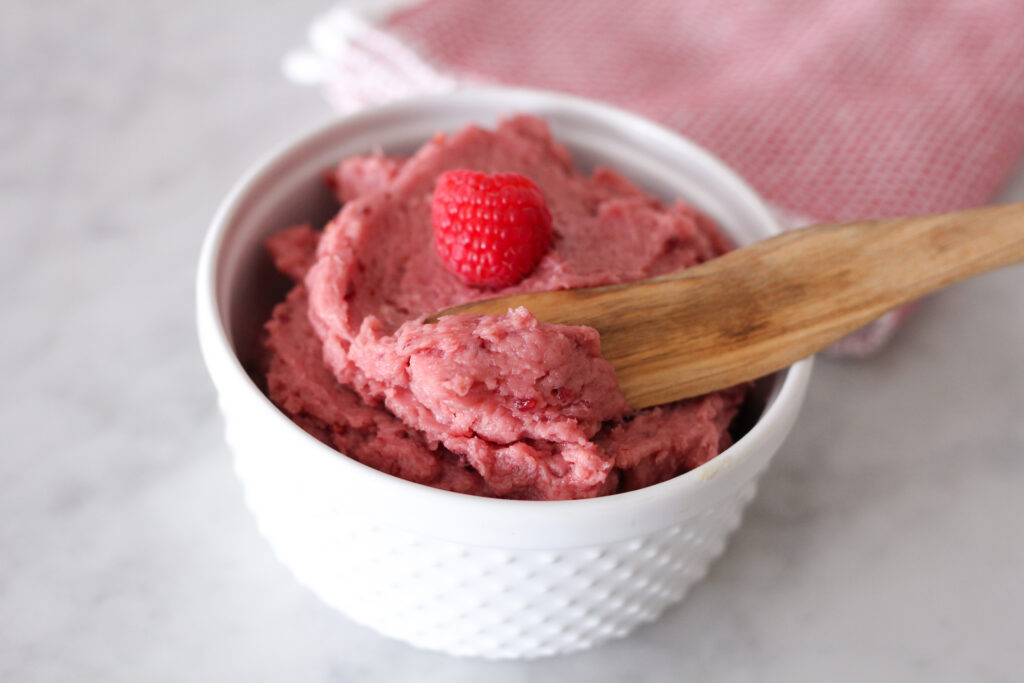 Over the years, I have been asked many times about the Lion House recipe for honey butter and the Maddox recipe for raspberry honey butter. The Lion House is known for their flavored butters, and now that the Lion House is closed (permanently, I've heard), it's difficult to find their famous flavored butter!
How to make the best Raspberry honey butter, and FAQ:
Make sure the butter is softened and not hard. Room temperature works well!
Beat the butter for a full 5 minutes to achieve a fluffy flavored butter.
Jam and honey work best to consistently flavor and sweeten the raspberry butter. Fresh fruit spoils quickly and also can vary in degrees of juiciness, which may cause the butter to be watery.
I have used both seedless jam and jam with seeds. Both work well in this recipe.
If the butter tastes too sweet, add 1 teaspoon of lemon juice to the beaten butter and beat for another minute.
Any type of jam works in this recipe: strawberry, apricot, peach, blueberry, blackberry.
Raspberry honey butter is one of the easiest recipes you will ever make! I highly recommend serving raspberry butter with homemade rolls or bread. Here are a few of my favorite bread recipes with encouragement to liberally apply Raspberry Honey Butter on top of or inside without reservation!
How to Make Raspberry Honey Butter
Ever wondered how to make raspberry honey butter at home? This easy recipe makes delicious homemade raspberry honey butter in minutes!
Ingredients
½

cup

butter room temperature

I use unsalted butter

¼

cup

honey

½

cup

raspberry preserves or jam (with or without seeds)

½

teaspoon

vanilla (optional)
Instructions
Place butter in a bowl and beat on medium high speed for 5 minutes.

Add honey, raspberry jam and vanilla. Beat for an additional two minutes, scraping down sides of bowl as needed.

Scrape into a bowl and serve. Store in refrigerator. When ready to use, remove from refrigerator 30 minutes before serving.
Recipe Notes
I use a large Kitchenaid mixer to make raspberry butter. It is easier for me to make a double batch than a single in the mixer. 
This recipe keeps for one month if refrigerated and covered. 
Remove from refrigerator 30 minutes before serving. 
When serving, I often use a cookie scoop to place the butter in a serving dish.