Sweet Potato, Lentil and Black Bean Taco Bowls were my favorite food storage-friendly recipe during the lockdown last year in Spain!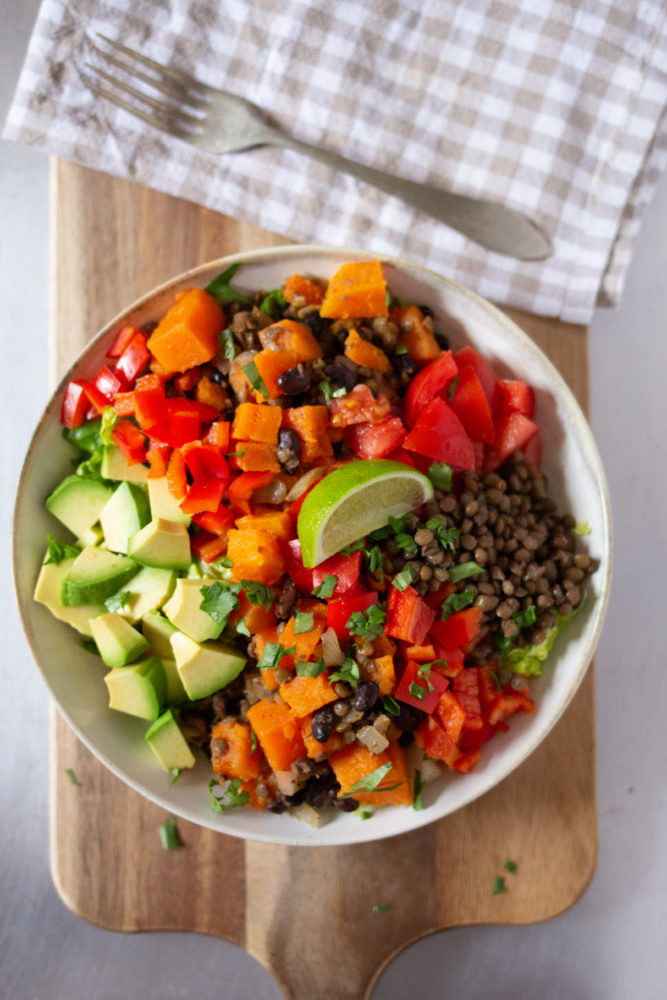 Versatility and options for gluten free, vegetarian and vegan diets
I love the versatility of this recipe. It is adaptable to many different types of diets including gluten free, vegetarian and vegan. When cooking meatless dishes, I think the key to great flavor is spice. I don't mean spicy, just a healthy dose of herbs and spices! I've also found when making recipes including ground turkey, using the right spices makes all the difference!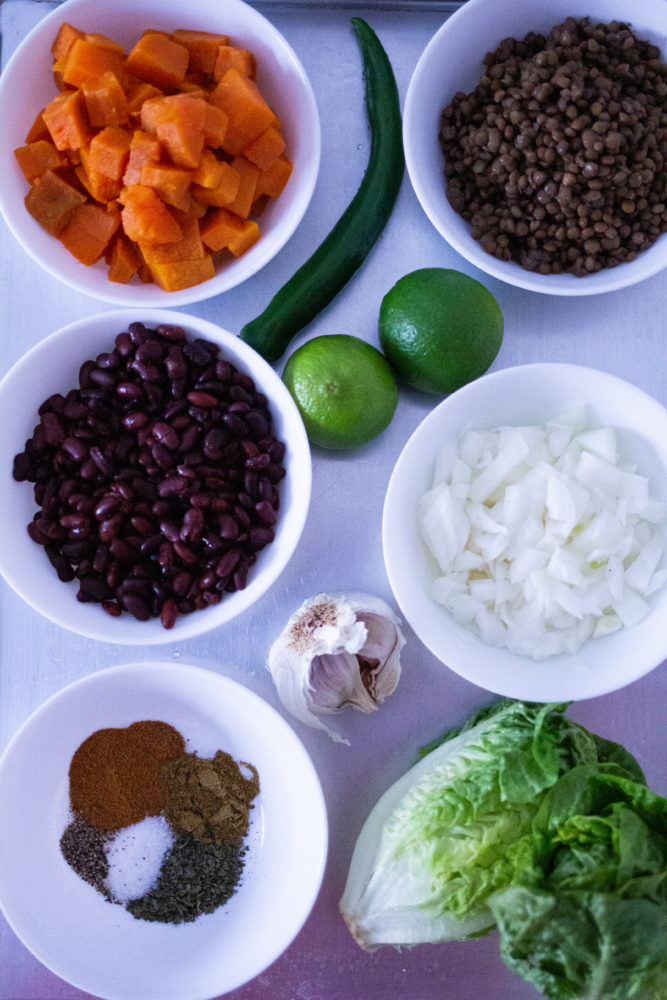 How to use dry food storage in recipes?
Dry lentils, black beans and sweet potatoes are easily stored for long periods of time. While sweet potatoes aren't non-perishable, they do have a long shelf life and don't require refrigeration!
Often times we purchase food storage for emergencies and it sits on the shelf and never gets used! Sometimes it spoils or the date is past expiration before we finally throw it away. The key to not wasting emergency food storage is to make recipes using what you have on-hand and rotate your storage items regularly!
One easy way to do this is take an inventory and make a list of everything you have in your storage. List the contents of your storage by category, then take a look at dates. If you have items that will pass expiration in the next few months, find a way to use those items in meal planning! This post has several ideas for using items that may be in your emergency food storage.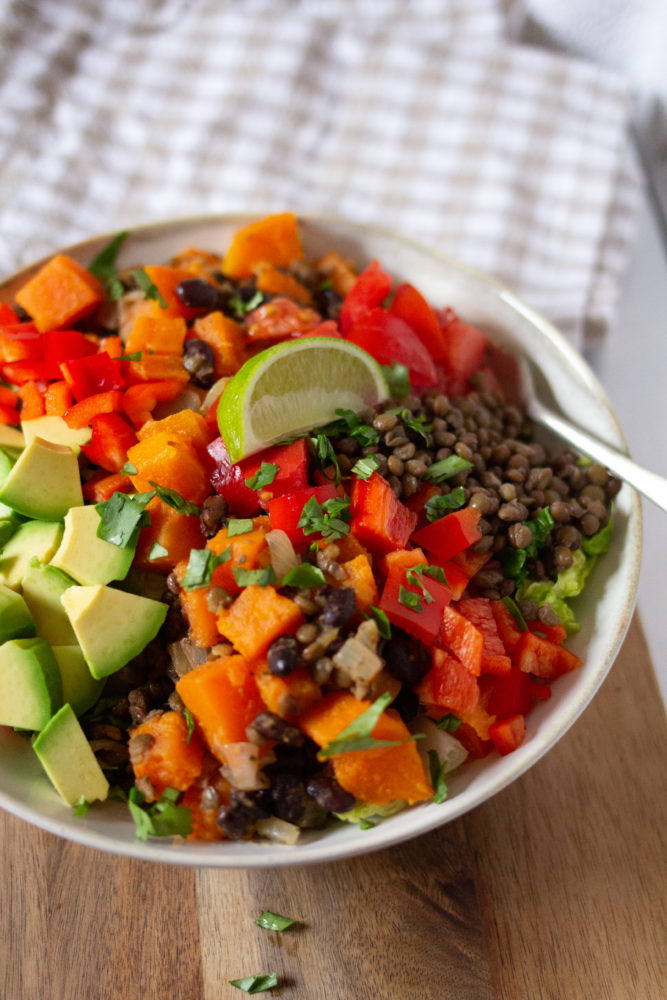 low cost meal
Many of the ingredients in our Sweet Potato, Lentil and Black Bean Taco Bowls are pantry and food storage friendly, which means a relatively low cost meal! If you are into meal prepping for the week, this is the perfect recipe to work into your rotation. If you love rice, add some brown rice to the recipe as well. I love using the Instant Pot for perfect brown rice every time! This recipe can be served hot, room temperature or cold.
recipe options to add meat, pork or poultry
There are so many options available for this basic vegetarian taco recipe! A few are: nachos, tacos on corn (or flour) tortillas, bowls, or burritos. Also if you are a meat lover, a few of our favorite options for adding meat include the following: Tacos Al Pastor, Cafe Rio Sweet Pork, Instant Pot Chicken (how to cook frozen chicken for use in recipes), and this recipe for Flank Steak, or beef pot roast leftovers are a great option for adding meat!
I love to eat Lentil, Sweet Potato and Black Bean Taco Bowls with a good amount of spinach and lettuce in the bowl. I usually spoon some of the lentils plain in the bowl as well with the mixture of cooked black beans and sweet potatoes. Grant prefers this dish on a couple of grilled flour tortillas.
The key to making this easy recipe is preparation! I usually cook the lentils and beans the day before I want to make this meal. Also, the sweet potato can be made a couple of days ahead, diced and refrigerated until ready to assemble the dish. After the prep is done the rest is easy to put together. It's 20 minutes to put this together!
pass the dressing, please
I don't make dressing to go on my Lentil and Sweet Potatoe tacos, because the sweet potatoes and avocados are soft and give the tacos the creamy texture, so I don't miss dressing, BUT if you love dressing, here are three options you will love: Creamy Tomatillo (Cafe Rio style) Dressing; Trader Joes Green Goddess Dressing; or Guacamole Taquero (pictured below).
This recipe is adaptable to family members who love spice, and kids who are opposed to anything spicy! Hope you enjoy this super versatile recipe. Let us know how you make use of your food storage items in the comments below!
Lentil, Sweet Potato and Black Bean Taco Bowls
*If you are cooking dry lentils and beans make sure to prepare those items well in advance of meal. The leftover lentils and beans are perfect for use in quesadillas, salads or enchiladas!
cooking of lentils and beans
3
hours
Total Time
3
hours
20
minutes
Ingredients
1

medium size sweet potato, about 2 cups diced

baked or boiled until fork can easily pierce skin, cooked and cooled completely

1

cup

lentils

dry or 2 cups prepared, drained*

1

cup

black beans

dry or one 14.5 oz can, rinsed and drained*

3

tablespoons

olive oil +2 tablespoons for cooking tortillas

1

onion

white or sweet, about 1 1/2 cups chopped or sliced

1/2

cup

Anaheim pepper

seeded and chopped, optional

1

clove

garlic

minced

1

teaspoon

dry oregano

1

teaspoon

coriander

1

tablespoon

taco seasoning mixn or 1 teaspoon chili powder*

some chili powder is very hot, test a small amount before using

1

teaspoon

each

salt and pepper

1

fresh lime

juiced
additional garnish (optional)
1-2

cups

grated cheese, chopped tomatoes, lettuce or spinach

6-12

tortillas, flour or corn

this recipe will fill 6 regular size tortillas

brown or white rice, cooked for bowls

avocado, chopped or guacamole prepared

1/2

cup

cilantro

chopped

sour cream
Instructions
Before starting recipe, make sure the beans, lentils and sweet potatoes are cooked and prepared for recipe. It is best to do this the day before or earlier in the day! If adding rice or meat, prepare those items ahead as well.
Peel the sweet potato and chop into bite size pieces, set aside.

Prepare the garnish items and set aside.

Over medium high heat in a skillet, pour 3 tablespoons olive oil into pan. Add cut up onion and green Anaheim or Chile pepper (if using). Stir fry for about 3 minutes or until softened. Turn heat to medium to prevent burning the garlic, add garlic, dry oregano, coriander, chili powder (or taco seasoning mix) salt and pepper.

Cook for another 2 minutes, tossing veggies occasionally.

Add 1 cup each of the lentils and black beans to mixture. Turn off heat. Squeeze one fresh lime over the mixture and toss again.

Remove mixture to a bowl to keep warm.

Turn heat back to medium high. Wipe out pan with paper towel. Add 1 tablespoon olive oil to pan. Spread around with spatula.

Cook tortillas on each side until golden.

Place tortillas on plate. You may also use tortilla chips or a plate of rice.

Top each tortilla with about 1/4 cup of lentil mixture, chopped sweet potato, cheese and remaining garnish. Serve immediately.
Recipe Notes
The amount of lentils and black beans if prepared from dry (below) are about double the amount you will need for the recipe. Canned and prepared lentils and black beans also work in this recipe! 
*To cook dry lentils:
1 cup lentils, 4 cups water, or if you like less lentils, half this amount!
Pick thru the lentils and remove any small stones or split lentils. Rinse with cold water. Place lentils in a pan, cover with 4 cups cold water. Bring the pot to a boil and then reduce heat to low, to simmering. Cover the pot and cook with lid on for 20-30 minutes until lentils are tender. Drain. 
*To cook dried beans. "Quick" soak method:
Rinse beans with cold water in pan. Cover beans with water so the water level is about  about 2 inches above the beans. Bring water to a boil. Boil for about 2 minutes. Remove from heat, cover with lid and let stand for 2-4 hours. When finished sitting, drain the beans and rinse again with cold water. To cook, add cold water to cover the beans by 2 inches. Simmer on low for 30 to 60 minutes (add 1 teaspoon of salt if desired) or until beans are softened. This usually takes about 1 hour for me. Drain and season with additional salt to taste.