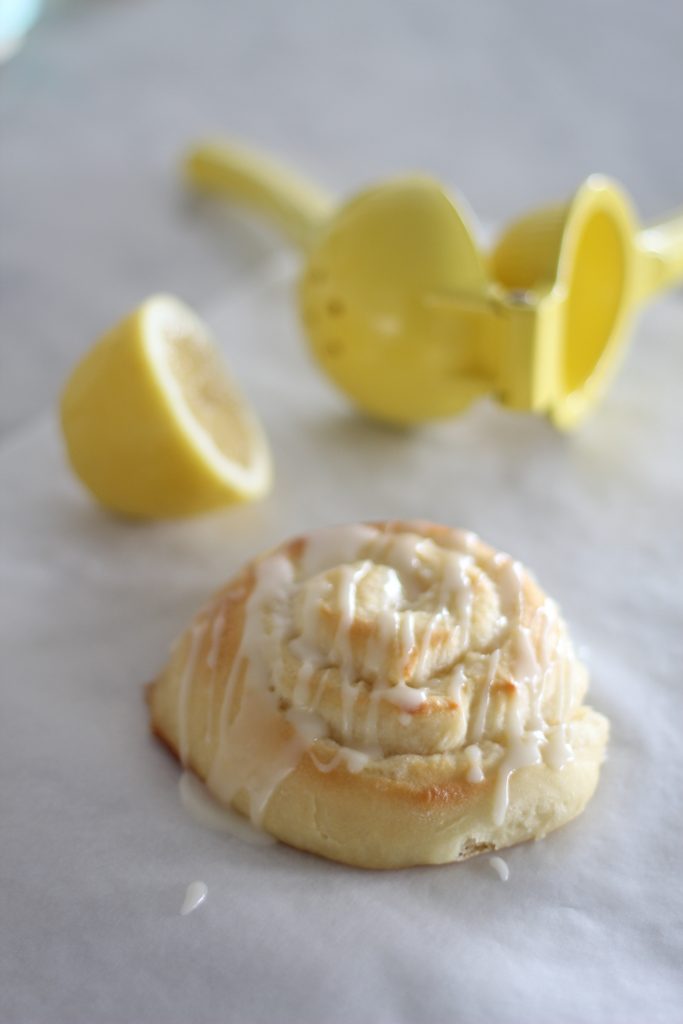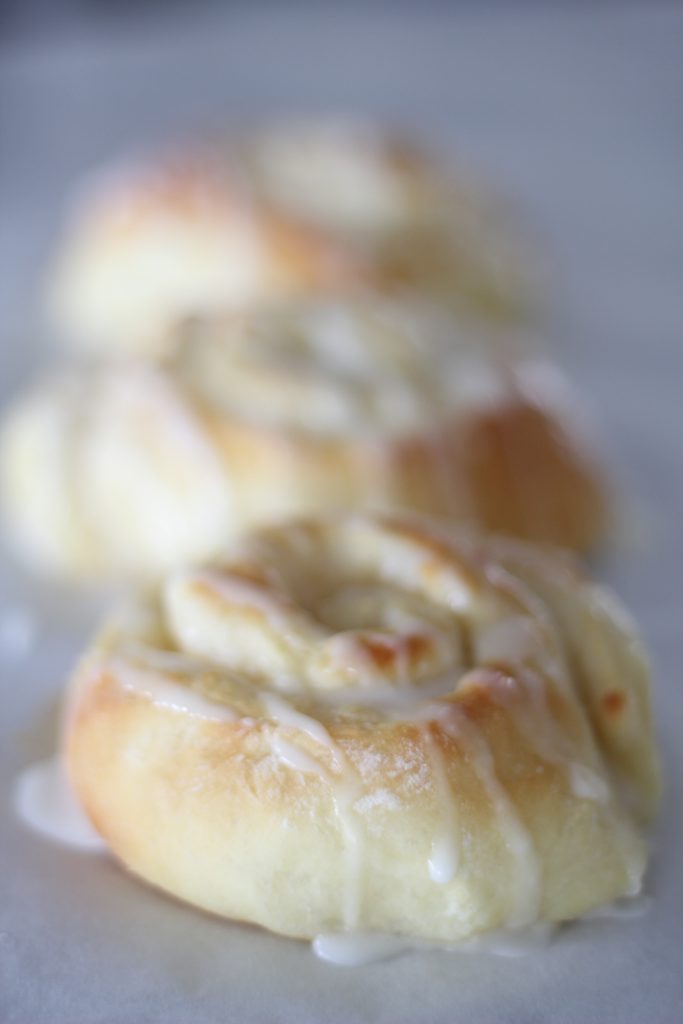 My favorite meal on Easter Sunday is a combination of ham (of course),  egg dishes, salads, rolls and a few sweets! If you're still looking for something sweet to make for your Easter day celebration, we've got you covered with ABK's Fresh Lemon Buns.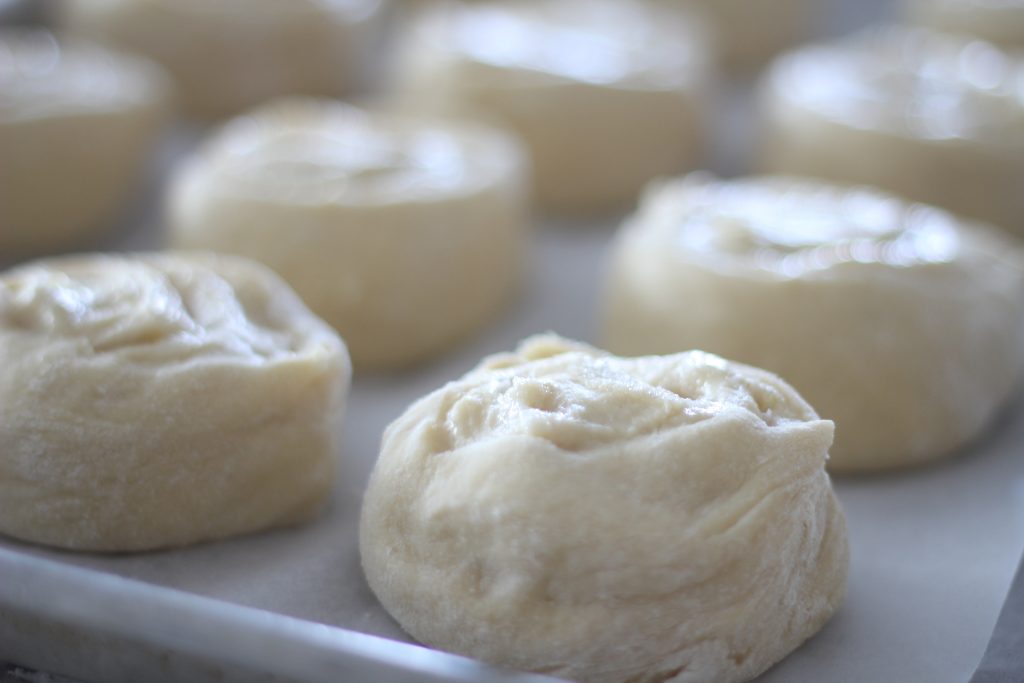 This soft dough is easy to handle and mixes up quickly. After the dough raises the first time,  I roll the dough out in one big piece and then cut into pieces and lay out onto a large jelly roll pan. One more rise and the buns are ready to be baked. That's it!  Whisk together the glaze as you bake. You'll need about three hours start to finish, but most of that time is spent waiting for the dough to raise.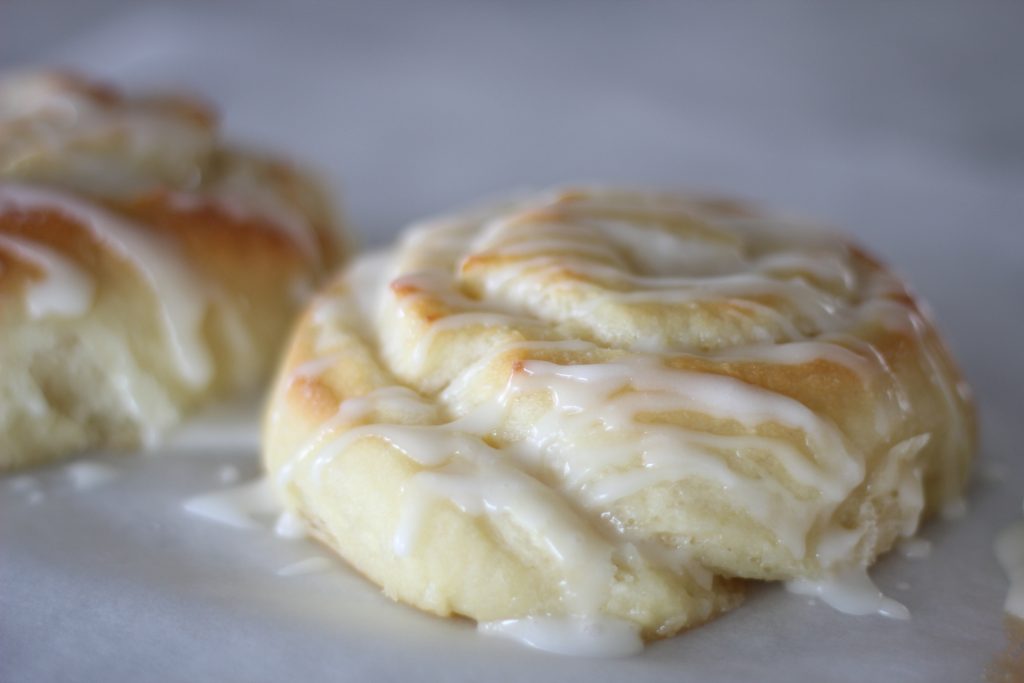 I love the tart and sweet goodness in this homemade bun. I'm guessing you'll be more popular than the Easter bunny when you serve these Fresh Lemon Buns!

Fresh Lemon Buns
Ingredients
2

cups

warm water

1

cup

non fat dry milk powder

2

tablespoons

dry yeast

1

teaspoon

sugar

1

egg

1 egg yolk, beaten

1/3

cup

sugar

1/3

cup

butter

melted

1

teaspoon

vanilla

2

teaspoons

salt

5 -6

cups

all-purpose flour

or bread flour or a mixture see notes
filling:
1/2

cup

butter

room temperature

1/2

cup

granulated sugar

rind of one lemon

grated

1

teaspoon

almond flavoring

optional
glaze:
3

tablespoons

butter

melted

3/4

cup

powdered sugar

juice of one to one and one half lemon

also rind grated* see notes

milk or cream to thin

if needed
Instructions
In large bowl of electric mixer, combine water and milk powder, stir until dissolved.

Sprinkle yeast over warm water and add 1 teaspoon of sugar.

Let sit until yeast bubbles. Add eggs, additional 1/3 cup of sugar, melted butter, vanilla and salt.

Mix on low speed until ingredients are incorporated.

Add 3 cups of the flour. Mix well on low speed for about 2-3 minutes.

Increase speed of mixer for 2 minutes at medium speed.

Add 1 cup more flour; mix on low speed.

Add about 1/4 cup flour at a time until dough loses its shiny appearance and is no longer sticky. *see note about flour.

Scrape dough off sides of bowl.

Cover with plastic wrap and allow to rise in warm place until double in size, about one hour.

After dough has risen, sprinkle cutting board or counter with flour and place dough on floured surface.

Roll out dough into a large rectangle, about 25 long x 8-10 inches wide.

Mix the filing in a small bowl with a fork or spoon until smooth. Spread filing evenly onto rolled out dough.

Roll the dough up as you would for cinnamon rolls. Use a sharp knife to cut off one inch pieces of the dough.

Place the buns on a parchment lined or well greased cookie sheet or jelly roll pan. If you want the buns to have soft sides, place close together (about 1 inch apart). If you would like the buns to have a pronounced edge, without touching another roll, place no more than three to a row, with about 2-3 inches in between buns, you will need two baking sheets for this.

Let rise in warm place until rolls are double in size (about 1 hour).

Bake at 350 for 15 to 20 minutes or until golden on center rack of oven. Or if baking using a convection setting 350 for about 10 minutes.

Make the glaze by whisking the ingredients in a small bowl.

Remove buns when done, let cool for at least 15 minutes and drizzle glaze onto buns with a spoon. You may also spoon glaze into a small ziplock bag, squeeze glaze to bottom of bag. Snip off a small end of the bag and force glaze out of small opening onto buns.
Recipe Notes
-When making homemade bread, rolls or buns, the amount of flour in a recipe will vary depending on weather, altitude and mixing methods. I always add less flour than the recipe calls for. It is easy to add more flour to a bread or roll recipe, but difficult to fix a dough that is too stiff because too much four has been added!-The recipe calls for all purpose flour, if you like a more dense an chewy roll, use bread flour, but make sure to add the flour slowly after you have added 3 cups of flour. You will need less bread flour compared to if using all purpose flour. Usually about 1/2 to one cup less bread flour than called for. -Two lemons total in the recipe, the juice of one and one half lemons, and the rind of two lemons. -Make sure to let the buns cool sufficiently before glazing, if the buns are too hot, the glaze will melt into the bun and not stand out and give the bun a pretty decorated appearance.