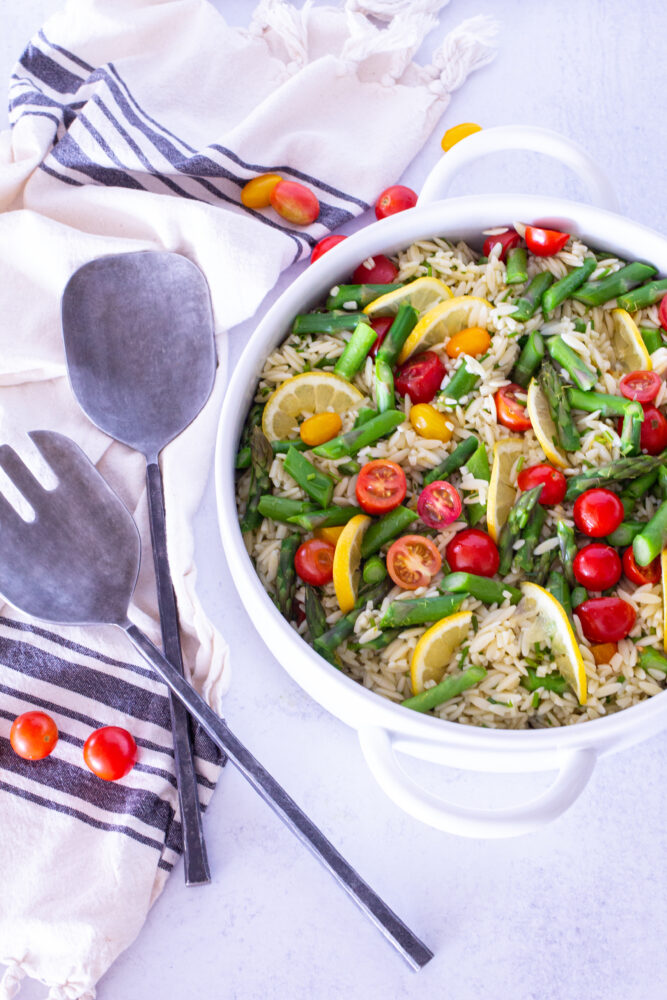 Looking for a light, fresh, flavor filled pasta salad? This salad has been on the Foster family table for years at many holiday events from Easter to summer barbecues! Orzo Salad with Fresh Lemon and Chive Dressing is not your run-of-the-mill pasta salad. A side dish stand-out in a sea of traditional pasta salad recipes!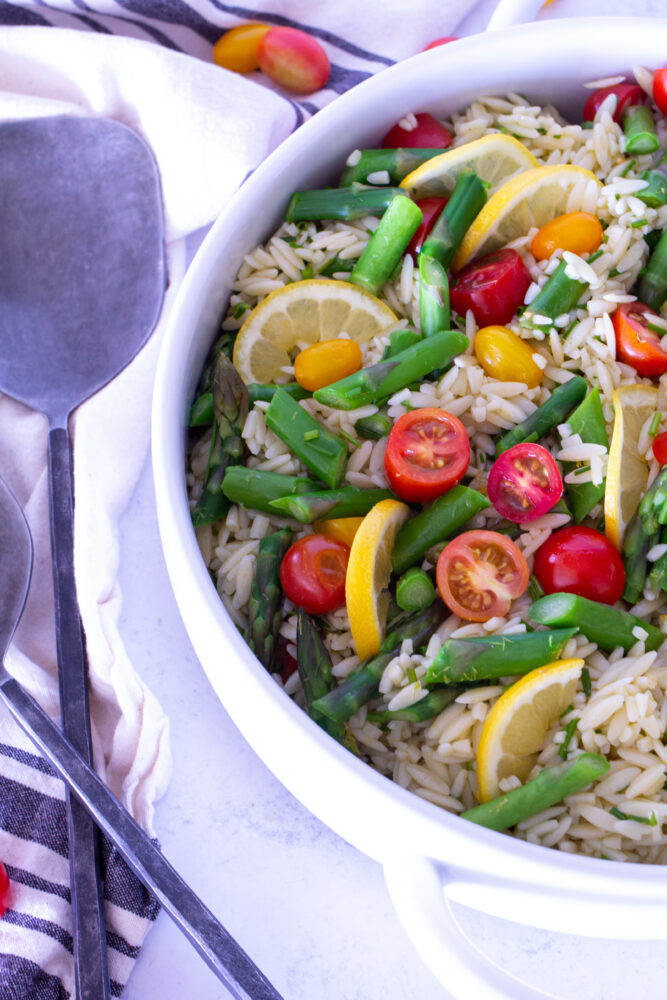 Orzo is a small, rice shaped pasta, often served in place of rice or potatoes as a side dish. In this recipe, the pasta is so small, I often have guests ask if it's rice! Because the pasta is so small, be careful to follow recipe and package directions to cook just until done (I usually cook for a couple minutes less and test until the orzo is al dente). I think we can all agree that nothing is worse than mushy pasta!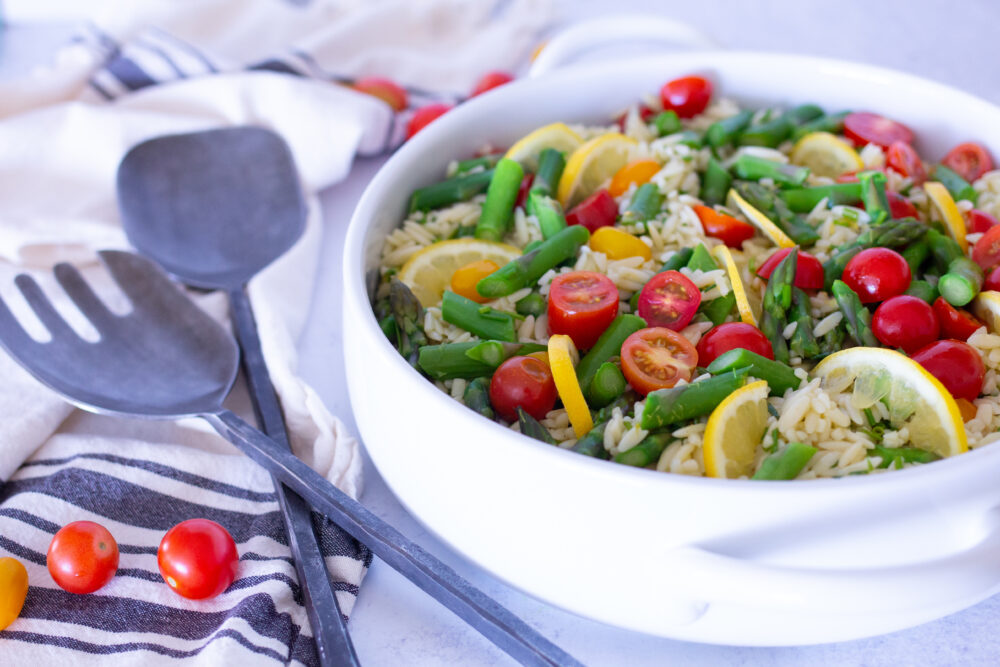 Whether you are planning a family dinner, a trip to the beach, a wedding shower, or lunch with your best friends, this salad satisfies the pickiest palate! It travels well and can be made ahead too. The pasta may be cooked a couple of days before serving and stored in the fridge tossed with a little bit of olive oil. If you need to make a gluten free salad, substitute cauliflower rice instead of orzo.
Looking for other amazing salads for summer gatherings? Take a look at this post, where we have rounded up 20 of our best easy summer salad recipes.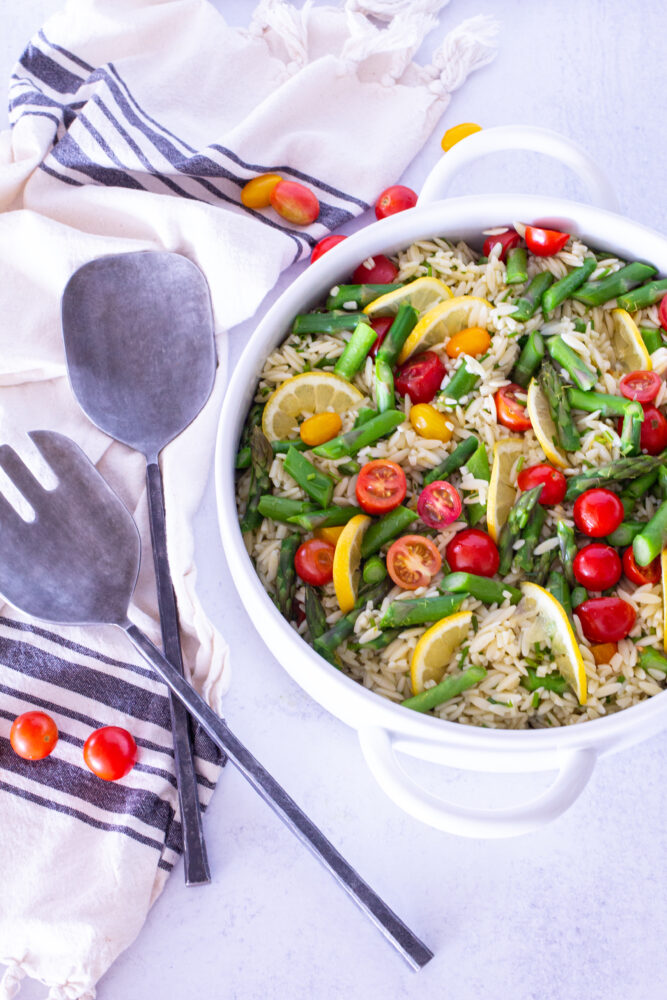 This salad pairs well with Beef Fajita Shish Kabobs, Lemon Pepper Kabobs with Soda Pop Marinade, Soft Herb Bread Sticks, and homemade pie. Enjoy!
Originally published in 2014, this post updated in 2023 with new content and photos
Orzo Salad with Fresh Lemon and Chive Dressing
Orzo Salad with Fresh Lemon and Chive Dressing for your next summer gathering! Made with orzo, a small, rice shaped pasta, fresh tomatoes and asparagus.
Ingredients
for salad:
1

lb

orzo

1

lb

fresh asparagus

1

lb

grape or cherry tomatoes

1

cup

chopped chives

divided (half for dressing, half for garnish)

1

lemon rind

grated fine, using a microplane grater

sliced lemon

for garnish
for dressing:
1

cup

light olive oil or canola oil

1/2

cup

cider vinegar

2

tablespoons

fresh lemon juice

1/2

cup

fresh chives, chopped

1/2

teaspoon

sugar or honey

1

teaspoon

salt

1

teaspoon

pepper
Instructions
Cook the orzo according to package directions, set aside. This may be done up to three days before serving salad.

Wash and snap off the tough ends of the asparagus. Cut into one inch pieces on the diagonal. Place about 1/2 cup of water in a small saucepan. Put the asparagus in the pan, heat until water boils. Cover and cook for one minute. Remove from heat. Asparagus should be bright green. Drain off hot water and pour cool water into the pan. Drain again and place asparagus in the bowl with the cooked orzo. Cut the tomatoes in half and add to the bowl with the orzo and asparagus. Add one half cup of the chopped chives and the grated lemon rind.

Mix all of the dressing ingredients with a whisk, or place in a blender, or use an immersion blender and pulse until ingredients are blended well.

Pour 3/4 cup of the dressing over the salad and toss. Just before serving, toss with additional dressing if needed. Garnish with the remaining 1/2 cup of chives and lemon slices.
Recipe Notes
The orzo may be cooked ahead, but the asparagus is best when tossed with the dressing on the same day.
You will have leftover dressing. Don't be tempted to drown the salad in dressing! Use the leftover dressing on a green salad, or chopped avocado and tomatoes. This dressing also makes a great marinade for grilled chicken.