There's something about the cold weather that calls for soup! This Soup Roundup will satisfy all of your soup cravings! From cream-based to broth-based soups, we have gathered 20 of our best recipes on one post. Let's get started…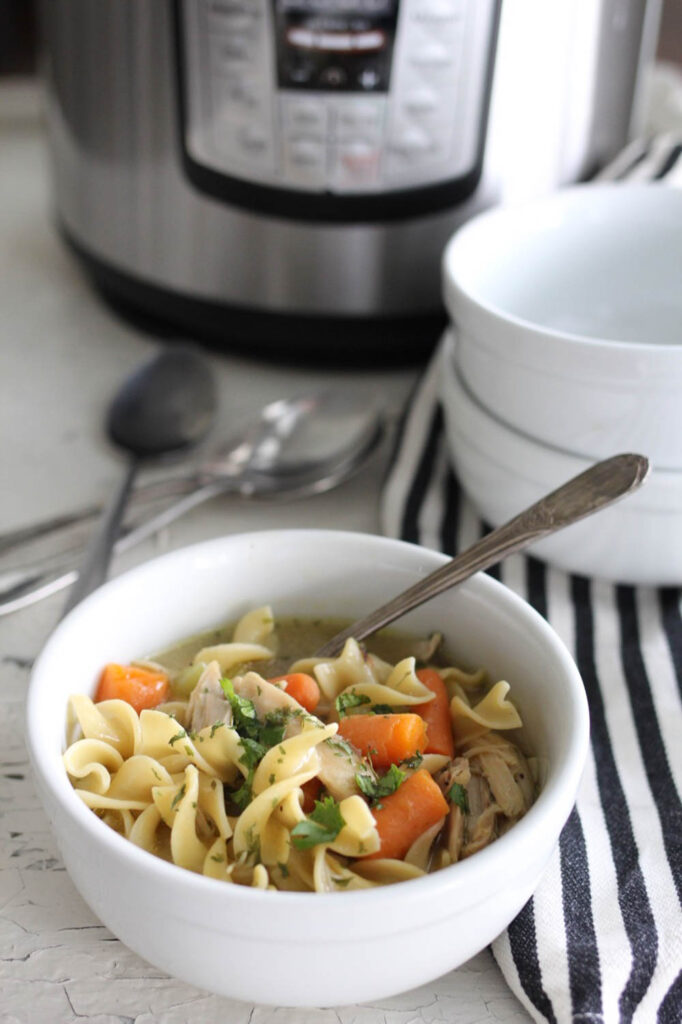 1. Instant Pot Chicken Noodle Soup is pure soul food IMO. Warm and comforting, and filled with all of the best ingredients: hearty chicken, loads of tender noodles and fresh, chunky veggies. You can never go wrong with this classic recipe!
2. Crock Pot Chicken Noodle Soup. If you don't have an Instant Pot or just want to try something a little different, this recipe is for you! It's perfect for those days when you just want to come home to a meal that's ready to eat. This recipe is easy, quick and SO much better than anything from the grocery store!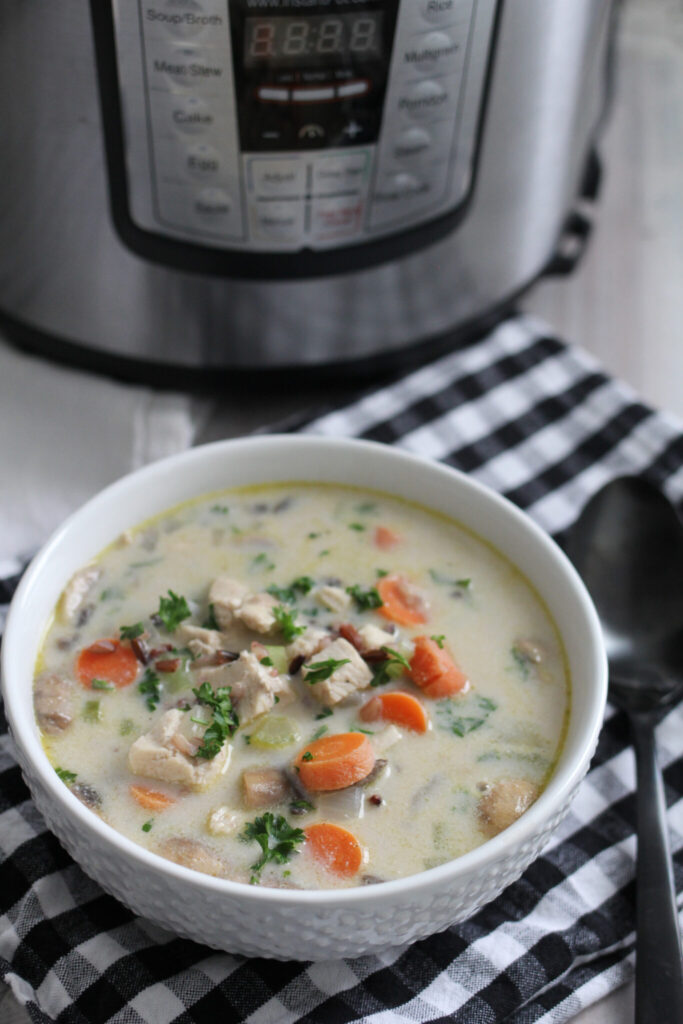 3. Instant Pot Creamy Chicken and Wild Rice Soup. This is one of my favorite soups to serve all year 'round. It's made with chicken, veggies, wild rice, a bit of half and half, and cooked to perfection with the ease of the Instant Pot. If you've ever had trouble cooking wild rice, this recipe will make you look like an expert!
4. Lemon Chicken Soup is such a fun twist on the classic chicken noodle soup recipe! The lemon flavor adds a wonderful flavor, and the cream really takes this soup to a whole other level. Trust me, this soup is definitely a must-make.
5. Easy Spanish Arroz Brut (Mallorcan Soup) is a classic Spanish soup that I learned to make during our mission in Spain. Also called Spanish dirty rice, this soup is the perfect cold weather dish, made with chicken or pork short ribs, lots of veggies, rice and some spices that may surprise you and see you warm on a cold winter day.
6. Minestrone Soup is truly a soup anybody can make. It's easy, inexpensive, filling enough to serve on its own, and you can make it vegetarian or gluten-free! I absolutely love this recipe because it's a great way to use up whatever ingredients you have on hand in the fridge or pantry.
7. Homemade Cafe Rio Chicken Tortilla Soup. If you're a fan of the famous Cafe Rio chain, you're going to love this recipe. It's loaded with chunks of chicken and fresh veggies, along with corn, beans and wonderful southwest spices. We love to top it with cheese and tortilla chips or strips. Another great dish to make on a busy weekday!
8. Southwest Soup is probably one of the very easiest recipes on ABK. It can be made in a crockpot or on the stove top, and is sure to satisfy both kids and adults! It's the ultimate blend of southwest flavor, and we love topping it with cheese, avocado, sour cream and tortilla chips.
9. Panera Copycat Broccoli Cheddar Soup is an all-time family favorite in our home. It's the opposite of traditional broccoli cheddar soup- it is not overly thick or cheesy. This soup is creamy and filled with tender veggies, what more could you ask for? And it's so easy to make, even your kids can make it!
10. Instant Pot Tomato Soup. Because there is nothing like grilled cheese and homemade tomato soup when it's cold outside! This recipe is kid-approved, and is so easy to make and clean up, thanks to the Instant Pot. You'll never want to buy tomato soup from the store again after trying this recipe!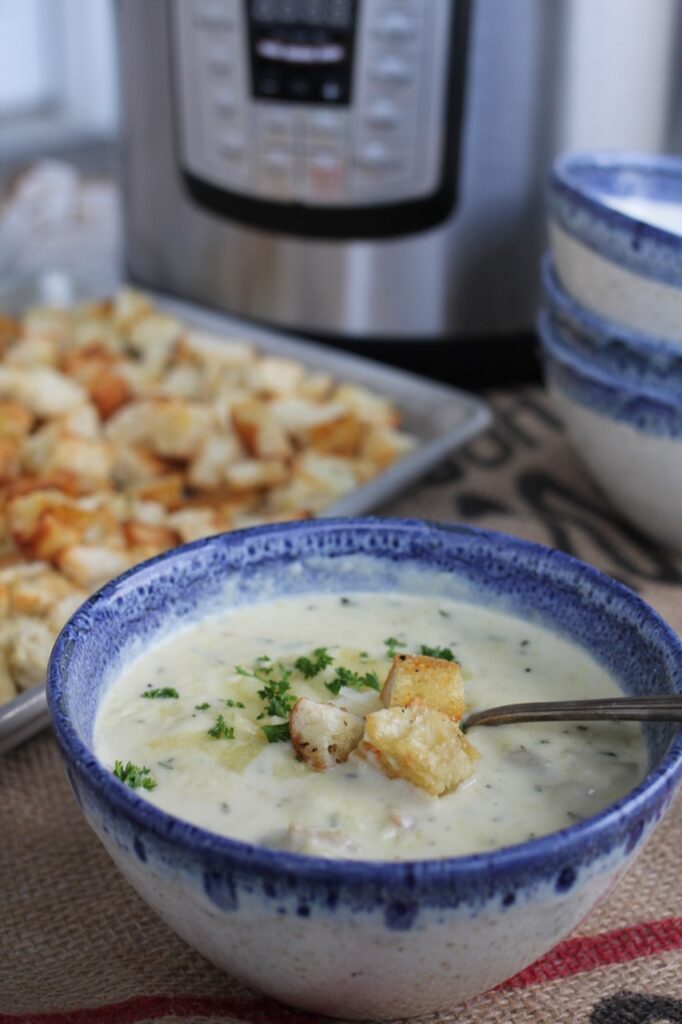 11. Instant Pot White Cheddar Potato Soup is sure to become a staple in your home! It's filled with a delicious combination of sharp white cheddar and savory potatoes. Cooking in the Instant Pot makes this recipe effortless!
12. 20 Minute White Chicken Chili. If you have 20 minutes you can make this recipe. This soup is full of comforting ingredients: chicken, white beans, green chilies and a bit of cream. This is the best easy white chili ever!
13. One Pot Butternut Squash Soup I love making this recipe in both the fall and the winter. It tastes like a dish from a high end restaurant, and is perfect for serving on its own, or at your next big family or friend gathering!
14. Chili with Brats is at the top of my list when I need to make dinner in a hurry. It's filling, comforting and makes enough for plenty of leftovers the next day.
15. Easy Beef and Vegetable Stew is the ultimate cold weather meal in a bowl. Tender chunks of beef, onions, carrots and potatoes, served with a warm, homemade biscuit.. OH MY. It's one of my favorite one dish meals, and is filling enough to feed any crowd.
16. Instant Pot Beef Stew is all that you could ever want in a stew, but made easy with the Instant Pot. This recipe is perfect for the beginner-stew-maker. If you can chop, you can make this recipe!
17. Instant Pot Sweet Potato and Black Bean Chili is a wonderful healthy dinner option. It's filled with sweet potatoes, black beans, corn and just the right amount of spices that will make your taste buds sing! I love adding lots of fresh toppings to this chili, and if you have leftovers, they are delicious in tacos or quesadillas.
18. Turkey and Fresh Veggie Chili is the perfect healthy dish to serve any time of the year! It's gluten free, dairy free, and a great recipe to try if you're cutting back on red meat. This chili is filled with good-for-you ingredients and might just become your new go-to dinner.
19. Classic French Onion Soup. Who else is a fan of this soup? Homemade broth, caramelized onions, crusty baguette, and good quality Gruyere cheese. If you're looking to indulge yourself or someone you love, this soup is for you.
20. 30-Minute Corn Chowder If you love cream corn, your new favorite will be this recipe for 30-minute corn chowder. The sweet corn, potatoes and bacon in a not too heavy cream based soup are over the top delicious and if that's not enough to convince you to try this recipe, hello. THIRTY MINUTES to dinner?!
Hope you choose at least one new soup to try this week! Leave a comment below and let us know…