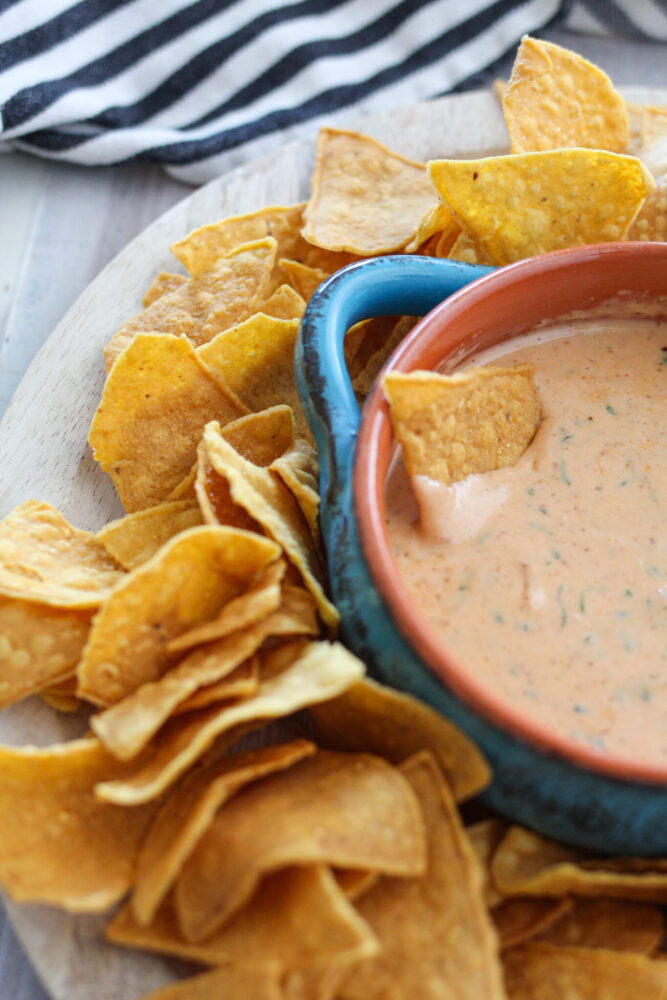 It's that time of year again! New Year's Eve celebrations, spending time with loved ones, and so many exciting football games. This Appetizer Roundup includes 25 Easy Amazing Appetizers recipes to keep your guests happy all night, or all game long!
1. Buffalo Wing Dip. This dip is one of my all-time most-requested recipes to serve at a party. It's like your favorite buffalo chicken wing recipe, without the greasy fingers after. Chicken, hot sauce, and a whole lot of cheese, and it's just as simple as that!
2. Baked Crab, Shrimp and Artichoke Dip is for my seafood lovers! This dip is such a nice change to the usual creamy cheese-meat dishes served. If you love crab and shrimp, this dip is a must-try!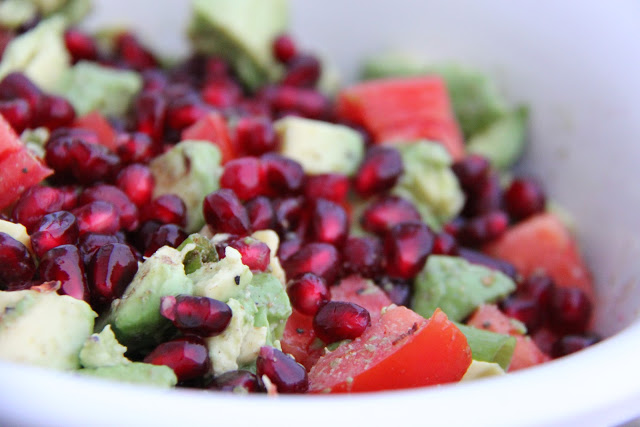 3. Pomegranate Avocado Salsa is the ultimate festive appetizer to serve this time of year! The combination of pomegranates and avocados creates an incredible flavor, and I mean it when I say this recipe is EASY.
4. 5 Minute Easy Hummus Recipe is the perfect healthier dish to serve. Smooth, creamy, with a hint of tang, I love serving this dish with warm wedges of pita bread, crackers or fresh cut veggies!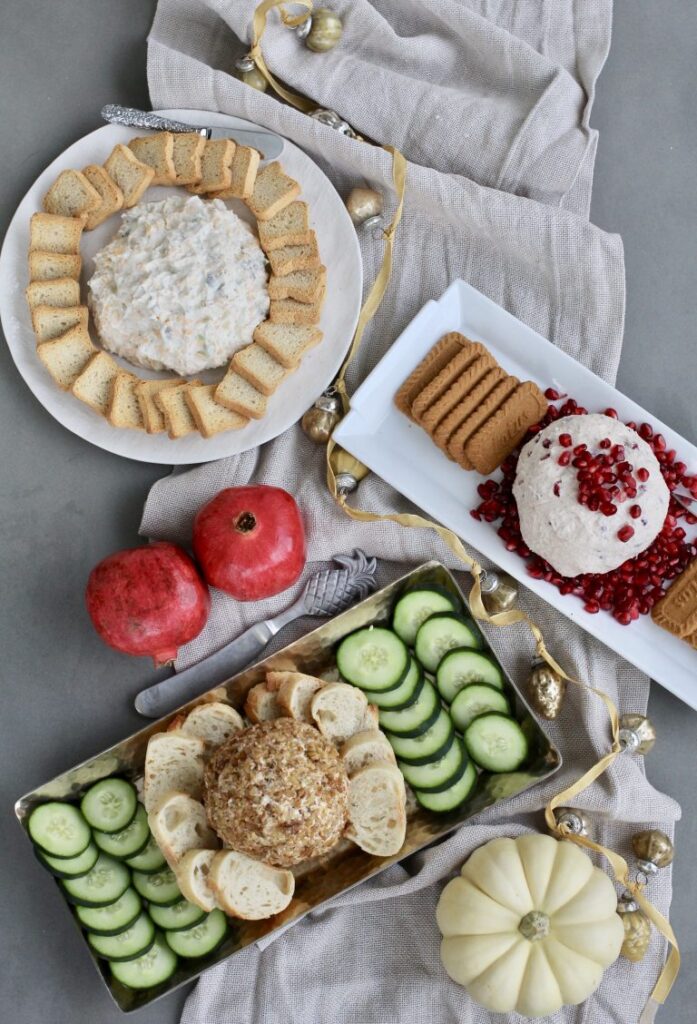 5. Jalapeño Cheddar Cheese Ball. What's a party without a cheese ball? It's THE most classic American party appetizer and it only takes fifteen minutes to make. Once you make this cheeseball, you'll never want to buy one in the store again. Bonus on this recipe link, there are THREE amazing cheeseball recipes included!
6. Baked Hot Wings with Creamy Gorgonzola Dipping Sauce. Because we all know hot wings are an essential game day food. This recipe will take your hot wing game to a whole new level. Spicy, creamy, cool and sweet all in one dish!
7. Easy Ham and Cheese Sliders with Poppyseed Topping are the perfect dish to serve to a crowd. It's an easy to make, one pan wonder, and can be adapted to your preferences. Who doesn't love a deliciously warm ham and cheese slider, topped with a savory dressing?
8. Vintage White Cheddar Dip is as rich and creamy as it gets. Every time I serve this dish, it is seriously gone in minutes. It's the perfect dip to make for your fellow cheese fanatics!
9. Classic 7 Layer Dip is a long time favorite in our home. This dish is so easy to assemble, looks festive enough for any occasion, and can be made as small or as big as needed!
10. Easy Cheesy Baked Jalapeno Dip is cheesy, heavenly perfection! This dip is so addictive, with the little bit of kick from the fresh jalapenos, a delicious blend of savory cheeses, all baked to golden goodness.
11. Cheesy Chicken Enchilada Dip. If you're a regular reader of ABK, you know that enchiladas are our favorite! This recipe is the perfect blend of all of your favorite enchilada flavors into one dip. You might just want to make this into a meal of its own after trying it!
12. Easy Southwest Tortilla Rollups are a wonderful recipe to use for everything from game days to busy weeknights. Similar to taquitos, but baked and SO much better, they're the perfect dish to make ahead and serve to a big crowd! Also perfect for the Airfryer!
13. Cheesy Baked Artichoke Dip. Believe me when I say this recipe only has three ingredients. And every time I make it, people ask for the recipe. If you can mix a few ingredients together, pour them into a dish and bake, you can make this dish.
14. Amazing Cafe Rio Queso Copycat is creamy, dreamy, rich and absolutely irresistible! If you love queso, you're going to love this recipe. It's the perfect dish to add to any party menu, and it only takes TEN minutes to make!
15. Easy Soft Pretzels Recipe are golden and crisp on the outside, and warm and chewy on the inside. And of course, buttery and salty too! This recipe is incredibly easy, addictive, and is sure to be the crowd pleaser of the party.
16. Baked Brie in Braided Bread is honestly a show stopper. Brie cheese baked just until melted, topped with fresh jam and fruit, and surrounded in homemade braided bread. Oh my. One bite and you'll have every guest asking for the recipe!
17. Coca de Trampo (Spanish Pizza). This was one of my favorite recipes I learned to make while serving a mission in Spain. It's made with fresh tomatoes, peppers, onions, all topped on a delicious bread-like dough. It's the perfect dish to surprise your guests with delight!
18. French Onion Soup Stuffed Mushrooms. If you love french onion soup, you need to make these ASAP. These decadent, super moist stuffed mushrooms are fancy enough to serve at a dinner party but festive enough to serve at a football watch party!
19. Quick and Easy Sweet and Sour Meatballs are a fun change to the traditional meatball recipe. Deliciously savory, with a hint of sweet, you can never go wrong with serving meatballs at a gathering.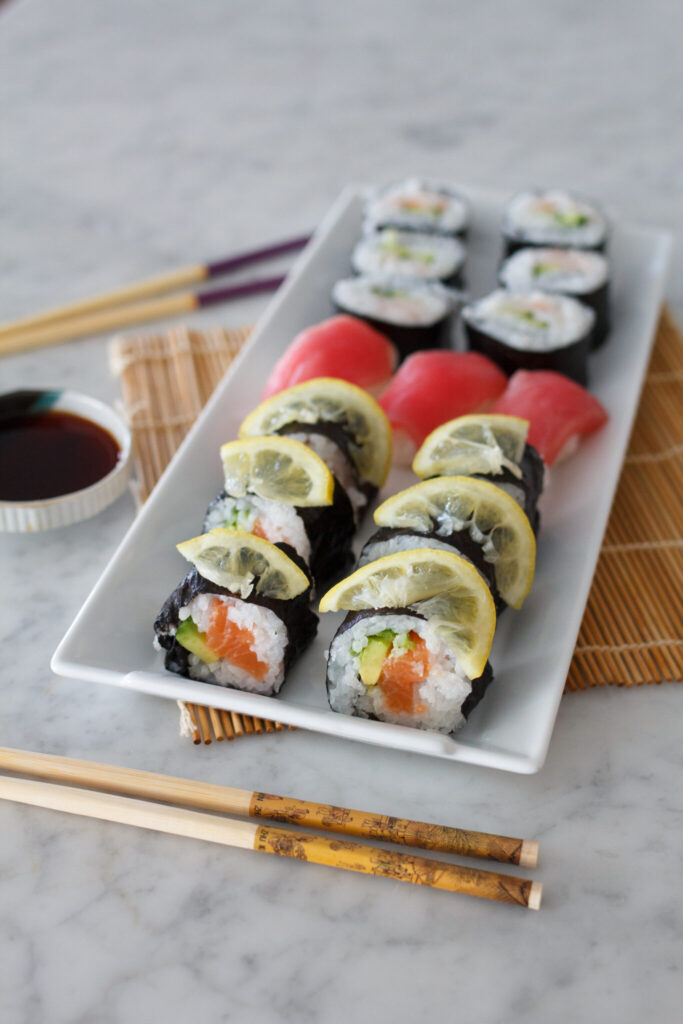 20. Simple Sushi. I know what you're thinking. Really, sushi? Isn't it hard to make? Follow this recipe step by step and I promise, it is so much easier than you think and is the perfect treat to serve at your next party!
21. 10 Minute Microwave Spinach Dip is simple, easy and an absolute must-have on any party menu! It's the perfect dish to serve when you're short on time, and you probably already have all of the ingredients in your fridge. And let's be honest, what's a party without spinach dip?
22. How to Build a Charcuterie Board will show you how to make the most beautiful, trend-worthy appetizer of all time! Everything from cheeses, to meats, to fruits, to spreads, this appetizer will be the Bell of the ball at your party.
23. ABK's Ultimate Chunky Guac. I do not believe a party is complete without guacamole. Compared to the array of cheesy, decadent dishes, there's just something about the freshness that is so satisfying. Plus, it's easy to make and can be whipped up in just a few minutes!
24. Five Minute Cottage Cheese Dill Dip is made with cottage cheese, greek yogurt and a few dried herbs and that's it. Healthy, easy and one of our favorite dips to serve with crackers and fresh veggies!
25. Sheri's Super Simple Salsa is another staple for any gathering! Made with canned, crushed tomatoes, as well as some fresh tomatoes, this dish is perfect for serving any time of the year.